How Eliminating Tar Sands Fuel Would Make Coca-Cola, Pepsi and Dr. Pepper Climate Change Leaders
If reducing carbon emissions presents the best chance at fighting climate change, soda corporations deserve a chunk of our attention.
It's no secret that Coca-Cola, PepsiCo and Dr. Pepper are the three largest soda companies in the country. You see their products everywhere, and it's likely that many of those soda bottles, cans and 24 packs were transported to your local store on a truck fueled by tar sands oil. Same goes for products from Gatorade, Lay's and Quaker Oats, which are three of the 22, $1 billion-or-more companies owned by Pepsi.
That's why the Sierra Club and ForestEthics have been pushing those companies to make change for nearly a year now with the Future Fleet Campaign. Their latest push comes in the form of a website, Tastes Like Tar Sands, and a co-authored report about the benefits of avoiding tar sands in corporate fleets.
Protesters on kayaks made sure the Future Fleet Campaign was visible Thursday outside of the Sustainable Brands 2014 conference in San Diego.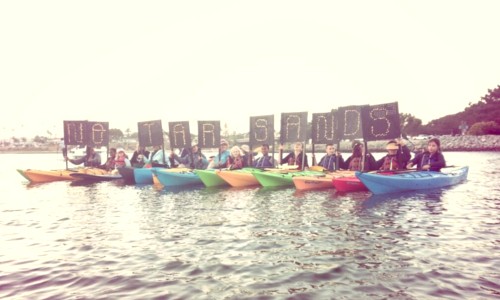 "These companies care deeply about consumer feedback, so when consumers ask them to lead on climate solutions, we know they will listen," Sierra Club and ForestEthics wrote on the campaign website. "Washington D.C. remains gridlocked, and oil companies continue their multimillion-dollar, climate-denial [public relations] campaign.
"But these companies have three great reasons to act without delay: First, to protect and strengthen their brand by being climate leaders; second, to reduce fuel usage and save money; and third, to do the right thing for their next generation of customers."
The organizations are targeting the soda companies mostly for their reach. The three companies generated a combined profit of more than $66 billion in 2012. With 100,000 trucks and cars combined, the companies are among the biggest private oil customers in the U.S.
That means they are also among the biggest carbon emitters. Coca-Cola, the largest soda company in the world, generated 5.32 million metric tons of carbon pollution in 2011. PepsiCo and Dr. Pepper joined Coca-Cola that year to emit more than 11.7 million tons of carbon pollution.
The Sierra Club and ForestEthics gave the companies credit for changing their delivery, production and packaging methods to reduce their carbon footprint, as well as buying some efficient vehicles, but they believe more could be done. That could include more hybrids or plug-ins, advanced tires, anti-idling programs, more-efficient diesel vehicles and aerodynamics.
However, the organizations aren't plotting the unrealistic scenario that the companies stop using oil. Instead, they are encouraging the big three soda providers to construct or adjust contracts to demand that their oil providers not source from refineries that process tar sands. Using information from Oil Change International, the groups provided a map of such refineries across the country.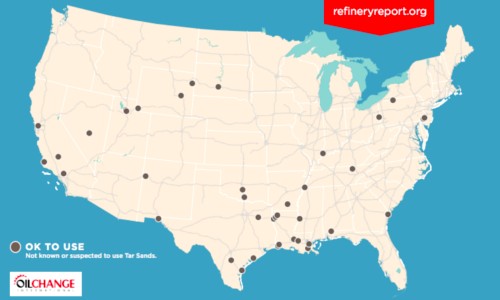 Corporate and governmental vehicles make up just 7 percent of vehicles on the road, but they consume up to 35 percent of transportation fuel. Walgreen's, Whole Foods, Trader Joe's and Columbia Sportswear are among the 19 companies that ForestEthics has secured commitments from to reduce the impact from their fossil-fuel-based transportation.
"To date, the climate movement has largely given big corporate oil consumers a free pass. Those days are over," the campaign language reads. "With the Future Fleet Campaign, the Sierra Club and ForestEthics will shine a bright spotlight on the need for corporate leadership to head off a climate crisis, starting with oil consumption."
——–
YOU ALSO MIGHT LIKE
Apple CEO to Climate-Denying Shareholders: 'Get Out of Stock'
NRDC Partnership Produces First-Ever Stock Index Excluding Fossil Fuel Companies
BP Pipeline Sprays Oil-Gas Mixture on 33 Acres of Alaskan Tundra
——–
A coalition of conservation groups and others announced Thursday that a historic number of comments and petitions of support have been submitted to the U.S. Department of the Interior in support of Bears Ears National Monument. Despite the entirely inadequate 15-day comment period ending on May 26, more than 685,000 comments in support of Bears Ears National Monument have been collected.
Keep reading...
Show less
Rink Glacier in western Greenland, with a meltwater lake visible center. NASA/OIB
Scientists have had their eyes on Greenland as its iconic glaciers have begun disappearing due to a warming climate. But, what they didn't expect to see was a whole new type of melting.
Keep reading...
Show less
Mountain View Fire
By Lena Moffitt
An oil tanker in Mead, Colorado exploded, killing one and injuring three on Thursday. Authorities are continuing to investigate the cause of the explosion.
Keep reading...
Show less
Banner created by Alliance for Climate Education
Keep reading...
Show less
Twenty-two GOP senators sent a letter Thursday urging Donald Trump to pull out of the Paris agreement. They argued remaining in the deal could "upend" the administration's ability "to fulfill its goal of rescinding the Clean Power Plan."
Keep reading...
Show less
By Cheryl Johncox
The Federal Energy Regulatory Commission (FERC) rejected on Thursday Energy Transfer Partners' request to resume horizontal directional drilling at two sites for its Rover fracked gas pipeline. This rejection comes after numerous leaks into Ohio's wetlands, and Clean Air and Clean Water act violations. FERC has halted the process at only eight locations of the 32 where drilling is taking place under Ohio's wetlands and streams.
Keep reading...
Show less
By Nadia Prupis
A majority of people in eight countries say they are ready to change their lifestyles if it would prevent climate catastrophe, a survey on global threats released Wednesday found.
Keep reading...
Show less
May. 25, 2017 01:55PM EST
Bill Maher is sick of billionaires' obsession with Mars, more like "Mars-a-Lago," he said.
In a new animation produced by ATTN:, the popular talk show host of Real Time, discusses the perils of our planet, including how "climate change is killing us."
Keep reading...
Show less