How Companies Hide Behind Trade Organizations to Influence Climate Policy
Trade and business associations are major actors in both business and public policy in the U.S. These associations provide many benefits to their member companies, and one of the most important is the leverage they provide for influencing policy through political activities such as campaign contributions, lobbying of elected officials and issue advertising.
Since climate change, and policy responses to climate change, can have significant implications for business, it's not surprising that trade associations have been deeply engaged in climate policy discussions. And as a 2013 Union of Concerned Scientists (UCS) report revealed, the impact of trade association engagement has often been to block meaningful climate action or misrepresent climate science.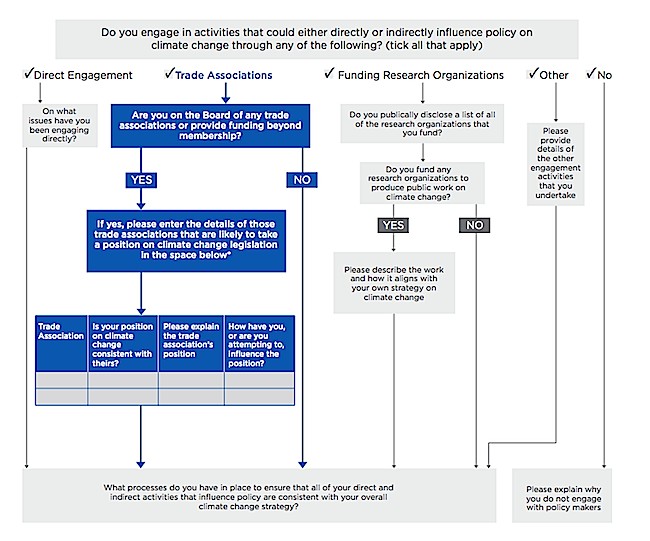 Holding member companies accountable for the activities of their associations is not easy. As tax-exempt non-profit organizations, trade associations are not required to publicly list their membership or boards of directors—and member companies can take advantage of limited corporate-disclosure laws to engage in political activities through trade associations without much scrutiny from government, investors or the public.
Survey Says...
In an effort to shed light on the relationship between companies and their trade associations on climate policy, UCS partnered with CDP (formerly the Carbon Disclosure Project), a non-profit organization that administers an annual climate reporting questionnaire to more than 5,000 companies worldwide, at the request of 722 institutional investors representing $87 trillion in invested capital.
Starting in 2013, the CDP questionnaire began asking whether companies were members of trade groups and, if so, whether they agreed with these groups' climate policy positions, as documented in the 2013 UCS report Assessing Trade and Business Groups' Positions on Climate Change.
The results show that many companies are not yet willing to be transparent about their political activity through trade associations.
More than half of the companies who received the questionnaire opted out of participating, and only 33 percent were willing to make their responses public. Non-participants included corporate giants such as Apple, Amazon, Comcast and Facebook.
Some 40 percent of companies responding publicly acknowledged that they could influence policy through their trade association. Yet, of companies listed on publicly available board membership lists for four large trade associations, a majority failed to acknowledge their board memberships on the survey.
Mixed Messages
Many companies indicated that they do not agree with the climate policy positions of their trade associations.
Nine of 15 responding companies that reported being board members of the National Association of Manufacturers (NAM) stated that their positions on climate policy were "mixed" or "inconsistent" compared with NAM's position.
Several other major U.S. trade associations, including the Edison Electric Institute, the American Petroleum Institute and the American Chemistry Council, received multiple "mixed" or "inconsistent" responses from board member companies.
When companies were asked if they had attempted to influence the climate positions of trade associations that they belonged to, however, responses suggested that many companies—especially smaller companies—do not feel they are able to influence their trade groups' climate change positions.
These findings raise the question of which actors are actually shaping the policy positions and agendas of trade associations.
Solutions
The public deserves to know who is influencing policy decisions on critical issues like climate change. To bring needed transparency to the business community's political activities, the report outlines a set of recommendations for both private and public sector actors:
The Securities and Exchange Commission and the Treasury department should make rules that require disclosure of political activities by publicly traded companies and tax-exempt "social welfare" groups.
Congress should approve the DISCLOSE Act, or similar legislation, to enhance disclosure of indirect political contributions.
Companies should push trade associations to accept climate science and support policies that will result in meaningful carbon emissions reductions. Where companies and their associations differ about climate policy, companies should publicly state their differences, try to influence their associations' positions, and if differences are irreconcilable, leave the associations. And investors should use their influence to pressure companies to take such actions.
Visit EcoWatch's CLIMATE CHANGE  page for more related news on this topic.

Bill Maher is sick of billionaires' obsession with Mars, more like "Mars-a-Lago," he said.
In a new animation produced by ATTN:, the popular talk show host of Real Time, discusses the perils of our planet, including how "climate change is killing us."
Keep reading...
Show less
Dr. Benjamin D. Santer, research scientist
A group of prominent climate scientists have written a study explicitly refuting statements made by the U.S. Environmental Protection Agency Administrator Scott Pruitt on climate data. During his Senate confirmation hearing, Pruitt claimed in a written response that satellite data shows a "leveling off" of warming over the past two decades.
Keep reading...
Show less
By David Pomerantz
The Nevada Assembly passed a bill Wednesday that would dramatically increase the growth of renewable energy in the state, but Sheldon Adelson, the casino magnate and major donor to Donald Trump, is attempting to prevent the bill from becoming law.
Keep reading...
Show less
Matt Crossick
By Yosola Olorunshola
Whether it's through fashion or protest, Vivienne Westwood is not a woman afraid of making a statement.
On May 23, she rocked up to the residence of the Archbishop of Canterbury in London with a special guest—the Grim Reaper—to issue a strong statement on the Church of England's position on fracking.
Keep reading...
Show less
By Paul Brown
The food industry and big agricultural concerns are driving climate change and at the same time threatening to undermine efforts to feed the world's growing population, according to GRAIN, an organization that supports small farmers.
Particularly singled out for criticism are the large chemical fertilizer producers that have gained access to the United Nations talks on climate change. GRAIN accuses them of behaving like the fossil fuel companies did in the 1990s, pushing false information in the hope of delaying real action on climate change.
Keep reading...
Show less
May. 24, 2017 06:55PM EST
By Sydney Robinson
President Trump has no doubt been given a long list of extravagant, elaborate gifts in his lifetime, but the gift given to him today by Pope Francis may not make it on his most favorite list.
Keep reading...
Show less
May. 24, 2017 07:17PM EST
By John Rogers
Maybe it's because I first started working on clean energy while serving in the Peace Corps he founded, or maybe it's my years of working on these issues from his home state. But I can't help thinking about the 100th anniversary of John F. Kennedy's birth, and connecting his stirring rhetoric to the energy challenges of our times.
Here's what our 35th president might have said about the challenges of energy transition and the opportunities in clean energy:
"Change is the law of life. And those who look only to the past or present are certain to miss the future."
Keep reading...
Show less
May. 24, 2017 01:47PM EST
Keep reading...
Show less


Get EcoWatch in your inbox