Here's How We Get to 100% Renewable Energy
Jun. 15, 2016 12:20PM EST
Energy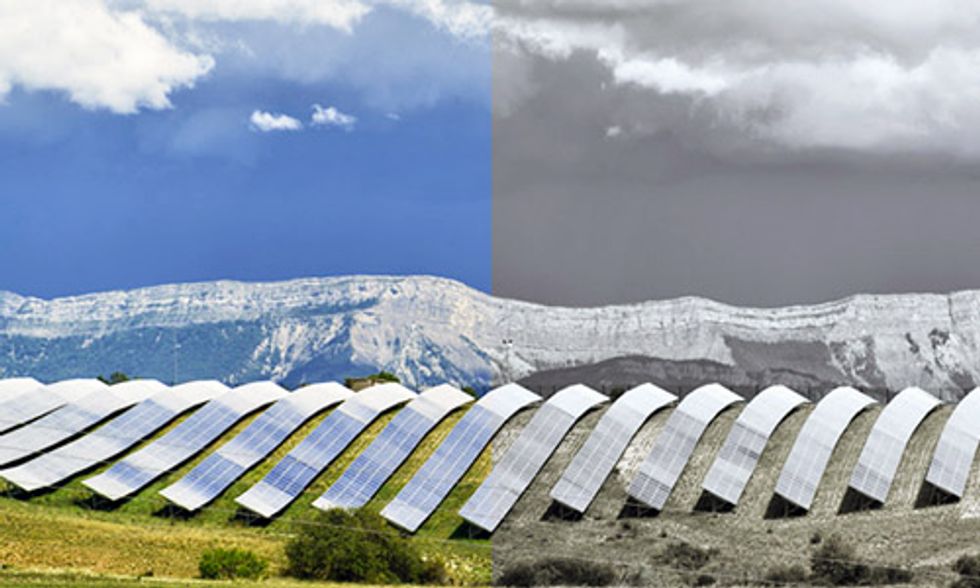 I spent the last year working with co-author David Fridley and Post Carbon Institute staff on a just-published book, Our Renewable Future. The process was a pleasure: everyone involved (including the twenty or so experts we interviewed or consulted) was delightful to work with and I personally learned an enormous amount along the way. But we also encountered a prickly challenge in striking a tone that would inform but not alienate the book's potential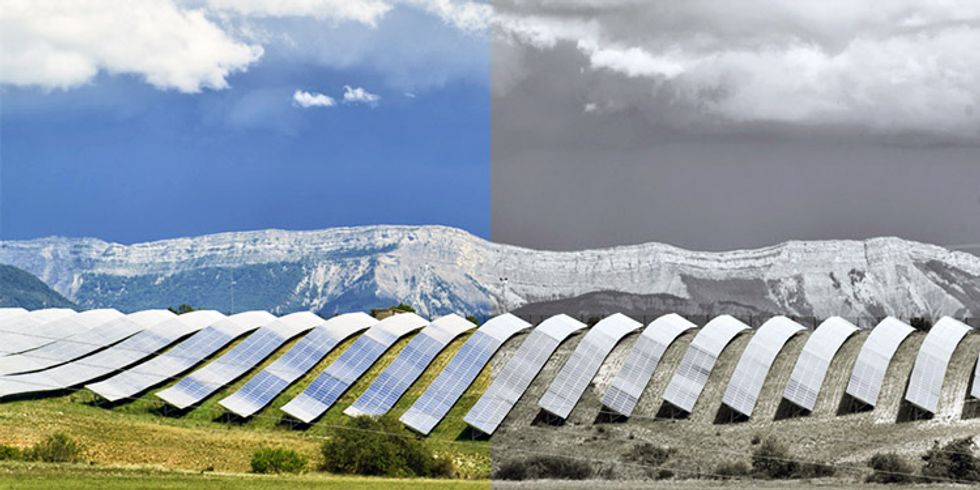 As just about everyone knows, there are gaping chasms separating the worldviews of fossil fuel promoters, nuclear power advocates and renewable energy supporters. But crucially, even among those who disdain fossils and nukes, there is a seemingly unbridgeable gulf between those who say that solar and wind power have unstoppable momentum and will eventually bring with them lower energy prices and millions of jobs and those who say these intermittent energy sources are inherently incapable of sustaining modern industrial societies and can make headway only with massive government subsidies.
We didn't set out to support or undermine either of the latter two messages. Instead, we wanted to see for ourselves what renewable energy sources are capable of doing and how the transition toward them is going. We did start with two assumptions of our own (based on prior research and analysis), about which we are perfectly frank: one way or another fossil fuels are on their way out and nuclear power is not a realistic substitute. That leaves renewable solar and wind, for better or worse, as society's primary future energy sources.
In our work on this project, we used only the best publicly available data and we explored as much of the relevant peer-reviewed literature as we could identify. But that required sorting and evaluation: Which data are important? And which studies are more credible and useful? Some researchers claim that solar PV electricity has an energy return on the energy invested in producing it (EROEI) of about 20:1, roughly on par with electricity from some fossil sources, while others peg that return figure at less than 3:1. This wide divergence in results of course has enormous implications for the ultimate economic viability of solar technology. Some studies say a full transition to renewable energy will be cheap and easy, while others say it will be extremely difficult or practically impossible. We tried to get at the assumptions that give rise to these competing claims, assertions and findings, and that lead either to renewables euphoria or gloom. We wanted to judge for ourselves whether those assumptions are realistic.
That's not the same as simply seeking a middle ground between optimism and pessimism. Renewable energy is a complicated subject and a fact-based, robust assessment of it should be honest and informative; its aim should be to start new and deeper conversations, not merely to shout down either criticism or boosterism.
Unfortunately, the debate is already quite polarized and politicized. As a result, realism and nuance may not have much of a constituency.
This is especially the case because our ultimate conclusion was that, while renewable energy can indeed power industrial societies, there is probably no credible future scenario in which humanity will maintain current levels of energy use (on either a per capita or total basis). Therefore current levels of resource extraction, industrial production and consumption are unlikely to be sustained—much less can they perpetually grow. Further, getting to an optimal all-renewable energy future will require hard work, investment, adaptation and innovation on a nearly unprecedented scale. We will be changing more than our energy sources; we'll be transforming both the ways we use energy and the amounts we use. Our ultimate success will depend on our ability to dramatically reduce energy demand in industrialized nations, shorten supply chains, electrify as much usage as possible and adapt to economic stasis at a lower overall level of energy and materials throughput. Absent widespread informed popular support, the political roadblocks to such a project will be overwhelming.
That's not what most people want to hear. And therefore, frankly, we need some help getting this analysis out to the sorts of people who might benefit from it. Post Carbon Institute's communications and media outreach capabilities are limited. Meanwhile the need for the energy transition is urgent and the longer it is delayed, the less desirable the outcome will be. It is no exaggeration to say that the transition from climate-damaging and depleting fossil fuels to renewable energy sources is the central cause of our times. And it will demand action from each and every one of us.
You can help by visiting the Our Renewable Future website, familiarizing yourself with the issue, sharing your thoughts and spreading the word with friends, family, colleagues and allies.
YOU MIGHT ALSO LIKE
Uncovered Documents Reveal MSNBC Show Worked to Promote Fracking
Noam Chomsky: The Doomsday Clock Is Nearing Midnight
Apple Is Generating So Much Renewable Energy It Plans to Start Selling It
Air France airplanes parked at the Charles de Gaulle/Roissy airport on March 24, 2020. SAMSON / AFP via Getty Images
France moved one step closer this weekend to banning short-haul flights in an attempt to fight the climate crisis.
A bill prohibiting regional flights that could be replaced with an existing train journey of less than two and a half hours passed the country's National Assembly late on Saturday, as Reuters reported.
"We know that aviation is a contributor of carbon dioxide and that because of climate change we must reduce emissions," Industry Minister Agnes Pannier-Runacher told Europe 1 radio, according to Reuters.
The measure now has to pass the French Senate, then return to the lower house for a final vote. It would end regional flights between Paris's Orly airport and cities like Nantes and Bordeaux, The Guardian explained. It would not, however, impact connecting flights through Paris's Charles de Gaulle/Roissy airport.
The bill is part of a legislative package which aims to reduce France's emissions by 40 percent of 1990 levels by 2030, Reuters reported. It is a watered-down version of a proposal suggested by France's Citizens' Convention on Climate, BBC News explained. This group, which was formed by President Emmanuel Macron in 2019 and included 150 ordinary citizens, had put forward a ban on flights that could be replaced with an existing train journey of under four hours.
However, the journey length was lowered after protests from KLM-Air France, which had suffered heavy losses due to the coronavirus pandemic, and regions who were concerned about being left out of national transit networks, as The Guardian explained.
"We have chosen two and a half hours because four hours risks isolating landlocked territories including the greater Massif Central, which would be iniquitous," transport minister Jean-Baptiste Djebbari said, as The Guardian reported.
However, some environmental and consumer groups objected to the changes. The organization UFC-Que Choisir compared plane routes with equivalent train journeys of under four hours and found that the plane trips emitted an average of 77 times more carbon dioxide per passenger than the train journeys. At the same time, the train alternatives were cheaper and only as much as 40 minutes longer.
"[T]he government's choice actually aims to empty the measure of its substance," the group said, according to The Guardian.
The new measure also opens the French government to charges of hypocrisy. It bailed out Air France-KLM to the tune of a seven-billion euro loan last year, though it did require the airline to drop some domestic routes as a condition. Then, days before the measure passed, it more than doubled its stake in the airline, BBC News reported. However, Pannier-Runacher insisted to Europe 1 radio that it was possible to balance fighting climate change and supporting struggling businesses.
"Equally, we must support our companies and not let them fall by the wayside," she said, as Reuters reported.
This is not the first time that climate measures and aviation bailouts have coincided in the wake of the coronavirus pandemic. Austrian Airlines replaced its Vienna-Salzburg flight with additional train service after it received government money dependent on cutting greenhouse gas emissions, BBC News reported.
The number of flights worldwide declined almost 42 percent in 2020 when compared with 2019. It is expected that global aviation may not fully recover until 2024, according to Reuters.
EcoWatch Daily Newsletter
A woman looks at a dead gray whale on the beach in the SF Bay area on May 23, 2019; a new spate of gray whales have been turning up dead near San Francisco. Justin Sullivan / Getty Images
Four gray whales have washed up dead near San Francisco within nine days, and at least one cause of death has been attributed to a ship strike.
A small tourist town has borne the brunt of a cyclone which swept across the West Australian coast.
ABC News (Australia) / YouTube
A general view shows the remains of a dam along a river in Tapovan, India, on February 10, 2021, following a flash flood caused by a glacier break on February 7. Sajjad Hussain / AFP / Getty Images
By Rishika Pardikar
Search operations are still underway to find those declared missing following the Uttarakhand disaster on 7 February 2021.
This story originally appeared in Eos and is republished here as part of Covering Climate Now, a global journalism collaboration strengthening coverage of the climate story.
Indigenous youth, organizers with the Dakota Access and Line 3 pipeline fights and climate activists march to the White House to protest against pipeline projects on April 1, 2021. Bill Clark / CQ-Roll Call, Inc via Getty Images
By Jessica Corbett
Indigenous leaders and climate campaigners on Friday blasted President Joe Biden's refusal to shut down the Dakota Access Pipeline during a court-ordered environmental review, which critics framed as a betrayal of his campaign promises to improve tribal relations and transition the country to clean energy.