This website uses cookies to ensure you get the best experience while browsing it. By clicking 'Got It' you're accepting these terms.
Harvard Researchers Connect Climate Change to Higher Skin Cancer Rates
Apr. 12, 2013 09:44AM EST
Climate
By Peter Reuell
[Editor's note: As we begin to enjoy warmer weather, we need to connect the dots between climate change and its impacts on human health, including skin cancer. The World Health Organization, provides detailed information on risks to humans from stratospheric ozone depletion and ultraviolet radiation.]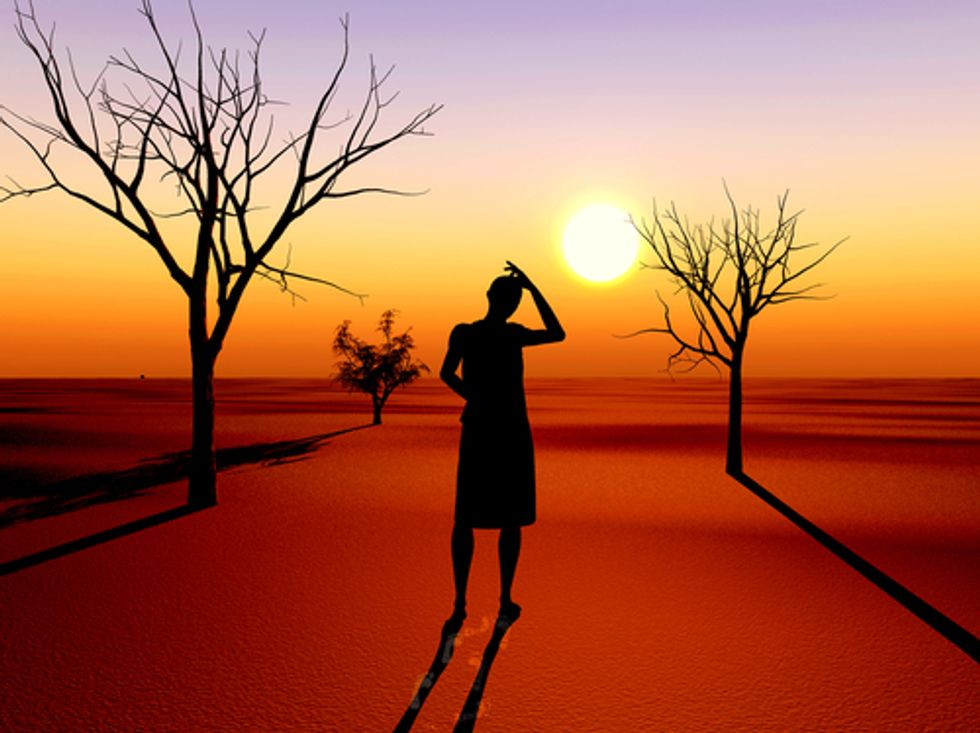 Photo courtesy of Shutterstock
For decades, scientists have known that the effects of global climate change could have a devastating impact across the globe, but Harvard researchers say there is now evidence that it may also have a dramatic impact on public health.
In the July 27 issue of Science, a team of researchers led by James G. Anderson, the Philip S. Weld Professor of Atmospheric Chemistry, warns that a recently discovered connection between climate change and depletion of the ozone layer over the U.S. could allow more damaging ultraviolet (UV) radiation to reach the Earth's surface, leading to increased incidence of skin cancer.
In the system described by Anderson and his team, water vapor injected into the stratosphere by powerful thunderstorms converts stable forms of chlorine and bromine into free radicals capable of transforming ozone molecules into oxygen. Recent studies have suggested that the number and intensity of such storms are linked to climate change.
"If you were to ask me where this fits into the spectrum of things I worry about, right now it's at the top of the list," Anderson said. "What this research does is connect, for the first time, climate change with ozone depletion, and ozone loss is directly tied to increases in skin cancer incidence, because more ultraviolet radiation is penetrating the atmosphere."
How this process will evolve over time is a mystery, he said.
"We don't know what the development of this has been—we don't have measurements of this deep convective injection of water into the stratosphere that go back in time," Anderson said.
"But the best guide for the evolution of this is to look at the research that connects climate change with severe storm intensity and frequency, and it's clear that there is a developing scientific case that the addition of carbon dioxide to the atmosphere is increasing climate change, and in turn driving severe storm intensity and frequency."
The link between ozone loss and increased incidence of skin cancer has been extensively studied, Anderson said.
"There has been a major effort by the medical community to define the relationship between decreases in ozone and the subsequent increases in skin cancer," he said. "The answer is quite clear: If you multiply the fractional decrease in ozone protection by about three, you get the increase in skin cancer incidence. There are 1 million new skin cancer cases in the U.S. annually—it's the most common form of cancer, and it's one that's increasing in spite of all the medical research devoted to it."
But it isn't only humans who have to worry about the effects of increased UV radiation.
Many crops, particularly staple crops grown for human consumption—including wheat, soybeans, and corn—could suffer damage to their DNA, Anderson said.
Ironically, Anderson said, the discovery that climate change might be driving ozone loss happened virtually by accident.
Although they had worked since the mid-1980s to investigate ozone depletion in the Arctic and Antarctic, by the early 2000s, Anderson's team had turned its attention to climate studies, in particular the question of how convective clouds—updrafts that cause storms to build high into the sky—contribute to the creation of cirrus clouds.
"It was in the process of looking at that mechanism that we came to this unexpected observation: that the convective clouds in these storm systems over the U.S. are reaching far deeper into the stratosphere than we ever expected," Anderson said.
Earlier tests performed in the Arctic had demonstrated that water vapor was a key component in creating the free-radical compounds that break down ozone, but the latest finding is much more troubling, Anderson said, because it suggests the process can happen at much higher temperatures than initially suspected.
"The bottom line is that if you increase the water vapor concentration, you actually increase the threshold temperature for executing this chemical conversion—from the stable forms of chlorine to the free-radical form," Anderson said. "If the amount of water vapor and the temperature over the U.S. satisfies the conditions for rapid conversion of inorganic chlorine to this free-radical form, we've got a real problem, because the chemistry is identical to what we previously demonstrated is taking place over the Arctic."
Also surprising, he added, was the realization that, to throw water vapor high into the atmosphere, storms needn't be unusually large.
"In my mind, this is not just a broad public health issue," Anderson said. "This is about actually being able to step out into the sunlight—it's about your children and your children's health. Of course, we don't know how rapidly the frequency and intensity of these storms will increase, so we can't place a time scale on this problem, but the core issue here is quite straightforward and simple, because we understand this chemistry."
Visit EcoWatch's CLIMATE CHANGE and BIODIVERSITY pages for more related news on this topic.
——–
Click here to tell Congress to Expedite Renewable Energy.

EcoWatch Daily Newsletter
With well over a billion cars worldwide, electric vehicles are still only a small percentage. An economist from the University of Michigan Energy Institute says that is likely to change. Maskot / Getty Images
In 2018, there were about 5 million electric cars on the road globally. It sounds like a large number, but with well over a billion cars worldwide, electric vehicles are still only a small percentage.
Nestlé is accelerating its efforts to bring functional, safe and environmentally friendly packaging solutions to the market and to address the global challenge of plastic packaging waste.
Nestlé
/ Flickr /
CC BY-NC-ND 2.0
Nestlé, the world's largest food company, said it will invest up to $2 billion to address the plastic waste crisis that it is largely responsible for.
Determining the effects of media on people's lives requires knowledge of what people are actually seeing and doing on those screens. Vertigo3d / iStock / Getty Images Plus
Indigenous people of various ethnic groups protest calling for demarcation of lands during the closing of the 'Red January - Indigenous Blood', in Paulista Avenue, in São Paulo, Brazil, Jan. 31, 2019. Cris Faga / NurPhoto / Getty Images
By Raphael Tsavkko Garcia
Rarely has something so precious fallen into such unsafe hands. Since Jair Bolsonaro took the Brazilian presidency in 2019, the Amazon, which makes up 10 percent of our planet's biodiversity and absorbs an estimated 5 percent of global carbon emissions, has been hit with a record number of fires and unprecedented deforestation.
Microsoft's main campus in Redmond, Washington on May 12, 2017. GLENN CHAPMAN / AFP via Getty Images
Microsoft announced ambitious new plans to become carbon negative by 2030 and then go one step further and remove by 2050 all the carbon it has emitted since the company was founded in 1975, according to a company press release.