Groups Gather at Nation's Capitol to Pressure Congress to Ban Fracking on Public Lands
Oct. 22, 2015 02:07PM EST
Energy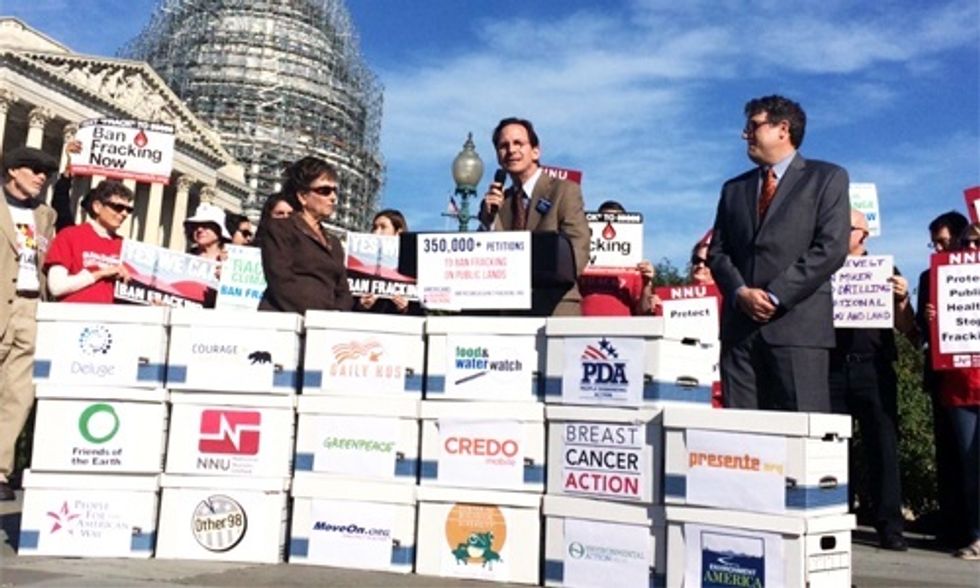 Today, more than 15 advocacy groups gathered outside of the nation's Capitol, with Rep. Mark Pocan (WI-2) and Rep. Jan Schakowsky (IL-9) to deliver more than 350,000 petitions urging Congressional support of the Protect Our Public Lands Act, H.R. 1902. The legislation is the strongest anti-fracking bill introduced in Congress to date and would ban fracking on public lands. It was introduced this Earth Day by Reps. Pocan and Schakowsky and seven other original cosponsors. The bill now has 27 cosponsors.
John Rumpler at @EnvAm shudders the think about the ravages of #fracking near Chaco Natnl Park #ProtectPublicLands https://t.co/9i7yHUY7OC

— Food & Water Watch (@Food & Water Watch)1445524282.0
"It's clear from the over 350,000 petitions being delivered today that Americans across the country share my concerns about fracking and its impact on the environment," said Rep. Pocan, the bill's sponsor. "Our national parks, forests and public lands are some of our most treasured places and must be protected for future generations."
"Our public lands are one of America's greatest assets.  They have been preserved and protected by the federal government for over one hundred years," said Rep. Schakowsky, an original cosponsor of H.R. 1902. "We owe it to future generations to maintain their natural beauty and rich biodiversity. The Protect Our Public Lands Act—which would prevent fracking damage to those lands—is an important step in that direction."
Congress, 350,000 + petitions today calling on you to protect public health & #banfracking on public lands! #POPLA HR 1902 @repmarkpocan

— Mark Ruffalo (@Mark Ruffalo)1445531607.0
"My constituents in New Jersey, and millions more Americans in New York, Pennsylvania and Delaware all rely on clean drinking water from the Delaware River," said Congresswoman Bonnie Watson Coleman, another cosponsor of the bill. "Fracking there is a direct threat to their health, and to the green spaces and environment we've worked hard to protect. When people visit federal land—in New Jersey and around the country—they expect pristine landscapes, clean air and sparkling water. We can't afford to put that at risk just because we're unwilling to move away from fossil fuels."
Fracking is a dangerous method of extracting oil and gas that has no place on our public lands. Fracking produces large volumes of toxic and even radioactive waste and risks accidents, leaks, spills and fires, while competing for scarce water resources, polluting the air and water, and exacerbating climate change.
"The evidence that fracking is bad for the environment, public health and local economies is staggering and the American people are taking notice, said Mitch Jones, senior policy advocate for Food & Water Watch. "Hundreds of thousands of Americans from across the country are demanding that America's cherished public lands not be fracked. By passing The Protect Our Public Lands Act Congress can get on the right side of history: protecting national resources and heritage, while also decreasing America's contribution to climate change."
About 20 percent of all potential U.S. oil and gas lies beneath public lands. Already, fracking companies lease more than 34 million acres of public lands, and more than 200 million more acres could be fracked in the future.
"Every year, the Department of the Interior hands over vast areas of publicly-owned land to the fracking industry to be pillaged for corporate profit," said CREDO Action campaign manager Zack Malitz. "Encouraging fracking on public lands puts our air, water and the health of nearby communities at risk," Malitz continued, adding, "if we want to stop the worst effects of climate change, we have to ban fracking on public lands."
Read page 1
"Fracking has marred landscapes and ruined waterways around the country," said John Rumpler, senior attorney with Environment America. "Until this dirty drilling is banned altogether, the least we can do is keep it out of some of America's most treasured natural areas—from Chaco Canyon to the White River to the George Washington National Forest."
Mounting evidence shows that fracking threatens our air, water and public health. To make matters worse, reports have shown that existing fracking wells on public lands aren't being adequately inspected, creating even more potential for disastrous accidents. Fracking on public lands also threatens more stable economic sectors like tourism and agriculture and creates socioeconomic instability in exchange for temporary, dangerous jobs.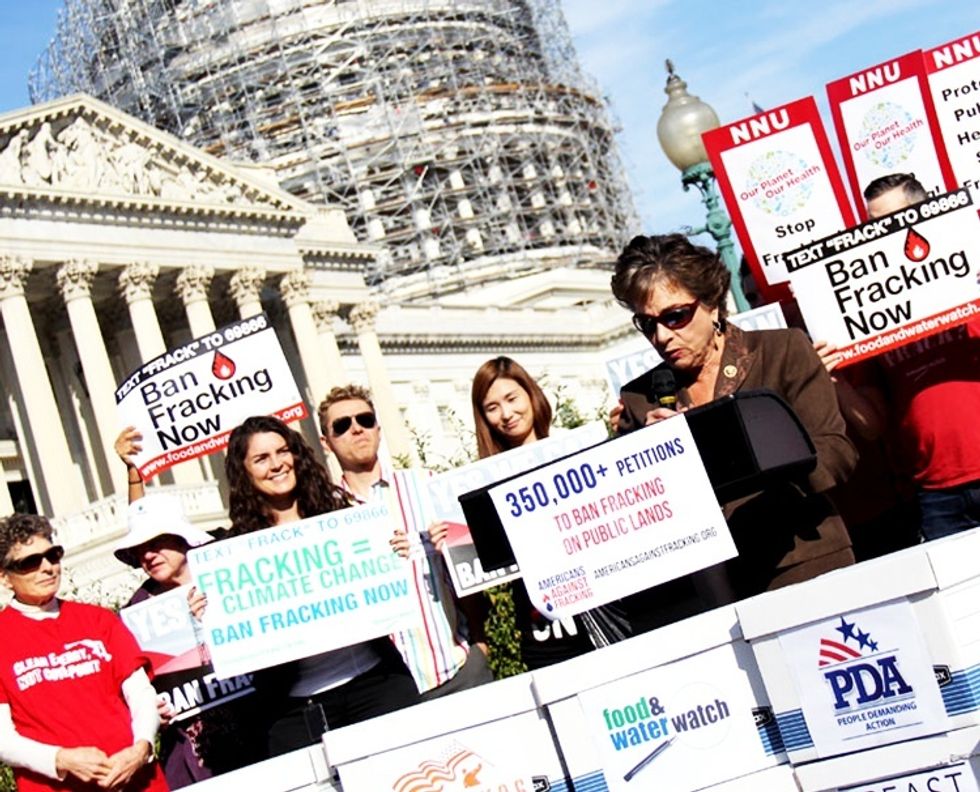 By passing The Protect Our Public Lands Act Congress can get on the right side of history: protecting national resources and heritage. Photo credit: Food & Water Watch
"The scientific evidence of the myriad of health harms associated with fracking continues to grow," said Karuna Jaggar, executive director of Breast Cancer Action. "That's why today, we're telling our legislators that there's no place on our public lands for this inherently toxic process, which threatens to expose the public to harmful chemicals linked to increased risk of breast and other cancers."
Unfortunately, oil and gas corporations have been drilling and fracking on public lands, without regard for the people who these lands were intended to be enjoyed, and not exploited by. Fracking has already seriously damaged our public lands and ground water, and areas buffering America's most precious national parks and monuments are at increasing risk.
"When big energy corporations can pour unlimited money into our political system, their interests are able to overshadow the public good. Despite the outcry from ordinary Americans, fracking has already brought serious harm to our public lands," said Rio Tazewell, campaign coordinator at People for the American Way. "We need real reform so our elected leaders are working for ordinary Americans instead of wealthy corporations."
The following organizations were involved in today's event: Breast Cancer Action, Courage Campaign, CREDO, Center for Biological Diversity, Daily Kos, Deluge, Environment America, Environmental Action, Food & Water Watch, Friends of the Earth, Greenpeace, National Nurses United, The Other 98%, People Demanding Action, People for the American Way, Presente.org and Progressive Democrats of America.
YOU MIGHT ALSO LIKE
Bernie Sanders Demands DOJ Go After Exxon for 'Covering Up' Climate Change
MIT Students: We're Sitting-In at President Reif's Door Until He Divests From Fossil Fuels
Apple to Clean Up Act in China With Huge Investments in Renewable Energy
Johns Hopkins Study Links Fracking to Premature Births, High-Risk Pregnancies
Air France airplanes parked at the Charles de Gaulle/Roissy airport on March 24, 2020. SAMSON / AFP via Getty Images
France moved one step closer this weekend to banning short-haul flights in an attempt to fight the climate crisis.
A bill prohibiting regional flights that could be replaced with an existing train journey of less than two and a half hours passed the country's National Assembly late on Saturday, as Reuters reported.
"We know that aviation is a contributor of carbon dioxide and that because of climate change we must reduce emissions," Industry Minister Agnes Pannier-Runacher told Europe 1 radio, according to Reuters.
The measure now has to pass the French Senate, then return to the lower house for a final vote. It would end regional flights between Paris's Orly airport and cities like Nantes and Bordeaux, The Guardian explained. It would not, however, impact connecting flights through Paris's Charles de Gaulle/Roissy airport.
The bill is part of a legislative package which aims to reduce France's emissions by 40 percent of 1990 levels by 2030, Reuters reported. It is a watered-down version of a proposal suggested by France's Citizens' Convention on Climate, BBC News explained. This group, which was formed by President Emmanuel Macron in 2019 and included 150 ordinary citizens, had put forward a ban on flights that could be replaced with an existing train journey of under four hours.
However, the journey length was lowered after protests from KLM-Air France, which had suffered heavy losses due to the coronavirus pandemic, and regions who were concerned about being left out of national transit networks, as The Guardian explained.
"We have chosen two and a half hours because four hours risks isolating landlocked territories including the greater Massif Central, which would be iniquitous," transport minister Jean-Baptiste Djebbari said, as The Guardian reported.
However, some environmental and consumer groups objected to the changes. The organization UFC-Que Choisir compared plane routes with equivalent train journeys of under four hours and found that the plane trips emitted an average of 77 times more carbon dioxide per passenger than the train journeys. At the same time, the train alternatives were cheaper and only as much as 40 minutes longer.
"[T]he government's choice actually aims to empty the measure of its substance," the group said, according to The Guardian.
The new measure also opens the French government to charges of hypocrisy. It bailed out Air France-KLM to the tune of a seven-billion euro loan last year, though it did require the airline to drop some domestic routes as a condition. Then, days before the measure passed, it more than doubled its stake in the airline, BBC News reported. However, Pannier-Runacher insisted to Europe 1 radio that it was possible to balance fighting climate change and supporting struggling businesses.
"Equally, we must support our companies and not let them fall by the wayside," she said, as Reuters reported.
This is not the first time that climate measures and aviation bailouts have coincided in the wake of the coronavirus pandemic. Austrian Airlines replaced its Vienna-Salzburg flight with additional train service after it received government money dependent on cutting greenhouse gas emissions, BBC News reported.
The number of flights worldwide declined almost 42 percent in 2020 when compared with 2019. It is expected that global aviation may not fully recover until 2024, according to Reuters.
EcoWatch Daily Newsletter
A woman looks at a dead gray whale on the beach in the SF Bay area on May 23, 2019; a new spate of gray whales have been turning up dead near San Francisco. Justin Sullivan / Getty Images
Four gray whales have washed up dead near San Francisco within nine days, and at least one cause of death has been attributed to a ship strike.
A small tourist town has borne the brunt of a cyclone which swept across the West Australian coast.
ABC News (Australia) / YouTube
A general view shows the remains of a dam along a river in Tapovan, India, on February 10, 2021, following a flash flood caused by a glacier break on February 7. Sajjad Hussain / AFP / Getty Images
By Rishika Pardikar
Search operations are still underway to find those declared missing following the Uttarakhand disaster on 7 February 2021.
This story originally appeared in Eos and is republished here as part of Covering Climate Now, a global journalism collaboration strengthening coverage of the climate story.
Indigenous youth, organizers with the Dakota Access and Line 3 pipeline fights and climate activists march to the White House to protest against pipeline projects on April 1, 2021. Bill Clark / CQ-Roll Call, Inc via Getty Images
By Jessica Corbett
Indigenous leaders and climate campaigners on Friday blasted President Joe Biden's refusal to shut down the Dakota Access Pipeline during a court-ordered environmental review, which critics framed as a betrayal of his campaign promises to improve tribal relations and transition the country to clean energy.