This website uses cookies to ensure you get the best experience while browsing it. By clicking 'Got It' you're accepting these terms.
Groundbreaking Reports Show Fracking is a Risky Short-Term Bubble
Feb. 19, 2013 03:49PM EST
Energy
Energy Policy Forum and Post Carbon Institute have released two groundbreaking reports that belie energy industry claims of U.S. energy independence as a result of newly accessible shale gas and shale (tight) oil.
The report findings are based on an unprecedented analysis of more than 60,000 U.S. shale oil and gas wells and an investigation of the role of Wall Street investment banks in the explosive growth of fracking for natural gas.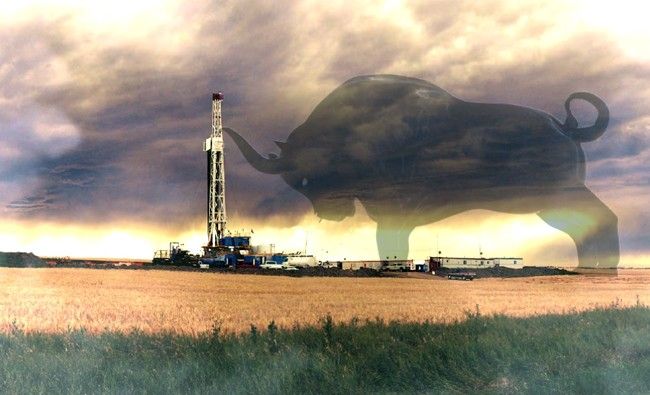 Drill Baby Drill: Can Unconventional Fuels Usher in a New Era of Energy Independence? by J. David Hughes takes a critical look at the prospects for shale gas, shale/tight oil and other unconventional fuels.
Shale & Wall Street: Was the Decline in Natural Gas Orchestrated? by Deborah Rogers uncovers the role of Wall Street investment banks in inflating the natural gas bubble to their advantage.
"The main point for me is that the investment bankers heavily promoted shale and put pressure on the companies to meet production targets," said Rogers. "This in turn helped create a glut in the market as we didn't have demand in place. Prices then plunged which opened the door for large transactional fees for the banks. It is highly unlikely that market savvy bankers didn't recognize such an opportunity very early on. In fact, I think they created it.

"Exporting is a last ditch effort to shore up a failing balance sheet. Exportation will drive the price higher in the U.S. There's no doubt about it. The question is how high will it go. When you are producing a commodity and have produced it to such a high extent, you want to find someone who will buy it, and in this case, it will be the Asians.

"The irony of this is that we used to exploit other areas of the globe to provide energy security for the U.S. and now the U.S. is being exploited to provide energy security to Asia."
Together, the independent reports reassess current common wisdom about the tight oil and shale gas booms that are sweeping America. The reports comprise a thorough and up-to-date analysis of data on U.S. oil and gas wells, and a comprehensive review of the financial status of the companies leading the charge.
What emerges from the data:
Overall field decline rates are so steep that 30-50 percent of shale gas production and 40 percent of shale oil production must be replaced annually to offset declines.
High productivity shale plays are not ubiquitous. Just six plays account for 88 percent of shale gas production and two plays account for 80 percent of shale oil production. Furthermore the most productive areas constitute relatively small sweet spots within these plays.
Maintaining production requires high rates of high-cost drilling—8,600 new wells annually for shale gas and oil. This will increase as sweet spots are drilled off.
High drilling rates require extremely high rates of investment—$48 billion a year to maintain shale gas and oil production considering drilling costs alone—much more if full cycle costs are included. These costs will increase dramatically as plays age.
Wall Street promoted the shale gas drilling frenzy, which resulted in prices lower than the cost of production and thereby profited [enormously] from mergers & acquisitions and other transactional fees.
Shale gas has become one of the largest profit centers in some investment banks, in direct parallel with the decline of natural gas prices.
Due to extreme levels of debt, stated proved undeveloped reserves (PUDs) may have been out of compliance with SEC rules at some shale companies because of the threat of collateral default for some operators.
Hughes and Rogers suggest the fracking boom may be a costly, risky, short-term "fix" for America's long-term dependency on depleting oil and gas. Rather than offering the nation a century of cheap energy and economic prosperity, fracking may instead present us with a short-term bubble that comes with exceeding high economic and environmental costs.
For more information visit the new Shale Bubble website.
Visit EcoWatch's FRACKING page for more related news on this topic.
——–
Sign the petition today, telling President Obama to enact an immediate fracking moratorium:

EcoWatch Daily Newsletter
Artist's conception of solar islands in the open ocean. PNAS
Millions of solar panels clustered together to form an island could convert carbon dioxide in seawater into methanol, which can fuel airplanes and trucks, according to new research from Norway and Switzerland and published in the Proceedings of the National Academy of Sciences journal, PNAS, as NBC News reported. The floating islands could drastically reduce greenhouse gas emissions and dependence on fossil fuels.
Marcos Alves / Moment Open / Getty Images
More than 40 percent of insects could go extinct globally in the next few decades. So why did the U.S. Environmental Protection Agency (EPA) last week ok the 'emergency' use of the bee-killing pesticide sulfoxaflor on 13.9 million acres?
EcoWatch teamed up with Center for Biological Diversity via EcoWatch Live on Facebook to find out why. Environmental Health Director and Senior Attorney Lori Ann Burd explained how there is a loophole in the The Federal Insecticide, Fungicide, and Rodenticide Act under section 18, "that allows for entities and states to request emergency exemptions to spraying pesticides where they otherwise wouldn't be allowed to spray."
Simple swaps that cut down on kitchen trash.
Sponsored
By Kayla Robbins
Along with the bathroom, the kitchen is one of the most daunting areas to try and make zero waste.
View of downtown Miami, Florida from Hobie Island on Feb. 2, 2019.
Michael Muraz / Flickr
The Democratic candidates for president descended upon Miami for a two-night debate on Wednesday and Thursday. Any candidate hoping to carry the state will have to make the climate crisis central to their campaign, as The New York Times reported.
By Sharon Kelly
On Monday, the Wall Street Journal featured a profile of Scott Sheffield, CEO of Pioneer Natural Resources, whose company is known among investors for its emphasis on drawing oil and gas from the Permian basin in Texas using horizontal drilling and hydraulic fracturing, or fracking.
Pexels
By Craig K. Chandler
The federal government has available to it, should it choose to use them, a wide range of potential climate change management tools, going well beyond the traditional pollution control regulatory options. And, in some cases (not all), without new legislative authorization.
Denis Poroy / Getty Images
By Dan Gray
Processed foods, in their many delicious forms, are an American favorite.
But new research shows that despite increasing evidence on just how unhealthy processed foods are, Americans have continued to eat the products at the same rate.
By Sarah Steffen
With a profound understanding of their environmental surroundings, indigenous communities around the world are often cited as being pivotal to tackling climate change.