Governor Cuomo: Imagine There's No Fracking...
Nov. 09, 2012 03:52PM EST
Energy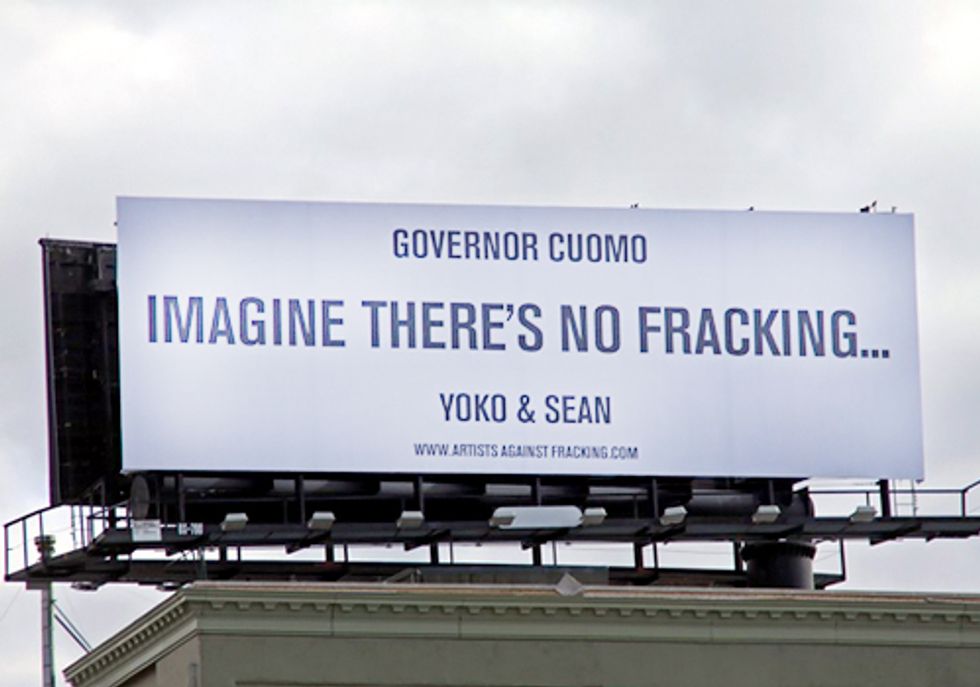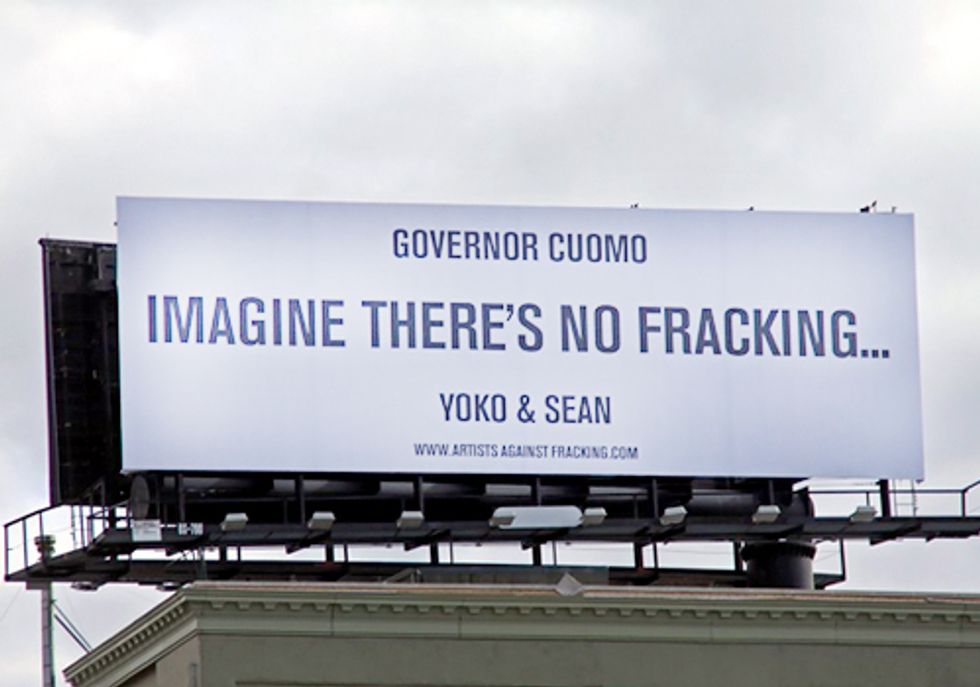 Yoko Ono and Sean Lennon in conjunction with Artists Against Fracking, a coalition of hundreds of actors and musicians that work to expose and stop the harmful and contaminating practice of fracking through mass awareness and peaceful democratic action, displayed their message, "Governor Cuomo: Imagine There's No Fracking," on a billboard along the Major Deegan Expressway in New York City.
According to a Rolling Stones article:
Ono said, "Our message is simple: we want Gov. Cuomo to imagine and guarantee a New York free of the fracking threat to our water, air, beautiful landscapes and climate. Every time New Yorkers pass this billboard, we also want them to imagine a truly clean energy future, not fracking."
Lennon added, "Fracking for gas is inherently dirty and dangerous. Cement and pipes at these great depths are simply not reliable, as the industry's own documents show. Cracks and leaks will inevitably poison wells and aquifers. Rural communities will be turned into industrial brownfields. No amount of regulation can make fracking safe."
Artists Against Fracking want to help create a world that embraces sustainable living and develops renewable energies through economically-viable alternatives to fossil fuel.
On Wednesday, Nov. 14, New Yorkers Against Fracking is organizing A Spiritual Call to Ban Fracking: Vigils to Protect Our Sacred Land & Water. They have recruited more than 300 faith leaders and institutions against fracking. Vigils have been scheduled in Manhattan, Brooklyn, Otego, Binghamton and Cortland, and other vigils are being arranged. 
On Thursday, Nov. 15, New Yorkers Against Fracking is organizing a Call-In Day to Governor Cuomo. Join thousands of people in sending a message to Governor Cuomo: No sham health studies; ban fracking now! We are tracking the number of calls by using a toll-free number—866-584-6799—which connects to Cuomo's office.
With a Nov. 29 deadline looming for the Department of Environmental Conservation to issue policy that could allow permitting for fracking in New York, now is a critical time to make your voice heard.
Visit EcoWatch's FRACKING page for more related news on this topic.
EcoWatch Daily Newsletter
Recent Stories from EcoWatch