This website uses cookies to ensure you get the best experience while browsing it. By clicking 'Got It' you're accepting these terms.
Giant Squid Could Be Longer Than a School Bus
May. 29, 2016 11:18AM EST
Science
The giant squid is an elusive and mysterious animal that scientists are trying to learn more about. One statistical ecologist has made an attempt to estimate the range in size of these deep-sea creatures, but others don't agree with the findings.
The largest giant squid ever found measured 59 feet long and weighed almost a ton, according to National Geographic. But other than information gathered through spottings or dead squids that have washed ashore, scientists know little about this animal's size and lifestyle.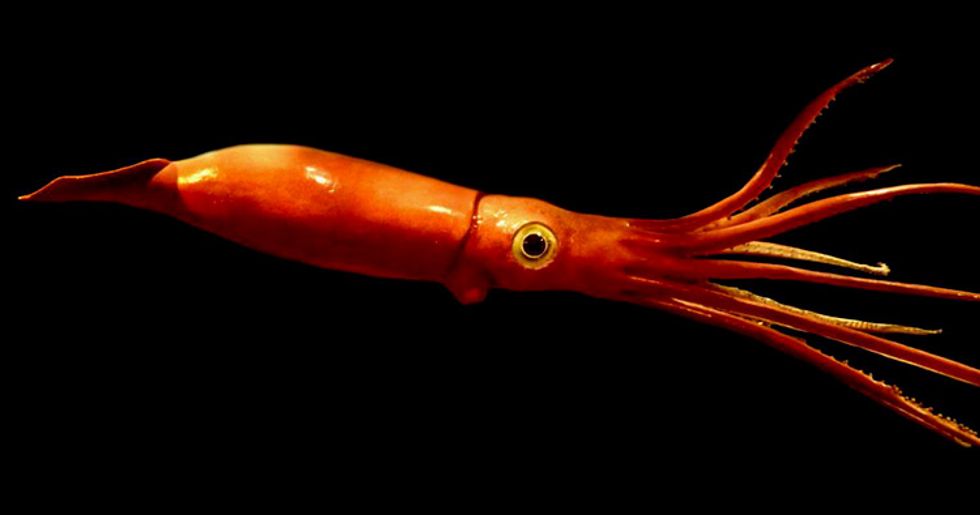 Charles Paxton, a statistical ecologist at the University of St. Andrews in Scotland, took a stab in the dark and estimated how large these creatures can get. Paxton used data gathered over the past century on length and dimensions of the sighted squids and, through statistical analysis, estimated that this species could range from 19 to 90 feet in length.
He settled on 66 feet long as a good bet. School buses are usually 45 feet long.
"I knew that there were bona fide squid longer than what the experts said," Paxton told National Geographic.
Though there is no evidence to prove Paxton wrong, there also isn't enough evidence, others say, to prove him right.
Steve O'Shea, a giant squid expert, is one of the non-believers. National Geographic explains:
And O'Shea asserts that if exceptionally large giant squids did exist, their beaks probably would have been found at some point, either from sperm whale stomachs or seabed sampling. None of that size have been found, however.
"Large beaks belonging to large Architeuthis do not exist because the squid do not exist!" wrote O'Shea, who characterized Paxton's analysis as "complete nonsense, verging on literature pollution."
Other scientists question the data Paxton collected. Giant squid sightings are scattered and don't have a uniform style of record keeping. Measurements could have been taken after "postmortem stretching or shrinking" occurred or after parts of the quid were cut off.
The only real way to prove Paxton wrong or right is to find that 66-foot long squid.
YOU MIGHT ALSO LIKE
NOAA: World's Largest Sponge Is as Big as a Minivan
Scientists Uncover Array of Strange Animals in Cave That Has Been Sealed Off for 5.5 Million Years
First New Butterfly Species Found in Alaska in 28 Years: Is it an Ancient Hybrid?
EcoWatch Daily Newsletter
Coldplay is releasing a new album on Friday, but the release will not be followed by a world tour.
Ash dieback is seen infecting a European ash (Fraxinus excelsior) in Bottomcraig, Scotland, UK on Aug. 10, 2016.
nz_willowherb / Flickr
Scientists have discovered a genetic basis to resistance against ash tree dieback, a devastating fungal infection that is predicted to kill over half of the ash trees in the region, and it could open up new possibilities to save the species.
Truth in Action is a day-long global conversation on the climate crisis and how we solve it. The Climate Reality Project
Former Vice President Al Gore kicked off 24 hours of climate talks in the U.S. and 77 other countries around the world Wednesday night.
Activists highlighted the climate emergency outside Scottish Government headquarters at St Andrew's House in Edinburgh on Oct. 13, 2017. Usage of the term "climate emergency" spiked in 2019, according to Oxford Dictionaries.
By Jessica Corbett
Climate advocates and experts celebrated Oxford Dictionaries' announcement Wednesday that "climate emergency" is the Oxford Word of the Year 2019.
By Kieran Cooke
There could be a way of countering one key aspect of the climate emergency by making much greater use of a widely-available plant: bamboo building.