This website uses cookies to ensure you get the best experience while browsing it. By clicking 'Got It' you're accepting these terms.
French Police Put 24 Climate Activists Under House Arrest Ahead of COP21
Nov. 29, 2015 09:43AM EST
Climate
French police have placed 24 activists under "house arrest" ahead of the major UN climate talks, COP21, starting near Paris tomorrow.
The French interior ministry said Friday the government was trying to prevent the activists from demonstrating ahead of the COP21 conference, but their lawyers and Amnesty International accused the government of abusing the "state of emergency" put into effect after the Paris attacks.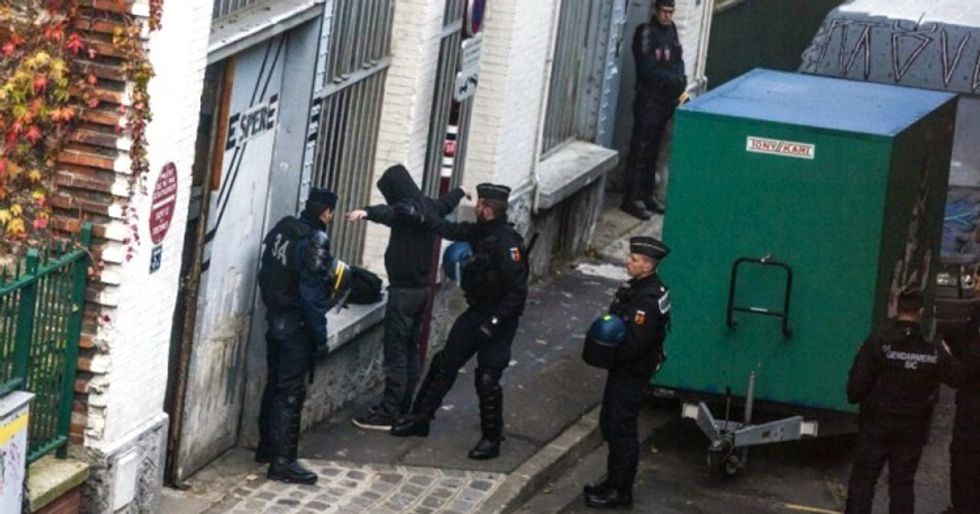 Three of those arrested are accused of belonging to the "radical opposition movement," according to Agence France Presse. "They are banned from leaving their home town in western France without special police permission, they must report to a local police station three times a day and remain at their homes between 8:00 pm and 6:00 am until December 12, the day after the talks are due to end."
The interior ministry says the three individuals have caused "serious disturbances to public order" in the past.
Author and climate change activist, Naomi Klein, accused the French authorities of "a gross abuse of power that risks turning the summit into a farce."
"Climate summits are not photo opportunities to boost the popularity of politicians. Given the stakes of the climate crisis, they are by their nature highly contested. That is democracy, messy as it may be. The French government, under cover of anti-terrorism laws, seems to be trying to avoid this, shamefully banning peaceful demonstrations and using emergency powers to pre-emptively detain key activists," Klein told the Guardian.
The activists' lawyer, Marie Dose, said the state of emergency was being "misused" in their cases. "This is an attack on the right to demonstrate," she said.
In the wake of the attacks in Paris that killed 130 people on Nov. 13, the government banned all public demonstrations linked to COP21.
Stephan Oberreit, head of Amnesty International France, said the measures taken by the government were "disproportionate."
"The systematic banning of all meetings linked to COP21 deprives critical voices of an essential outlet to express themselves," he said in a statement. "Amnesty International believes that banning any gatherings related to the COP21 of Nov. 28 to 30, appears to be a disproportionate interference with the right to demonstrate on this subject, since the date of the rallies is closely related to the holding of the COP21."
France's Human Rights League (LDH) on Thursday condemned the decision to place Joel Domenjoud, a member of the legal team for the coalition of protest groups, under house arrest.
Domenjoud, a legal activist, told the Guardian that he had been served with a restraining order wrongly describing him as a "principal leader of the ultra-left movement" just hours after a judge refused to hear an appeal against the ban on the climate demo that he had petitioned for.
"I wasn't there when they came to my house but my neighbor called me to say 'What's wrong? The stairs are full of cops from the first to the third floor!'" he said.
Domenjoud says he was then followed by several undercover officers, before returning home, where he was served with the restraining notice.
"I feel angry about it because I think they made a big mistake," Domenjoud added. "They weren't looking for people like us activists—or if they were, it shows that they can target people for no reason at all and our civil liberties are in danger."
YOU MIGHT ALSO LIKE
Groups Demand French President Lift Ban on Climate Protests and Marches
Pope Francis: 'Catastrophic' Climate if Paris Talks Fail
The World Takes to the Streets Ahead of Paris Climate Talks
Viral Video: Watch Your Favorite YouTube Stars Demand Climate Action
EcoWatch Daily Newsletter
A harbour seal on an ice floe in Glacier Bay, Alaska. A new study shows that the climate crisis has warmed waters, changing ecosystems and crippling sea ice growth. Janette Hill / robertharding / Getty Images Plus
Doctors report that only 1 in 4 children are getting the recommended 60 minutes of physical activity per day. Ronnie Kaufman / DigitalVision / Getty Images
By Dan Gray
Pediatricians are being urged to start writing "exercise prescriptions" for the children they see in their office.
A First Nations protester walks in front of a train blockade in Tyendinaga, near Belleville, Ontario, Canada on Feb. 21, 2020. LARS HAGBERG / AFP via Getty Images
An indigenous rail blockade that snarled train travel in Canada for more than two weeks came to an end Monday when police moved in to clear protesters acting in solidarity with another indigenous community in British Columbia (B.C.), which is fighting to keep a natural gas pipeline off its land.
A rainbow snake, a rare reptile spotted in a Florida county for the first time in more than 50 years, seen here on July 5, 2013.
Kevin Enge / FWC Fish and Wildlife Research Institute / Flickr
A Florida hiker recently stumbled across a slithering surprise — a rare snake that hadn't been spotted in the area for more than 50 years.
We need our government to do everything it can to stop PFAS contamination and exposure from wreaking havoc in communities across the country. LuAnn Hun /
Unsplash
By Genna Reed
The EPA announced last week that it is issuing a preliminary regulatory determination for public comment to set an enforceable drinking water standard to two of the most common and well-studied PFAS, PFOA and PFOS.
This decision is based on three criteria:
PFOA and PFOS have an adverse effect on public health
PFOA and PFOS occur in drinking water often enough and at levels of public health concern;
regulation of PFOA and PFOS is a meaningful opportunity for reducing the health risk to those served by public water systems.