This website uses cookies to ensure you get the best experience while browsing it. By clicking 'Got It' you're accepting these terms.
France Approves Long-Awaited Landmark Climate Bill
Aug. 05, 2014 02:48PM EST
The French government has approved its long-awaited energy bill, clearing the way for it to go before Parliament this autumn and be ratified in 2015. This is a major step for the nation that will be hosting the 2015 UN climate summit, where a new global climate deal is expected to be agreed.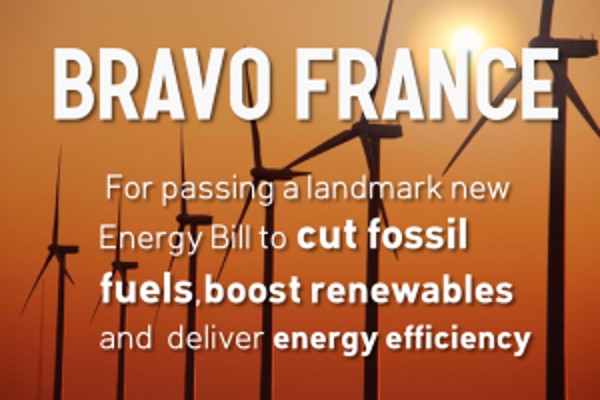 With the new energy bill, France joins the ranks of other nations taking strong climate action and committing targets to law. Photo credit: 350.org
The French bill includes targets to cut fossil fuel and nuclear energy use and boost renewables, and could help mobilize €10 billion of investment and create thousands of jobs, according to the government. France joins a host of other EU nations and major economies in announcing such legislation. While the ambitious targets have been welcomed by NGOs, they warn that the government must now "provide the impetus" and mobilize even more financing to ensure the ambitious targets are implemented. Others have pointed out that nuclear energy remains a lynchpin of France's energy policy.
With the new energy bill, France joins the ranks of other nations taking strong climate action and committing targets to law. In Europe in recent months Denmark has ratified its climate law, while Finland revealed its proposed legislation to cut emissions by 80 percent by 2050. The UK government also recently stood by its targets to cut emissions under its climate change act, while across the world other major economies have pledged strong climate action, including a recent announcement from the U.S. to cut carbon pollution from power plants.
France's national targets go some way to showing "its own climate and energy house is in order" and paving the way for ambitious international commitments on climate change. Hosts of the UN's 2015 climate summit, all eyes will now be on France to see if it can "play the role of fair and ambitious COP president" and broker a strong global climate treaty.
The country's first opportunity to show leadership will be when EU nations meet to finalize the bloc's climate and energy framework to 2030 in October. France's emissions target puts it firmly in line with the 40 percent reduction proposed by the EU Commission, while its ambitious renewable goal goes beyond the EU-wide proposal.
You Might Also Like
Ignoring Climate Risks Could Sink U.S. Economy
Denmark Outdoes Rest of Europe With Ambitious Emissions Reduction Goal
Sunoco's controversial Mariner East pipeline project in Pennsylvania is beginning 2019 on unstable ground, literally. A sinkhole opened in the suburban development of Lisa Drive in Chester County Sunday, exposing the old Mariner East 1 pipeline built in the 1930s.
Southwest Greenland had the most consistent ice loss from 2003 to 2012. Eqalugaarsuit, Ostgronland, Greenland on Aug. 1, 2018.
Rob Oo / CC BY 2.0
Martin Luther King Jr. at steps of the Lincoln Memorial where he delivered his famous, "I Have a Dream" speech in 1963.
"Injustice anywhere is a threat to justice everywhere." Dr. Martin Luther King Jr.'s words and actions continue to resonate on the 90th anniversary of his birth.
As the country honors the life and legacy of the iconic civil rights leader today, we are reminded that the social justice and the climate movements are deeply connected.
By Marlene Cimons
Most Europeans know the great tit as an adorable, likeable yellow-and-black songbird that shows up to their feeders in the winter. But there may be one thing they don't know. That cute, fluffy bird can be a relentless killer.
The great tit's aggression can emerge in gruesome ways when it feels threatened by the pied flycatcher, a bird that spends most of the year in Africa, but migrates to Europe in the spring to breed. When flycatchers arrive at their European breeding grounds, they head for great tit territory, knowing that great tits—being year-round European residents—know the best nesting sites.
The fire that erupted after a pipeline explosion in Mexico Friday. FRANCISCO VILLEDA / AFP / Getty Images
A dramatic pipeline explosion in central Mexico Friday has killed at least 85 people, Mexican Health Minister Jorge Alcocer Valera said Sunday night, The Associated Press reported.

The explosion occurred in a field in the municipality of Tlahuelilpan as people rushed to gather fuel from the pipeline, which had been ruptured by suspected thieves. Many were covered in oil before a fireball shot into the air.
By Brian Mastroianni
Is it hard to motivate yourself to get off the couch and go exercise?
U.S. Army member helps clear debris from Tyndall Air Force Base following Hurricane Michael.
U.S. Army
The Pentagon released a Congressionally mandated report (pdf) that warns flooding, drought and wildfires and other effects of climate change puts U.S. military bases at risk.
The 22-page analysis states plainly: "The effects of a changing climate are a national security issue with potential impacts to Department of Defense (DoD or the Department) missions, operational plans, and installations."
Protesters interrupt the confirmation hearing for Andrew Wheeler on Capitol Hill Jan. 16 in Washington, DC. Chip Somodevilla / Getty Images
This week, people across the country are joining environmental leaders to speak out against the nomination of former coal lobbyist Andrew Wheeler to lead the the U.S. Environmental Protection Agency (EPA). As Scott Pruitt's hand-picked successor, Wheeler has continued to put polluters over people, most recently by using the last of his agency's funding before it expired in the government shutdown to announce plans to allow power plants to spew toxic mercury and other hazardous pollution into the air.
Hats off to Delta Air Lines. The company's charitable arm awarded the National Park Service an $83,500 grant to help reopen the Martin Luther King Jr. National Historical Park in Atlanta from Jan. 19 through Feb. 3 in honor of Dr. King's legacy.
The Atlanta-based airline was inspired to act after learning that some of the park's sites, including Dr. King's birth home, Ebenezer Baptist Church, Fire Station No. 6 and the visitor center, were closed due to the partial government shutdown, now on its 28th day, according to LinkedIn post from Delta Air Lines CEO Ed Bastian.