Fracking's Dark Side Gets Darker
Oct. 15, 2012 10:01AM EST
Energy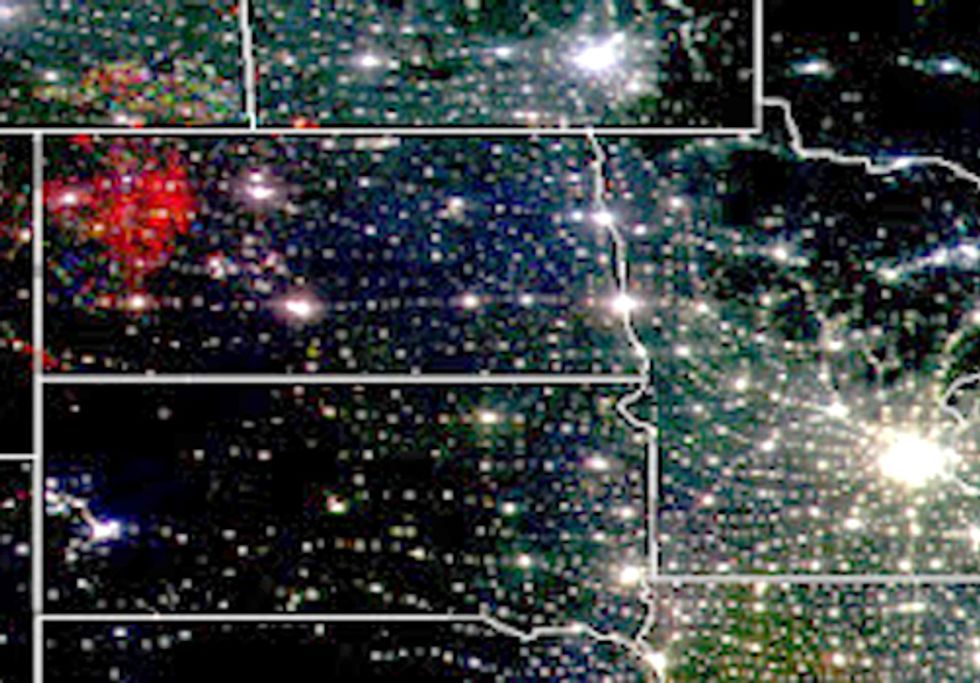 By Peter Lehner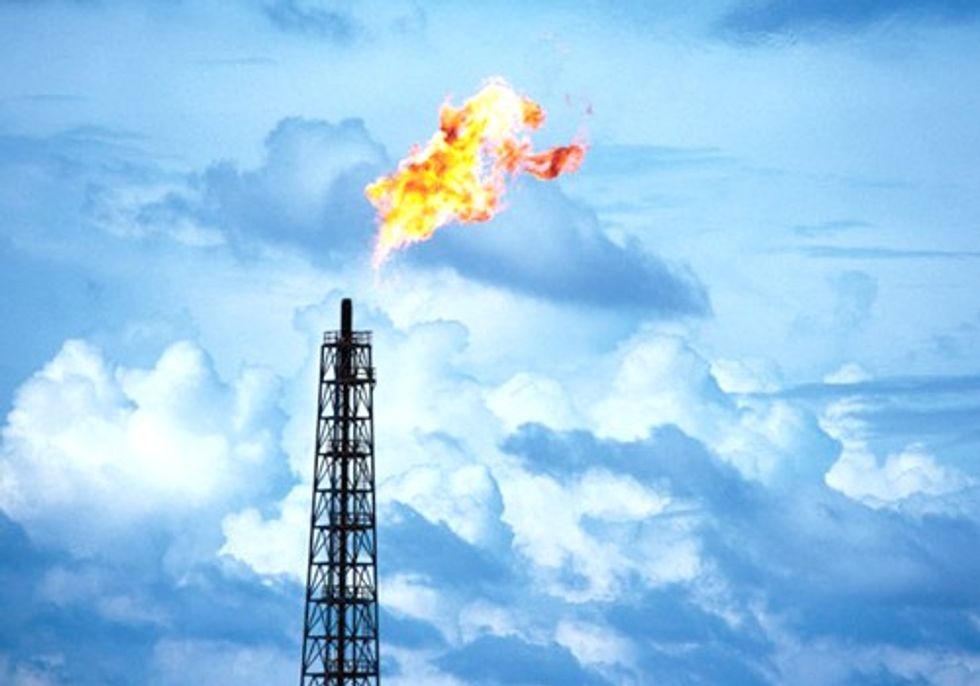 Fracking for oil in North Dakota is so lucrative that when natural gas bubbles up alongside the oil, most oil companies simply view it as waste. It's cheaper, in the short term, to burn the gas than it is to build the infrastructure to pipe and sell it--so they burn it. Across the North Dakota prairie, natural gas flares light up the night sky like huge torches. Every day, they burn off enough gas to heat half a million homes.
The risks and challenges of extracting natural gas, and fracking, in particular, have been written about extensively, by my colleagues and in many other articles, lawsuits, and scientific studies. Given these challenges, it is astounding to discover how much natural gas we are wasting every day, either through burning or poorly managed leaks. By reducing this waste, we can clean the air and water, cut global warming pollution, and, as is the case when we become more efficient--make money.
Natural gas is mostly methane, a potent greenhouse gas. Pound for pound, methane is at least 25 times more powerful than carbon dioxide, over a 100-year period, and as much as 100 times more powerful over a 20-year period. Releasing increasing amounts of it into the atmosphere could accelerate the pace of climate change. Because methane acts faster than carbon dioxide, and doesn't linger as long in the atmosphere, scientists see an opportunity to quickly reduce the risk of incurring extreme climate disruption by cutting methane pollution.
The World Bank estimates that in North Dakota alone, natural gas flares produce the same amount of global warming pollution as 2.5 million cars. Across the board, the oil and gas industry wastes two to three percent of all the natural gas in the country, according to the U.S. Environmental Protection Agency (EPA), due to flaring, leaks and other waste. Other experts think this number is even higher, and that unconventional gas production, like fracking, wastes up to 8 percent.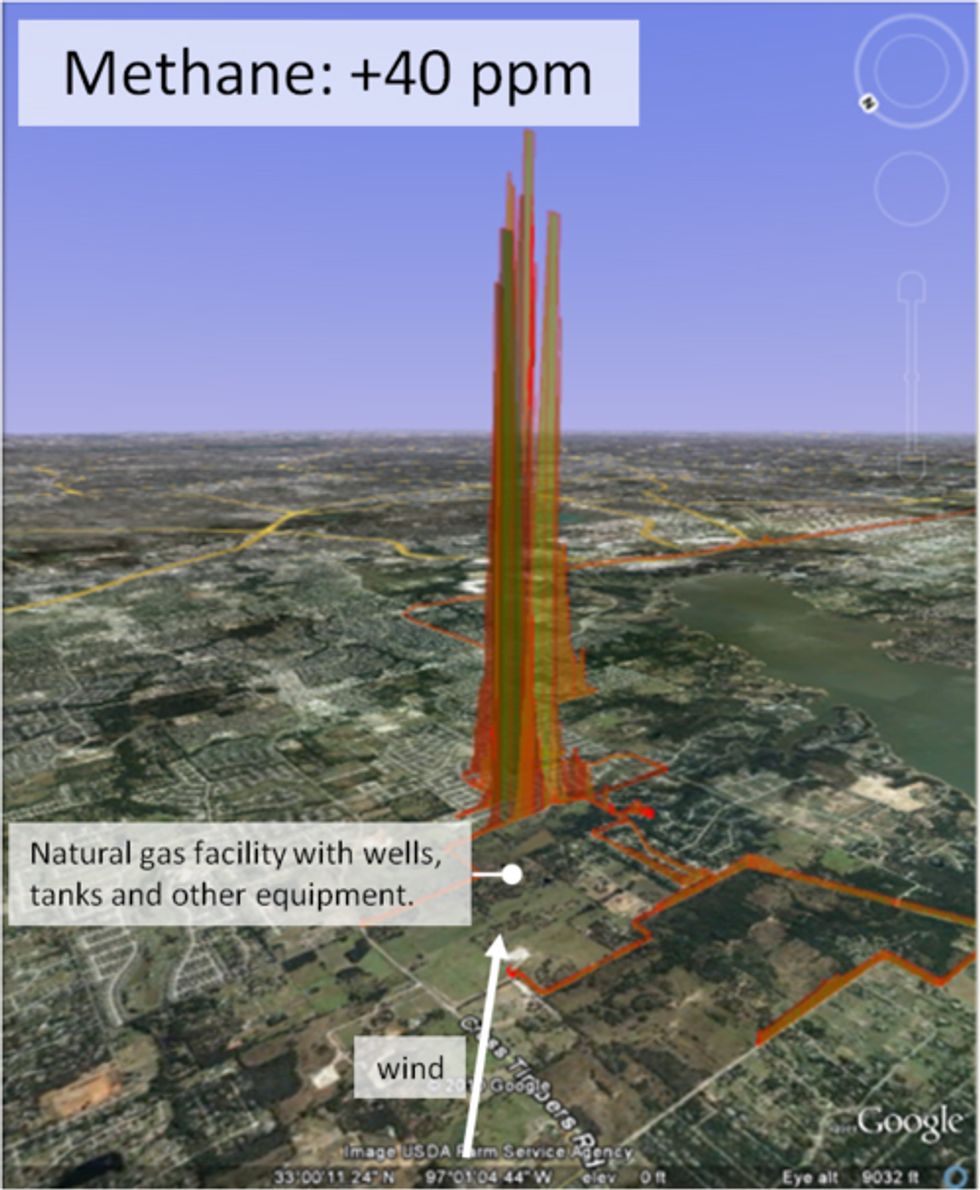 Methane levels spike downwind from a large natural gas facility near Flower Mound, TX. (Source: Picarro Inc., California)
Regulating fracking with strong environmental safeguards will help protect people's health and dramatically reduce methane waste. It will also encourage the industry to become more efficient. Many companies are already using commercially available technologies to control methane leakage. A process called green completion, for example, captures liquids and gases coming out of wells after they are fracked, and routes them to a separate tank for processing.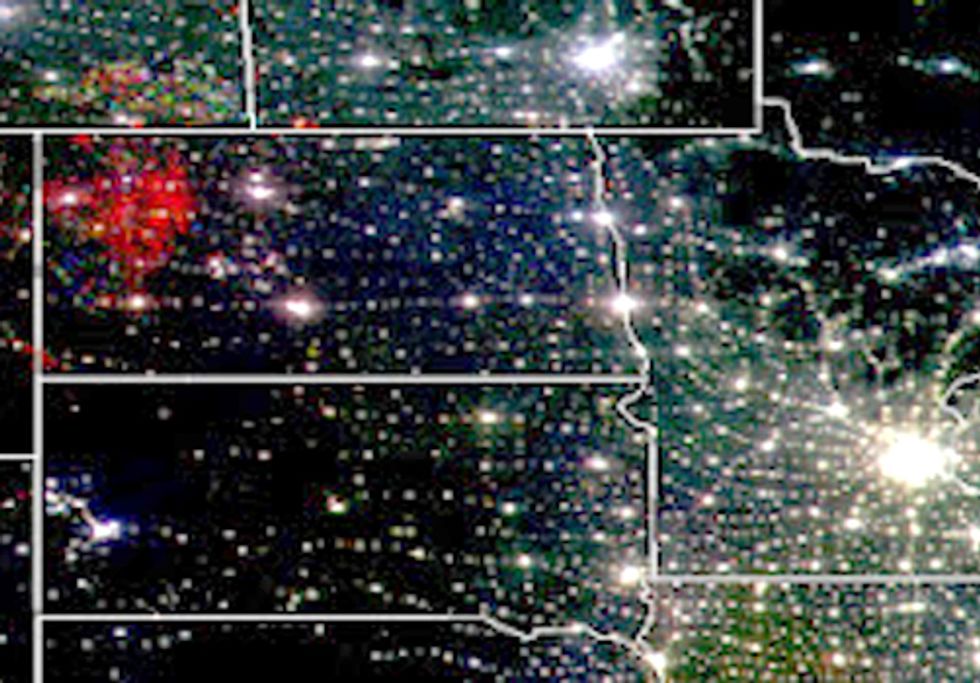 Companies that have been using the process for years say it's smart business. A spokesman for Devon Energy, based in Oklahoma City, told Bloomberg News: "We are capturing value that would otherwise be lost.  It does make good economic sense for us." At Southwestern Energy, the president of the drilling unit simply said, "We're making money."
In addition to green completions, a host of other cost-effective techniques, such as better pipes, and improved monitoring and maintenance, which pay for themselves within a few years, or even months, can dramatically reduce methane leakage. If these practices were widespread, we could stop 80 percent of methane waste across the industry, and recover $2 billion worth of natural gas. It would reduce global warming pollution equivalent to the emissions of 50 coal-fired power plants, or 40 million passenger vehicles.
Colorado and Wyoming already require green completions for many natural gas wells; the EPA has issued a new rule that requires green completion for many natural gas wells nationwide. However, the rule will only go into effect in 2015, and in the meantime—and even after the rule is implemented—there will continue to be many natural gas wells, as well as all oil wells, that still leak methane.  
Plugging up methane leaks is a critical tool in our efforts to reduce global warming pollution. It's also a cost-effective way for the oil and gas industry to stop wasting energy and become more efficient—and an important step forward in cleaning up dirty, disruptive fracking operations.
Visit EcoWatch's FRACKING page for more related news on this topic.
--------
 This post is part of our Wasteland series, featuring people, towns, businesses and industries that are finding innovative ways to cut waste, boost efficiency and save money, time and valuable resources.
EcoWatch Daily Newsletter
Recent Stories from EcoWatch