This website uses cookies to ensure you get the best experience while browsing it. By clicking 'Got It' you're accepting these terms.
Fracking Wastewater Injection Wells Blamed for Oklahoma's Recent String of Earthquakes
Jul. 09, 2014 01:49PM EST
Energy
Oklahoma has had a whole lot of shaking going on during the last six years. Seismic activity in the state has risen dramatically, from just more than a dozen earthquakes recorded back in 2008 to more than 100 in 2013. And here we are only halfway through 2014, and already the number of Oklahoma quakes with a magnitude of 3.0 or higher has surpassed the number of such earthquakes in California—a state famous for its big temblors.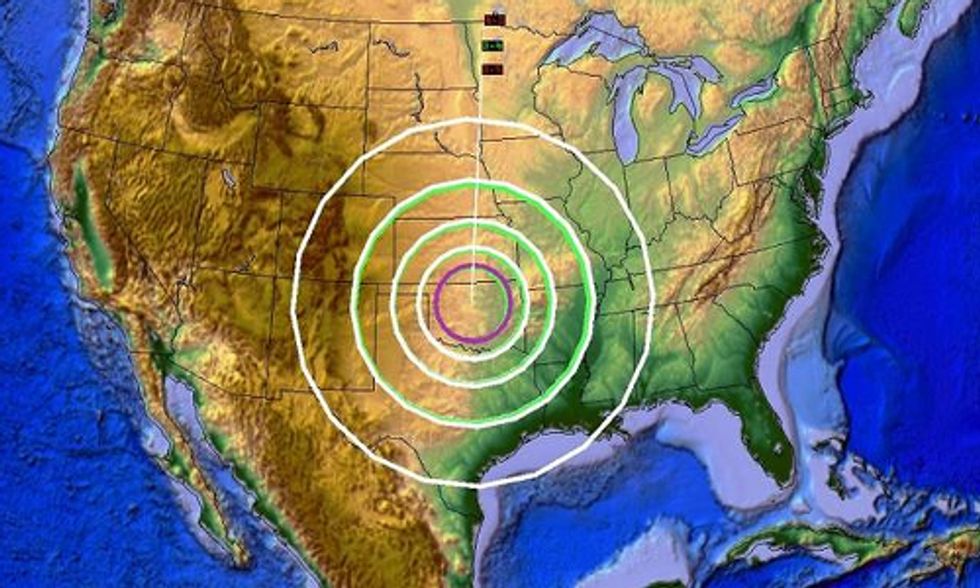 What on Earth (or under it) could be causing the Sooner State to rumble like this? A new study, published last week in the journal Science, suggests that a common byproduct of oil and gas drilling may be to blame.
In the process of extracting oil and gas, energy companies also end up extracting a lot of underground water: for every quart of oil yielded, in fact, as much as a gallon of water gets sucked up out of the ground. Because this wastewater is salty, drillers can't simply dump it into the nearest freshwater stream; instead, they typically inject it back into the formation, via deep wells that can extend anywhere from one to three miles below ground. Unfortunately, the study's authors have found, these wastewater injections can agitate long-dormant faults, causing them to slip—and trigger an earthquake.
A number of previously published studies (you can read a few here, here and here) have shown strong correlations between wastewater injection wells and increased seismic activity. But by synthesizing the most sophisticated hydrological models with the latest seismological data, the authors of this most recent study have arrived at our clearest understanding yet of how, exactly, the act of injecting water into the ground might physically result in an earthquake.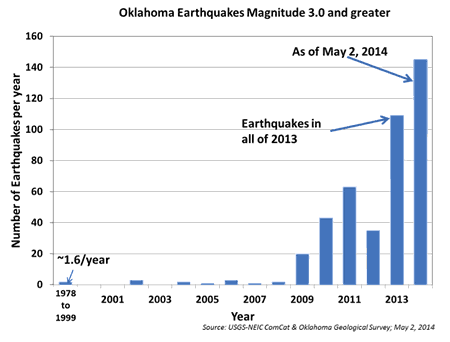 According to the researchers, only a handful of Oklahoma's 10,000 wells—roughly 90 of them where drillers have routinely been pumping wastewater below the surface—may account for the state's biggest cluster of earthquakes. (Within 25 miles of these well sites, more than 100 earthquakes have been recorded.) Although the study doesn't prove, conclusively, that the wells induced those earthquakes, the data does strongly support that suspicion.
"The main purpose of this study was to try to understand the physics of the system better, particularly the linkage between wastewater injection and observed seismicity," says co-author Shemin Ge, a hydrogeologist at the University of Colorado, Boulder. Through this understanding, she and her partners are hoping to identify and promote best practices—such as making sure that a site isn't too close to a fault before any drilling begins, or limiting the amount of water injected into a well.
The size of Oklahoma's oil and gas industry has nearly doubled since 2004. But it's not the only state where earthquake activity is rising at same time that oil and gas development are surging: Colorado, Texas, Arkansas and Ohio have also been feeling the Earth move a lot more than usual. Even so, nearly half of all the earthquakes that took place in the central and eastern U.S. between 2008 and 2013 occurred in Oklahoma.
The quakes have cracked foundations and buckled highways. Last October, the state's insurance commissioner began encouraging homeowners to buy earthquake insurance—a purchase that, up until now, has probably made a lot more sense to residents of Temecula than Tulsa. Now some nervous Oklahomans are calling for a moratorium on wastewater injection wells, taking a cue from their neighbors in Arkansas, who in 2011 issued a ban of their own on any underground wastewater disposal within 1,150 square miles of a major geologic fault.
"We don't fully understand what the hazard implications of [wastewater injection] are," says Bill Ellsworth, a U.S. Geological Survey geophysicist who knows a thing or two about earthquakes. (He's published more than 100 studies on them—though he wasn't a part of this most recent study). Still, Ellsworth says, "this type of research is an important direction for people working in this field to be perusing."
Can't argue with that. In the meantime, Okies, take a few earthquake tips from your friends on the West Coast (and maybe get that insurance).
This article was originally posted in Natural Resources Defense Council's OnEarth. 
EcoWatch Daily Newsletter
Get ready for double the cuteness! Red pandas, the crimson-colored, bushy-tailed forest dwellers who gave Firefox its name, actually consist of two different species.
A view of a washed out road near Utuado, Puerto Rico, after a Coast Guard Air Station Borinquen MH-65 Dolphin helicopter crew dropped relief supplies to residents Tuesday, Oct. 3, 2017. The locals were stranded after Hurricane Maria by washed out roads and mudslides. U.S. Coast Guard photo by Petty Officer 3rd Class Eric D. Woodall /
CC BY-NC-ND 2.0
By Coral Natalie Negrón Almodóvar
The Earth began to shake as Tamar Hernández drove to visit her mother in Yauco, Puerto Rico, on Dec. 28, 2019. She did not feel that first tremor — she felt only the ensuing aftershocks — but she worried because her mother had an ankle injury and could not walk. Then Hernández thought, "What if something worse is coming our way?"
Flooded battery park tunnel is seen after Hurricane Sandy in 2012.
CC BY 2.0
President Trump has long touted the efficacy of walls, funneling billions of Defense Department dollars to build a wall on the southern border. However, when the U.S. Army Corps of Engineers (USACE) released a study that included plans for a sea wall to protect New Yorkers from sea-level rise and catastrophic storms like Hurricane Sandy, Trump mocked it as ineffective and unsightly.
A general view of fire damaged country in the The Greater Blue Mountains World Heritage Area near the town of Blackheath on Feb. 21, 2020 in Blackheath, Australia. Brook Mitchell / Getty Images
In a post-mortem of the Australian bushfires, which raged for five months, scientists have concluded that their intensity and duration far surpassed what climate models had predicted, according to a study published yesterday in Nature Climate Change.