Fracking Wastewater Injection Wells Blamed for Oklahoma's Recent String of Earthquakes
Oklahoma has had a whole lot of shaking going on during the last six years. Seismic activity in the state has risen dramatically, from just more than a dozen earthquakes recorded back in 2008 to more than 100 in 2013. And here we are only halfway through 2014, and already the number of Oklahoma quakes with a magnitude of 3.0 or higher has surpassed the number of such earthquakes in California—a state famous for its big temblors.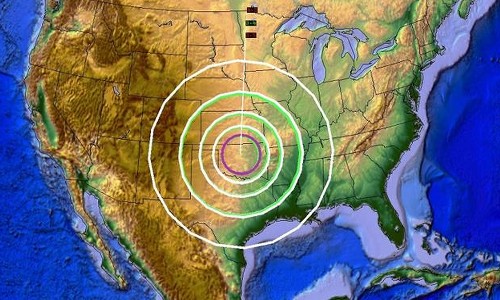 What on Earth (or under it) could be causing the Sooner State to rumble like this? A new study, published last week in the journal Science, suggests that a common byproduct of oil and gas drilling may be to blame.
In the process of extracting oil and gas, energy companies also end up extracting a lot of underground water: for every quart of oil yielded, in fact, as much as a gallon of water gets sucked up out of the ground. Because this wastewater is salty, drillers can't simply dump it into the nearest freshwater stream; instead, they typically inject it back into the formation, via deep wells that can extend anywhere from one to three miles below ground. Unfortunately, the study's authors have found, these wastewater injections can agitate long-dormant faults, causing them to slip—and trigger an earthquake.
A number of previously published studies (you can read a few here, here and here) have shown strong correlations between wastewater injection wells and increased seismic activity. But by synthesizing the most sophisticated hydrological models with the latest seismological data, the authors of this most recent study have arrived at our clearest understanding yet of how, exactly, the act of injecting water into the ground might physically result in an earthquake.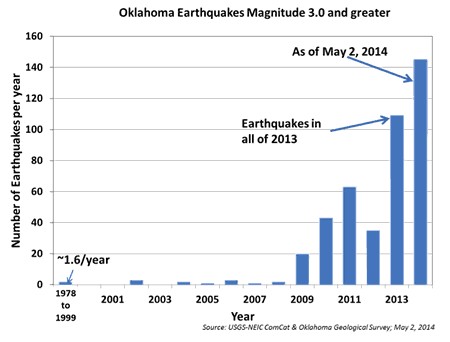 According to the researchers, only a handful of Oklahoma's 10,000 wells—roughly 90 of them where drillers have routinely been pumping wastewater below the surface—may account for the state's biggest cluster of earthquakes. (Within 25 miles of these well sites, more than 100 earthquakes have been recorded.) Although the study doesn't prove, conclusively, that the wells induced those earthquakes, the data does strongly support that suspicion.
"The main purpose of this study was to try to understand the physics of the system better, particularly the linkage between wastewater injection and observed seismicity," says co-author Shemin Ge, a hydrogeologist at the University of Colorado, Boulder. Through this understanding, she and her partners are hoping to identify and promote best practices—such as making sure that a site isn't too close to a fault before any drilling begins, or limiting the amount of water injected into a well.
The size of Oklahoma's oil and gas industry has nearly doubled since 2004. But it's not the only state where earthquake activity is rising at same time that oil and gas development are surging: Colorado, Texas, Arkansas and Ohio have also been feeling the Earth move a lot more than usual. Even so, nearly half of all the earthquakes that took place in the central and eastern U.S. between 2008 and 2013 occurred in Oklahoma.
The quakes have cracked foundations and buckled highways. Last October, the state's insurance commissioner began encouraging homeowners to buy earthquake insurance—a purchase that, up until now, has probably made a lot more sense to residents of Temecula than Tulsa. Now some nervous Oklahomans are calling for a moratorium on wastewater injection wells, taking a cue from their neighbors in Arkansas, who in 2011 issued a ban of their own on any underground wastewater disposal within 1,150 square miles of a major geologic fault.
"We don't fully understand what the hazard implications of [wastewater injection] are," says Bill Ellsworth, a U.S. Geological Survey geophysicist who knows a thing or two about earthquakes. (He's published more than 100 studies on them—though he wasn't a part of this most recent study). Still, Ellsworth says, "this type of research is an important direction for people working in this field to be perusing."
Can't argue with that. In the meantime, Okies, take a few earthquake tips from your friends on the West Coast (and maybe get that insurance).
This article was originally posted in Natural Resources Defense Council's OnEarth. 
Bill Maher is sick of billionaires' obsession with Mars, more like "Mars-a-Lago," he said.
In a new animation produced by ATTN:, the popular talk show host of Real Time, discusses the perils of our planet, including how "climate change is killing us."
Keep reading...
Show less
Dr. Benjamin D. Santer, research scientist
A group of prominent climate scientists have written a study explicitly refuting statements made by the U.S. Environmental Protection Agency Administrator Scott Pruitt on climate data. During his Senate confirmation hearing, Pruitt claimed in a written response that satellite data shows a "leveling off" of warming over the past two decades.
Keep reading...
Show less
By David Pomerantz
The Nevada Assembly passed a bill Wednesday that would dramatically increase the growth of renewable energy in the state, but Sheldon Adelson, the casino magnate and major donor to Donald Trump, is attempting to prevent the bill from becoming law.
Keep reading...
Show less
Matt Crossick
By Yosola Olorunshola
Whether it's through fashion or protest, Vivienne Westwood is not a woman afraid of making a statement.
On May 23, she rocked up to the residence of the Archbishop of Canterbury in London with a special guest—the Grim Reaper—to issue a strong statement on the Church of England's position on fracking.
Keep reading...
Show less
Military veterans from across Virginia released a letter Thursday opposing two proposed fracked-gas pipelines: Dominion Energy's Atlantic Coast Pipeline and EQT's Mountain Valley Pipeline. These pipelines would cross through pristine areas of Virginia, taking private property by use of eminent domain, removing mountain ridgetops and threatening valuable drinking water resources. The veterans view this as contrary to their service to protect and defend the freedom and security of American citizens.

Keep reading...
Show less
By Paul Brown
The food industry and big agricultural concerns are driving climate change and at the same time threatening to undermine efforts to feed the world's growing population, according to GRAIN, an organization that supports small farmers.
Particularly singled out for criticism are the large chemical fertilizer producers that have gained access to the United Nations talks on climate change. GRAIN accuses them of behaving like the fossil fuel companies did in the 1990s, pushing false information in the hope of delaying real action on climate change.
Keep reading...
Show less
May. 24, 2017 06:55PM EST
By Sydney Robinson
President Trump has no doubt been given a long list of extravagant, elaborate gifts in his lifetime, but the gift given to him today by Pope Francis may not make it on his most favorite list.
Keep reading...
Show less
May. 24, 2017 07:17PM EST
By John Rogers
Maybe it's because I first started working on clean energy while serving in the Peace Corps he founded, or maybe it's my years of working on these issues from his home state. But I can't help thinking about the 100th anniversary of John F. Kennedy's birth, and connecting his stirring rhetoric to the energy challenges of our times.
Here's what our 35th president might have said about the challenges of energy transition and the opportunities in clean energy:
"Change is the law of life. And those who look only to the past or present are certain to miss the future."
Keep reading...
Show less


Get EcoWatch in your inbox