'Fracking Village' Gets Green Light to Go 100% Solar
Oct. 02, 2015 10:43AM EST
Energy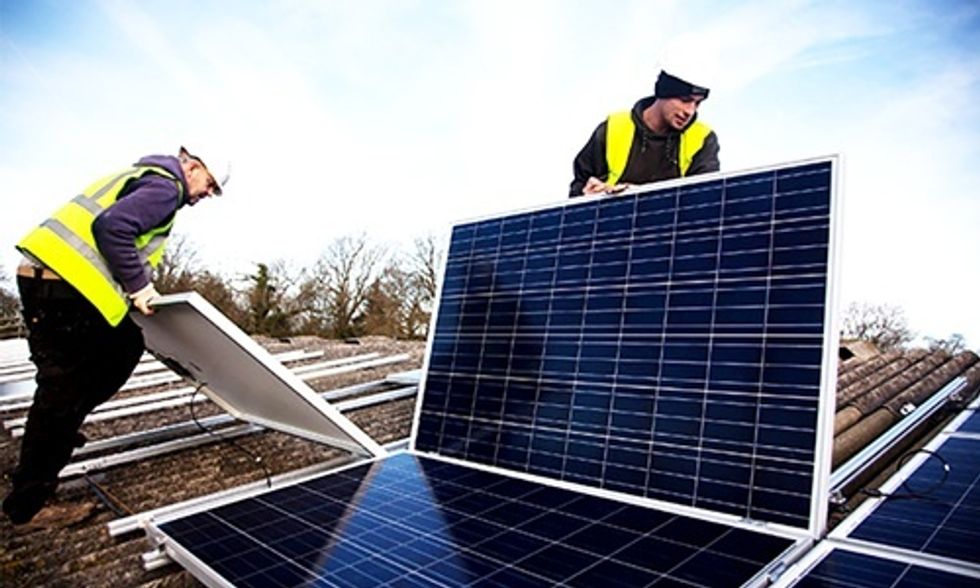 The UK's clean energy sector got a boost yesterday, as Repower Balcombe, the local energy cooperative born of the 2013 fracking protests, was given the go ahead with its proposed 5 megawatt (MW) solar park in West Sussex.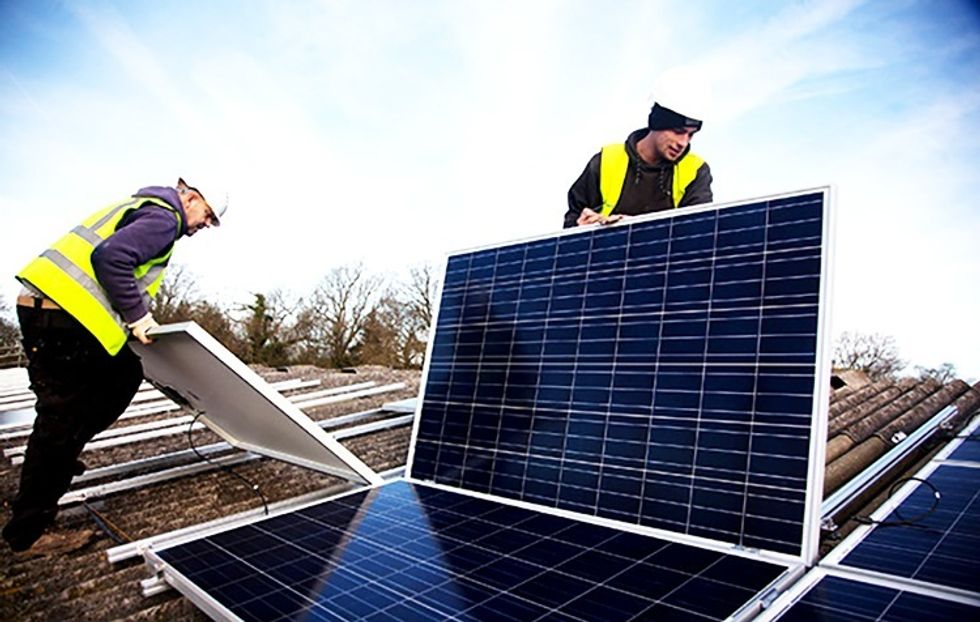 The developers are rushing to install the solar farm before March 31 next year. Photo credit: Kristian Buus, 10:10
The group has already installed more than 100 solar panels on its village schools and nearly 70 more on a local farm, but today's planning committee is a significant step for the project.
With more than 18,500 panels, it would surpass the co-op's aim of powering every home in Balcombe with renewables and supply the nearby village of West Hoathly with its surplus clean energy.
Thomas Parker, technical director at Repower Balcombe said:
"This is great news. We're ecstatic. Now it's time to get to work start raising finance and start building our community solar farm. It's really happening. The fracking village is going solar."

"The public support has really been wonderful. It is happening right on their doorstep and yet public support for this project is even higher than the national average support for renewables and that's already pretty high. It's exactly the opposite of the NIMBY ("not in my back yard") culture. The people came along to the public consultation event and said yes."
The developers are rushing to install the solar farm before March 31 next year, the deadline for when the government is planning to stop solar farms with 5MW of capacity or less from accessing the Renewable Obligation (RO) subsidy scheme.
For other hoping to follow in Balcombe's footsteps the UK's renewable energy landscape is looking increasingly challenging, with impending subsidy cuts expected to hit all forms of clean energy generation.
In that context, yesterday's vote has been described as a "defining moment" for the community which rejected a government imposed dirty energy future for one made up of clean, home-grown alternatives.
And while the future for such projects is foggy, one thing is clear communities are ready to take their power into their own hands and they're going renewable.
Millie Darling, Campaign Manager, 10:10 said:
"When people can choose their energy future they choose renewables, not fracking. Soon Repower Balcombe will be asking the nation to invest in this project and people across the country will have the opportunity to get involved in this positive vision for our energy future."
There are now more than 5,000 community energy groups in the UK, more than 600,000 homes are now fitted with solar panels and around 60MW of community-owned renewable electricity capacity is currently in operation.
By failing to support those projects, like Balcombe, that are leading the way towards a renewable future, the UK government is wildly at odds with its public with new polling show over three-quarters of citizens are in favor of renewables.
YOU MIGHT ALSO LIKE
Iceland: World's Largest Clean Energy Producer Per Capita
How to Finance the Global Transition from Fossil Fuels to Renewable Energy
Harvard Researchers Hail Cost-Effective Battery That Could Store Surplus Wind and Solar Power
EcoWatch Daily Newsletter