Fracking
Oct. 02, 2015 09:43AM EST
'Fracking Village' Gets Green Light to Go 100% Solar
The UK's clean energy sector got a boost yesterday, as Repower Balcombe, the local energy cooperative born of the 2013 fracking protests, was given the go ahead with its proposed 5 megawatt (MW) solar park in West Sussex.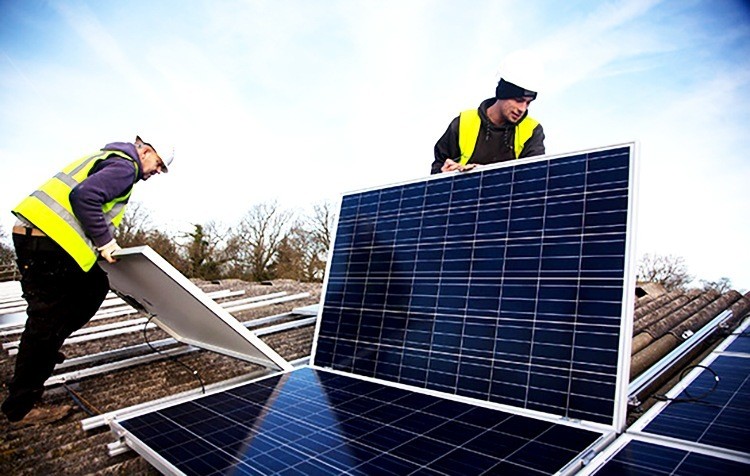 The developers are rushing to install the solar farm before March 31 next year. Photo credit: Kristian Buus, 10:10
The group has already installed more than 100 solar panels on its village schools and nearly 70 more on a local farm, but today's planning committee is a significant step for the project.
With more than 18,500 panels, it would surpass the co-op's aim of powering every home in Balcombe with renewables and supply the nearby village of West Hoathly with its surplus clean energy.
Thomas Parker, technical director at Repower Balcombe said:
"This is great news. We're ecstatic. Now it's time to get to work start raising finance and start building our community solar farm. It's really happening. The fracking village is going solar."

"The public support has really been wonderful. It is happening right on their doorstep and yet public support for this project is even higher than the national average support for renewables and that's already pretty high. It's exactly the opposite of the NIMBY ("not in my back yard") culture. The people came along to the public consultation event and said yes."
The developers are rushing to install the solar farm before March 31 next year, the deadline for when the government is planning to stop solar farms with 5MW of capacity or less from accessing the Renewable Obligation (RO) subsidy scheme.
For other hoping to follow in Balcombe's footsteps the UK's renewable energy landscape is looking increasingly challenging, with impending subsidy cuts expected to hit all forms of clean energy generation.
In that context, yesterday's vote has been described as a "defining moment" for the community which rejected a government imposed dirty energy future for one made up of clean, home-grown alternatives.
And while the future for such projects is foggy, one thing is clear communities are ready to take their power into their own hands and they're going renewable.
Millie Darling, Campaign Manager, 10:10 said:
"When people can choose their energy future they choose renewables, not fracking. Soon Repower Balcombe will be asking the nation to invest in this project and people across the country will have the opportunity to get involved in this positive vision for our energy future."
There are now more than 5,000 community energy groups in the UK, more than 600,000 homes are now fitted with solar panels and around 60MW of community-owned renewable electricity capacity is currently in operation.
By failing to support those projects, like Balcombe, that are leading the way towards a renewable future, the UK government is wildly at odds with its public with new polling show over three-quarters of citizens are in favor of renewables.
YOU MIGHT ALSO LIKE
Iceland: World's Largest Clean Energy Producer Per Capita
How to Finance the Global Transition from Fossil Fuels to Renewable Energy
Harvard Researchers Hail Cost-Effective Battery That Could Store Surplus Wind and Solar Power
iStock
By Robert Coleman
The Environmental Working Group's (EWG) just-released Tap Water Database shows that a startling number of cancer-causing chemicals contaminate the nation's drinking water. Of 250 different contaminants detected in tests by local utilities, 93 are linked to an increased risk of developing cancer.
Keep reading...
Show less
Aaron Teasdale
By Aaron Teasdale
"How much moon do we have tonight?" I yelled to my friend Greg, trying to make myself heard over the sounds of wind and surging water. The sun was sinking toward the mountains all too quickly and our float-in campsite lay somewhere down the river's bends in darkening forest.
Greg shrugged. He had no clue of the moon's cycle either, which showed just how tragically pasty and over-civilized we'd turned. Our days had become filled with computer screens, not forest scenes; our nights capped with ceilings, not stars. All of which made this journey on standup paddleboards so sweet—or at least we hoped it would be sweet, if the pesky headwind would let up before we had to risk disfiguring ourselves while navigating boulder-strewn waters by headlamp and whatever light the moon might spare.
Keep reading...
Show less
By Rebekah Wilce
The world of independent chemical testing has a shiny veneer. The public is reassured that chemicals they're exposed to on a daily basis are certified by technicians in spotless white lab coats who carefully conduct scientific studies, including on animals in neat rows of cages.
But a federal grand jury investigation that ended with convictions in the early 1980s discovered that Industrial Bio-Test Laboratories (IBT), the largest such lab in the U.S., conducted trials with mice that regularly drowned in their feeding troughs. The dead animals would decompose so quickly that "their bodies oozed through wire cage bottoms and lay in purple puddles on the dropping trays." IBT even invented an acronym "TBD/TDA" for its raw safety data, later discovered to mean "too badly decomposed."
Keep reading...
Show less
iStock
Roman officials are considering shutting off the water supply to one-third of the city's residents for eight hours per day as early as this weekend, according to reports.
Keep reading...
Show less
Ararat Rock Solar farm in Mount Airy, North Carolina. NARENCO
North Carolina Gov. Roy Cooper signed a bill into law Thursday that will boost solar production but curb wind energy in the state.
House Bill 589, the result of months of arduous negotiations between utilities and the solar industry, is intended to encourage the continued growth of solar in the state, but it includes a moratorium on new wind projects for the next 18 months.
Keep reading...
Show less
Algal blooms in Lake St. Clair and in western Lake Erie in 2015. NASA Earth Observatory
Heavier rainfall linked to rising temperatures could substantially increase the volume of agricultural runoff flowing into waterways, triggering toxic algal blooms, according to new research.
A study published Thursday in the journal Science finds that heavier rainfall could increase nitrogen runoff in U.S. lakes, rivers and streams by 19 percent by the end of this century.
Keep reading...
Show less
iStock
By Jen Sawada
Sharks have been around for 400 million years, before the time of the dinosaurs, but there's much more to them than big teeth and summer blockbusters. Consider these facts, which will change what you think about sharks.
Keep reading...
Show less
Felix Kramer / Wikimedia
By Jason Mathers
The high level of confidence that automotive industry leaders have in the future of electric vehicles (EVs) has been on full display recently.
Keep reading...
Show less


Get EcoWatch in your inbox