Fracking Confirmed as Cause of Ohio Earthquake
Jan. 06, 2015 11:28AM EST
Energy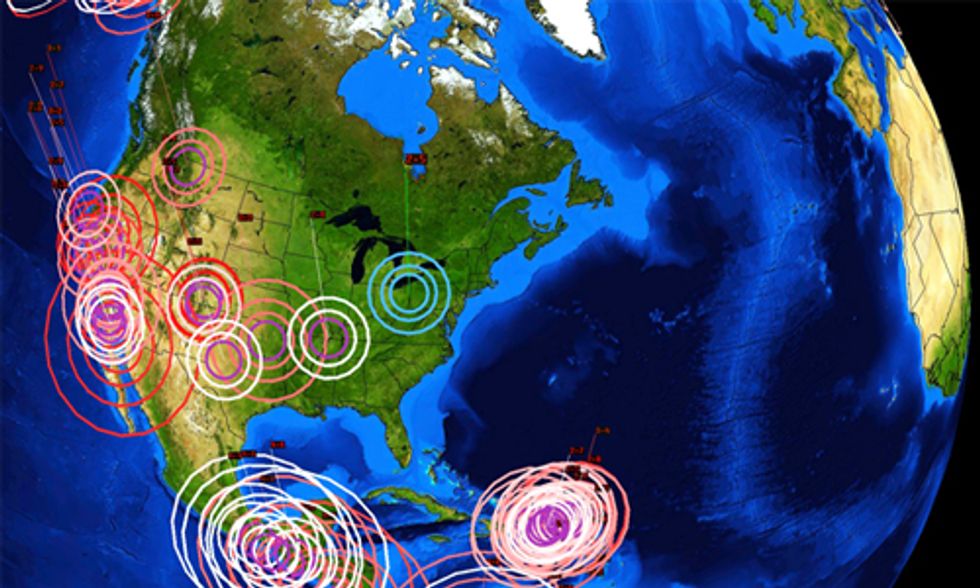 Ohio is now on a similar trajectory to Oklahoma, which saw a five-fold increase in earthquakes in 2014. A new study published in the Bulletin of the Seismological Society of America has confirmed that a fracking operation near Poland Township in Ohio activated a previously unknown fault in the Earth, causing 77 earthquakes with magnitudes ranging from 1.0 to 3.0 between March 4 and March 12 in 2014. The drilling company, Hilcorp Energy, was forced to halt operations by the Ohio Department of Natural Resources on March 10 after nearby residents felt the 3.0-magnitude earthquake.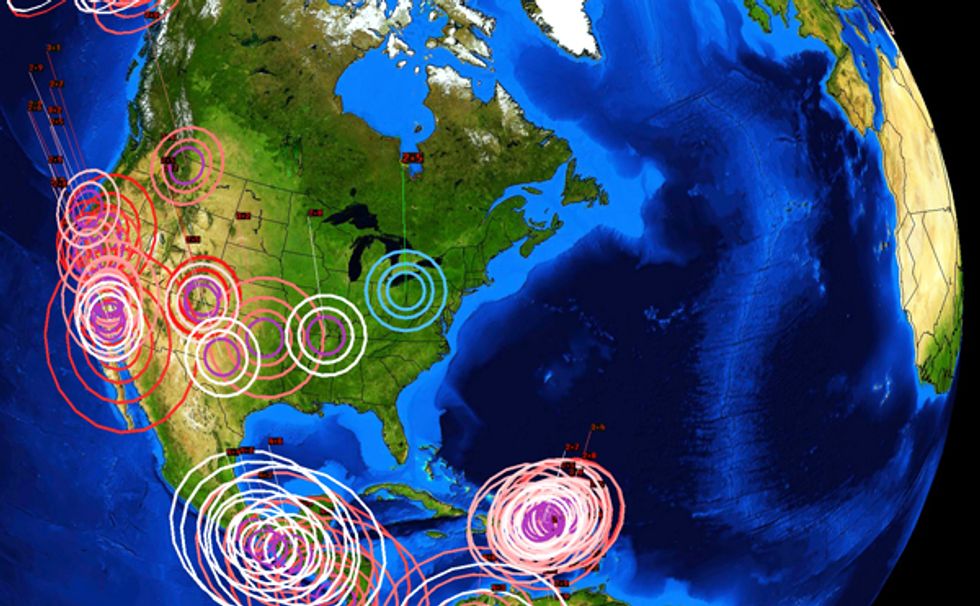 Robert Skoumal, who co-authored the study with Michael Brudzinski and Brian Currie at Miami University of Ohio, compared these earthquakes to well stimulation reports and found the earthquakes "coincided temporally and spatially with hydraulic fracturing at specific stages of the stimulation. The seismic activity outlined a roughly vertical, east-west oriented fault within one kilometer of the well." Fracking at other nearby wells did not produce seismic activity, which suggests that the fault is limited in its scope.
But, if Oklahoma's major increase in earthquakes tells us anything, it's that it could get worse for Ohio if fracking increases. From 1975 to 2008, Oklahoma averaged one to three earthquakes of magnitude 3 or greater a year. In 2009, that number jumped to 20. In 2011, the Sooner state experienced its largest recorded quake with a magnitude of 5.7. In 2014, there were 564 quakes with a magnitude of 3 or greater, compared to only 100 in 2013. And 19 of those earthquakes were magnitude 4 or greater, the strength at which experts say significant damage can occur.
In May 2014, the Oklahoma Geological Survey and the U.S. Geological Survey reported that "the spike in the number of earthquakes meant it was much more likely that the state could suffer a damaging earthquake of magnitude 5.5 or greater." They also reported that fracking was "likely a contributing factor." The researchers believe Oklahoma's activity is spreading north into Kansas, which had only two earthquakes in 2013 but 42 in 2014. Most of those quakes were near the border with Oklahoma.
Skoumal also points out, "We just don't know where all the faults are located." That puts us at risk of activating more previously unknown faults and increasing the risk of damaging earthquakes. Governor Andrew Cuomo banned fracking in New York in December, citing earthquakes as one of the reasons along with concerns of contamination of drinking water and climate change.
YOU MIGHT ALSO LIKE
Earthquakes + Massive Water Consumption = Consequences of Fracking
Fracking's Future in Doubt as Oil Price Plummets
Plunging Oil Prices Trigger Economic Downturn in Fracking Boom Town
EcoWatch Daily Newsletter
Related Articles from EcoWatch