This website uses cookies to ensure you get the best experience while browsing it. By clicking 'Got It' you're accepting these terms.
Fracking Ban Bill Introduced in Florida
Jan. 06, 2015 02:53PM EST
There may not be any actual fracking going on in Florida yet. But some legislators there are taking no chances, introducing bills to ban the process in the state, just as New York did in mid-December. Yesterday state representative Evan Jenne introduced HB 169 which "prohibits well stimulation treatments for exploration or production of oil or natural gas." His bill enumerated the problems caused by fracking: use of carcinogenic chemicals, heavy use of fresh water when many communities are facing water scarcity, threats to protected wildlife species, the potential to damage the surrounding environment and the emission of climate change-driving greenhouse gases.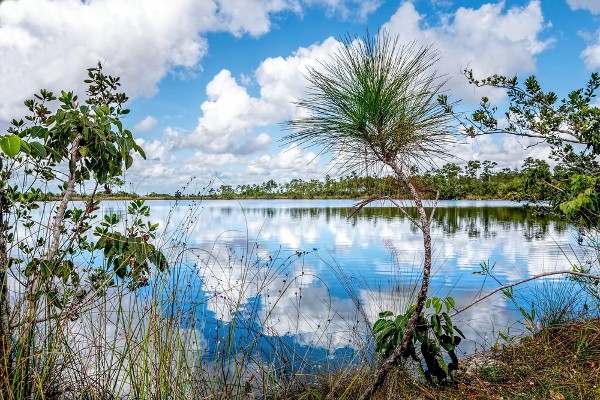 Photo credit: Shutterstock
It follows on the heels of similar legislation, SB 166, filed by state Senators Darren Soto and Dwight Bullard last month. All the bills have been introduced for consideration in the upcoming legislative session.
"Florida is home to scenic beaches, wonderful springs and the legendary Everglades," said Soto. "This natural beauty in turn fosters a strong tourism industry, annually attracting many new residents to our shores. It must be preserved. We Floridians also get the vast majority of our water supply from ground water through the Floridan Aquifer. This critical water source must be protected from pollution to assure ample, clean water for future generations."
Concern was initially aroused in the previously frack-free state when it was discovered in late 2013 that a company had begun an oil exploration operation similar to fracking near the environmentally fragile Everglades, injecting acids into deposits to dissolve rock rather than fracture it. That company began the work without state approval and was issued a cease-and-desist order and a fine by the state.
Since then, citizens and environmental groups have raised a host of concerns about the possibility of fracking in Florida, whose geology is very different from regions already being heavily fracked. Its deposits aren't contained in shale but rather in deep underground limestone deposits. And its water table differs dramatically from that of fracking boom states like Pennsylvania. Many of the oil-rich areas are located under nature preserves like the Everglades, known for their unique animal and plant life, and in proximity to the Floridian Aquifer. Those differences could create unforeseen problems in a state where even conventional drilling regulations haven't been updated in decades.
That triggered another proposal, drafted by students at Barry University School of Law and the League of Women Voters of Orange County, would limit where, when and how fracking could take place in the state. It would also allow municipalities to ban it within their borders.
Chuck O'Neal, chair of the natural resources committee of the League of Women Voters of Orange County, told the Orlando Sentinel that the two bills are not incompatible.
"Even if you put a moratorium in place, a moratorium can be lifted at any time," he said. "And then you need to have those underlying regulations if that were to happen. We can't just have anybody with a drilling rig coming in and doing this—wildcatters coming in, doing sloppy work, and then having them shoot these chemicals out into the aquifer for someone to get in their drinking water, or into our water supply. It's just nightmarish."
But others feel that a complete ban is the way to go.
"By prohibiting well stimulation treatments for exploration or production of oil or natural gas, the bill prohibits hydraulic fracturing, acid fracturing and acid matrix fracturing," said Food & Water Watch executive director Wenonah Hauter, referring to Jenne's legislation.
"Food & Water Watch, along with its allies in the fight against fracking, applauds Representative Jenne's initiative in introducing legislation to protect Florida and its citizens from the dangers associated with drilling and fracking. Earlier this month, state senators Soto and Bullard introduced similar legislation in the Senate. We commend these efforts to stand up to the oil and gas industry by protecting the state's residents and environment. Coming on the heels of Governor Andrew Cuomo's decision to ban fracking in New York that was based on New York Health Commissioner Dr. Howard Zucker's assessment that fracking is inherently unsafe, Floridians are asking their legislators to exhibit the same level of concern for the health and safety of Floridians."
YOU MIGHT ALSO LIKE
Florida Officials Halt Unauthorized 'Fracking-Like' Drilling Near the Everglades
Breaking: Cuomo Bans Fracking in New York State
South Florida Wants to Split State Over Climate Change, Become 51st State
Prince William and British naturalist David Attenborough attend converse during the World Economic Forum annual meeting, on January 22 in Davos, Switzerland. Fabrice Cofferini /AFP / Getty Images
Britain's Prince William interviewed famed broadcaster David Attenborough on Tuesday at the World Economic Forum's annual meeting in Switzerland.
During the sit-down, the 92-year-old naturalist advised the world leaders and business elite gathered in Davos this week that we must respect and protect the natural world, adding that the future of its survival—as well as humanity's survival—is in our hands.
Electric vehicle sales took off in 2018, with a record two million units sold around the world, according to a new Deloitte analysis.
What's more, the accounting firm predicts that another 21 million electric cars will be on the road globally over the next decade due to growing market demand for clean transportation, government subsidies, as well as bans on fossil fuel cars.
Teenager Alex Weber and friends collected nearly 40,000 golf balls hit into the ocean from a handful of California golf courses.
Alex Weber /
CC BY-ND
Southwest Greenland had the most consistent ice loss from 2003 to 2012. Eqalugaarsuit, Ostgronland, Greenland on Aug. 1, 2018.
Rob Oo / CC BY 2.0
Greenland is melting about four times faster than it was in 2003, a new study published Monday in the Proceedings of the National Academy of Sciences found, a discovery with frightening implications for the pace and extent of future sea level rise.
"We're going to see faster and faster sea level rise for the foreseeable future," study lead author and Ohio State University geodynamics professor Dr. Michael Bevis said in a press release. "Once you hit that tipping point, the only question is: How severe does it get?"
Finally, some good news about the otherwise terrible partial government shutdown. A federal judge ruled that the Trump administration cannot issue permits to conduct seismic testing during the government impasse.
The Justice Department sought to delay—or stay—a motion filed by a range of coastal cities, businesses and conservation organizations that are suing the Trump administration over offshore oil drilling, Reuters reported. The department argued that it did not have the resources it needed to work on the case due to the shutdown.
Most people have heard of the Amazon, South America's famed rainforest and hub of biological diversity. Less well known, though no less critical, is the Pantanal, the world's largest tropical wetland.
Like the Amazon, the Pantanal is ecologically important and imperiled. Located primarily in Brazil, it also stretches into neighboring Bolivia and Paraguay. Covering an area larger than England at more than 70,000 square miles, the massive wetland provides irreplaceable ecosystem services that include the regulation of floodwaters, nutrient renewal, river flow for navigability, groundwater recharge and carbon sequestration. The wetland also supports the economies of the four South American states it covers.
Demonstrators participate in a protest march over agricultural policy on Jan. 19 in Berlin, Germany. Carsten Koall / Getty Images Europe
By Andrea Germanos
Organizers said 35,000 people marched through the streets of the German capital on Saturday to say they're "fed up" with industrial agriculture and call for a transformation to a system that instead supports the welfare of the environment, animals and rural farmers.

The fire that erupted after a pipeline explosion in Mexico Friday. FRANCISCO VILLEDA / AFP / Getty Images
By Patrick Rogers
If you have ever considered making the switch to an environmentally friendly electric vehicle, don't drag your feet. Though EV prices are falling, and states are unveiling more and more public charging stations and plug-in-ready parking spots, the federal government is doing everything it can to slam the brakes on our progress away from gas-burning internal combustion engines. President Trump, likely pressured by his allies in the fossil fuel industry, has threatened to end the federal tax credits that have already helped put hundreds of thousands of EVs on the road—a move bound to harm not only our environment but our economy, too. After all, the manufacturing and sale of EVs, hybrids, and plug-in hybrids supported 197,000 jobs in 2017, according to the most recent U.S. Energy and Employment Report.