This website uses cookies to ensure you get the best experience while browsing it. By clicking 'Got It' you're accepting these terms.
Fracking Ban Bill Introduced in Florida
Jan. 06, 2015 02:53PM EST
Energy
There may not be any actual fracking going on in Florida yet. But some legislators there are taking no chances, introducing bills to ban the process in the state, just as New York did in mid-December. Yesterday state representative Evan Jenne introduced HB 169 which "prohibits well stimulation treatments for exploration or production of oil or natural gas." His bill enumerated the problems caused by fracking: use of carcinogenic chemicals, heavy use of fresh water when many communities are facing water scarcity, threats to protected wildlife species, the potential to damage the surrounding environment and the emission of climate change-driving greenhouse gases.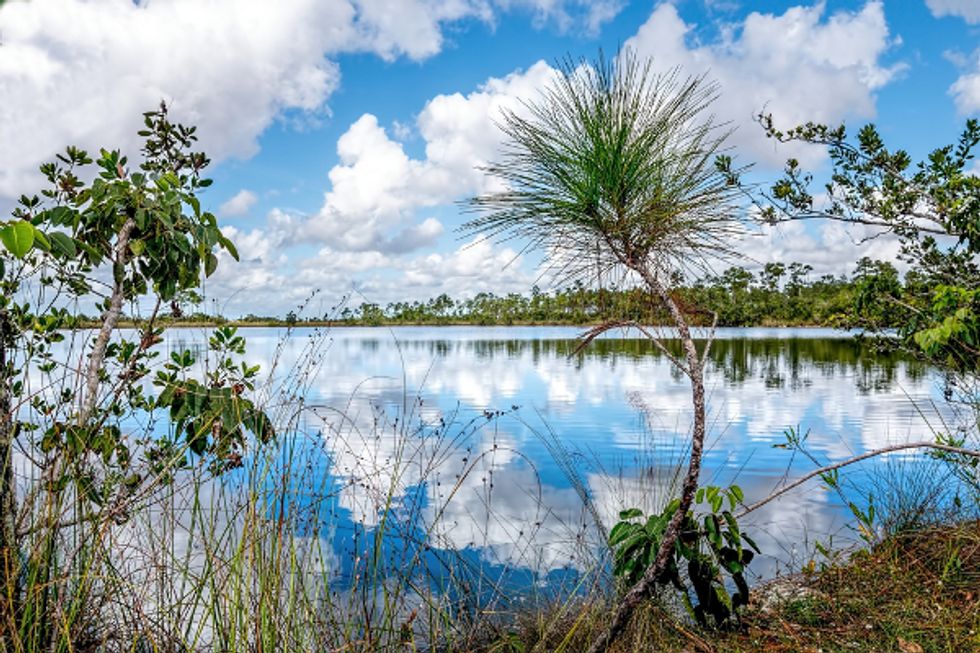 Photo credit: Shutterstock
It follows on the heels of similar legislation, SB 166, filed by state Senators Darren Soto and Dwight Bullard last month. All the bills have been introduced for consideration in the upcoming legislative session.
"Florida is home to scenic beaches, wonderful springs and the legendary Everglades," said Soto. "This natural beauty in turn fosters a strong tourism industry, annually attracting many new residents to our shores. It must be preserved. We Floridians also get the vast majority of our water supply from ground water through the Floridan Aquifer. This critical water source must be protected from pollution to assure ample, clean water for future generations."
Concern was initially aroused in the previously frack-free state when it was discovered in late 2013 that a company had begun an oil exploration operation similar to fracking near the environmentally fragile Everglades, injecting acids into deposits to dissolve rock rather than fracture it. That company began the work without state approval and was issued a cease-and-desist order and a fine by the state.
Since then, citizens and environmental groups have raised a host of concerns about the possibility of fracking in Florida, whose geology is very different from regions already being heavily fracked. Its deposits aren't contained in shale but rather in deep underground limestone deposits. And its water table differs dramatically from that of fracking boom states like Pennsylvania. Many of the oil-rich areas are located under nature preserves like the Everglades, known for their unique animal and plant life, and in proximity to the Floridian Aquifer. Those differences could create unforeseen problems in a state where even conventional drilling regulations haven't been updated in decades.
That triggered another proposal, drafted by students at Barry University School of Law and the League of Women Voters of Orange County, would limit where, when and how fracking could take place in the state. It would also allow municipalities to ban it within their borders.
Chuck O'Neal, chair of the natural resources committee of the League of Women Voters of Orange County, told the Orlando Sentinel that the two bills are not incompatible.
"Even if you put a moratorium in place, a moratorium can be lifted at any time," he said. "And then you need to have those underlying regulations if that were to happen. We can't just have anybody with a drilling rig coming in and doing this—wildcatters coming in, doing sloppy work, and then having them shoot these chemicals out into the aquifer for someone to get in their drinking water, or into our water supply. It's just nightmarish."
But others feel that a complete ban is the way to go.
"By prohibiting well stimulation treatments for exploration or production of oil or natural gas, the bill prohibits hydraulic fracturing, acid fracturing and acid matrix fracturing," said Food & Water Watch executive director Wenonah Hauter, referring to Jenne's legislation.
"Food & Water Watch, along with its allies in the fight against fracking, applauds Representative Jenne's initiative in introducing legislation to protect Florida and its citizens from the dangers associated with drilling and fracking. Earlier this month, state senators Soto and Bullard introduced similar legislation in the Senate. We commend these efforts to stand up to the oil and gas industry by protecting the state's residents and environment. Coming on the heels of Governor Andrew Cuomo's decision to ban fracking in New York that was based on New York Health Commissioner Dr. Howard Zucker's assessment that fracking is inherently unsafe, Floridians are asking their legislators to exhibit the same level of concern for the health and safety of Floridians."
YOU MIGHT ALSO LIKE
Florida Officials Halt Unauthorized 'Fracking-Like' Drilling Near the Everglades
Breaking: Cuomo Bans Fracking in New York State
South Florida Wants to Split State Over Climate Change, Become 51st State
EcoWatch Daily Newsletter
Deserted view of NH24 near Akshardham Temple on day nine of the 21-day nationwide lockdown to curb the spread of coronavirus on April 2, 2020 in New Delhi, India. Raj K Raj / Hindustan Times via Getty Images
A Unicef social mobilizer uses a speaker as she carries out public health awareness to prevent the spread and detect the symptoms of the COVID-19 coronavirus by UNICEF at Mangateen IDP camp in Juba, South Sudan on April 2. ALEX MCBRIDE / AFP / Getty Images
By Eddie Ndopu
South Africa is ground zero for the coronavirus pandemic in Africa.
Its townships are typical of high-density neighbourhoods across the continent where self-isolation will be extremely challenging.
The failure to eradicate extreme poverty is a threat beyond the countries in question.
The outside of the Food and Drug Administration headquarters in White Oak, Md. on Nov. 9, 2015. Al Drago / CQ Roll Call
The U.S. Food and Drug Administration has approved the use of two malarial drugs to treat and prevent COVID-19, the respiratory infection caused by the SARS-CoV-2 coronavirus, despite only anecdotal evidence that either is proven effective in treating or slowing the progression of the disease in seriously ill patients.

Some
speculate
that the dissemination of the Antarctic beeches or Nothofagus moorei (seen above in Australia) dates to the time when
Antarctica
, Australia and
South America
were connected. Auscape / Universal Images Group / Getty Images
A team of scientists drilled into the ground near the South Pole to discover forest and fossils from the Cretaceous nearly 90 million years ago, which is the time when dinosaurs roamed the Earth, as the BBC reported.
The recovery of elephant seals is one of the "signs of hope" that scientists say show the oceans can recover swiftly if we let them. NOAA /
CC BY 2.0