This website uses cookies to ensure you get the best experience while browsing it. By clicking 'Got It' you're accepting these terms.
Fossil Fuel Industry-Funded Attorneys General Try to Block Exxon Climate Fraud Probe
May. 20, 2016 10:31AM EST
Climate
By Elliott Negin
You could call it the battle of the attorneys general: One side representing the public interest, exactly what attorneys general are supposed to do; the other side representing the special interests, exactly what they are not supposed to do.
In late March, 17 attorneys general held a press conference to announce they will defend the new federal rule curbing power plant carbon emissions and investigate energy companies that may have misled investors and the public about climate risks. They call themselves AGs United for Clean Power and so far attorneys general from California, Massachusetts, New York and the Virgin Islands have launched investigations of ExxonMobil, the world's largest publicly traded oil company, for fraud.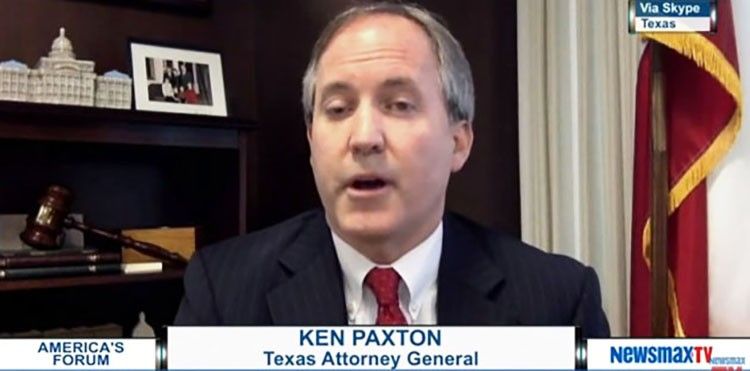 In response, Texas Attorney General Ken Paxton and Alabama Attorney General Luther Strange decided to push back. On May 16, they intervened on behalf of ExxonMobil to quash one of the investigations of the Irving, Texas-based company, accusing AGs United for Clean Power of trying to stifle the "debate" over climate science.
Paxton and Strange filed their intervention plea in a case that ExxonMobil brought against Virgin Islands Attorney General Claude Walker in a Fort Worth district court. The company maintains Walker's subpoena demanding internal climate change-related records violates its right to speak freely and be protected from unreasonable searches and seizures.
Paxton called Walker's investigation a "fishing expedition of the worst kind," representing "an effort to punish Exxon for daring to hold an opinion on climate change that differs from that of radical environmentalists." Echoing Paxton, Strange charged the "fundamental right of freedom of speech is under assault by an attorney general pursuing an agenda against a business that doesn't share his views on the environment."
Fishing expedition? Free speech?
The facts say otherwise.
Like the other three investigations, Walker's probe followed the release of documents by the Union of Concerned Scientists, InsideClimate News and the Los Angeles Times revealing that Exxon scientists conducted cutting-edge climate research decades ago and warned top management of the potentially catastrophic risks posed by global warming. Regardless, the company publicly emphasized uncertainty about climate science for years and, to a certain extent, still does. Furthermore, it has been financing a network of advocacy groups and think tanks to spread disinformation about climate science and the viability of renewable energy for the last two decades.
Based on that preliminary evidence, there is strong justification for Walker and the other AGs to investigate further.
As for the free speech argument, Walker and the other AGs have subpoenaed internal company documents to determine whether ExxonMobil's statements to investors regarding climate risks contradicted what it was hearing from its own scientists. If so, ExxonMobil could be guilty of fraud and fraud is not protected by the First Amendment.
Surely Paxton and Strange, the chief legal officers in their states, are aware of that. And, according to Robert Percival, director of the Environmental Law Program at University of Maryland's law school, their "political grandstanding" will likely have no impact on the case.
So why are they making such a fuss?
Both Paxton and Strange are from energy-producing states and, no surprise, they receive generous campaign funding from electric utilities and fossil fuel industries. That might help explain a few things.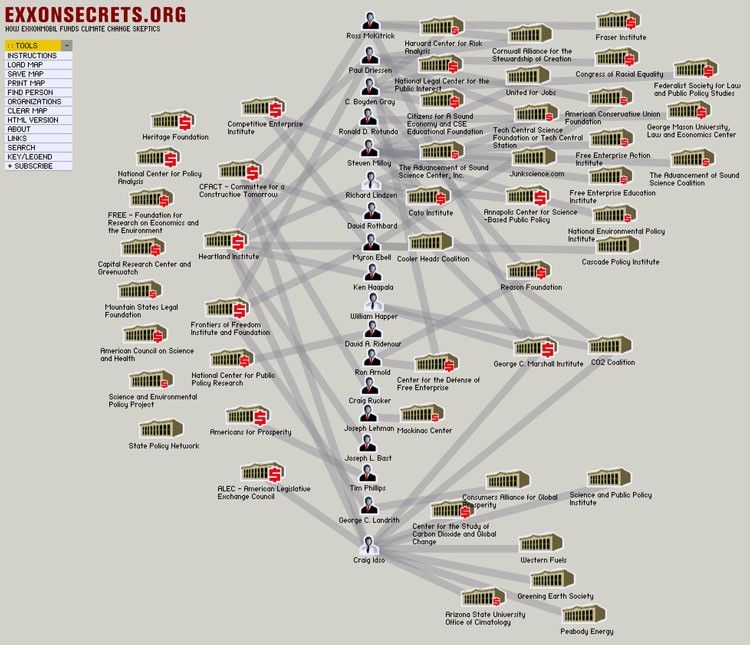 Paxton was first elected Texas' attorney general in 2014. Before that, he served in the Texas House of Representatives for 10 years and the Texas Senate for two. During the 12 years he spent at the state house, he received only $69,000 in campaign contributions from oil and gas companies. But when he ran for attorney general, they contributed $929,000, nearly twice as much as any other sector. The energy companies that chipped in for his run for attorney general included Chesapeake Energy, Chevron, ConocoPhillips, Koch Industries, Marathon Oil and Phillips 66. ExxonMobil sat out Paxton's 2014 campaign, but between December 2006 and October 2012, the company's political action committee gave him $3,250, according to state ethics disclosure filings. Not much, but the rest of the industry has more than made up for it.
Strange became Alabama's attorney general in 2010. In 2014, mining, oil and gas and electric companies and their trade associations collectively donated $177,850 to his reelection campaign, placing them among his top contributors. His benefactors that year included the American Coal Association, American Gas Association and Koch Industries, but his biggest energy industry supporter was Alabama Power, which gave him a whopping $72,500.
Alabama Power is a subsidiary of Southern Company, one of the nation's largest electric utilities. Three of the company's coal-fired power plants are the biggest carbon emitters in the country. Two are located near Atlanta and the third, near Birmingham, is operated by Alabama Power. Southern Company's support for the climate science denier network, meanwhile, goes back more than 20 years. And just last year it was revealed that the company had been secretly funding dubious research conducted by climate contrarian aerospace engineer Wei-Hock "Willie" Soon since 2005. Soon's studies concluded that solar activity is the main cause of global warming and carbon emissions have little or no impact.
Given the support Strange gets from Southern Company, Koch Industries and other interested parties, perhaps it's no coincidence that the day after the AGs for Clean Power held their press conference, he issued a joint press release with Oklahoma Attorney General Scott Pruitt insisting there is a lively debate over the reality of climate change. "Reasonable minds can disagree about the science behind global warming and disagree they do," they said. The debate "should not be silenced with threats of criminal prosecution by those who believe that their position is the only correct one and that all dissenting voices must therefore be intimidated and coerced into silence."
Leaving aside the fact that reasonable minds at this point do not disagree about climate science, the AGs for Clean Power investigations are not about debating the science of global warming. They are about something quite different: when scientists told energy companies about the risks of climate change and what company executives did in response.
Paxton, Strange and Pruitt Have an AG Coalition, Too
All but one of the 17 attorneys general behind AGs for Clean Power belong to the Democratic Attorneys General Association (DAGA). But Paxton, Strange and Pruitt have their own coalition, the Republican Attorneys General Association (RAGA). Both associations get their share of corporate support, but the coal, oil and gas and electric utility industries have placed most of their bets on RAGA.
DAGA gets relatively limited support from the energy industry. Since January 2015, for example, it has received $80,000 from that sector, according to data compiled by the Center for Responsive Politics. Its top energy industry donor was the American Petroleum Institute (API), the oil and gas industry's primary trade association, which donated $25,000.
By comparison, RAGA pulled in more than $800,000 from coal, oil and gas and utilities over the same time frame, according to Center for Responsive Politics data. The top RAGA donor was coal giant Murray Energy, which chipped in $250,000. Two years ago, Murray Energy CEO Bob Murray unsuccessfully sued the Environmental Protection Agency over the Clean Power Plan, charging that the agency has been "lying" about the reality of global warming and that the Earth is actually cooling. Koch Industries, meanwhile, donated $125,400. The coal, oil and gas conglomerate's co-owner, Charles Koch, recently told ABC News that "the evidence is overwhelming" that the climate is "changing in a mild and manageable way." Other major energy industry RAGA funders included API and ExxonMobil, which each donated $50,000 and Southern Company, which contributed $35,000.
The industry's support for RAGA has paid off big time—for both sides. According to a December 2014 New York Times exposé on the secret links between the energy industry and attorneys general, AGs "in at least a dozen states are working with energy companies and other corporate interests, which in turn are providing them with record amounts for their political campaigns, including at least $16 million" in 2014. Those AGs include Paxton, Strange and Pruitt.
The Times found that Pruitt and other energy industry-funded AGs have invited industry lobbyists to draft letters for them to send to federal agencies, promoted energy industry-written bills in their state legislatures and joined energy companies as plaintiffs in court challenges. Strange, Pruitt and other RAGA attorneys general even went so far as to file an amicus brief in support of Bob Murray's challenge to the Clean Power Plan.
Legal experts told the Times that the scope of the AGs' collaboration with the energy industry is "unprecedented" and "threatens the integrity of the office."
"When you use a public office, pretty shamelessly, to vouch for a private party with substantial financial interest without the disclosure of the true authorship, that is a dangerous practice," said David B. Frohnmayer, a Republican who served as Oregon's attorney general for a decade. Terry Goddard, a Democrat who served two terms as Arizona's attorney general, agreed. "It is a magnificent and noble institution, the office of attorney general, as it is truly the lawyer for the people. That independence is clearly at risk here."
Goddard got that right. By definition, attorneys general are the "people's lawyer" and their duties include investigating—and suing—companies that flout state laws. That is exactly what AGs in California, Massachusetts, New York and the Virgin Islands are doing. By intervening on behalf of ExxonMobil, Paxton and Strange are trying to stop Claude Walker from doing his job. If they were truly independent and took the responsibility of their office seriously, they would open ExxonMobil investigations of their own.
Elliott Negin is a senior writer at the Union of Concerned Scientists. Unless otherwise noted, all campaign contribution data came from the National Institute on Money in State Politics website.
YOU MIGHT ALSO LIKE
Earth Sees Record Warming for 12 Straight Months
Al Gore's Groundbreaking Film … 10 Years Later
Historic Victory: 4 Teenagers Win in Massachusetts Climate Change Lawsuit
Noam Chomsky: Climate Change and Nuclear Proliferation Pose Worst Threat Ever Faced by Humans
EcoWatch Daily Newsletter
Luis Alfonso de Alba Gongora, the UN secretary-general's special envoy for the climate summit speaks at The World Economic Forum holds the Sustainable Development Impact Summit 2018 in New York on Sept. 24, 2018.
Ben Hider /
World Economic Forum
When United Nations Secretary-General Antonio Guterres decided to hold a high-level climate summit in conjunction with this year's General Assembly kicking off next week, he was well aware of the paradox of his initiative.
Acting U.S. Homeland Security Secretary Kevin McAleenan meets with Guatemalan farmers on May 29 in Santa Rosa, Guatemala. John Moore / Getty Images
The Trump administration ignored its own evidence on how climate change is impacting migration and food security when setting new policies for cutting aid to Central America, NBC reports.
Mike Pence brought the first motorcade to Mackinac Island on Saturday. Cars have been banned on the island since 1898.
13 ON YOUR SIDE / YouTube screenshot
Vice President Mike Pence sparked outrage on social media Saturday when he traveled in the first-ever motorcade to drive down the streets of Michigan's car-free Mackinac Island, HuffPost reported.
Inhaling from an electronic cigarette. 6okean / iStock / Getty Images Plus
By Shawn Radcliffe
As illnesses and deaths linked to vaping continue to rise, health officials urge people to stop using e-cigarettes.
Officials report 8 deaths have been linked to lung illnesses related to vaping.
Vitamin E acetate is one compound officials are investigating as a potential cause for the outbreak.
The number of vaping-related illnesses has grown to 530 cases in 38 states and 1 U.S. territory, federal health officials
reported
.
Activist Greta Thunberg leads the Youth Climate Strike on Sept. 20, 2019 in New York City. Roy Rochlin / WireImage / Getty Images
By Julia Conley
As organizers behind Friday's Global Climate Strike reported that four million children and adults attended marches and rallies all over the world — making it the biggest climate protest ever — they assured leaders who have been reticent to take bold climate action that the campaigners' work is far from over.
Summer has officially come to an end. Luckily, EcoWatch is here to keep its memory alive by sharing the winners of our "Best of Summer" photo contest.
United Nations Secretary-General Antonio Guterres speaks at a news conference at UN headquarters on Sept. 18. Drew Angerer / Getty Images
A vegan diet can improve your health, but experts say it's important to keep track of nutrients and protein. Getty Images
By Dan Gray
Research shows that 16 weeks of a vegan diet can boost the gut microbiome, helping with weight loss and overall health.
A healthy microbiome is a diverse microbiome. A plant-based diet is the best way to achieve this.
It isn't necessary to opt for a strictly vegan diet, but it's beneficial to limit meat intake.
New research shows that following a vegan diet for about 4 months can boost your gut microbiome. In turn, that can lead to improvements in body weight and blood sugar management.