This website uses cookies to ensure you get the best experience while browsing it. By clicking 'Got It' you're accepting these terms.
Forty-Nine Cliff Clavins Walk into a Bar and Talk Climate Change
Apr. 13, 2012 03:00PM EST
Climate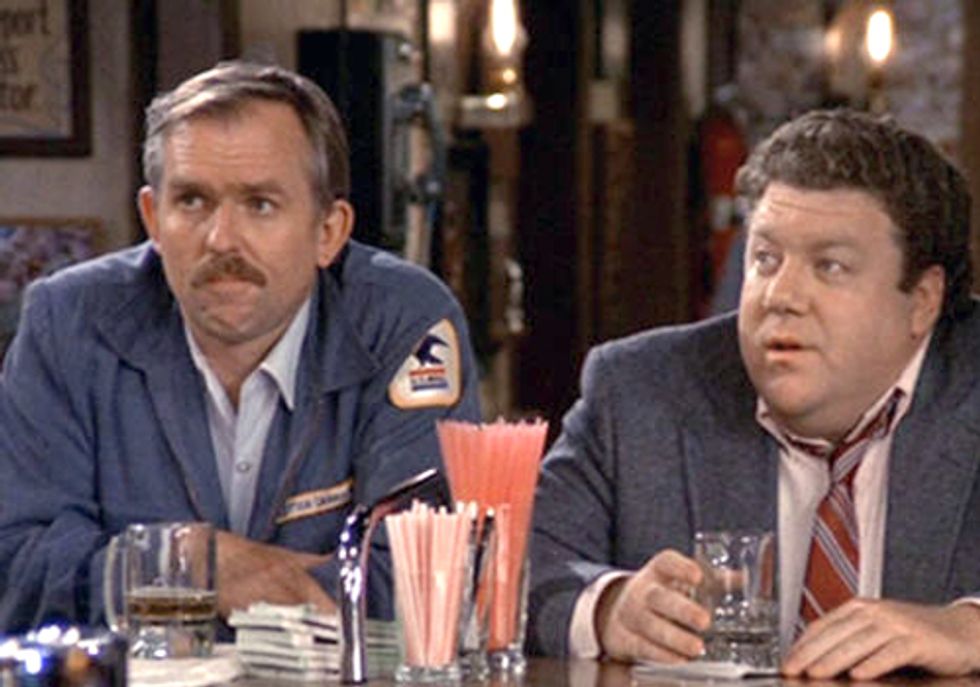 By Dr. John Abraham
You could almost set your watch by it. It has become a regular absurdity that a bunch of non-scientists try to tell the world that they know something the experts don't.
Those of us who watched that iconic television show called Cheers remember Cliff, the mailman. He considered himself the expert on everything even though it was painfully obvious he knew very little about anything.
Well, we got our latest batch of Cliff Clavin wisdom this past week when 49 former staff members from NASA wrote a letter to NASA administrators decrying the work that the organization does on climate. It makes one wonder what the thousands of current NASA employees think of their former colleagues.
It is important to point out that the leader of this gang is none other than Harrison Schmitt, a well-known, and self-described "denier" of human-caused climate change. While he trumpets his scientific expertise, none of it relates to climate.
For those who follow the more extreme fringes of climate denialism, Harrison's participation is not a surprise. Approximately one year ago he claimed the arctic sea ice had recovered from its dramatic declines in preceding years. That claim was false and it attracted the attention of the National Snow and Ice Data Center who had to tell us what we already knew… Harrison Schmitt didn't know what he was talking about. 
Also not surprising to real climate scientists is that the other person who apparently spearheaded this letter, Walter Cunningham, has zero climate experience.
But there must be someone in the group who knows of what they speak, right? Probably not. I performed a scientific literature search on over half the signers and found, you guessed it, zero experience. So, this is a group that might be able to build spacecraft, but they certainly aren't a group with notable climate backgrounds.
So why the charade? While I cannot be certain, I can only guess. Perhaps, in the era of tight science budgets, this group bemoans the money spent on Earth sciences when it could be spent on manned spaceflight. I am also guessing that the denialists have run out of real scientists to speak for their cause. The small and decreasing cadre of denialist climate scientists have had a few bad years. We have had continued increases in the Earth's temperature, extraordinary weather that has made people in states like Texas, Oklahoma and North Dakota wonder what was happening, and increasing costs of severe weather including droughts and massive, repeated flooding.
The few second-rate scientists who used to tell us "don't worry, this is all natural" have now mainly had their work shown to be faulty or have seemingly given up on publishing altogether. Now more than 97 percent of experts in this field agree, humans are changing the climate. So, the denialist camp has now turned to their third-string lineup.
I'm just glad that I know some of the hard working scientists at NASA who spend long hours studying our Earth, helping us make wise decisions to protect this beautiful and bountiful planet for our future generations. It is those people and the uncountable real scientists and engineers who are working every day to solidify our understanding of the climate and help bring clean technologies to market that will not only save our environment but also create jobs, improve national security and truly diversify our energy supply.
For more information, click here.
EcoWatch Daily Newsletter
Penguins are seen near the Great Wall station in Antarctica, Feb. 9, days after the continent measured its hottest temperature on record at nearly 65 degrees Fahrenheit. Xinhua / Liu Shiping / Getty Images
By Richard Connor
Scientists have recorded Antarctica's first documented heat wave, warning that animal and plant life on the isolated continent could be drastically affected by climate change.
The Athos I tanker was carrying crude oil from Venezuela when a collision caused oil to begin gushing into the Delaware River.
U.S. Department of the Interior
A case that has bounced around the lower courts for 13 years was finally settled yesterday when the U.S. Supreme Court upheld a lower court decision, finding oil giant Citgo liable for a clean up of a 2004 oil spill in the Delaware River, according to Reuters.
The buildings of downtown Los Angeles are partially obscured in the late afternoon on Nov. 5, 2019, as seen from Pasadena, California, a day when air quality for Los Angeles was predicted to be "unhealthy for sensitive groups." Mario Tama / Getty Images
The evidence continues to build that breathing dirty air is bad for your brain.
Wave power in Portugal. The oceans' energy potential is immense. Luis Ascenso, via Wikimedia Commons
By Paul Brown
The amount of energy generated by tides and waves in the last decade has increased tenfold. Now governments around the world are planning to scale up these ventures to tap into the oceans' vast store of blue energy.
Yellowstone National Park closed to visitors on March 24, 2020 because of the Covid-19 virus threat. William Campbell-Corbis via Getty Images
When the novel coronavirus started to sweep across the country, the National Park Service started to waive entrance fees. The idea was that as we started to practice social distancing, Americans should have unfettered access to the outdoors. Then the parking lots and the visitor centers started to fill up, worrying park employees.