This website uses cookies to ensure you get the best experience while browsing it. By clicking 'Got It' you're accepting these terms.


The best of EcoWatch, right in your inbox. Sign up for our email newsletter!
Forty-Nine Cliff Clavins Walk into a Bar and Talk Climate Change
Apr. 13, 2012 02:00PM EST
Climate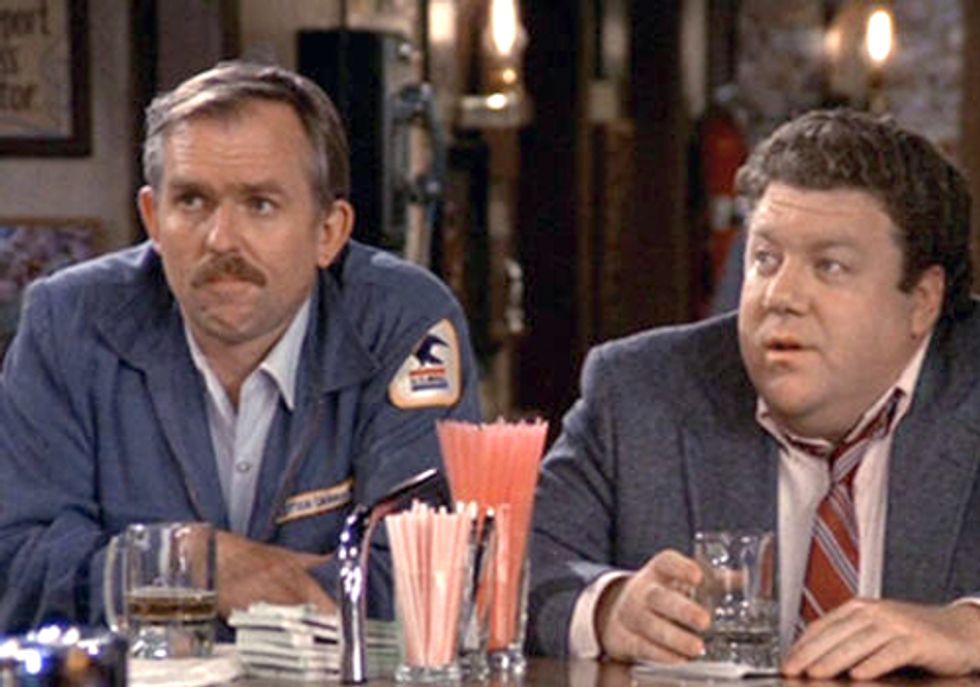 By Dr. John Abraham
You could almost set your watch by it. It has become a regular absurdity that a bunch of non-scientists try to tell the world that they know something the experts don't.
Those of us who watched that iconic television show called Cheers remember Cliff, the mailman. He considered himself the expert on everything even though it was painfully obvious he knew very little about anything.
Well, we got our latest batch of Cliff Clavin wisdom this past week when 49 former staff members from NASA wrote a letter to NASA administrators decrying the work that the organization does on climate. It makes one wonder what the thousands of current NASA employees think of their former colleagues.
It is important to point out that the leader of this gang is none other than Harrison Schmitt, a well-known, and self-described "denier" of human-caused climate change. While he trumpets his scientific expertise, none of it relates to climate.
For those who follow the more extreme fringes of climate denialism, Harrison's participation is not a surprise. Approximately one year ago he claimed the arctic sea ice had recovered from its dramatic declines in preceding years. That claim was false and it attracted the attention of the National Snow and Ice Data Center who had to tell us what we already knew… Harrison Schmitt didn't know what he was talking about. 
Also not surprising to real climate scientists is that the other person who apparently spearheaded this letter, Walter Cunningham, has zero climate experience.
But there must be someone in the group who knows of what they speak, right? Probably not. I performed a scientific literature search on over half the signers and found, you guessed it, zero experience. So, this is a group that might be able to build spacecraft, but they certainly aren't a group with notable climate backgrounds.
So why the charade? While I cannot be certain, I can only guess. Perhaps, in the era of tight science budgets, this group bemoans the money spent on Earth sciences when it could be spent on manned spaceflight. I am also guessing that the denialists have run out of real scientists to speak for their cause. The small and decreasing cadre of denialist climate scientists have had a few bad years. We have had continued increases in the Earth's temperature, extraordinary weather that has made people in states like Texas, Oklahoma and North Dakota wonder what was happening, and increasing costs of severe weather including droughts and massive, repeated flooding.
The few second-rate scientists who used to tell us "don't worry, this is all natural" have now mainly had their work shown to be faulty or have seemingly given up on publishing altogether. Now more than 97 percent of experts in this field agree, humans are changing the climate. So, the denialist camp has now turned to their third-string lineup.
I'm just glad that I know some of the hard working scientists at NASA who spend long hours studying our Earth, helping us make wise decisions to protect this beautiful and bountiful planet for our future generations. It is those people and the uncountable real scientists and engineers who are working every day to solidify our understanding of the climate and help bring clean technologies to market that will not only save our environment but also create jobs, improve national security and truly diversify our energy supply.
For more information, click here.
EcoWatch Daily Newsletter
A school in Queensland, Australia sent a note home to parents asking them to send their children with extra water bottles since its water supply has run dry, according to the Australian Broadcasting Corporation (ABC).
European Commission President Ursula von der Leyen delivers a press statement on the European Green Deal at the EU headquarters in Brussels, Belgium on Dec. 11, 2019. Xinhua / Zheng Huansong via Getty Images
The European Commission introduced a plan to overhaul the bloc's economy to more sustainable, climate-conscious policies and infrastructure, with the goal of being carbon-neutral by 2050, according to CNBC.
Young activists shout slogans on stage after Greta Thunberg (not in the picture) took part in the plenary session during the COP25 Climate Conference on Dec. 11 in Madrid, Spain. Pablo Blazquez Dominguez / Getty Images
By Andrea Germanos
Young activists took over and occupied the main stage at the COP25 climate conference in Madrid, Spain Wednesday and demanded world leaders commit to far more ambitious action to address the ecological emergency.
A NASA image showing the ozone hole at its maximum extent for 2015. NASA Goddard Space Flight Center
The Montreal Protocol, a 1987 international treaty prohibiting the production of chlorofluorocarbons (CFCs) to save the ozone layer, was the first successful multilateral agreement to successfully slow the rate of global warming, according to new research. Now, experts argue that similar measures may lend hope to the climate crisis.
Police in Wales are in the midst of an unusual investigation: the sudden death of more than 200 starlings.