This website uses cookies to ensure you get the best experience while browsing it. By clicking 'Got It' you're accepting these terms.
Fifteen Military Leaders Say Climate Change Is a National Security Threat
Jun. 01, 2012 09:49PM EST
Climate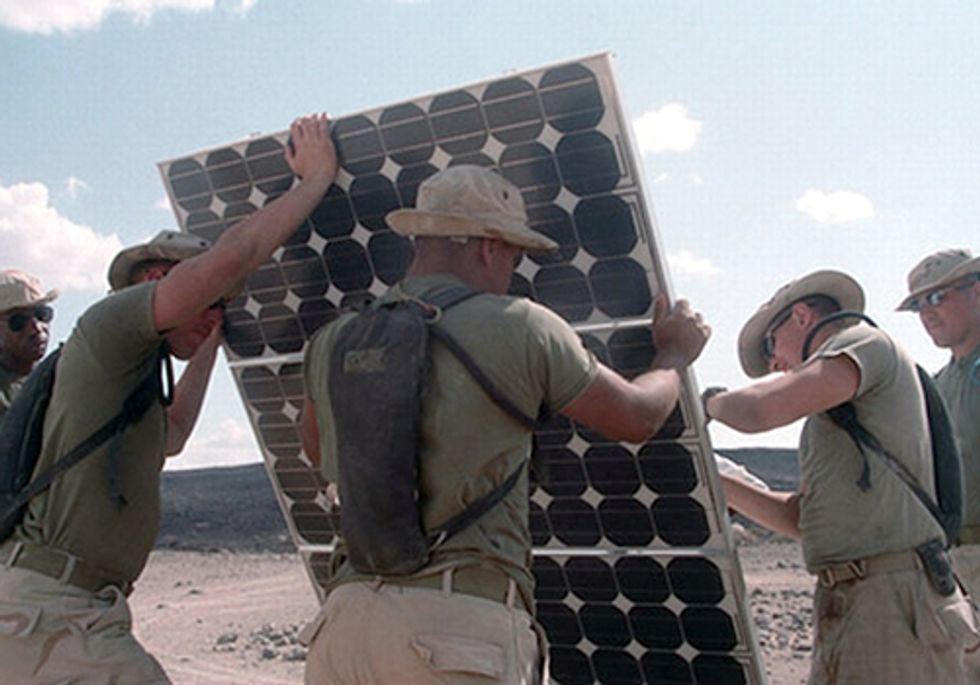 By Jill Fitzsimmons
Republicans in Congress are attempting to prevent the military from purchasing alternative fuels, which Senator Inhofe (R-OK) believes are merely "perpetrating President Obama's global warming fantasies and his war on affordable energy." And conservative media are backing the attacks on climate change and clean energy programs, suggesting that these investments come at the expense of national security. But experts across the political spectrum agree that climate change poses a serious threat to our national security, and that transitioning to alternative energy will enhance military effectiveness. Here are 15 current and former national security officials in their own words on the threat of climate change:
The Pentagon recognizes that our dependence on oil is problematic not only because of the threat of climate change, but also because of volatile oil prices and supply disruptions that can threaten the military's energy supply. Its Operational Energy Strategy states:
The volatility of oil prices will continue to be a budgetary challenge for the Department, and the realities of global oil markets mean a disruption of oil supplies is plausible and increasingly likely in the coming decades. The Services have already taken steps to certify aircraft, ships, tactical vehicles, and support equipment to use alternative liquid fuels, a prudent insurance policy against future oil supply disruptions and high prices.
The Army also notes that transporting fuel can be deadly in a warzone:
Today, fuel consists of over 50 percent of the load carried by supply convoys in Afghanistan. These convoys are especially attractive targets to adversaries, and are regularly attacked. Statistics show that the U.S. loses one Soldier for every twenty convoys through attacks consisting of improvised explosive devices and/or direct fire ambushes. There will be over 3,000 resupply convoys in 2012.
Army Secretary John McHugh recently said: "Anything we can do to take a convoy off the road is a good thing." And as Scientific American noted, renewable energy has the potential to do just that:
By employing renewable and energy-efficient technologies and practices—such as solar blankets used to recharge new instruments or batteries—soldiers and contractors cut down on resupply missions and also lighten their loads on patrols and at bases. Solar modules at frontline bases have already significantly cut diesel use, reducing the number of convoy trips—and the potential for ambushes and roadside bombs.
To begin the transition away from fossil fuels, the Navy is increasing its use of biofuels and developing a "Great Green Fleet"—an aircraft carrier strike group run entirely on biofuels and other alternative fuels. Although biofuels are currently more expensive than oil, military demand will bring prices down, as Navy Secretary Ray Mabus explained to a Congressional committee.
Meanwhile, the Army and the Air Force have committed to developing a gigawatt of renewable energy by 2025. The U.S. Marine Corps is working to establish an entirely solar-powered base, and the Army is reviewing designs for portable wind turbines that could provide power in remote locations. The Army has also adopted a comprehensive approach to improve energy efficiency and reduce water consumption.
Contrary to the conservative media narrative that these investments are part of a wasteful "green agenda," military officials agree that they are essential to protecting national security. 
Thomas Hicks, the Navy's deputy assistant secretary for Energy, told Scientific American that green energy programs are not about "advancing an environmental agenda." Rather, they are about "improving our combat capability, improving our mission effectiveness, and reducing our vulnerabilities to foreign sources of fossil fuel."
Retired Vice Admiral Dennis McGinn added: "There is not a shred of political correctness in what the military is doing with energy efficiency or renewable energy. From lance corporal to general, they are on board. They live with the problems from the over-reliance on fossil fuels."
Jon Soltz, an Iraq war veteran, underscored this point in a Huffington Post op-ed: "[T]he military isn't on some kind of ecological mission when it comes to renewables. They're trying to help ensure men and women come home to their loved ones."
Visit EcoWatch's CLIMATE CHANGE page for more related news on this topic.
EcoWatch Daily Newsletter
A California newt (Taricha torosa) from Napa County, California, USA. Connor Long /
CC BY-SA 3.0
Aerial photos of the Sierra Nevada — the long mountain range stretching down the spine of California — showed rust-colored swathes following the state's record-breaking five-year drought that ended in 2016. The 100 million dead trees were one of the most visible examples of the ecological toll the drought had wrought.
Now, a few years later, we're starting to learn about how smaller, less noticeable species were affected.
Disinfectants and cleaners claiming to sanitize against the novel coronavirus have started to flood the market.
Natthawat / Moment / Getty Images
Disinfectants and cleaners claiming to sanitize against the novel coronavirus have started to flood the market, raising concerns for the U.S. Environmental Protection Agency (EPA), which threatened legal recourse against retailers selling unregistered products, according to The New York Times.
A customer packs groceries in reusable bags at a NYC supermarket on March 1, 2020. Eduardo Munoz Alvarez/Getty Images
The global coronavirus pandemic has thrown our daily routine into disarray. Billions are housebound, social contact is off-limits and an invisible virus makes up look at the outside world with suspicion. No surprise, then, that sustainability and the climate movement aren't exactly a priority for many these days.
Ingredients are displayed for the Old School Pinto Beans from the Decolonize Your Diet cookbook by Luz Calvo and Catriona Rueda Esquibel. Melissa Renwick / Toronto Star via Getty Images
By Molly Matthews Multedo
Livestock farming contributes to global warming, so eating less meat can be better for the climate.
Locals board up their shops in Vanuatu's capital of Port Vila on April 6, 2020 ahead of Tropical Cyclone Harold. PHILIPPE CARILLO / AFP via Getty Images
The most powerful extreme weather event of 2020 lashed the Pacific nation of Vanuatu Monday as it tries to protect itself from the new coronavirus.