This website uses cookies to ensure you get the best experience while browsing it. By clicking 'Got It' you're accepting these terms.
Federal Court Strikes Down EPA's Biomass Pollution Loophole
Jul. 15, 2013 08:36AM EST
Climate
On Friday, a key federal court ruling confirmed that Clean Air Act limits on carbon dioxide (CO2) pollution apply to industrial facilities that burn biomass, including tree-burning power plants. The court vacated an exemption that the U.S. Environmental Protection Agency (EPA) had carved out for "biogenic carbon dioxide."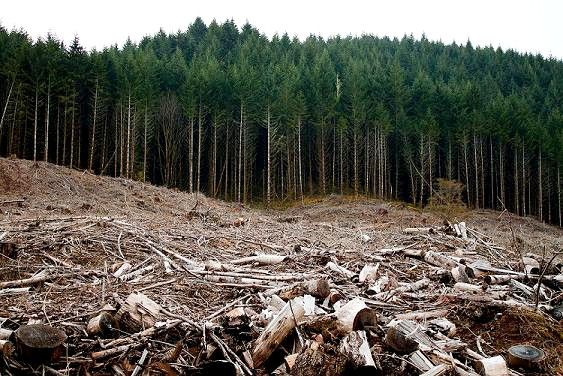 The decision, by a panel of the U.S. Court of Appeals for the DC Circuit in Center for Biological Diversity v. EPA (D.C. Cir. No. 11-1101), found that the EPA had improperly exempted all sources of biogenic CO2 from permitting programs intended to protect people and the environment from harmful pollution.
"Burning trees to generate electricity is dangerous, polluting and ought to be limited to protect people and the environment," said Kevin Bundy, a senior attorney with the Center for Biological Diversity's Climate Law Institute. "This important decision will reduce respiratory ailments, protect forests and help ensure a healthier, more livable climate."
"Today's ruling upholds [the] EPA's authority to regulate pollution that drives climate change. The court's decision is grounded in an understanding that the science shows that biomass fuels, including tree-burning, can make climate disruption worse," said Ann Weeks, legal director of the Clean Air Task Force, who argued the case for the petitioners and appeared on behalf of the Conservation Law Foundation and the Natural Resource Council of Maine.
"The court clearly noted that the atmosphere can't tell the difference between fossil fuel carbon dioxide and carbon dioxide emitted by burning trees," said Weeks.
"The science is clear that not all biomass burning is good for the planet and today's ruling rightly affirms science as the guide for how [the] EPA must now move forward on biomass energy production," said Niel Lawrence, senior attorney at the Natural Resources Defense Council. "This decision will ultimately benefit the climate, as well as Americans who want to breathe easier and protect the forests that they love. It will also ensure that our investments in clean energy go to sources that are actually clean."
"The court's decision is particularly important for the Southeast. Now we have an opportunity for a more sensible, science-based policy, one that avoids clearcutting the region's wildlife-rich forests for energy while intensifying climate change impacts," said Frank Rambo, head of the clean energy and air program for the Southern Environmental Law Center, which is representing Dogwood Alliance, Georgia ForestWatch, South Carolina Coastal Conservation League and Wild Virginia in the case.
Emissions from power plants and other industrial facilities that burn biomass can accelerate global warming and contribute to a host of respiratory and cardiac problems. Biomass-fueled power plants emit significantly more CO2 per kilowatt produced than power plants that burn fossil fuels—even coal—and it can take decades before that excess CO2 is "re-sequestered" by subsequent plant growth.
Under the Clean Air Act, facilities that are required to control their CO2 emissions must also control any "significant" emissions of other regulated pollutants, so the court's decision also means that communities near these plants will benefit from reductions in pollution that causes asthma and other health problems.
Visit EcoWatch's ENERGY and CLIMATE CHANGE pages for more related news on this topic.
——–
SHARE YOUR THOUGHTS BELOW: What is more important, preserving our nations forests or extracting energy from biomass?
——–

EcoWatch Daily Newsletter
By Simon Evans
During the three months of July, August and September, renewables generated an estimated total of 29.5 terawatt hours (TWh), compared with just 29.1TWh from fossil fuels, the analysis shows.
A demonstrator waves an Ecuadorian flag during protests against the end of subsidies to gasoline and diesel on Oct. 9 in Quito, Ecuador. Jorge Ivan Castaneira Jaramillo / Getty Images
Protesters block the road outside Mansion House in London during an XR climate change protest. Gareth Fuller / PA Images via Getty Images
Protestors marched outside the Prudential Center in Newark, New Jersey on Monday, August 26, during the MTV Video and Music Awards to bring attention to the water crisis currently gripping the city. Karla Ann Cote / NurPhoto / Getty Images
By Will Sarni
It is far too easy to view scarcity and poor quality of water as issues solely affecting emerging economies. While the images of women and children fetching water in Africa and a lack of access to water in India are deeply disturbing, this is not the complete picture.
Pexels
Mice exposed to nicotine-containing e-cigarette vapor developed lung cancer within a year.
More research is needed to know what this means for people who vape.
Other research has shown that vaping can cause damage to lung tissue.
A new study found that long-term exposure to nicotine-containing e-cigarette vapor increases the risk of cancer in mice.
Demonstrators with The Animal Welfare Institute hold a rally to save the vaquita, the world's smallest and most endangered porpoise, outside the Mexican Embassy in DC on July 5, 2018. SAUL LOEB / AFP / Getty Images
Six months: That's how much time Mexico now has to report on its progress to save the critically endangered vaquita porpoise (Phocoena sinus) from extinction.
Pexels
It may seem innocuous to flush a Q-tip down the toilet, but those bits of plastic have been washing up on beaches and pose a threat to the birds, turtles and marine life that call those beaches home. The scourge of plastic "nurdles," as they are called, has pushed Scotland to implement a complete ban on the sale and manufacture of plastic-stemmed cotton swabs, as the BBC reported.
Air conditioners, like these in a residential and restaurant area of Singapore city, could put a massive strain on electricity grids during more intense heatwaves. Taro Hama @ e-kamakura / Moment / Getty Images
By Tim Radford
Scientists in the U.S. have added a new dimension to the growing hazard of extreme heat. As global average temperatures rise, so do the frequency, duration and intensity of heatwaves.