This website uses cookies to ensure you get the best experience while browsing it. By clicking 'Got It' you're accepting these terms.
Federal Bill Introduced to Ban Fracking on Public Lands
Dec. 11, 2014 09:51AM EST
Energy
As fossil fuel interests hungrily eye public lands set aside for recreational use, tourism and natural, historical and cultural preservation, Wisconsin congressman Mark Pocan, with Illinois Congresswoman Jan Schakowsky, introduced a bill yesterday to ban fracking on publicly owned lands. It's the strongest bill introduced in Congress so far to take a stand against fracking.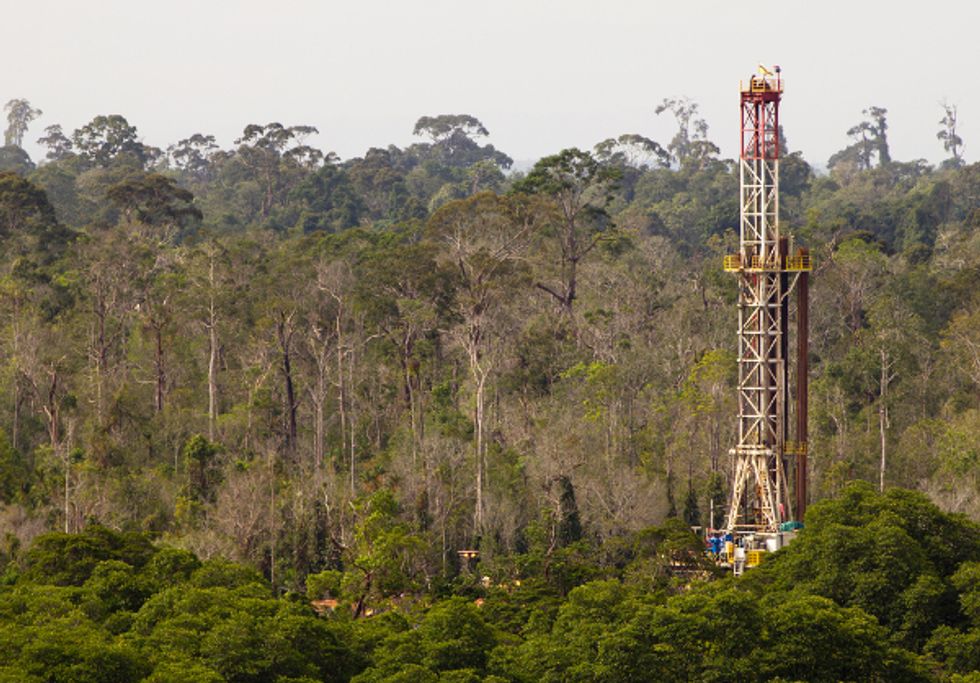 Photo credit: Shutterstock
"Federal lands should be preserved for the public good," said Pocan. "There are serious safety concerns around fracking and it should not be allowed on our pristine public lands specifically set aside for conservation. As we learn more about fracking's impact on the environment and people living near fracking wells, one thing is clear: the process can be harmful and the effects are not fully understood. We should not allow short-term economic gain to harm our environment and endanger workers."
His comments reflect a battery of recent studies showing dangers of public health impacts from water and air pollution and public safety impacts from noise, traffic and earthquakes. That's on top of the ruined landscape and the leakage of methane, a greenhouse gas which drives climate change, as well as the carbon emissions resulting from burning the fracked oil and gas extracted from those wells. And the Government Accountability Office (GAO) found that the Bureau of Land Management (BLM) failed to inspect more than half of the so-called "high priority" wells, which required more attention to prevent water and environmental contamination.
"I share Representative Pocan's serious concern about hydraulic fracturing, which has been shown to contaminate water sources, increase methane emissions and even to cause earthquakes," said Schakowsky. "We owe it to our children and grandchildren, and their children and grandchildren, to ensure the protection of public lands. This bill—in banning fracking on those lands—helps us follow through on that important promise."
"The science is clear that to avoid the worst effects of climate change, the majority of the world's fossil fuels have to stay in the ground," said Randi Spivak, public lands director with the Center for Biological Diversity. "There is no better place to start than with America's public lands. The public owns the lands and owns the carbon."
Currently, 90 percent federally managed lands are available for oil and gas leasing, including fracking, with just 10 percent protected exclusively for conservation, recreation, wildlife and cultural heritage. Oil and gas companies already have leased over 36 million acres of public land and seeking to use another 12 million acres in national forests and land adjoining national parks. Last year the Bureau of Land Management (BLM) updated fracking regulations on public lands and the rules are now at the Office of Budget and Management (OBM), the final step before being adopted, which is expected to occur earlynext year. During the comment period, over a million comments were received, with more than 650,000 opposing fracking on public lands, as polls show that Americans are increasingly sour on it.
"The inherently dangerous nature of fracking means that no set of regulations can prevent accidents from happening that impact public health and natural resources," said Food & Water Watch executive director Wenonah Hauter. "In light of the dismal track record that the oil and gas industry has on protecting the environment, the only way that public lands can be protected is by banning fracking. We applaud Congressman Mark Pocan for exhibiting leadership by standing up to protect our public lands for future generations to enjoy."
The support for the new legislation came not just from environmental groups, but from those concerned with a wider range of economic and social justice issues, as well as health issues.
"We wholeheartedly support his legislation to protect public lands from exploitation, degradation and eventual destruction,"said Conor Boylan and Andrea Miller, co-executive directors of the Progressive Democrats of America. "We hope this courageous effort will culminate in strong protections, joining landmark environmental legislation like the Clean Air and Clean Water Acts."
"We commend Representative Pocan for introducing the Protect Our Public Lands Act," said Karen Higgins, RN, co-president of National Nurses United. "Nurses understand the dangers to public health of pumping dangerous chemicals into our water supply. Fracking has been linked to miscarriages, infertility and birth defects. Congress should act immediately to ban fracking on federal lands."
Unfortunately, the bill comes at a time when Republican control of Congress brings increased influence for fossil fuel companies who spent heavily to elect representatives friendly to their interests.
YOU MIGHT ALSO LIKE
Study Finds 8 Fracking Chemicals Toxic to Humans
New Evidence Links Earthquakes to Fracking
Groundbreaking Study Finds Cancer-Causing Air Pollution Near Fracking Sites
EcoWatch Daily Newsletter
A Starbucks barista prepares a drink at a Starbucks Coffee Shop location in New York. Ramin Talaie / Corbis via Getty Images
By Cathy Cassata
Are you getting your fill of Starbucks' new Almondmilk Honey Flat White, Oatmilk Honey Latte, and Coconutmilk Latte, but wondering just how healthy they are?
By Sharon Kelly
Back in April last year, the Trump administration's Environmental Protection Agency decided it was "not necessary" to update the rules for toxic waste from oil and gas wells. Torrents of wastewater flow daily from the nation's 1.5 million active oil and gas wells and the agency's own research has warned it may pose risks to the country's drinking water supplies.
Swedish climate activist Greta Thunberg takes part in a "Friday for Future" youth demonstration in a street of Davos on Jan. 24, 2020 on the sideline of the World Economic Forum annual meeting. FABRICE COFFRINI / AFP via Getty Images
Treasury Secretary Steven Mnuchin pretended not to know who Greta Thunberg is, and then he told her to get a degree in economics before giving world leaders advice, as The Guardian reported.
The Visible Infrared Imaging Radiometer Suite on the Suomi NPP satellite acquired this image of forest fire smoke hovering over North America on Aug. 15, 2018. NASA Earth Observatory
New York City isn't known for having the cleanest air, but researchers traced recent air pollution spikes there to two surprising sources — fires hundreds of miles away in Canada and the southeastern U.S.
If temperatures continue to rise, the world is at risk from global
sea-level rise
, which will flood many coastal cities as seen above in Bangladesh. NurPhoto / Contributor / Getty Images
The mounting climate emergency may spur the next global financial crisis and the world's central banks are woefully ill equipped to handle the consequences, according to a new book-length report by the Bank for International Settlements (BIS), as S&P Global reported. Located in Basel, Switzerland, the BIS is an umbrella organization for the world's central banks.