This website uses cookies to ensure you get the best experience while browsing it. By clicking 'Got It' you're accepting these terms.
Extreme Weather Hits Hard Worldwide
Feb. 11, 2014 12:48PM EST
Climate
By Tierney Smith
From unprecedented storms and flooding in the UK to severe drought in California and Brazil, 2014 has kicked off with some exceptional and weird weather events.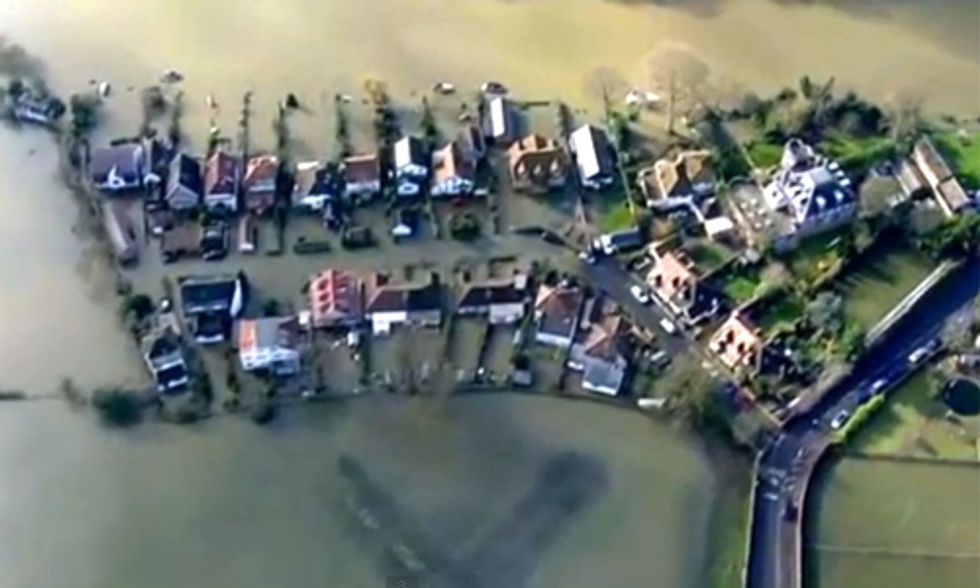 Scientists are increasingly able to link the upward trends in extreme weather to climate change—and these latest examples are giving them even more evidence.
In the UK, the country is experiencing its most exceptional period of rainfall in 248 years, with hundreds of flood alert warnings covering much of the country and hundreds of home left inundated.
The prolonged storms have played havoc across the country since December, with more than 130 severe flood risk warnings—meaning a potential threat to life—issued and more than 5,000 homes flooded.
This week fourteen severe warnings remain in place, with no let up of the rain in sight.
And as the country tries to get a grip on the situation, the UK Met Office has said that "all evidence suggests there is a link to climate change."
Julia Slingo, chief scientist at the Met Office said:
Nobody has come forward to counter the basic premise that if you have a warmer world you are doing to get more intense heavy rain rates … We know that warmer air holds more water.
Across the globe in Brazil, residents in Sao Paulo—South America's largest city—are facing the opposite problem, as record heat and drought have sparked fears of water shortages. The city is on alert following warnings the system that provides half the its drinking water could run dry in the next 40 days.
Like cities across Brazil, Sao Paulo is experiencing its worst drought in 50 years, with last month the hottest January on record.
The combination of low precipitation and extreme heat right across the country are not only sparking fears of water shortages but also of crop damage and higher energy prices.
The Western U.S. is facing similar problems, as the state of California is in the grips of what is likely to be the region's worst drought in 500 years.
Low snowpack in the mountains are leaving the state's creeks, rivers and reservoirs—which provide essential water and hydroelectric power for cities and the agricultural industry—dry, putting food prices at risk.
Meanwhile, wildfires continue to plague the region at increased rates.
Brazil and California aren't the only places experiencing record drought and heat.
In Alaska, record high temperatures have triggered a series of extremely large avalanches, with debris piles more than 30-metres thick blocking off towns from highway access.
Stifling heat in Australia is also causing havoc, after the country suffered through its hottest January in 13 years—the fourth hottest on record.
The dry and hot conditions have left scores of wildfires raging across southeast Australia, and are threatening the country's agriculture production, as farmers struggle to provide water for their cattle and crops.
Scientists warn that "climate change is loading the dice" for more extreme heat, with a new Climate Council report warning that climate change's influence on the doubling number of hot days Australia experienced in 2008 compared to 1971.
A slew of deadly flooding events are also hitting communities around the world.
In Bolivia flooding and landslides have so far claimed 42 lives this year, while flooding in northern Indonesia has killed 13 people and driven tens of thousands more from their homes, and in Mozambique 11 people have been killed in flooding.
Extreme rainfall is also hitting countries across mainland Europe. Large parts of France and Italy are under flood alert, with hundreds of people being forced out of their homes. The heavy rain and flooding have also claimed three lives in Italy and two in France.
In Romania heavy snowfall has been the problem, blocking roads and railways across the country and leaving schools closed and thousands stranded both in their homes and on the roads.
Cold weather has also been playing havoc in Slovenia, where trees, buildings and cars have been encased in thick ice, causing perilous conditions as power lines and tress tumbling to the ground.
The government estimates that around 40 percent of the country's forests have been damaged by the cold snap.
The latest examples of extreme weather come as research from the World Meteorological Organization (WMO) showed that the planet continues to warm and that 2013 was among the ten warmest years since modern records began in 1850.
Analyzing data from the three main global records of surface temperatures—the UK's Met Office and the National Oceanic and Atmospheric Administration and NASA in the U.S.—the WMO concluded that 2013 was the sixth warmest year since records began more than 160 years ago.
With WMO Secretary General Michel Jarraud warning that without drastic action to curb carbon emissions, global temperatures would continue to rise for years to come, the world should further brace itself for more weird weather events in the future.
Visit EcoWatch's CLIMATE CHANGE page for more related news on this topic.

EcoWatch Daily Newsletter
Heavy industry on the lower Mississippi helps to create dead zones.
AJ Wallace on Unsplash.
Cutting out coal-burning and other sources of nitrogen oxides (NOx) from heavy industry, electricity production and traffic will reduce the size of the world's dead zones along coasts where all fish life is vanishing because of a lack of oxygen.
Despite the ongoing coronavirus pandemic, which has restricted the ability to gather in peaceful assembly, a Canadian company has moved forward with construction of the controversial Keystone XL pipeline, according to the AP.
A gas flare from the Shell Chemical LP petroleum refinery illuminates the sky on August 21, 2019 in Norco, Louisiana. Drew Angerer / Getty Images.
Methane levels in the atmosphere experienced a dramatic rise in 2019, preliminary data released Sunday shows.
A retired West Virginia miner suffering from black lung visits a doctor for tests. Andrew Lichtenstein / Corbis via Getty Images
In some states like West Virginia, coal mines have been classified as essential services and are staying open during the COVID-19 pandemic, even though the close quarters miners work in and the known risks to respiratory health put miners in harm's way during the spread of the coronavirus.
Solar panel installations and a wind turbine at the Phu Lac wind farm in southern Vietnam's Binh Thuan province on April 23, 2019. MANAN VATSYAYANA / AFP via Getty Images