Extreme Weather Hits Hard Worldwide
By Tierney Smith
From unprecedented storms and flooding in the UK to severe drought in California and Brazil, 2014 has kicked off with some exceptional and weird weather events.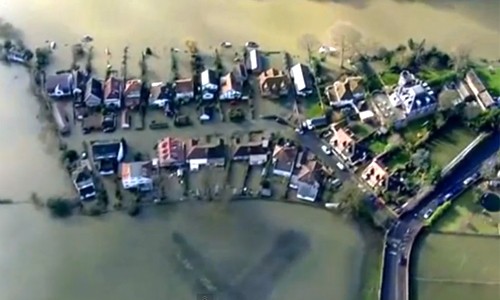 Scientists are increasingly able to link the upward trends in extreme weather to climate change—and these latest examples are giving them even more evidence.
In the UK, the country is experiencing its most exceptional period of rainfall in 248 years, with hundreds of flood alert warnings covering much of the country and hundreds of home left inundated.
The prolonged storms have played havoc across the country since December, with more than 130 severe flood risk warnings—meaning a potential threat to life—issued and more than 5,000 homes flooded.
This week fourteen severe warnings remain in place, with no let up of the rain in sight.
And as the country tries to get a grip on the situation, the UK Met Office has said that "all evidence suggests there is a link to climate change."
Julia Slingo, chief scientist at the Met Office said:
Nobody has come forward to counter the basic premise that if you have a warmer world you are doing to get more intense heavy rain rates … We know that warmer air holds more water.
Across the globe in Brazil, residents in Sao Paulo—South America's largest city—are facing the opposite problem, as record heat and drought have sparked fears of water shortages. The city is on alert following warnings the system that provides half the its drinking water could run dry in the next 40 days.
Like cities across Brazil, Sao Paulo is experiencing its worst drought in 50 years, with last month the hottest January on record.
The combination of low precipitation and extreme heat right across the country are not only sparking fears of water shortages but also of crop damage and higher energy prices.
The Western U.S. is facing similar problems, as the state of California is in the grips of what is likely to be the region's worst drought in 500 years.
Low snowpack in the mountains are leaving the state's creeks, rivers and reservoirs—which provide essential water and hydroelectric power for cities and the agricultural industry—dry, putting food prices at risk.
Meanwhile, wildfires continue to plague the region at increased rates.
Brazil and California aren't the only places experiencing record drought and heat.
In Alaska, record high temperatures have triggered a series of extremely large avalanches, with debris piles more than 30-metres thick blocking off towns from highway access.
Stifling heat in Australia is also causing havoc, after the country suffered through its hottest January in 13 years—the fourth hottest on record.
The dry and hot conditions have left scores of wildfires raging across southeast Australia, and are threatening the country's agriculture production, as farmers struggle to provide water for their cattle and crops.
Scientists warn that "climate change is loading the dice" for more extreme heat, with a new Climate Council report warning that climate change's influence on the doubling number of hot days Australia experienced in 2008 compared to 1971.
A slew of deadly flooding events are also hitting communities around the world.
In Bolivia flooding and landslides have so far claimed 42 lives this year, while flooding in northern Indonesia has killed 13 people and driven tens of thousands more from their homes, and in Mozambique 11 people have been killed in flooding.
Extreme rainfall is also hitting countries across mainland Europe. Large parts of France and Italy are under flood alert, with hundreds of people being forced out of their homes. The heavy rain and flooding have also claimed three lives in Italy and two in France.
In Romania heavy snowfall has been the problem, blocking roads and railways across the country and leaving schools closed and thousands stranded both in their homes and on the roads.
Cold weather has also been playing havoc in Slovenia, where trees, buildings and cars have been encased in thick ice, causing perilous conditions as power lines and tress tumbling to the ground.
The government estimates that around 40 percent of the country's forests have been damaged by the cold snap.
The latest examples of extreme weather come as research from the World Meteorological Organization (WMO) showed that the planet continues to warm and that 2013 was among the ten warmest years since modern records began in 1850.
Analyzing data from the three main global records of surface temperatures—the UK's Met Office and the National Oceanic and Atmospheric Administration and NASA in the U.S.—the WMO concluded that 2013 was the sixth warmest year since records began more than 160 years ago.
With WMO Secretary General Michel Jarraud warning that without drastic action to curb carbon emissions, global temperatures would continue to rise for years to come, the world should further brace itself for more weird weather events in the future.
Visit EcoWatch's CLIMATE CHANGE page for more related news on this topic.

Wikimedia Commons
By Stacy Malkan
Neil deGrasse Tyson has inspired millions of people to care about science and imagine themselves as participants in the scientific process. What a hopeful sign it is to see young girls wearing t-shirts emblazoned with the words, "Forget princess, I want to be an astrophysicist."
Keep reading...
Show less
www.youtube.com
By Andy Rowell
Any day now we will truly witness climate change in action. Within days at worst, maybe weeks at best, scientists predict that a huge section of the Larsen C ice shelf in Antarctica will break off into the ocean, in what is called a major "carving" event.
Keep reading...
Show less
www.youtube.com
President Trump visited Cedar Rapids, Iowa on June 21 to speak to a large crowd in the U.S. Cellular Center at a political rally organized by his campaign.
As Trevor Noah noted during The Daily Show episode last night (starts at 2:25), the real reason Trump has these rallies is to "get back in front of his loyal crowds and feed of their energy." Noah believes that "Trump supporters are so on board with their dude he can say anything and they'll come along for the ride."
Keep reading...
Show less
The Kamuthi solar plant in the southern Indian state of Tamil Nadu.
The rapid growth in renewable energy continues to put a dent in the demand for coal.
Coal India, the world's biggest coal mining company and producer of 82 percent of the country's coal, announced the closure of 37 mines that are financially "unviable."
Keep reading...
Show less
www.youtube.com
By Katie O'Reilly
Two years ago—long before coal became one of the most dominant and controversial symbols of the 2016 presidential election—Bloomberg Philanthropies approached production company RadicalMedia with the idea of creating a documentary exploring the U.S. coal mining industry. Last spring, they brought on Emmy-nominated director Michael Bonfiglio, tasked with forging a compelling story out of the multitudes of facts, statistics and narratives underlying the declining industry.
Keep reading...
Show less
Mayors for 100% Clean Energy
Keep reading...
Show less
www.youtube.com
Thanks to Newsy for their coverage on Thursday's news that the U.S. Fish and Wildlife Service removed grizzly bears in the Greater Yellowstone region from the Endangered Species List.
Watch above as Newsy explains that the decision comes despite serious concerns from the environmental and scientific community, and Tribal Nations about a declining, isolated grizzly bear population with diminishing food resources and record-high mortalities.
Keep reading...
Show less
www.facebook.com
By Francine Kershaw
Seismic airguns exploding in the ocean in search for oil and gas have devastating impacts on zooplankton, which are critical food sources for marine mammals, according to a new study in Nature. The blasting decimates one of the ocean's most vital groups of organisms over huge areas and may disrupt entire ecosystems.
And this devastating news comes on the heels of the National Marine Fisheries Service's proposal to authorize more than 90,000 miles of active seismic blasting. Based on the results of this study, the affected area would be approximately 135,000 square miles.
Keep reading...
Show less
By Jill Richardson
Is coconut oil:
good for you
bad for you
neither good nor bad
scientists don't know
The subject of this question is the source of a disagreement. Initially, the question was thought to be settled decades ago, when scientist Ancel Keys declared all saturated fats unhealthy. Coconut oil, which is solid at room temperature, is a saturated fat.
Keep reading...
Show less


Get EcoWatch in your inbox