Exclusive: America's 10 Cleanest and 10 Dirtiest States
Oct. 26, 2015 03:29PM EST
Business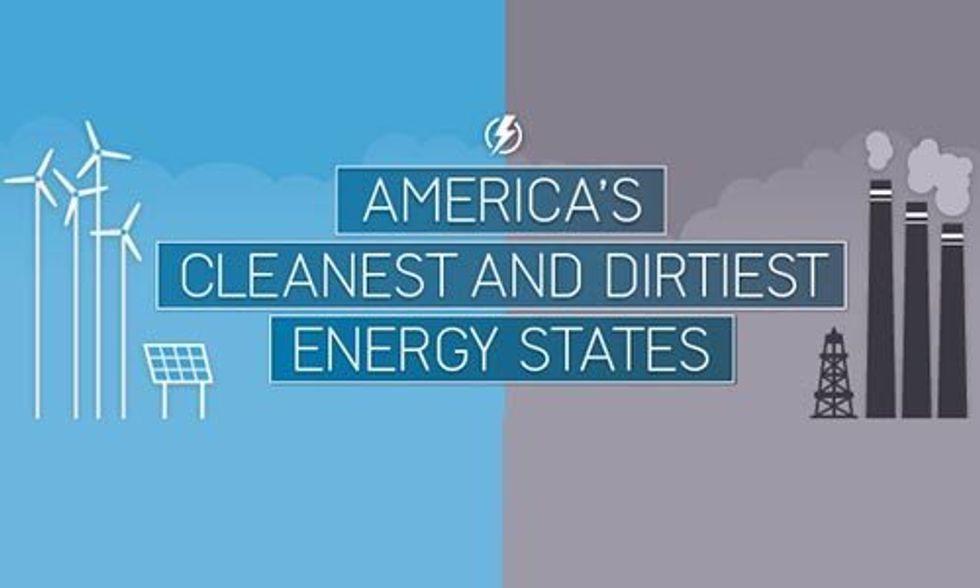 Modernize, a site that helps people make energy efficiency upgrades to their home, such as adding solar panels, has put together an extensive report on the state of renewable energy in America. Using data from the U.S. Energy Information Administration (EIA) from 1960 to 2013, America's Cleanest and Dirtiest Energy States analyzes everything from total energy production from renewable sources to carbon dioxide emissions over time.
Many have urged a swift transition to renewable energy in the U.S. and worldwide. Last month, Greenpeace released a report claiming 100 percent renewable energy is possible for all by 2050. And earlier this summer, researchers from Stanford University and University of California, Berkeley developed a state-by-state plan to convert the U.S. to 100 percent renewable energy in less than 40 years. Aspen, Colorado, Burlington, Vermont and Greensburg, Kansas have all phased out fossil fuels, and several more U.S. cities have vowed to do so.
So, here is Modernize's breakdown for total renewable energy production by state: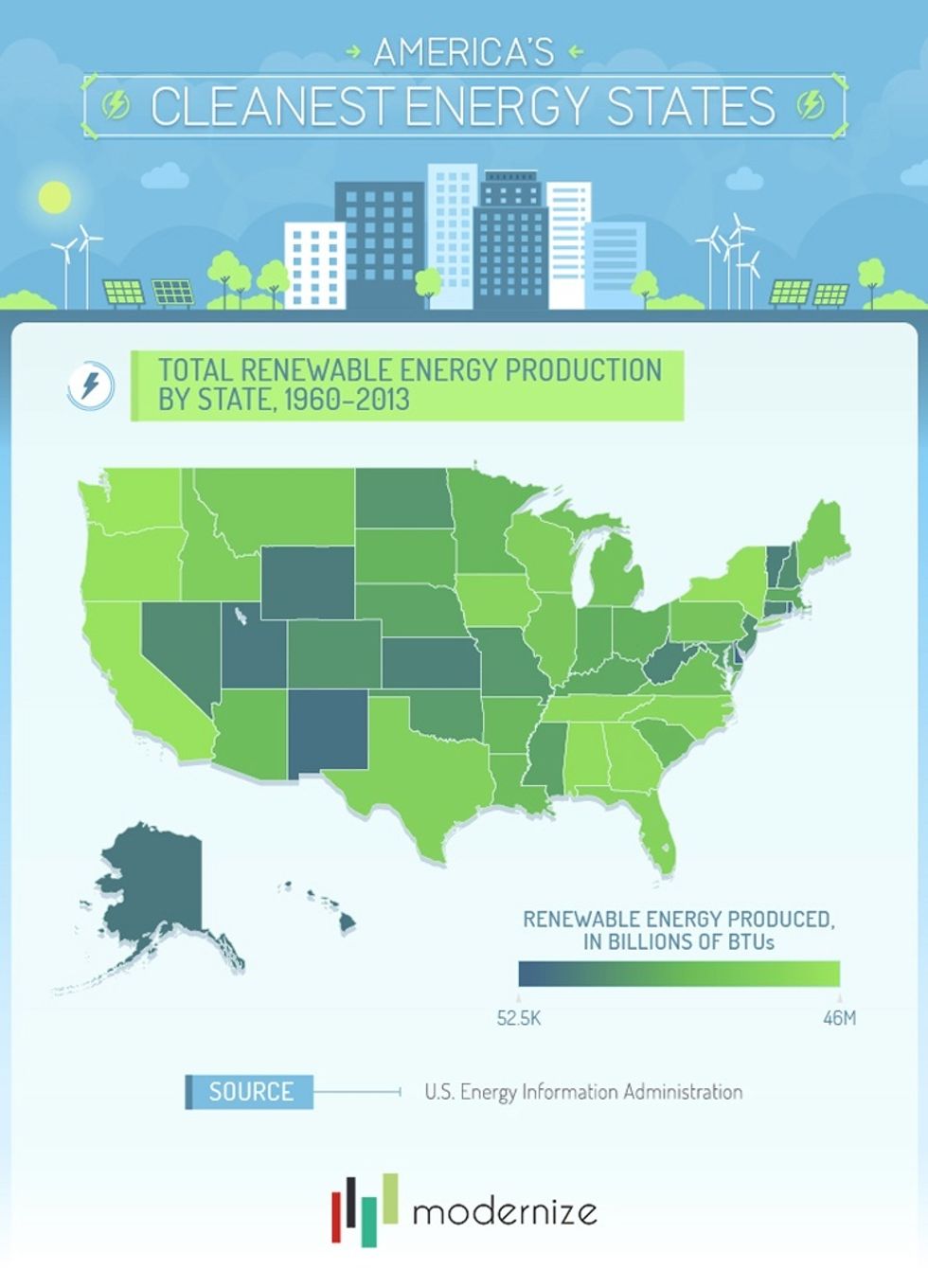 The EIA list of renewable energy sources runs the gamut from wind and solar, but also more controversial energy sources such as hydropower and biofuels, such as ethanol. Washington, which relies heavily on hydropower, tops the list.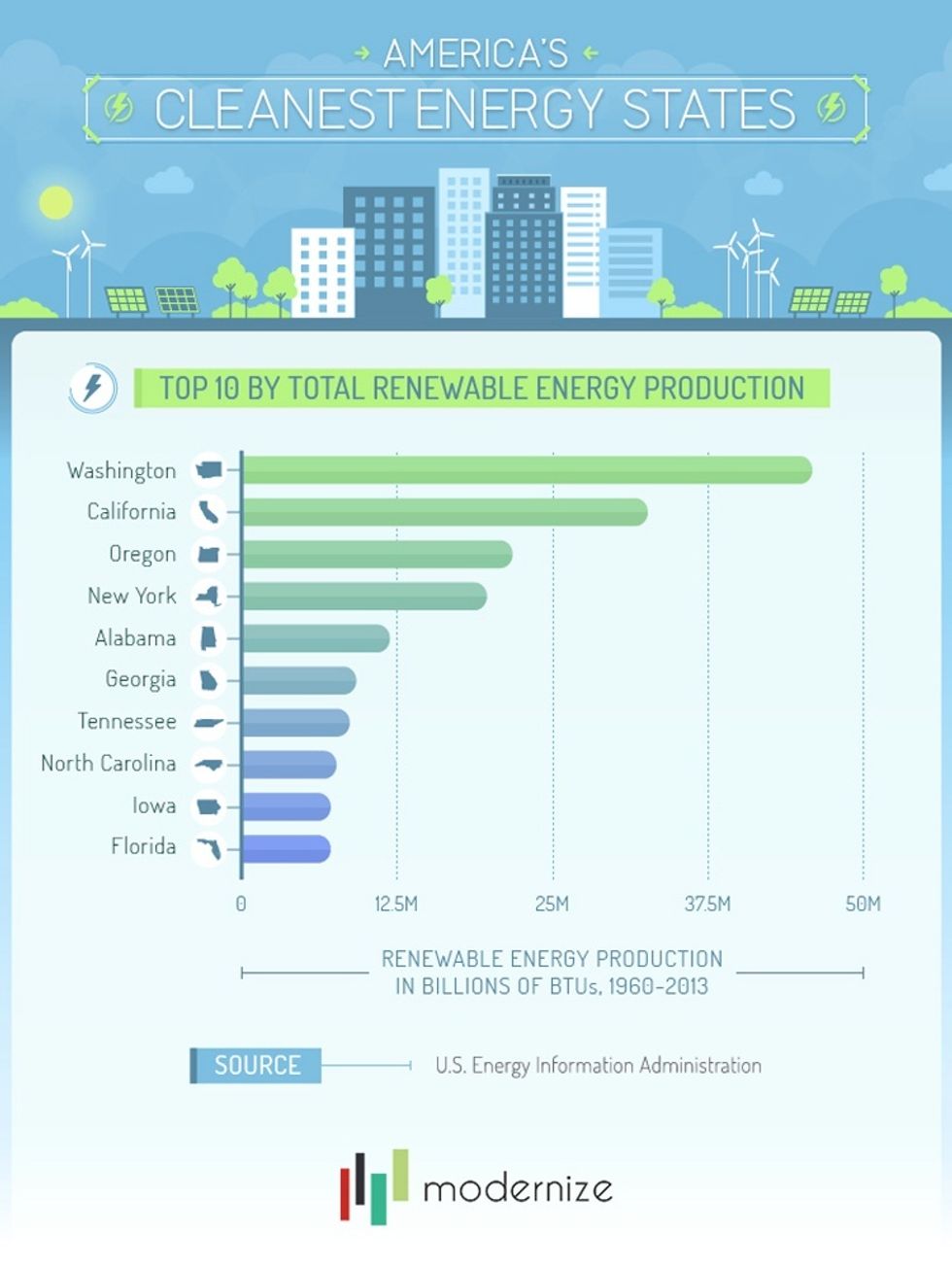 This map provides a state-by-state breakdown of renewable energy use:
Just looking at total energy production doesn't give you the whole picture, though. When you look at renewable energy generation as a percentage of the states' total energy production, you see that several states are already producing nearly 100 percent of their energy from renewable sources.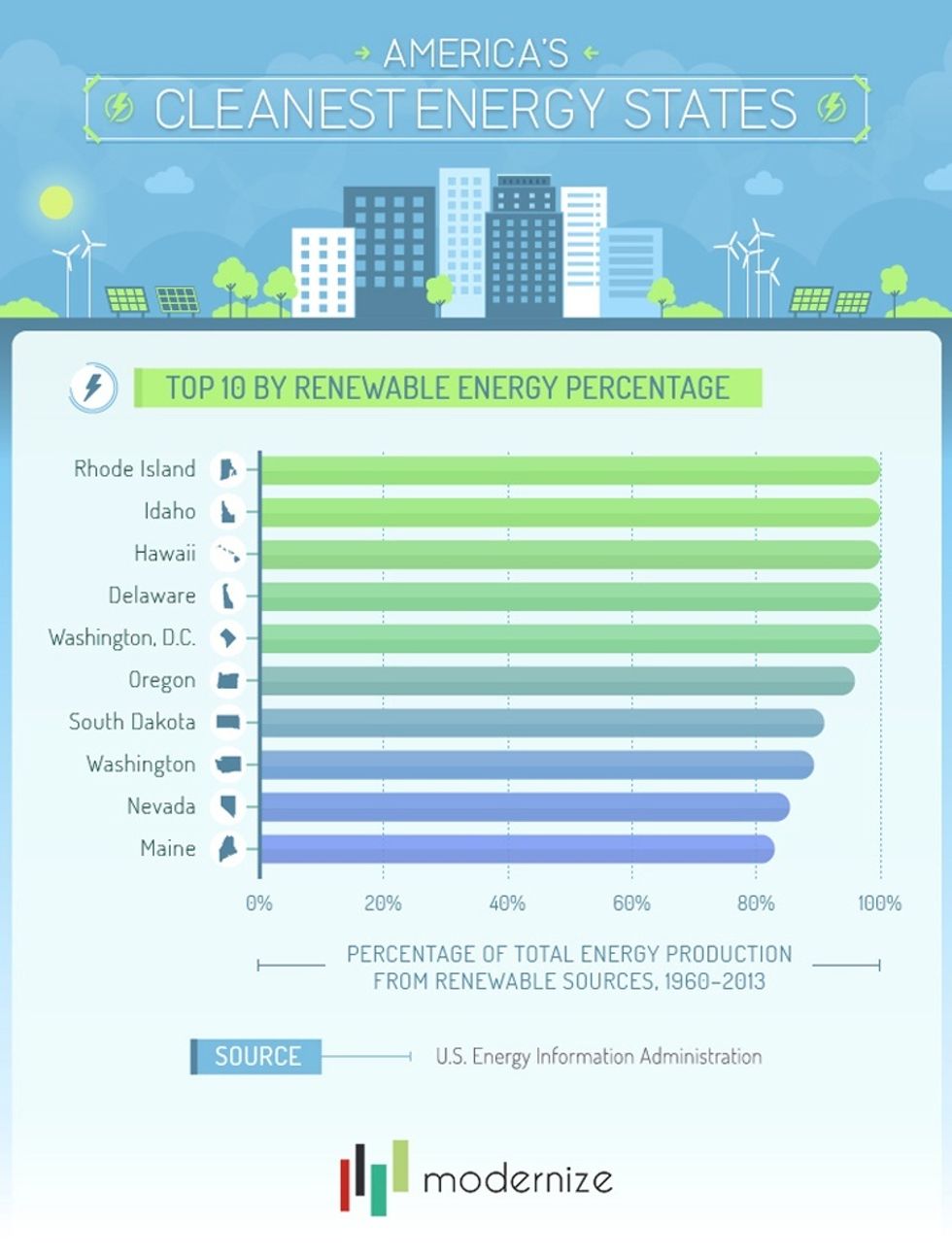 And then there's the dirtiest energy states. Wyoming tops the list with less than 0.5 percent of its energy coming from renewable sources.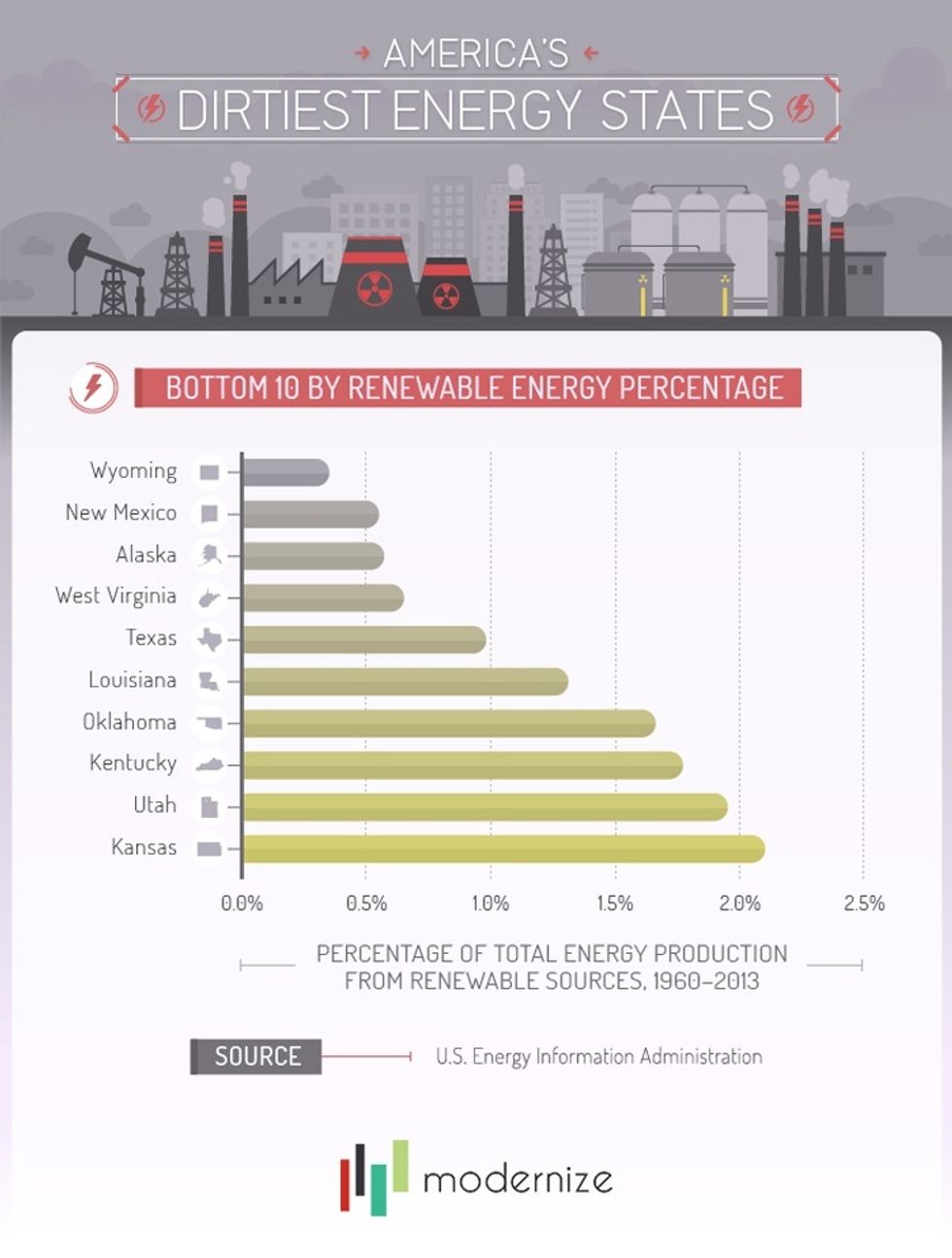 Unsurprisingly, the top 10 states that contribute the most carbon dioxide emissions are some of the most populous states. Indiana and Louisiana are the only two states on the list that aren't also one of the top 10 most populous states.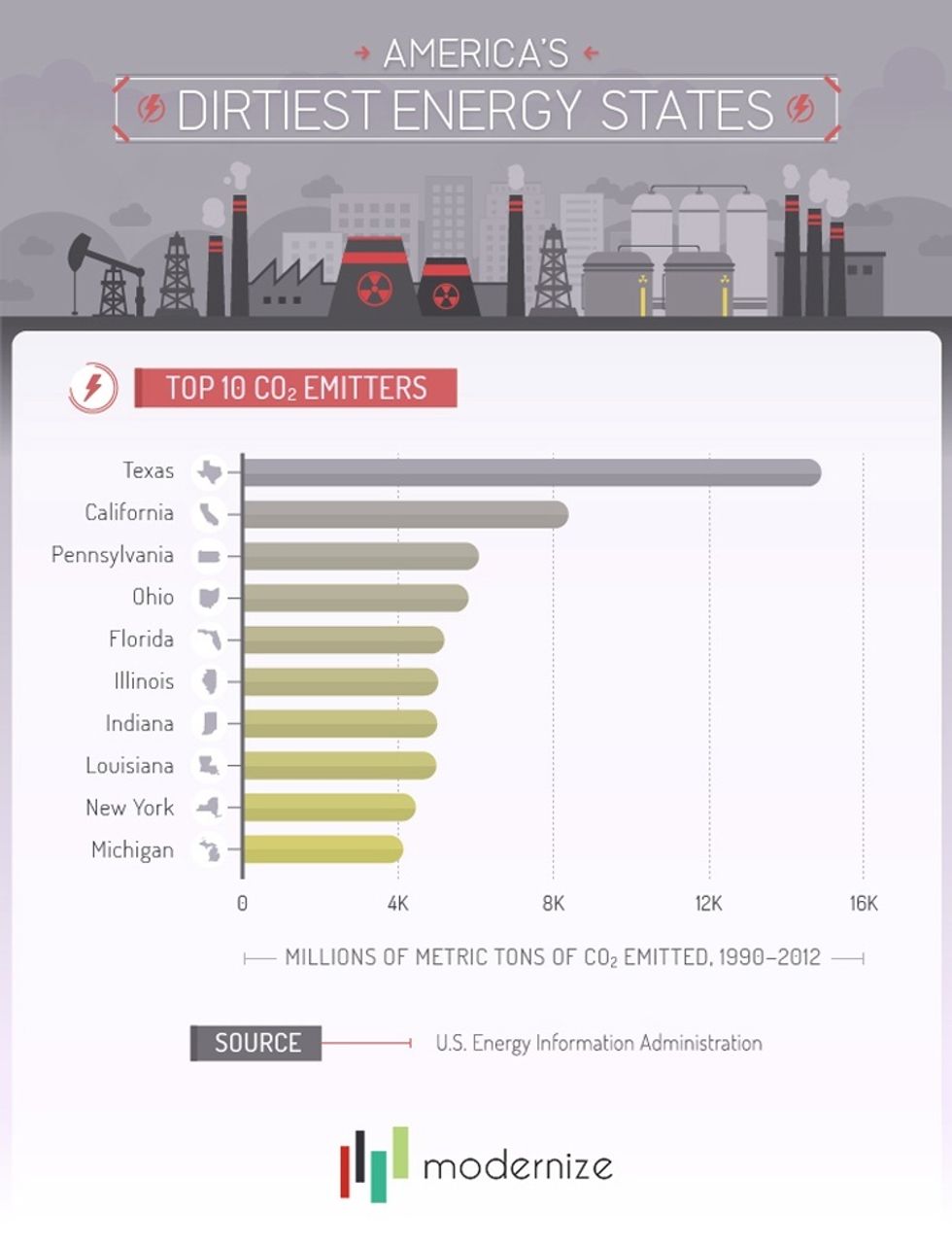 And lastly, some states have made significant strides in the last 20 years to clean up their act. Here's the 10 most improved C02 emitters since 1990: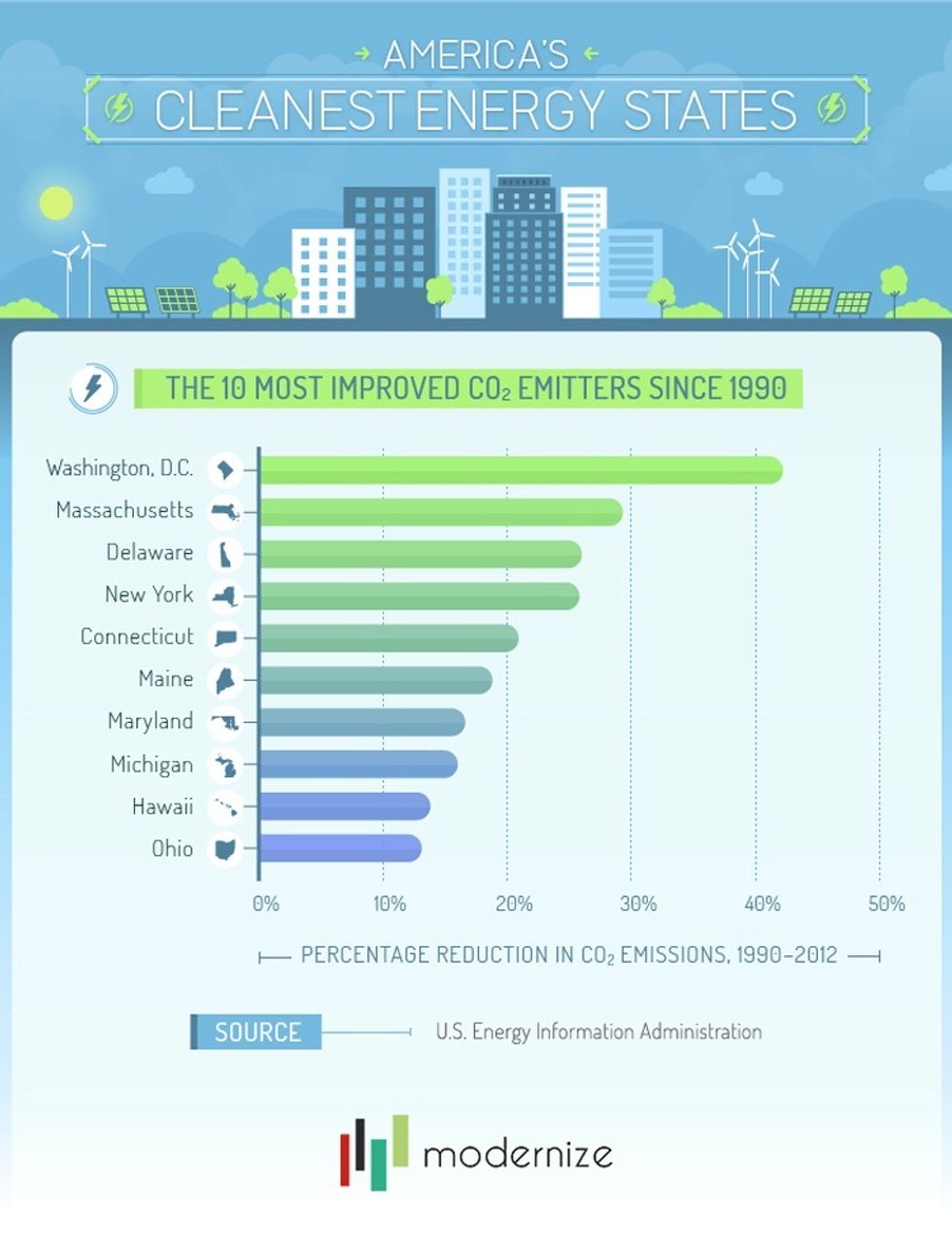 YOU MIGHT ALSO LIKE
20 Celebrities That Have Gone Solar
Processed Meats Linked to Cancer, WHO Report Says
4 Solar Powered Homes Designed by Students That Will Blow You Away
EcoWatch Daily Newsletter
Related Articles from EcoWatch
Recent Stories from EcoWatch