EPA Proposal Allows Radiation Exposure in Drinking Water Equivalent to 250 Chest X-Rays a Year
The U.S. Environmental Protection Agency (EPA) quietly issued proposals Monday to allow radioactive contamination in drinking water at concentrations vastly greater than allowed under the Safe Drinking Water Act. The new guidance would permit radiation exposures equivalent to 250 chest X-rays a year. Environmental groups are calling the proposal "shocking" and "egregious."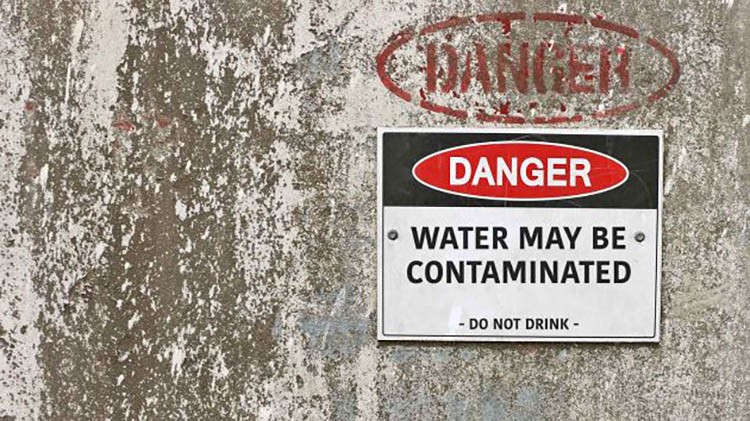 The EPA proposed Protective Action Guides (PAGs) would allow the general population to drink water hundreds to thousands of times more radioactive than is now legal. For example, radioactive iodine-131 has a current limit of 3 pico-curies per liter (pCi/L), in water but the new guidance would allow 10,350 (pCi/L), 3,450 times higher. For strontium-90, which causes leukemia, the current limit is 8 pCi/L; the new proposed value is 7,400 pCi/L, a 925-fold increase.
"Clean water is essential for health," Dr. Catherine Thomasson, executive director of Physicians for Social Responsibility, said. "Just like lead, radiation when ingested in small amounts is very hazardous to our health. It is inconceivable that EPA could now quietly propose allowing enormous increases in radioactive contamination with no action to protect the public, even if concentrations are a thousand times higher than under the Safe Drinking Water Act."
The Bush Administration in its last days unsuccessfully tried to put forward similar proposals, which the incoming Obama Administration pulled back. Now, in the waning months of the Obama Administration, the EPA's radiation office is trying again.
"These levels are even higher than those proposed by the Bush Administration—really unprecedented and shocking," Diane D'Arrigo, Nuclear Information and Resource Service, said.
The Bush Administration proposal for strontium 90 was 6,650 pCi/L; the new proposal is 7,400 pCi/L. For iodine-131, the Bush proposal was 8,490 pCi/L; the new proposal is 10,350 pCi/L. For cesium-137, the proposal was for 13,600 pCi/L; Obama "beats" Bush with a value of 16,570 pCi/L.
All radionuclides can cause cancer and other health and reproductive problems; there is no completely safe level. Strontium causes bone cancer and leukemia. Babies, children and females are at even greater risk than adult males.
PAGs apply not just to emergencies such as "dirty bombs" and Fukushima-type nuclear power meltdowns but also to any radiological release for which a protective action may be considered—even a radiopharmaceutical transport spill. The proposed drinking water PAG would apply not to the immediate phase after a release, but rather to the intermediate phase, after the release has been stabilized and lasting up to several years thereafter.
Radiation doses (in rems) cannot be measured but are calculated based on some measurements and many assumptions. The current Safe Drinking Water Act limits are based on 4 millirems per year. The PAGs would allow 500 millirems per year for the general population. A single chest X-ray gives about 2 millirems. Because of the way EPA is changing the definition of dose, for many radionuclides, the allowable concentration would be thousands, tens of thousands and even millions of times higher than set under the Safe Drinking Water Act.
Internal EPA documents obtained under the Freedom of Information Act show that the EPA itself concluded that the proposed concentrations "would exceed MCLs [Maximum Contaminant Limits of the Safe Drinking Water Act] by a factor of 100, 1000 and in two instances, 7 million." The EPA internal analysis showed that for one radionuclide, "drinking a very small glass of water of approximately 4 ounces ... would result in an exposure that corresponds to a lifetime of drinking ... water ... at the MCL level."
"All of this is extraordinary, since EPA has recently accepted the National Academy of Sciences' most current risk estimates for radiation, indicating radiation is considerably more dangerous per unit dose than previously believed," D'Arrigo said. "Pushing allowable concentrations of radioactivity in drinking water up orders of magnitude above the longstanding Safe Drinking Water Act levels goes in exactly the opposite direction than the official radiation risk estimates go.
"Under these proposals, people would be forced to get the radiation equivalent of a chest X-ray 5 days a week, 50 weeks a year, for up to several years, with no medical benefit or informed consent, just from drinking water. This is immoral."
The public has 45 days from when it is published in the Federal Register to comment to the EPA on the PAG-Protective Action Guides.
"These proposed changes are a particularly egregious gift to the energy industry, which would essentially be given a free pass whenever nuclear or fracking waste enters our water supply," Wenonah Hauter, executive director of Food & Water Watch and author of the new book, Frackopoly, said. "The EPA under President Obama has also whitewashed the impact of fracking on drinking water. This is more of the same when it comes to his EPA's pro-industry, hands-off regulation of toxic practices that can harm public health."
YOU MIGHT ALSO LIKE
Chemical Safety Reform Bill Headed to Obama's Desk Lets Down Women With and at Risk of Breast Cancer
EU Fails to Approve 'Technical Extension' for Weed-Killer Glyphosate
These 33 Cities Cheated on Lead Contamination Tests, Similar to Flint, Michigan
These Four People Were Sued for $30 Million After Speaking Out Against a Hazardous Waste Dump
www.youtube.com
Volkswagen is bringing back its hippie-approved minivan but with a 21st century upgrade—the new I.D. Buzz is all-electric.
The concept car was first revealed at the Detroit Auto Show in January and now the German automaker is officially putting its reinvigorated Microbus into production.
Keep reading...
Show less
I have asked repeatedly to have my short interview clip removed from this film. The director refuses. He believes his film is fair and balanced. I do not.

I am often interviewed (see media) and hardly ever quoted incorrectly or out of context. This film is one of those rare exceptions.
Keep reading...
Show less
Top of JPMorgan Chase Tower, Dallas, Texas. Joe Mabel / Wikimedia
Keep reading...
Show less
Cupping symptoms associated with dicamba damage on a cucumber plant. University of Arkansas.
Arkansas farmers filed a class-action lawsuit last week against Monsanto and German chemical company BASF, alleging that the companies' dicamba-based herbicides caused damage to their properties.
The plaintiffs claim that Monsanto and BASF implemented and controlled the dicamba crop system, releasing seed technology without a corresponding, safe and approved herbicide.
Keep reading...
Show less
Cup and bubblegum corals found in Northeast U.S. Canyons, the Atlantic's first marine monument. NOAA
Interior Sec. Ryan Zinke, who recently recommended a reduction in the size of the 1.35 million acre Bears Ears National Monument to President Trump, is advocating for more drilling and mining on public lands and waters.
The former Montana Rep. told Reuters that the development of America's protected federal lands could help the country become a "dominant" global energy force.
Keep reading...
Show less
Gage Skidmore / Flickr (CC BY-SA 2.0)
Dozens of scientists on the U.S. Environmental Protection Agency's (EPA) Board of Scientific Counselors and board subcommittees have been informed that they will not be renewed for their roles advising the agency, the Washington Post reported.
Keep reading...
Show less
www.youtube.com
Worried about the future of the Great Barrier Reef? If so, you're not alone.
Many publications have already written obituaries for the reef, despite the fact that it is not completely dead. Thanks to this video via Vox for sounding the alarm on this critical issue, before it's too late.
Keep reading...
Show less
Mike Mozart
By Olga V. Naidenko, Ph.D.
In a landmark rule with global repercussions, California state scientists are preparing to issue the world's first health guideline for Monsanto's glyphosate herbicide based on its cancer risk. The state's proposed safe level is more than 100 times lower than the U.S. Environmental Protection Agency's (EPA) legal allowance for the average-sized American.
Keep reading...
Show less
www.youtube.com
By Bob Henson
A high risk of life-threatening flooding continues on Wednesday over parts of the central Gulf Coast as Tropical Storm Cindy lumbers toward shore. The greatest flood threat will be across low-lying areas of far southern Mississippi and Alabama, according to the NWS/NOAA Weather Prediction Center. A second area with a moderate flood risk lies across far southeast Texas and southwest Louisiana.
Keep reading...
Show less