EPA Proposal Allows Radiation Exposure in Drinking Water Equivalent to 250 Chest X-Rays a Year
The U.S. Environmental Protection Agency (EPA) quietly issued proposals Monday to allow radioactive contamination in drinking water at concentrations vastly greater than allowed under the Safe Drinking Water Act. The new guidance would permit radiation exposures equivalent to 250 chest X-rays a year. Environmental groups are calling the proposal "shocking" and "egregious."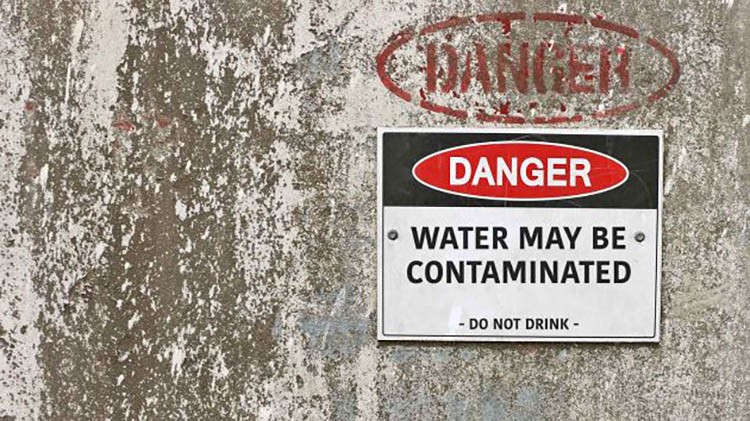 The EPA proposed Protective Action Guides (PAGs) would allow the general population to drink water hundreds to thousands of times more radioactive than is now legal. For example, radioactive iodine-131 has a current limit of 3 pico-curies per liter (pCi/L), in water but the new guidance would allow 10,350 (pCi/L), 3,450 times higher. For strontium-90, which causes leukemia, the current limit is 8 pCi/L; the new proposed value is 7,400 pCi/L, a 925-fold increase.
"Clean water is essential for health," Dr. Catherine Thomasson, executive director of Physicians for Social Responsibility, said. "Just like lead, radiation when ingested in small amounts is very hazardous to our health. It is inconceivable that EPA could now quietly propose allowing enormous increases in radioactive contamination with no action to protect the public, even if concentrations are a thousand times higher than under the Safe Drinking Water Act."
The Bush Administration in its last days unsuccessfully tried to put forward similar proposals, which the incoming Obama Administration pulled back. Now, in the waning months of the Obama Administration, the EPA's radiation office is trying again.
"These levels are even higher than those proposed by the Bush Administration—really unprecedented and shocking," Diane D'Arrigo, Nuclear Information and Resource Service, said.
The Bush Administration proposal for strontium 90 was 6,650 pCi/L; the new proposal is 7,400 pCi/L. For iodine-131, the Bush proposal was 8,490 pCi/L; the new proposal is 10,350 pCi/L. For cesium-137, the proposal was for 13,600 pCi/L; Obama "beats" Bush with a value of 16,570 pCi/L.
All radionuclides can cause cancer and other health and reproductive problems; there is no completely safe level. Strontium causes bone cancer and leukemia. Babies, children and females are at even greater risk than adult males.
PAGs apply not just to emergencies such as "dirty bombs" and Fukushima-type nuclear power meltdowns but also to any radiological release for which a protective action may be considered—even a radiopharmaceutical transport spill. The proposed drinking water PAG would apply not to the immediate phase after a release, but rather to the intermediate phase, after the release has been stabilized and lasting up to several years thereafter.
Radiation doses (in rems) cannot be measured but are calculated based on some measurements and many assumptions. The current Safe Drinking Water Act limits are based on 4 millirems per year. The PAGs would allow 500 millirems per year for the general population. A single chest X-ray gives about 2 millirems. Because of the way EPA is changing the definition of dose, for many radionuclides, the allowable concentration would be thousands, tens of thousands and even millions of times higher than set under the Safe Drinking Water Act.
Internal EPA documents obtained under the Freedom of Information Act show that the EPA itself concluded that the proposed concentrations "would exceed MCLs [Maximum Contaminant Limits of the Safe Drinking Water Act] by a factor of 100, 1000 and in two instances, 7 million." The EPA internal analysis showed that for one radionuclide, "drinking a very small glass of water of approximately 4 ounces ... would result in an exposure that corresponds to a lifetime of drinking ... water ... at the MCL level."
"All of this is extraordinary, since EPA has recently accepted the National Academy of Sciences' most current risk estimates for radiation, indicating radiation is considerably more dangerous per unit dose than previously believed," D'Arrigo said. "Pushing allowable concentrations of radioactivity in drinking water up orders of magnitude above the longstanding Safe Drinking Water Act levels goes in exactly the opposite direction than the official radiation risk estimates go.
"Under these proposals, people would be forced to get the radiation equivalent of a chest X-ray 5 days a week, 50 weeks a year, for up to several years, with no medical benefit or informed consent, just from drinking water. This is immoral."
The public has 45 days from when it is published in the Federal Register to comment to the EPA on the PAG-Protective Action Guides.
"These proposed changes are a particularly egregious gift to the energy industry, which would essentially be given a free pass whenever nuclear or fracking waste enters our water supply," Wenonah Hauter, executive director of Food & Water Watch and author of the new book, Frackopoly, said. "The EPA under President Obama has also whitewashed the impact of fracking on drinking water. This is more of the same when it comes to his EPA's pro-industry, hands-off regulation of toxic practices that can harm public health."
YOU MIGHT ALSO LIKE
Chemical Safety Reform Bill Headed to Obama's Desk Lets Down Women With and at Risk of Breast Cancer
EU Fails to Approve 'Technical Extension' for Weed-Killer Glyphosate
These 33 Cities Cheated on Lead Contamination Tests, Similar to Flint, Michigan
These Four People Were Sued for $30 Million After Speaking Out Against a Hazardous Waste Dump
www.youtube.com
By Katie O'Reilly
Two years ago—long before coal became one of the most dominant and controversial symbols of the 2016 presidential election—Bloomberg Philanthropies approached production company RadicalMedia with the idea of creating a documentary exploring the U.S. coal mining industry. Last spring, they brought on Emmy-nominated director Michael Bonfiglio, tasked with forging a compelling story out of the multitudes of facts, statistics and narratives underlying the declining industry.
Keep reading...
Show less
Mayors for 100% Clean Energy
Keep reading...
Show less
www.youtube.com
President Trump visited Cedar Rapids, Iowa on June 21 to speak to a large crowd in the U.S. Cellular Center at a political rally organized by his campaign.
As Trevor Noah noted during The Daily Show episode last night (starts at 2:25), the real reason Trump has these rallies is to "get back in front of his loyal crowds and feed of their energy." Noah believes that "Trump supporters are so on board with their dude he can say anything and they'll come along for the ride."
Keep reading...
Show less
www.youtube.com
By Andy Rowell
Any day now we will truly witness climate change in action. Within days at worst, maybe weeks at best, scientists predict that a huge section of the Larsen C ice shelf in Antarctica will break off into the ocean, in what is called a major "carving" event.
Keep reading...
Show less
www.youtube.com
Thanks to Newsy for their coverage on Thursday's news that the U.S. Fish and Wildlife Service removed grizzly bears in the Greater Yellowstone region from the Endangered Species List.
Watch above as Newsy explains that the decision comes despite serious concerns from the environmental and scientific community, and Tribal Nations about a declining, isolated grizzly bear population with diminishing food resources and record-high mortalities.
Keep reading...
Show less
www.facebook.com
By Francine Kershaw
Seismic airguns exploding in the ocean in search for oil and gas have devastating impacts on zooplankton, which are critical food sources for marine mammals, according to a new study in Nature. The blasting decimates one of the ocean's most vital groups of organisms over huge areas and may disrupt entire ecosystems.
And this devastating news comes on the heels of the National Marine Fisheries Service's proposal to authorize more than 90,000 miles of active seismic blasting. Based on the results of this study, the affected area would be approximately 135,000 square miles.
Keep reading...
Show less
By Jill Richardson
Is coconut oil:
good for you
bad for you
neither good nor bad
scientists don't know
The subject of this question is the source of a disagreement. Initially, the question was thought to be settled decades ago, when scientist Ancel Keys declared all saturated fats unhealthy. Coconut oil, which is solid at room temperature, is a saturated fat.
Keep reading...
Show less
The U.S. Fish and Wildlife Service removed grizzly bears in the Greater Yellowstone region on Thursday from the Endangered Species List. The decision comes despite serious concerns in the scientific community about a declining, isolated population with diminishing food resources and record-high mortalities, as well as strong opposition from an unprecedented number of Tribal Nations.
Keep reading...
Show less
ArborGen pine tree field test site in South Carolina. BJ McManama
By BJ McManama
ArborGen Corporation, a multinational conglomerate and leading supplier of seedlings for commercial forestry applications, has submitted an approval request to the U.S. Department of Agriculture, Animal and Plant Health Inspection Service to deregulate and widely distribute a eucalyptus tree genetically engineered (GE) to be freeze tolerant. This modification will allow this GE variety to be grown in the U.S. Southeast. The reason this non-native and highly invasive tree has been artificially created to grow outside of its tropical environment is to greatly expand production capacity for the highly controversial woody biomass industry.
Keep reading...
Show less


Get EcoWatch in your inbox