This website uses cookies to ensure you get the best experience while browsing it. By clicking 'Got It' you're accepting these terms.
Energy Giant Kinder Morgan's Ambitious Goals Cost Communities Big
Dec. 11, 2014 08:51AM EST
It figures that a former Enron executive is CEO of an energy giant that threatens the environment in a virtual encyclopedia of ways, while engaging in questionable business practices.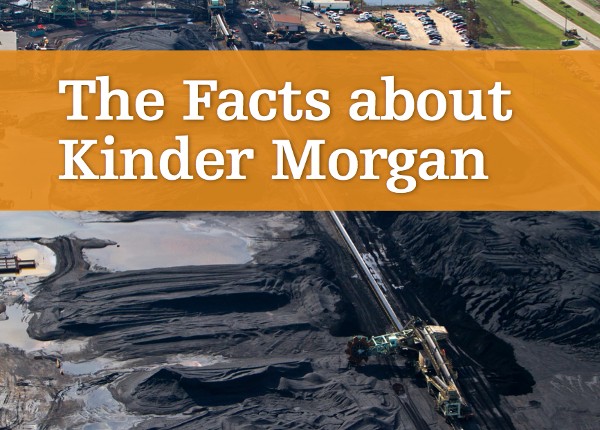 Billionaire Rich Kinder heads Kinder Morgan, which calls itself "the largest energy infrastructure company in America." It builds pipelines and terminals to ship natural gas, oil and coal. It wants to triple the capacity of its Trans Mountain pipeline which carries Alberta tar sands oil to terminals in Vancouver and Washington State. And it's now proposing to vastly expand its coal export operations, shipping coal overseas as U.S. demand declines but leaving U.S. communities to deal with the results of its operations. That's prompted Seattle-based think tank the Sightline Institute to reissue and update its report The Facts About Kinder Morgan.
"Energy giant Kinder Morgan has big ambitions," says the report. "Best known for its empire of oil and natural gas pipelines, the firm aspires to enlarge its role in coal transport too. Expanding its export terminals in Louisiana and Texas would increase Kinder Morgan's coal export capacity in the Gulf Coast region from roughly 5 million tons annually in recent years to nearly 29 million tons. These coal terminal expansions could boost Kinder Morgan's profits, but they also raise questions about what the projects might cost neighboring communities."
The report goes on to explore what Kinder Morgan's coal transport activities have already cost communities. It's a long list of environmental and health-related horrors that includes open piles of petcoke, dumps of toxic coal materials into rivers, wetlands and the ocean, and residential neighborhoods repeatedly covered in coal dust. As the report says, "The company's track record is one of pollution, law-breaking and cover-ups."
"For years and in many locations, Kinder Morgan has engaged in behavior that experts and regulators have called fraudulent, deceptive and irresponsible," said the institute's policy director Eric de Place in a telephone press conference, reported in the Vancouver Observer. "Kinder Morgan's plans have run into trouble, both in the Gulf Coast region, Louisiana and Texas, as well as in British Columbia and many other places around North America."
The list of Kinder Morgan's activities hardly reads like a good neighbor report. It includes:
A terminal in Louisiana that spills coal directly into the Mississippi River and nearby wetlands. Local residents won a settlement from the company as a result of coal dust repeatedly covering their homes, cars and other possessions.

A Houston terminal where coal and petcoke, a toxic byproduct of oil refining, sit in uncovered piles several stories high. According to the report, "The company's petcoke operations are so dirty that even the firm's promotional literature shows plumes of black dust blowing off its equipment."

A  60-acre Charleston, South Carolina facility where coal dust contaminates the bay's oysters, pilings, boats and the Cooper River which flows into the Atlantic Ocean, and the company has been repeatedly fined for failure to contain its coal dust.

A Newport News, Virginia coal export terminal that coats nearby homes in dust so often that Mayor McKinley Price, who lives about a mile from the export facility, has spoken out about it. And studies have shown the area near the facility has double the rate of asthma of the rest of the city and state.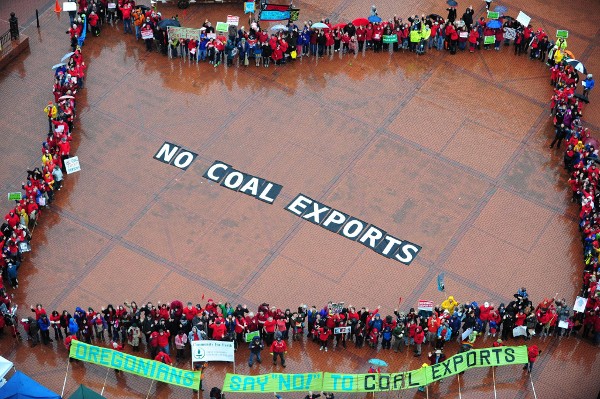 But the company's problems don't end with its apparent attempt to coat the world with coal dust. It's been cited for its dubious business practices, which include bribing a ship captain to dump contaminated materials into the Pacific Ocean rather than pay landfill charges, defrauding customers by stealing coal from their stockpiles, lying to air pollution regulators, violating workplace safety regulations, committing 30,000 violations of the federal Renewal Fuels Standard for which it was fined, and according to financial and business analysts, engaging in the sort of complex and eyebrow-raising accounting practices that brought down Enron in 2001.
Among other things, those analysts were concerned about Kinder Morgan's failure to invest in maintenance. One hedge fund, Hedgeye, said "Kinder Morgan's high-level business strategy is to starve its pipelines and related infrastructure of routine maintenance spending." Financial magazine Barron's said, "We struggle to understand how KMP can safely operate the largest portfolio of transmission and storage assets in the industry for just a fraction of its peers' expenditures."
The results of that failure to maintain its infrastructure have shown up in its multiple pipeline explosions and spills that have resulted in worker deaths, felony convictions, multimillion-dollar fines and widespread environmental damage. They've occurred in California, New Jersey, Ohio and, most infamously, in British Columbia.
Sightline cited the fight over the Trans Mountain pipeline as another trigger for the updated report. Kinder Morgan's drilling on Burnaby Mountain in preparation for pipeline construction resulted in the arrests of more than 100 people last month in the ongoing protests against the project. In 2007, a pipeline ruptured in Burnaby, showering the suburban Vancouver neighborhood with oil and forcing the evacuation of 50 families.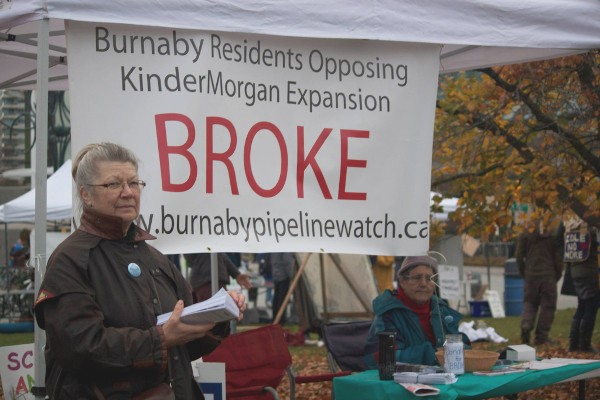 Laughably, says the Sightline report, "Kinder Morgan's 15,000-page permit application caused a minor public relations headache for the firm when it came to light to that the report says pipeline spills can have a positive effect on regional economies because 'spill response and cleanup creates business and employment opportunities.'"
Two weeks ago, it was reported that Kinder Morgan packed up its equipment and left Burnaby Mountain, and charges against the protesters were dropped. The head of Kinder Morgan Canada described it as a "challenging time."
"It's become the Keystone XL fight of Canada," said Sightline's de Place. "I often despair that the 49th parallel ends up being quite a barrier [to news coverage from Canada]."
YOU MIGHT ALSO LIKE
Kinder Morgan Claims Oil Spills Can Have 'Positive' Effects
Northern Gateway Pipeline Approved Ignoring Democracy and Global Warming
Prince William and British naturalist David Attenborough attend converse during the World Economic Forum annual meeting, on January 22 in Davos, Switzerland. Fabrice Cofferini /AFP / Getty Images
Britain's Prince William interviewed famed broadcaster David Attenborough on Tuesday at the World Economic Forum's annual meeting in Switzerland.
During the sit-down, the 92-year-old naturalist advised the world leaders and business elite gathered in Davos this week that we must respect and protect the natural world, adding that the future of its survival—as well as humanity's survival—is in our hands.
Electric vehicle sales took off in 2018, with a record two million units sold around the world, according to a new Deloitte analysis.
What's more, the accounting firm predicts that another 21 million electric cars will be on the road globally over the next decade due to growing market demand for clean transportation, government subsidies, as well as bans on fossil fuel cars.
Teenager Alex Weber and friends collected nearly 40,000 golf balls hit into the ocean from a handful of California golf courses.
Alex Weber /
CC BY-ND
Southwest Greenland had the most consistent ice loss from 2003 to 2012. Eqalugaarsuit, Ostgronland, Greenland on Aug. 1, 2018.
Rob Oo / CC BY 2.0
Greenland is melting about four times faster than it was in 2003, a new study published Monday in the Proceedings of the National Academy of Sciences found, a discovery with frightening implications for the pace and extent of future sea level rise.
"We're going to see faster and faster sea level rise for the foreseeable future," study lead author and Ohio State University geodynamics professor Dr. Michael Bevis said in a press release. "Once you hit that tipping point, the only question is: How severe does it get?"
Finally, some good news about the otherwise terrible partial government shutdown. A federal judge ruled that the Trump administration cannot issue permits to conduct seismic testing during the government impasse.
The Justice Department sought to delay—or stay—a motion filed by a range of coastal cities, businesses and conservation organizations that are suing the Trump administration over offshore oil drilling, Reuters reported. The department argued that it did not have the resources it needed to work on the case due to the shutdown.
Most people have heard of the Amazon, South America's famed rainforest and hub of biological diversity. Less well known, though no less critical, is the Pantanal, the world's largest tropical wetland.
Like the Amazon, the Pantanal is ecologically important and imperiled. Located primarily in Brazil, it also stretches into neighboring Bolivia and Paraguay. Covering an area larger than England at more than 70,000 square miles, the massive wetland provides irreplaceable ecosystem services that include the regulation of floodwaters, nutrient renewal, river flow for navigability, groundwater recharge and carbon sequestration. The wetland also supports the economies of the four South American states it covers.
Demonstrators participate in a protest march over agricultural policy on Jan. 19 in Berlin, Germany. Carsten Koall / Getty Images Europe
By Andrea Germanos
Organizers said 35,000 people marched through the streets of the German capital on Saturday to say they're "fed up" with industrial agriculture and call for a transformation to a system that instead supports the welfare of the environment, animals and rural farmers.

The fire that erupted after a pipeline explosion in Mexico Friday. FRANCISCO VILLEDA / AFP / Getty Images
By Patrick Rogers
If you have ever considered making the switch to an environmentally friendly electric vehicle, don't drag your feet. Though EV prices are falling, and states are unveiling more and more public charging stations and plug-in-ready parking spots, the federal government is doing everything it can to slam the brakes on our progress away from gas-burning internal combustion engines. President Trump, likely pressured by his allies in the fossil fuel industry, has threatened to end the federal tax credits that have already helped put hundreds of thousands of EVs on the road—a move bound to harm not only our environment but our economy, too. After all, the manufacturing and sale of EVs, hybrids, and plug-in hybrids supported 197,000 jobs in 2017, according to the most recent U.S. Energy and Employment Report.