This website uses cookies to ensure you get the best experience while browsing it. By clicking 'Got It' you're accepting these terms.
El Niño + Climate Change = 'Uncharted Territory'
Nov. 17, 2015 11:00AM EST
Climate
A "mature and strong" El Niño event, which is contributing to extreme weather around the globe, is expected to be one of the strongest on record, the World Meteorological Organization (WMO) announced Monday.
"Peak three-month average surface water temperatures in the east-central tropical Pacific Ocean will exceed two degrees Celsius above normal," said the WMO, making this El Niño one of the top three strongest in the last half century.
The 1997-98 El Niño is currently the strongest on record, causing "billion-dollar economic losses." And 1972-73 and 1982-83 were the next two strongest El Nino years.
It's still too early to tell exactly where this El Niño will rank because the weather phenomenon typically peaks late in the calendar year with maximum strength between October and January of the next year. And they often stretch into the next year before "decaying."
"Severe droughts and devastating flooding being experienced throughout the tropics and sub-tropical zones bear the hallmarks of this El Niño, which is the strongest for more than 15 years," WMO Secretary-General Michel Jarraud said.
Jarraud said that the agency is more prepared than ever before, as officials warn countries to brace for El Niño's impacts on sectors like agriculture, fisheries, water and health.
Despite increased awareness and preparedness, the WMO remains concerned about dealing with El Niño's impacts because climate change is only exacerbating it.
Jarraud explained:
"Our scientific understanding of El Niño has increased greatly in recent years. However, this event is playing out in uncharted territory. Our planet has altered dramatically because of climate change—the general trend towards a warmer global ocean, the loss of Arctic sea ice and of over a million square kilometers of summer snow cover in the northern hemisphere.
"So this naturally occurring El Niño event and human induced climate change may interact and modify each other in ways which we have never before experienced. Even before the onset of El Niño, global average surface temperatures had reached new records. El Niño is turning up the heat even further."
Still, Jarraud cautioned that it isn't clear if climate change is causing a record El Niño. "We cannot establish a link at this stage between climate change and the occurrence of El Nino," he told Climate Home. "What I have said is that we are in uncharted territory because some impacts are interacting with the impacts of climate change."
Jarraud released the update on the eve of an international scientific conference in New York, co-sponsored by the WMO, which seeks to better understand El Niño and its impacts and increase affected countries' abilities to adapt. At a press conference Monday, Jarraud linked the record-breaking Pacific hurricane season and peat fires in Indonesia—which released the equivalent of Brazil's annual emissions in just three weeks—to El Niño. The WMO Secretary-General said to expect hotter and more frequent heat waves, more flooding and more of the most severe storms.
The WMO also blamed El Niño for the ongoing major coral bleaching event, which may become the worst global coral die off in history, as well as droughts in Southeast Asia, Australia and parts of Africa, and flooding in South America.
As for the timing of El Niño, just before the COP21 Paris climate talks, Jarraud offered a fresh perspective. "It is not because of the COP, but because of the laws [of] physics and the interaction of the ocean and atmosphere," he said. "Nature doesn't know about the timing of the COP, but the COP knows about the timing of nature."
At least by one measure, this El Niño hit a new record, though. Data from the National Oceanic and Atmospheric Administration revealed that "the region of the Pacific generally used to gauge El Niño's strength has officially surpassed the 1997-98 super El Niño in terms of warmth," reports Climate Central.
The region where the measurement was taken—the Niño 3.4 region—hit a new weekly record of 5.4 degrees Fahrenheit (three degrees Celsius) above normal. That surpasses the previous weekly record of five degrees Fahrenheit (2.8 degrees Celsius) set by the 1997-98 event. "It remains to be seen if this is the peak and if so, how long it lasts," said Climate Central.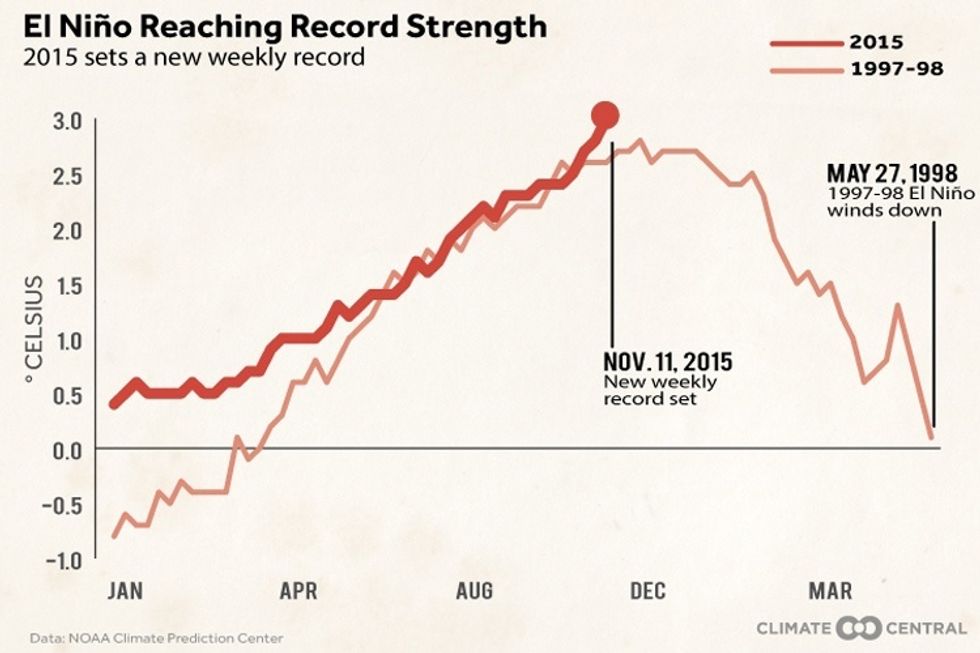 Climate Central offered a fair warning, though, for anyone ready to clock this year as number one:
While everybody loves a good record, it's worth keeping any debate about the strongest El Niño on record in perspective. The Niño 3.4 region is an important one to monitor in terms of global impacts, but it's only one of a handful of regions scientists monitor to assess El Niño's strength and characteristics. Areas off the coast of Peru and the far eastern Pacific were warmer during the 1997-98 El Niño. It also remains to be seen if this year's event will set an all-time monthly or seasonal record, which would bolster its case for strongest, biggest or whatever-ist on record.
For a better understanding of El Niño, watch this video from the WMO:
YOU MIGHT ALSO LIKE
What's Going on in Antarctica? Is the Ice Melting or Growing?
Carbon Levels Rising at 'Frightening Speed' as Greenhouse Gases and Global Temperature Hit Record High
Why Buying a Vacation Home in Southern Florida Is Not a Good Idea
EcoWatch Daily Newsletter
New pine trees grow from the forest floor along the North Fork of the Flathead River on the western boundary of Glacier National Park on Sept. 16, 2019 near West Glacier, Montana. Chip Somodevilla / Getty Images
Household actions lead to changes in collective behavior and are an essential part of social movements. Pixabay /
Pexels
Talk is cheap, says the acting executive secretary of the United Nations Convention on Biological Diversity, who begged governments around the world to make sure that 2020 is not another year of conferences and empty promises, but instead is the year to take decisive action to stop the mass extinction of wildlife and the destruction of habitat-sustaining ecosystems, as The Guardian reported.
The people of Kiribati have been under pressure to relocate due to sea level rise. A young woman wades through the salty sea water that flooded her way home on Sept. 29, 2015. Jonas Gratzer / LightRocket via Getty Images
Refugees fleeing the impending effects of the climate crisis cannot be forced to return home, according to a new decision by the United Nations Human Rights Committee, as CNN reported. The new decision could open up a massive wave of legal claims by displaced people around the world.
The first day of the Strike WEF march on Davos on Jan. 18, 2020 near Davos, Switzerland. The activists want climate justice and think the WEF is for the world's richest and political elite only. Kristian Buus / In Pictures via Getty Images
By Ashutosh Pandey
Teenage climate activist Greta Thunberg is returning to the Swiss ski resort of Davos for the 2020 World Economic Forum with a strong and clear message: put an end to the fossil fuel "madness."