Dirty Energy Money Behind the Push to Frack California
Mar. 06, 2014 02:07PM EST
Fracking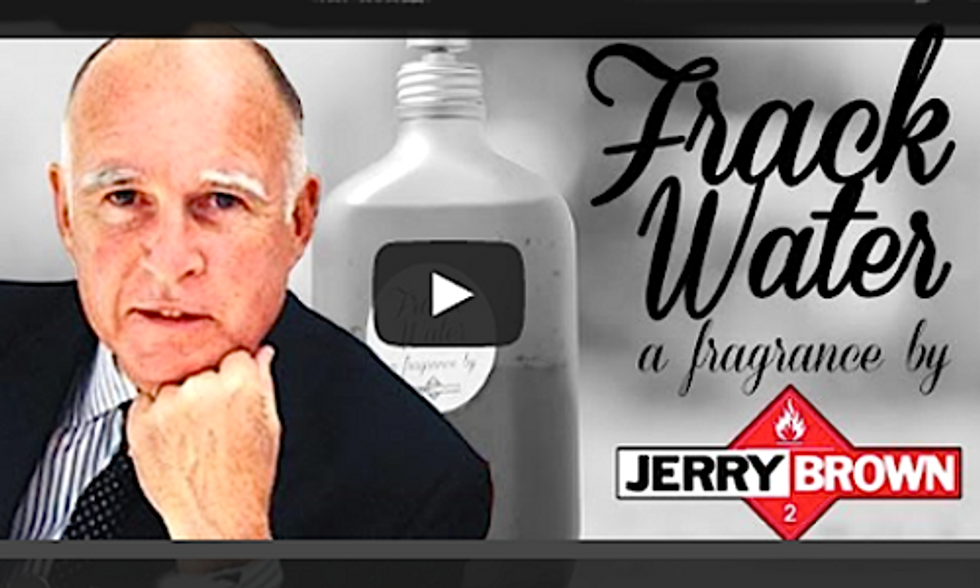 A satirical online video featuring Gov. Brown (D-CA) was released yesterday by Oil Change International, highlighting the Governor's penchant for fracking and dirty energy campaign donations. The video is the latest from the Big Oil Brown campaign effort which is pushing for a ban on fracking in California.
The video parody, Frack Water, portrays a Gov. Brown look-alike outside a southern California oil field accompanied by an oil industry representative in a shot-for-shot remake of the 2004 Stetson cologne advertisement starring Matthew McConaughey.
In the video the narrator says, "In a land plagued by drought, one man stands tall … We won't tell you what's in it, but Big Oil Brown's got it all over him … Jerry Brown's frackwater. A fragrance that smells like a man … a man who doesn't give a [bleep] about drought or climate change." 
Big Oil Brown 
Oil Change International, in their new campaign, has outlined massive contributions from the oil industry to the Governor and other elected officials in recent years. The review shows that Gov. Brown has accepted at least $2,014,570.22 from fossil fuel interests since his race for Attorney General in 2006.
Amongst other revelations (such as, who is behind initiatives like Proposition 30 as well as the Governor's charter schools), the analysis shows Gov. Brown is already collecting for his 2014 re-election bid. There are still months until the primary and already Big Oil has made some big contributions:
Occidental has given $27,200—the maximum legally allowed.
Edison and Chevron have both given $27,200 TWICE, once for the primary election and another for the general election—a nice little loophole that lets them double their effective contribution limit.
Phillips 66, another oil company, has nearly maxed out with a $25,000 contribution.
The running total for just these four companies stands at $161,000 as of now for the 2014 election cycle.
"You can't buy back your legacy, Governor, even with all that Big Oil cash," David Turnbull, campaigns director for Oil Change International said. "California is on the brink of climate catastrophe and fracking up the state will help push it over the edge. Californians deserve better than to be beholden to Big Oil's desires and befouled by their stench."
As the public awakens to the dangers of fracking in California—including water scarcity concerns, environmental pollution and public health impacts—it is becoming increasingly obvious that Gov. Brown is being influenced by an industry that cares only about profit, not what's best for Californians.
The video and analysis come just before a major mobilization in Sacramento, CA, planned for March 15, where thousands of anti-fracking activists from around the state are expected to join in protest.
Visit EcoWatch's FRACKING page for more related news on this topic.
EcoWatch Daily Newsletter