Despite Industry Claims, Methane from Frack Wells Contaminates PA Water Supplies
Aug. 29, 2012 12:51PM EST
Energy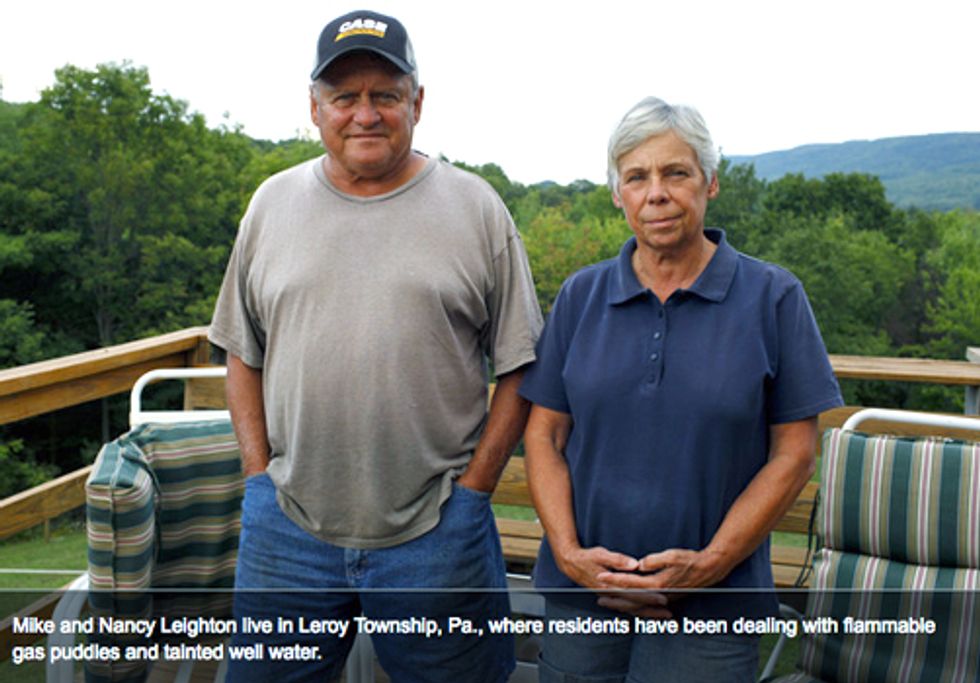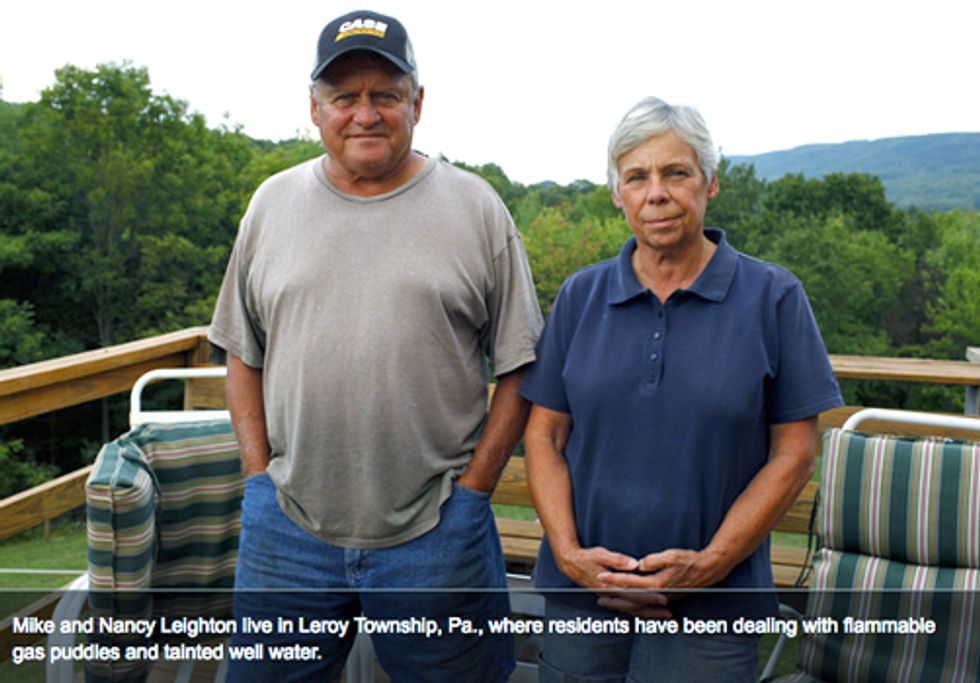 According to a detailed report on NPR yesterday by Scott Detrow, several families in Pennsylvania are finding that methane has gotten into their drinking water supply. Pennsylvania's Department of Environmental Protection is saying that this is happening due to a nearby Chesapeake Energy fracking operation. Water is leaking out of the frack wells and into the families' water wells, resulting in "black as coal" liquid bubbling up out of their water supplies and flammable gas puddles all over their properties.
The gas drilling industry of course has long maintained that fracking has never been conclusively linked to water supply contamination. Technically this is true, in that it's never been conclusively documented that when the fracking chemicals are shot deep into the ground to break up the shale rock they and the gas then seep back up into the water supply. However, the problem is much more simple. The pipes that are used to transport the gas from the well often have leaks which allow methane gas to escape.
According to NPR: "A shoddy cement job is usually what's to blame. Gas wells are lined by a series of steel pipes surrounded by cement. And if the cement pour is rushed or poorly done, methane is going to get out of the well and into the ground."
In 2009, Chesapeake Energy was fined $900,000 by the Pennsylvania Department of Environmental Protection for contaminating 16 families' water supplies in the same northeast Pennsylvania county where the contaminated water is being found now. This was the largest environmental penalty in Pennsylvania history.
Supposedly since then Pennsylvania regulators have enacted tougher standards requiring higher quality cement and pipes. However, as the NPR story points out, "it only takes one small hole, or one faulty piece of equipment, or one weak chunk of cement, to create problems on the surface."
The danger to the families whose drinking water supplies have been ruined by fracking goes beyond just that. In a letter to both families detailing test results and preliminary findings, state regulators wrote that "there is a physical danger of fire or explosion due to the migration of natural gas water wells."
Chesapeake's response is that they've installed ventilation systems at the familes' wells, but the letter warns that "it is not possible to completely eliminate the hazards of having natural gas in your water supply by simply venting your well."
Visit EcoWatch's FRACKING page for more related news on this topic.
EcoWatch Daily Newsletter
Related Articles from EcoWatch