Deadly Flooding in Texas Latest Example of Extreme Weather
With at least a dozen people dead and the raging high waters described as having "tsunami-type power" in Texas over the Memorial Day weekend, the latest example of extreme weather in the U.S. is being tied to a global pattern of increasingly volatile events that are claiming lives and costing billions of dollars in damage each year.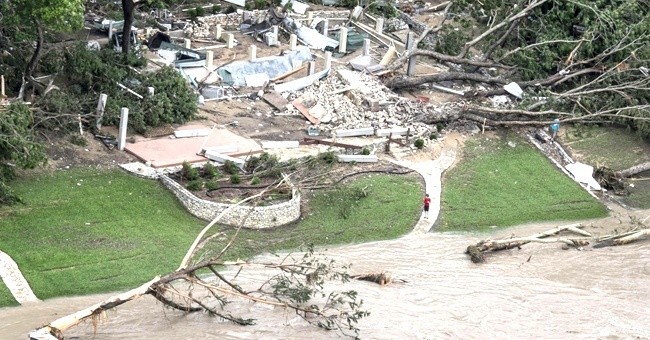 As Texas Gov. Greg Abbott expanded the range of a declared disaster zone in his state today, neighboring Oklahoma is also coping with an emergency response to flash floods and overflowing rivers.
Marking the official end of a four-year long drought in the south-central part of the country, the storms may be filling the region's diminished reservoirs, but not without a high cost.
How bad is the #flooding in #Houston? This pic via @mrsraee sums it up. We have latest on @AMHQ! #houstonflood #TXwx pic.twitter.com/TyFrprIGLl

— The Weather Channel (@weatherchannel) May 26, 2015
As the nation's media focuses on the acute damage to property and loss of life, an international conference sponsored by the World Meteorological Organization (WMO), which kicked off in Switzerland yesterday, may shed additional light on the impact that human-caused climate change is having on the planet's highly-dynamic weather patterns.
With the title of 'Facing Up to Climate Change, Extreme Weather,′ the WMO conference is asking the world's foremost meteorologists to weigh in on how increased atmospheric and ocean temperatures created by carbon and other heat-trapping gases affect the planet's weather patterns.
"So far in 2015—as in preceding years—weather-related disasters have destroyed or disrupted millions of lives and livelihoods," said WMO Secretary-General Michel Jarraud ahead of the meeting. Citing devastating events like Cyclone Pam in Vanuatu, major droughts in India, California, and Brazil, and the kind of flooding that recently struck Chile and now being seen in Texas, Jarraud said the "list of extreme events is long and there is growing scientific evidence that at least some of them would have been unlikely without human-induced climate change."
With the next round of UN climate talks slated for later this year in Paris, Jarraud affirmed that the WMO's efforts will be aimed at addressing the threat of increasingly extreme weather caused by global warming. "It is a pivotal year for action on behalf of future generations," he said. "We have more than a responsibility. We have a moral duty to take action to limit climate change. If we don't do it we will be judged by our children and our grandchildren."
Buffalo Bayou at Sabine Street bridge #houstonflood pic.twitter.com/X94kuEuKzN

— Brian Clement (@bgclement) May 26, 2015
According to Haaretz:
There is no argument that the planet has undergone many a climatic change in its 4.5-billion year history, but most scientists agree that this time is different. To name just one indicator, never before has the level of atmospheric carbon dioxide climbed as rapidly as in the last century, since the industrial revolution really took off. This month atmospheric CO2 reached 400 parts per million, a concentration last seen before man even began to evolve some 2.5 million years ago.

And while the cause of any individual weather event is debatable, a pattern has emerged, and it isn't business as usual.
The weekend's weather was also attributed in part to the naturally occurring phenomenon known as El Niño. But with the planet experiencing increasing warming due to humanity's continued emission of greenhouse gases, the current experience of those living in Texas and Oklahoma—intense flooding caused by heavy rains after prolonged periods of drought—is just one of the expected dangers that climate scientists have long warned about.
As ThinkProgress reported on Monday:
Going from one extreme to another is a hallmark of climate change. Scientists predict more droughts in the coming decades, as well as more intense rainstorms. In the midwest, the number of storms that drop more than three inches of rain have increased by 50 percent, according to an analysis from the Rocky Mountain Institute.

Texas and Oklahoma both face intensifying drought and flooding, although politicians in both states have denied climate change. According to the Natural Resources Defense Council, Texas "has yet to formally address climate change preparedness"—one of only 12 states to not have taken any steps toward addressing the impacts of climate change on water resources.

"Between more intense rainstorms and sea level rise, flooding will only increase if we don't address climate change," according to the Natural Resources Defense Council.
YOU MIGHT ALSO LIKE
Robert F. Kennedy, Jr. Joins Farmers and Ranchers to Call on Gov. Brown to Reject LNG Exports
California One Step Closer to Banning Microbeads
Wind and Solar Provide 100% of New Generating Capacity in April
Wikimedia Commons
By Stacy Malkan
Neil deGrasse Tyson has inspired millions of people to care about science and imagine themselves as participants in the scientific process. What a hopeful sign it is to see young girls wearing t-shirts emblazoned with the words, "Forget princess, I want to be an astrophysicist."
Keep reading...
Show less
www.youtube.com
By Andy Rowell
Any day now we will truly witness climate change in action. Within days at worst, maybe weeks at best, scientists predict that a huge section of the Larsen C ice shelf in Antarctica will break off into the ocean, in what is called a major "carving" event.
Keep reading...
Show less
www.youtube.com
President Trump visited Cedar Rapids, Iowa on June 21 to speak to a large crowd in the U.S. Cellular Center at a political rally organized by his campaign.
As Trevor Noah noted during The Daily Show episode last night (starts at 2:25), the real reason Trump has these rallies is to "get back in front of his loyal crowds and feed of their energy." Noah believes that "Trump supporters are so on board with their dude he can say anything and they'll come along for the ride."
Keep reading...
Show less
The Kamuthi solar plant in the southern Indian state of Tamil Nadu.
The rapid growth in renewable energy continues to put a dent in the demand for coal.
Coal India, the world's biggest coal mining company and producer of 82 percent of the country's coal, announced the closure of 37 mines that are financially "unviable."
Keep reading...
Show less
www.youtube.com
By Katie O'Reilly
Two years ago—long before coal became one of the most dominant and controversial symbols of the 2016 presidential election—Bloomberg Philanthropies approached production company RadicalMedia with the idea of creating a documentary exploring the U.S. coal mining industry. Last spring, they brought on Emmy-nominated director Michael Bonfiglio, tasked with forging a compelling story out of the multitudes of facts, statistics and narratives underlying the declining industry.
Keep reading...
Show less
Mayors for 100% Clean Energy
Keep reading...
Show less
www.youtube.com
Thanks to Newsy for their coverage on Thursday's news that the U.S. Fish and Wildlife Service removed grizzly bears in the Greater Yellowstone region from the Endangered Species List.
Watch above as Newsy explains that the decision comes despite serious concerns from the environmental and scientific community, and Tribal Nations about a declining, isolated grizzly bear population with diminishing food resources and record-high mortalities.
Keep reading...
Show less
www.facebook.com
By Francine Kershaw
Seismic airguns exploding in the ocean in search for oil and gas have devastating impacts on zooplankton, which are critical food sources for marine mammals, according to a new study in Nature. The blasting decimates one of the ocean's most vital groups of organisms over huge areas and may disrupt entire ecosystems.
And this devastating news comes on the heels of the National Marine Fisheries Service's proposal to authorize more than 90,000 miles of active seismic blasting. Based on the results of this study, the affected area would be approximately 135,000 square miles.
Keep reading...
Show less
By Jill Richardson
Is coconut oil:
good for you
bad for you
neither good nor bad
scientists don't know
The subject of this question is the source of a disagreement. Initially, the question was thought to be settled decades ago, when scientist Ancel Keys declared all saturated fats unhealthy. Coconut oil, which is solid at room temperature, is a saturated fat.
Keep reading...
Show less


Get EcoWatch in your inbox