This website uses cookies to ensure you get the best experience while browsing it. By clicking 'Got It' you're accepting these terms.
David Suzuki: Koch Brothers Continue to Oil the Machine of Climate Change Denial
Apr. 08, 2015 07:39AM EST
Climate

Brothers Charles and David Koch run Koch Industries, the second-largest privately owned company in the U.S., behind Cargill. They've given close to US$70 million to climate change denial front groups, some of which they helped start, including Americans for Prosperity, founded by David Koch and a major force behind the Tea Party movement.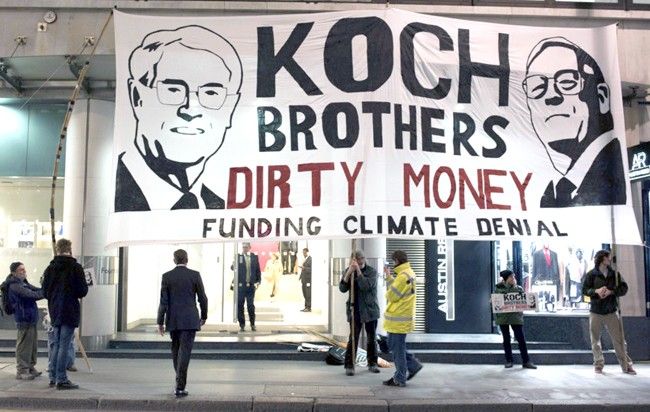 Through their companies, the Kochs are the largest U.S. leaseholder in the Alberta oilsands. They've provided funding to Canada's pro-oil Fraser Institute and are known to fuel the Agenda 21 conspiracy theory, which claims a 1992 UN non-binding sustainable development proposal is a plot to remove property rights and other freedoms.
Researchers reveal they're also behind many anti-transit initiatives in the U.S., in cities and states including Nashville, Indianapolis, Boston, Virginia, Florida and Los Angeles. They spend large amounts of money on campaigns to discredit climate science and the need to reduce greenhouse gases, and they fund sympathetic politicians.
In late January, 50 U.S. anti-government and pro-oil groups—including some tied to the Kochs and the pro-oil, pro-tobacco Heartland Institute—sent Congress a letter opposing a gas tax increase that would help fund public transit, in part because "Washington continues to spend federal dollars on projects that have nothing to do with roads like bike paths and transit."
The letter says "transportation infrastructure has a spending problem, not a revenue problem," an argument similar to one used by opponents of the transportation plan Metro Vancouver residents are currently voting on. Vancouver's anti-transit campaign is led by the Canadian Taxpayers Federation—a group that doesn't reveal its funding sources and is on record as denying the existence of human-caused climate change—along with Hamish Marshall, a conservative strategist with ties to Ethical Oil.
American and Canadian transit opponents paint themselves as populist supporters of the common people, a tactic also used against carbon pricing. Marshall told Business in Vancouver, "I love the idea of working on a campaign where we can stand up for the little guy." The U.S. letter claims the gas tax increase "would disproportionately hurt lower income Americans already hurt by trying times in our economy." Both fail to note that poor and middle class families will benefit most from public transit and other sustainable transportation options.
Although many organizations that promote the fossil fuel industry and reject the need to address climate change—including the Heartland Institute, International Climate Science Coalition, Ethical Oil and Friends of Science—are secretive about their funding sources, a bit of digging often turns up oil, gas and coal money, often from the Kochs in the U.S. And most of their claims are easily debunked. In the case of the U.S. Heartland Institute, arguments stray into the absurd, like comparing climate researchers and those who accept the science to terrorists and murderers like the Unabomber and Charles Manson!
In some ways, it's understandable why fossil fuel advocates would reject clean energy, conservation and sustainable transportation. Business people protect their interests—which isn't necessarily bad. But anything that encourages people to drive less and conserve energy cuts into the fossil fuel industry's massive profits. It's unfortunate that greed trumps the ethical need to reduce pollution, limit climate change and conserve non-renewable resources.
It's also poor economic strategy on a societal level. Besides contributing to pollution and global warming, fossil fuels are becoming increasingly difficult, dangerous and expensive to exploit as easily accessible sources are depleted—and markets are volatile, as we've recently seen. It's crazy to go on wastefully burning these precious resources when they can be used more wisely, and when we have better options. Clean energy technology, transit improvements and conservation also create more jobs and economic activity and contribute to greater well-being and a more stable economy than fossil fuel industries.
To reduce pollution and address global warming, we must do everything we can, from conserving energy to shifting to cleaner energy sources. Improving transportation and transit infrastructure is one of the easiest ways to do so while providing more options for people to get around.
Those who profit from our continued reliance on fossil fuels will do what they can to convince us to stay on their expensive, destructive road. It's up to all of us to help change course.
YOU MIGHT ALSO LIKE
ALEC in Denial of Its Climate Denial, Threatens to Sue
Tom Steyer to Put GOP Presidential Climate Denier Candidates on 'The Hot Seat'
Become a Climate Reality Leader: Share the Truth About Climate Change and Inspire Action
EcoWatch Daily Newsletter
Oil palm plantations in northeastern Borneo, state of Sabah, Malaysia. Recently planted oil palms can be seen in the bright green grassy areas and a tiny bit of natural rainforest still struggles for survival farther away. Vaara / E+ / Getty Images
A fuel truck carries fuel into a fracking site past the warning signs Jan. 27, 2016 near Stillwater, Oklahoma. J Pat Carter / Getty Images
By Jessica Corbett
For more than three decades, the U.S. government has mismanaged toxic oil and gas waste containing carcinogens, heavy metals and radioactive materials, according to a new Earthworks report — and with the country on track to continue drilling and fracking for fossil fuels, the advocacy group warns of growing threats to the planet and public health.
European Union blue and gold flags flying at the European Commission building in Brussels, Belgium. 35007/ iStock / Getty Images Plus
Newly adopted guidelines set forth by the European Commission Tuesday aim to tackle climate change by way of the financial sector. The move comes to bolster the success of the Sustainable Action Plan published last year to reorient capital flows toward sustainable investment and manage financial risks from climate change, environmental degradation and social issues.
Prime Minister Justin Trudeau delivering remarks to supporters at a Liberal Climate Action Rally in Toronto, Ontario on March 4. Arindam Shivaani / NurPhoto / Getty Images
Canadian Prime Minister Justin Trudeau announced Tuesday that his government would once again approve the expansion of the Trans Mountain pipeline, which would triple the amount of oil transported from Alberta's tar sands to the coast of British Columbia (BC).
An exhausted polar bear wanders the streets of Norilsk, a Siberian city hundreds of miles from its natural habitat. IRINA YARINSKAYA / AFP / Getty Images

An exhausted, starving polar bear has been spotted wandering around the Siberian city of Norilsk, Reuters reported Tuesday. It is the first time a polar bear has entered the city in more than 40 years.
Bumblebees flying and pollinating a creeping thyme flower. emeliemaria / iStock / Getty Images
It pays to pollinate in Minnesota.