David Suzuki: Koch Brothers Continue to Oil the Machine of Climate Change Denial

Brothers Charles and David Koch run Koch Industries, the second-largest privately owned company in the U.S., behind Cargill. They've given close to US$70 million to climate change denial front groups, some of which they helped start, including Americans for Prosperity, founded by David Koch and a major force behind the Tea Party movement.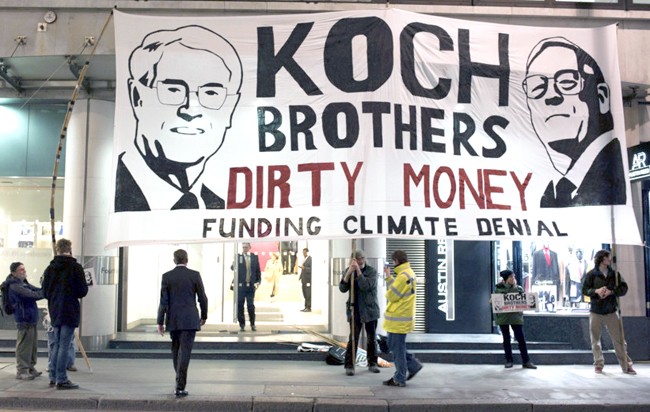 Through their companies, the Kochs are the largest U.S. leaseholder in the Alberta oilsands. They've provided funding to Canada's pro-oil Fraser Institute and are known to fuel the Agenda 21 conspiracy theory, which claims a 1992 UN non-binding sustainable development proposal is a plot to remove property rights and other freedoms.
Researchers reveal they're also behind many anti-transit initiatives in the U.S., in cities and states including Nashville, Indianapolis, Boston, Virginia, Florida and Los Angeles. They spend large amounts of money on campaigns to discredit climate science and the need to reduce greenhouse gases, and they fund sympathetic politicians.
In late January, 50 U.S. anti-government and pro-oil groups—including some tied to the Kochs and the pro-oil, pro-tobacco Heartland Institute—sent Congress a letter opposing a gas tax increase that would help fund public transit, in part because "Washington continues to spend federal dollars on projects that have nothing to do with roads like bike paths and transit."
The letter says "transportation infrastructure has a spending problem, not a revenue problem," an argument similar to one used by opponents of the transportation plan Metro Vancouver residents are currently voting on. Vancouver's anti-transit campaign is led by the Canadian Taxpayers Federation—a group that doesn't reveal its funding sources and is on record as denying the existence of human-caused climate change—along with Hamish Marshall, a conservative strategist with ties to Ethical Oil.
American and Canadian transit opponents paint themselves as populist supporters of the common people, a tactic also used against carbon pricing. Marshall told Business in Vancouver, "I love the idea of working on a campaign where we can stand up for the little guy." The U.S. letter claims the gas tax increase "would disproportionately hurt lower income Americans already hurt by trying times in our economy." Both fail to note that poor and middle class families will benefit most from public transit and other sustainable transportation options.
Although many organizations that promote the fossil fuel industry and reject the need to address climate change—including the Heartland Institute, International Climate Science Coalition, Ethical Oil and Friends of Science—are secretive about their funding sources, a bit of digging often turns up oil, gas and coal money, often from the Kochs in the U.S. And most of their claims are easily debunked. In the case of the U.S. Heartland Institute, arguments stray into the absurd, like comparing climate researchers and those who accept the science to terrorists and murderers like the Unabomber and Charles Manson!
In some ways, it's understandable why fossil fuel advocates would reject clean energy, conservation and sustainable transportation. Business people protect their interests—which isn't necessarily bad. But anything that encourages people to drive less and conserve energy cuts into the fossil fuel industry's massive profits. It's unfortunate that greed trumps the ethical need to reduce pollution, limit climate change and conserve non-renewable resources.
It's also poor economic strategy on a societal level. Besides contributing to pollution and global warming, fossil fuels are becoming increasingly difficult, dangerous and expensive to exploit as easily accessible sources are depleted—and markets are volatile, as we've recently seen. It's crazy to go on wastefully burning these precious resources when they can be used more wisely, and when we have better options. Clean energy technology, transit improvements and conservation also create more jobs and economic activity and contribute to greater well-being and a more stable economy than fossil fuel industries.
To reduce pollution and address global warming, we must do everything we can, from conserving energy to shifting to cleaner energy sources. Improving transportation and transit infrastructure is one of the easiest ways to do so while providing more options for people to get around.
Those who profit from our continued reliance on fossil fuels will do what they can to convince us to stay on their expensive, destructive road. It's up to all of us to help change course.
YOU MIGHT ALSO LIKE
ALEC in Denial of Its Climate Denial, Threatens to Sue
Tom Steyer to Put GOP Presidential Climate Denier Candidates on 'The Hot Seat'
Become a Climate Reality Leader: Share the Truth About Climate Change and Inspire Action
Will Rose / Greenpeace
Eleven peaceful activists from the Greenpeace ship Arctic Sunrise have taken to the water in inflatable boats with handheld banners to oppose the Statoil Songa Enabler oil rig, 275 km North off the Norwegian coast, in the Arctic Barents sea.
The banners say: "People Vs. Arctic Oil" and are directed at Statoil and the Norwegian government, which has opened a new, aggressive search for oil in the waters of the Barents Sea.
Keep reading...
Show less
Jul. 21, 2017 10:34AM EST
Dominion Pipeline Monitoring Coalition
The Federal Energy Regulatory Commission (FERC) paved the way Friday for the 600-mile, 42-inch fracked gas Atlantic Coast Pipeline to proceed when it issued the final environmental impact statement (FEIS). A joint project of utility giants Duke Energy and Dominion Energy, the Atlantic Coast Pipeline would move fracked gas from West Virginia into Virginia and North Carolina.
In April, the Sierra Club submitted more than 500 pages of legal and technical comments on FERC's draft EIS, which were joined by more than 18,000 individual comments detailing opposition to the project. The pipeline has been met with widespread opposition, with more than 1,000 people participating in public hearings across the three affected states. The Sierra Club recently requested that FERC issue a new environmental review document analyzing information that came in after or late in, the public comment process.
Keep reading...
Show less
Jul. 21, 2017 08:25AM EST
Greenpeace / PolluterWatch
By Jessica Corbett
"It's time Rex Tillerson step down or be removed," said Gigi Kellett of Corporate Accountability International, following an announcement on Thursday that ExxonMobil will pay $2 million for violating U.S. sanctions against Russian officials while the now-secretary of state was the company's CEO.
"ExxonMobil demonstrated reckless disregard for U.S. sanction requirements," according to enforcement filing released by the Treasury Department's Office of Foreign Assets Control (OFAC), which issued the penalty. Though the fine is reportedly the maximum penalty allowed, it's pittance to one of the world's most profitable and powerful corporations, which last year reported a profit of $7.8 billion.
Keep reading...
Show less
Jul. 21, 2017 11:15AM EST
New analysis from Amory B. Lovins debunks the notion that highly unprofitable, economically distressed nuclear plants should be further subsi­dized to meet financial, security, reliability and climate goals. The analysis, which will appear shortly in The Electricity Journal, shows that closing costly-to-run nuclear plants and reinvesting their saved operating costs in energy efficiency provides cheaper elec­tricity, increases grid reliability and security, reduces more carbon, and preserves (not distorts) market integrity—all without subsidies.

Keep reading...
Show less
Jul. 21, 2017 08:44AM EST
Oil Change International / Twitter
By Christian Detisch and Seth Gladstone
In the wake of Senate Republicans' ever-deepening debacle over their flailing attempts to strip health insurance from 22 million people, Majority Leader Mitch McConnell is desperate to do something—anything—to show that he can get legislation passed. To this end, he's bypassing the standard committee review process to push a complex 850+ page energy bill straight to the full Senate floor. Perhaps not surprisingly, this legislation, the Energy and Natural Resources Act of 2017, would be a disaster for public health and our climate.
Keep reading...
Show less
Jul. 21, 2017 08:11AM EST
Rooftop solar panels on a beach house in southern Florida. TAI VIINIKKA / CC BY-NC-ND 2.0
A new law passed this week in South Miami will require all new homes built in the city to install solar panels. The measure, which was inspired by a proposal from a teenage climate activist, will go into effect in September.
The text of the ordinance details the climate impacts facing South Miami.
Keep reading...
Show less
Jul. 21, 2017 10:27AM EST
www.youtube.com
Keep reading...
Show less
Jul. 21, 2017 08:49AM EST
iStock
By Katherine Paul and Ronnie Cummins
A recent series of articles by a Washington Post reporter could have some consumers questioning the value of the U.S. Department of Agriculture's (USDA) organic seal. But are a few bad eggs representative of an entire industry?
Consumers are all for cracking down on the fraudulent few who, with the help of Big Food, big retail chains and questionable certifiers give organics a bad name. But they also want stronger standards, and better enforcement—not a plan to weaken standards to accommodate "Factory Farm Organic."
Keep reading...
Show less