This website uses cookies to ensure you get the best experience while browsing it. By clicking 'Got It' you're accepting these terms.
David Suzuki: Koch Brothers Continue to Oil the Machine of Climate Change Denial
Apr. 08, 2015 07:39AM EST
Climate

Brothers Charles and David Koch run Koch Industries, the second-largest privately owned company in the U.S., behind Cargill. They've given close to US$70 million to climate change denial front groups, some of which they helped start, including Americans for Prosperity, founded by David Koch and a major force behind the Tea Party movement.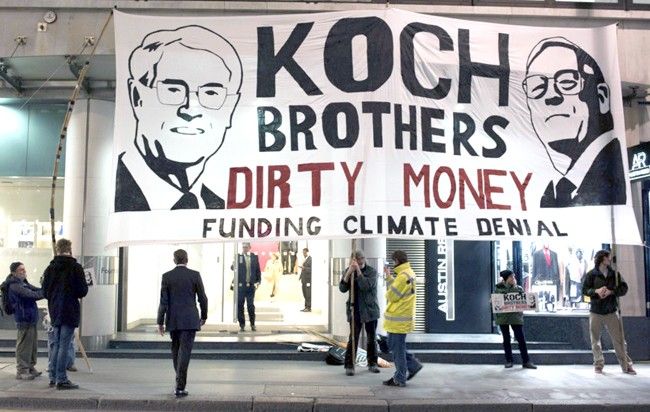 Through their companies, the Kochs are the largest U.S. leaseholder in the Alberta oilsands. They've provided funding to Canada's pro-oil Fraser Institute and are known to fuel the Agenda 21 conspiracy theory, which claims a 1992 UN non-binding sustainable development proposal is a plot to remove property rights and other freedoms.
Researchers reveal they're also behind many anti-transit initiatives in the U.S., in cities and states including Nashville, Indianapolis, Boston, Virginia, Florida and Los Angeles. They spend large amounts of money on campaigns to discredit climate science and the need to reduce greenhouse gases, and they fund sympathetic politicians.
In late January, 50 U.S. anti-government and pro-oil groups—including some tied to the Kochs and the pro-oil, pro-tobacco Heartland Institute—sent Congress a letter opposing a gas tax increase that would help fund public transit, in part because "Washington continues to spend federal dollars on projects that have nothing to do with roads like bike paths and transit."
The letter says "transportation infrastructure has a spending problem, not a revenue problem," an argument similar to one used by opponents of the transportation plan Metro Vancouver residents are currently voting on. Vancouver's anti-transit campaign is led by the Canadian Taxpayers Federation—a group that doesn't reveal its funding sources and is on record as denying the existence of human-caused climate change—along with Hamish Marshall, a conservative strategist with ties to Ethical Oil.
American and Canadian transit opponents paint themselves as populist supporters of the common people, a tactic also used against carbon pricing. Marshall told Business in Vancouver, "I love the idea of working on a campaign where we can stand up for the little guy." The U.S. letter claims the gas tax increase "would disproportionately hurt lower income Americans already hurt by trying times in our economy." Both fail to note that poor and middle class families will benefit most from public transit and other sustainable transportation options.
Although many organizations that promote the fossil fuel industry and reject the need to address climate change—including the Heartland Institute, International Climate Science Coalition, Ethical Oil and Friends of Science—are secretive about their funding sources, a bit of digging often turns up oil, gas and coal money, often from the Kochs in the U.S. And most of their claims are easily debunked. In the case of the U.S. Heartland Institute, arguments stray into the absurd, like comparing climate researchers and those who accept the science to terrorists and murderers like the Unabomber and Charles Manson!
In some ways, it's understandable why fossil fuel advocates would reject clean energy, conservation and sustainable transportation. Business people protect their interests—which isn't necessarily bad. But anything that encourages people to drive less and conserve energy cuts into the fossil fuel industry's massive profits. It's unfortunate that greed trumps the ethical need to reduce pollution, limit climate change and conserve non-renewable resources.
It's also poor economic strategy on a societal level. Besides contributing to pollution and global warming, fossil fuels are becoming increasingly difficult, dangerous and expensive to exploit as easily accessible sources are depleted—and markets are volatile, as we've recently seen. It's crazy to go on wastefully burning these precious resources when they can be used more wisely, and when we have better options. Clean energy technology, transit improvements and conservation also create more jobs and economic activity and contribute to greater well-being and a more stable economy than fossil fuel industries.
To reduce pollution and address global warming, we must do everything we can, from conserving energy to shifting to cleaner energy sources. Improving transportation and transit infrastructure is one of the easiest ways to do so while providing more options for people to get around.
Those who profit from our continued reliance on fossil fuels will do what they can to convince us to stay on their expensive, destructive road. It's up to all of us to help change course.
YOU MIGHT ALSO LIKE
ALEC in Denial of Its Climate Denial, Threatens to Sue
Tom Steyer to Put GOP Presidential Climate Denier Candidates on 'The Hot Seat'
Become a Climate Reality Leader: Share the Truth About Climate Change and Inspire Action
EcoWatch Daily Newsletter
Large food companies are following in the footsteps of fast-food restaurants such as Burger King and KFC by offering meat alternatives. Getty Images
By Elizabeth Pratt
Hormel, Kellogg's, and Kroger are among the large companies now planning to offer "fake meat" products at grocery stores.
Experts say the trend toward plant-based meats coincides with consumers' desires to eat less meat.
However, experts urge consumers to closely check package labels as a product isn't necessarily healthy just because it's described as plant-based.
In grocery stores and fast-food outlets around the U.S., a revolution is taking place.
Colombia rainforest. Marcel Oosterwijk / CC BY-SA 2.0
Many of us think of the Amazon as an untouched wilderness, but people have been thriving in these diverse environments for millennia. Due to this long history, the knowledge that Indigenous and forest communities pass between generations about plants, animals and forest ecology is incredibly rich and detailed and easily dwarfs that of any expert.
picture-alliance / Newscom / R. Ben Ari
By Wesley Rahn
Plastic byproducts were found in 97 percent of blood and urine samples from 2,500 children tested between 2014 and 2017, according to a study by the German Environment Ministry and the Robert Koch Institute.

Pexels
Medically reviewed by Daniel Bubnis, MS, NASM-CPT, NASE Level II-CSS
Hot yoga has become a popular exercise in recent years. It offers many of the same benefits as traditional yoga, such as stress reduction, improved strength, and flexibility.
Lara Hata / iStock / Getty Images
By SaVanna Shoemaker, MS, RDN, LD
Rice is a staple in many people's diets. It's filling, inexpensive, and a great mild-tasting addition to flavorful dishes.
An image of the trans-alaskan oil pipeline that carries oil from the northern part of Alaska all the way to valdez. This shot is right near the arctic national wildlife refuge. kyletperry / iStock / Getty Images Plus
The Trump administration has initialized the final steps to open up nearly 1.6 million acres of the protected Alaskan National Wildlife Refuge to allow oil and gas drilling.