This website uses cookies to ensure you get the best experience while browsing it. By clicking 'Got It' you're accepting these terms.
Cumulative Climate Impacts of Tar Sands Pipelines
Aug. 11, 2014 02:02PM EST
Last summer, President Obama delivered a major climate speech in which he laid out his plan to reduce greenhouse gas emissions by 17 percent by 2020. He also committed to deciding the fate of the Keystone XL pipeline based on its climate impacts, stating unequivocally: "The net effects of the pipeline's impact on our climate will be absolutely critical to determining whether this project is allowed to go forward."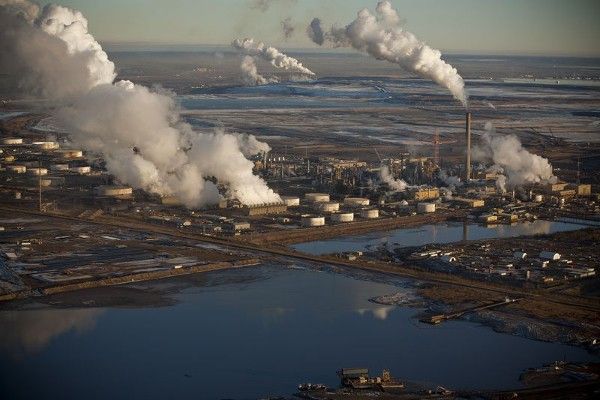 While the evidence shows that Keystone XL would result in significant greenhouse gas emissions and should be denied in its own right, it is only one of many proposed tar sands pipelines on the Obama administration's desk. The State Department is currently preparing an environmental impact statement (EIS) for an expansion of Enbridge's Alberta Clipper pipeline, which would increase its capacity to over 800,000 barrels per day (bpd)—roughly the same size as Keystone XL. An expansion of Enbridge's Line 3 would transport up to 760,000 bpd of tar sands crude through the Great Lakes region; and a reversal of the Portland-Montreal Pipeline could bring up to 600,000 bpd through New England.
Because the tar sands deposits are landlocked in Alberta, the oil industry needs these pipelines to carry tar sands crude to U.S. refineries and overseas markets. Each one is a key part of the industry's plan to triple tar sands development to around six million bpd by 2030. Without these pipelines, much of the high-carbon tar sands would stay in the ground.
Last week, the Sierra Club and allies urged the State Department to evaluate the cumulative climate impacts of these pipelines as part of its Alberta Clipper EIS. The National Environmental Policy Act (NEPA) requires an analysis of the cumulative environmental impacts of a proposed project combined with other past, present and reasonably foreseeable projects. Federal courts recognize that "the impact of greenhouse gas emissions on climate change is precisely the kind of cumulative impacts analysis that NEPA requires."
In a recent decision, a court rejected federal agencies' attempts to downplay the climate impacts of permitting a coal mine based on the reasoning that other coal would be mined and burned regardless of their decision.
The State Department now has two major tar sands pipelines pending before it—Alberta Clipper and Keystone XL—and several more on the horizon. Yet so far, it has narrowly analyzed each pipeline in isolation without looking at their cumulative effect on tar sands expansion and the corresponding greenhouse gas emissions. For example, the State Department's EIS for Keystone XL claimed that the approval of any one pipeline project is unlikely to have significant climate impacts because other tar sands pipelines are sure to be built in the future, allowing unchecked tar sands expansion in any scenario. State relied on this same flawed logic to approve the original Alberta Clipper tar sands pipeline and the first Keystone pipeline.
The State Department cannot keep claiming that tar sands pipelines are inevitable when it has the authority to approve or reject each pipeline. Looking at each project in isolation ignores the bigger picture—the State Department's series of decisions on individual pipelines will cumulatively have massive climate implications.
The Sierra Club and its allies are not alone in calling for a broader look at expanded tar sands infrastructure. Last month, a coalition of leading scientists published an article in the journal Nature that called for a moratorium on tar sands pipelines and an end to the "tyranny of incremental decisions" that has already allowed tar sands production to double in the last decade. As the scientists explained, the "current public debate about oil-sands development focuses on individual pipeline decisions... When judged in isolation, the costs, benefits and consequences of a particular oil-sands proposal may be deemed acceptable…[b]ut impacts mount with multiple projects...." A narrow view of each individual project "creates the misguided idea that oil-sands expansion is inevitable." Instead, the scientists thus urged leaders to pause, and craft a broader energy strategy under which "decisions on infrastructure projects…are made in the context of an overarching commitment to limit carbon emissions."
In preparing its EIS for the Alberta Clipper expansion, the State Department has an obligation to analyze the project's cumulative climate impacts in the context of Keystone XL and other past and future tar sands pipelines. As the scientists caution: "Anything less demonstrates flawed policies and failed leadership. With such high stakes, our nations and the world cannot afford a series of ad hoc, fragmented decisions."
You Might Also Like
As Keystone XL Dominoes Fall, Time to Arrest Tar Sands Industry
Historic Win in Maine's Battle Over Tar Sands
New Report Analyzes Tar Sands Threat to America's Migratory Birds
EcoWatch Daily Newsletter
Artist's conception of solar islands in the open ocean. PNAS
Millions of solar panels clustered together to form an island could convert carbon dioxide in seawater into methanol, which can fuel airplanes and trucks, according to new research from Norway and Switzerland and published in the Proceedings of the National Academy of Sciences journal, PNAS, as NBC News reported. The floating islands could drastically reduce greenhouse gas emissions and dependence on fossil fuels.
Marcos Alves / Moment Open / Getty Images
More than 40 percent of insects could go extinct globally in the next few decades. So why did the U.S. Environmental Protection Agency (EPA) last week OK the 'emergency' use of the bee-killing pesticide sulfoxaflor on 13.9 million acres?
EcoWatch teamed up with Center for Biological Diversity via EcoWatch Live on Facebook to find out why. Environmental Health Director and Senior Attorney Lori Ann Burd explained how there is a loophole in the The Federal Insecticide, Fungicide, and Rodenticide Act under section 18, "that allows for entities and states to request emergency exemptions to spraying pesticides where they otherwise wouldn't be allowed to spray."
Simple swaps that cut down on kitchen trash.
Sponsored
By Kayla Robbins
Along with the bathroom, the kitchen is one of the most daunting areas to try and make zero waste.
View of downtown Miami, Florida from Hobie Island on Feb. 2, 2019.
Michael Muraz / Flickr
The Democratic candidates for president descended upon Miami for a two-night debate on Wednesday and Thursday. Any candidate hoping to carry the state will have to make the climate crisis central to their campaign, as The New York Times reported.
By Sharon Kelly
On Monday, the Wall Street Journal featured a profile of Scott Sheffield, CEO of Pioneer Natural Resources, whose company is known among investors for its emphasis on drawing oil and gas from the Permian basin in Texas using horizontal drilling and hydraulic fracturing, or fracking.
Pexels
By Craig K. Chandler
The federal government has available to it, should it choose to use them, a wide range of potential climate change management tools, going well beyond the traditional pollution control regulatory options. And, in some cases (not all), without new legislative authorization.
Denis Poroy / Getty Images
By Dan Gray
Processed foods, in their many delicious forms, are an American favorite.
But new research shows that despite increasing evidence on just how unhealthy processed foods are, Americans have continued to eat the products at the same rate.
By Sarah Steffen
With a profound understanding of their environmental surroundings, indigenous communities around the world are often cited as being pivotal to tackling climate change.