This website uses cookies to ensure you get the best experience while browsing it. By clicking 'Got It' you're accepting these terms.
Congress Should Listen to Stephen Hawking, Not Ted Cruz, on Climate Change
May. 01, 2014 08:50AM EST
Climate
According to the Pew Research Center, just 14 percent of Republicans view global warming as a top priority. In addition, only 24 percent of Republicans view human activity as the cause for global warming. As for the views of certain GOP leaders, Sen. Ted Cruz (R-TX) made the following quip during a freezing winter: "It's cold. Al Gore told me this wouldn't happen."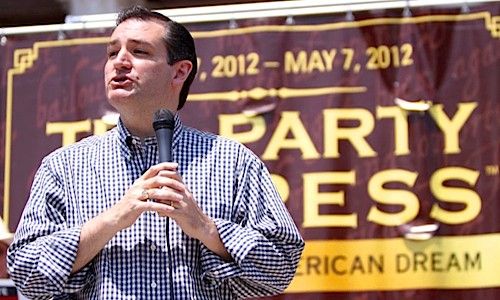 Echoing Cruz, Sen. Jim Inhofe (R-OK) wondered why Senate Democrats spent all night discussing climate change "during the cold spell that hasn't been much fun in Oklahoma." Inhofe also added that, "Maybe if you keep saying it's real, people will believe it." The statements of these GOP weathermen, as well as the views of most other Republicans, lead to the following question:
Should the U.S. create environmental laws based on the remarks of Sen. Cruz or scientists like Stephen Hawking?
Unlike Cruz and Inhofe, world renowned physicist Stephen Hawking has likened the dangers of climate change to nuclear war. In a 2007 speech in London to the Royal Society, Hawking made it very clear that scientists must warn lawmakers of climate change:
As scientists, we understand the dangers of nuclear weapons and their devastating effects, and we are learning how human activities and technologies are affecting climate systems in ways that may forever change life on Earth. As citizens of the world, we have a duty to share that knowledge. We have a duty, as well, to alert the public to the unnecessary risks that we live with every day, and to the perils we foresee if governments and societies do not take action now to render nuclear weapons obsolete and to prevent further climate change.
When one of the most brilliant minds in the history of science makes the claim that "if governments and societies do not take action now" pertaining to nuclear weapons and climate change, it's only logical that people like Cruz and Inhofe should take notice.
In addition, other world renowned scientists have made similar claims about the importance of legislative action. World-renowned theoretical physicist and a climate change expert, Professor Michio Kaku, when discussing Hurricane Sandy, made the following call for both parties to take climate change seriously, "Whether you're for Romney or Obama, I think it should be on the national agenda."
Professor Kaku, of Theoretical Physics at the City University of New York, also goes on to explain that although he had his initial doubts, the scientific trends behind climate change are overwhelming:
I used to be a skeptic. I used to say, 'Come on. The Earth is so big. We are so small.' But then you look at the indicators. The fact that all the glaciers are receding. We have wacky weather. We have 100-year storms that are now the new-norm. We have to realize the trends are all in one direction. There's not trend in the other direction. All trends are in the direction of the heating of the Earth, the energizing of the atmosphere, which provides the energy of the hurricanes.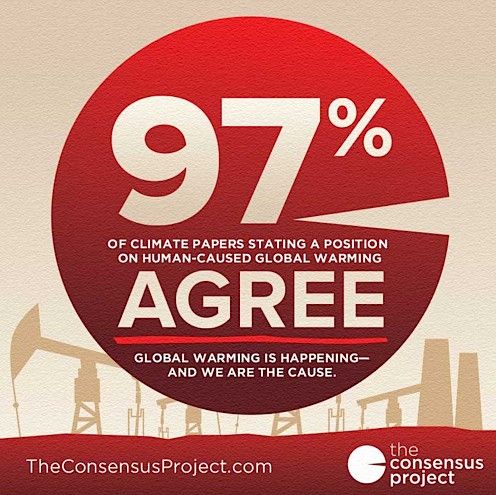 When asked about skeptics in the scientific community, Kaku stated that it's "near unanimous" and that "you have to hunt very carefully for any kind of skeptic … most of the skeptics, just like myself, have changed their opinion and now realize it's a real, tangible effect."
Like Kaku and Hawking, 255 members from the U.S. National Academy of Sciences in 2010 wrote an open letter calling for action on climate change:
We are deeply disturbed by the recent escalation of political assaults on scientists in general and on climate scientists in particular… For a problem as potentially catastrophic as climate change, taking no action poses a dangerous risk for our planet… There is compelling, comprehensive, and consistent objective evidence that humans are changing the climate in ways that threaten our societies and the ecosystems on which we depend.
Bolstering the views of Kaku and Hawking, the U.S. National Academy of Sciences have added their names to the long list of scientists calling for laws based on science and not politics.
However, what about other scientists? Can Americans really risk the financial costs of overreacting to something that could be a hoax? According to the Yale Project on Climate Change Communication, a study found that 97 percent of climate scientists agreed that climate change is happening and that it is caused by human beings.
What is most alarming about the Yale Project's findings is the peculiar discrepancy between the vast scientific consensus and the views of the average American: "Despite nearly unanimous agreement among climate scientists that the Earth's climate is warming due to fossil fuel burning and other human causes, only 42 percent of Americans believe that most scientists think global warming is happening." Also, one-third of Americans believe that "There is a lot of disagreement among scientists about whether or not global warming is happening. "

Finally, legislation that curbs the effects of climate change shouldn't be based on the views of politicians who turn on the weather channel. The fate of the environment should not rest upon the musings of Sen. Cruz and his scrutiny of Al Gore's documentary. Rather, the greatest scientists of our generation, from Hawking to Michio Kaku, should influence Congress with their analysis and viewpoints. Future generations, years from now, will wonder what we were thinking if we let politicians overshadow the overwhelming consensus of scientists on the issue of climate change.
--------
YOU MIGHT ALSO LIKE
Fox News Refuses to Let Editor Discuss Climate Change
Watch All Four North Carolina GOP Senate Candidates Laugh When Asked About Climate Change
Doing Nothing Isn't An Option: How to Avoid the Worst of Climate Change
--------
EcoWatch Daily Newsletter
Colombia rainforest. Marcel Oosterwijk / CC BY-SA 2.0
Many of us think of the Amazon as an untouched wilderness, but people have been thriving in these diverse environments for millennia. Due to this long history, the knowledge that Indigenous and forest communities pass between generations about plants, animals and forest ecology is incredibly rich and detailed and easily dwarfs that of any expert.
picture-alliance / Newscom / R. Ben Ari
By Wesley Rahn
Plastic byproducts were found in 97 percent of blood and urine samples from 2,500 children tested between 2014 and 2017, according to a study by the German Environment Ministry and the Robert Koch Institute.

Pexels
Medically reviewed by Daniel Bubnis, MS, NASM-CPT, NASE Level II-CSS
Hot yoga has become a popular exercise in recent years. It offers many of the same benefits as traditional yoga, such as stress reduction, improved strength, and flexibility.
Lara Hata / iStock / Getty Images
By SaVanna Shoemaker, MS, RDN, LD
Rice is a staple in many people's diets. It's filling, inexpensive, and a great mild-tasting addition to flavorful dishes.
An image of the trans-alaskan oil pipeline that carries oil from the northern part of Alaska all the way to valdez. This shot is right near the arctic national wildlife refuge. kyletperry / iStock / Getty Images Plus
The Trump administration has initialized the final steps to open up nearly 1.6 million acres of the protected Alaskan National Wildlife Refuge to allow oil and gas drilling.
Kaboompics / Pexels
Tensions between lawmakers and several large manufacturing companies came to a head on Capitol Hill this week during a hearing on toxic fluorochemicals in U.S. drinking water.