This website uses cookies to ensure you get the best experience while browsing it. By clicking 'Got It' you're accepting these terms.
Climate Change Poses Threat to Key Ingredient in Beer, NOAA Warns
Feb. 07, 2016 11:12AM EST
Climate
As any beer lover knows, hops are a key ingredient in beer. But now, climate change poses a threat to hops production, according to the National Oceanic and Atmospheric Administration (NOAA).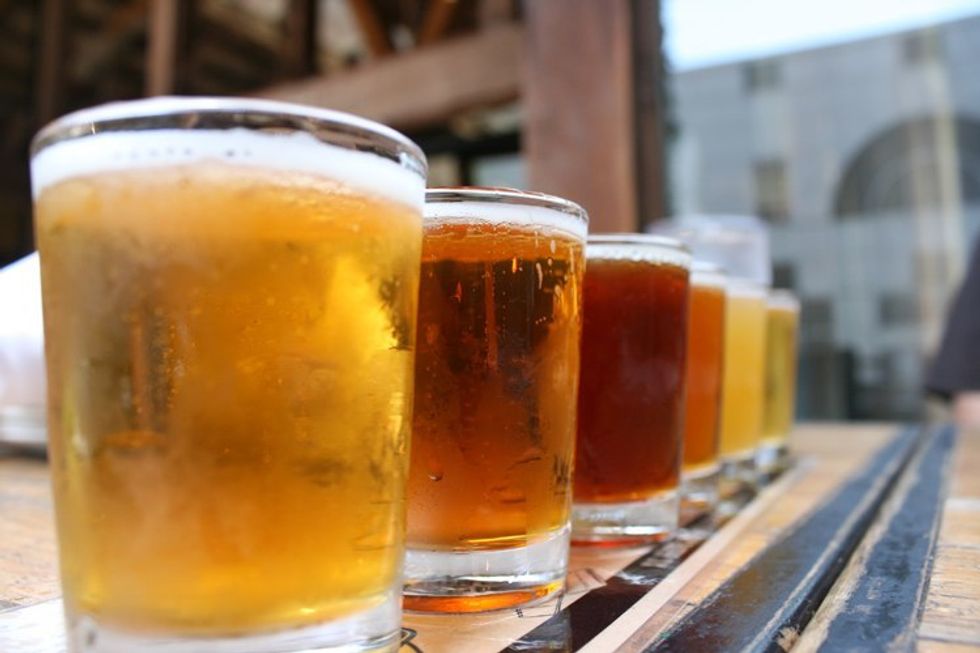 The U.S. is the second largest hops-producing country in the world. But almost all of the nation's commercial hopyards are located in just three states: Washington, Oregon and Idaho. Washington alone produces nearly three-quarters of all the nation's hops. In 2015, an estimated 71 percent of U.S. hops were grown in Washington, 15 percent in Oregon and 11 percent in Idaho, according to data from Hop Growers of America.
Growers in states across the U.S. are increasingly planting commercial hopyards to meet the craft beer industry's voracious demand. But all of the other 47 states' hops acreage make up less than 3 percent of total hops acreage in the U.S.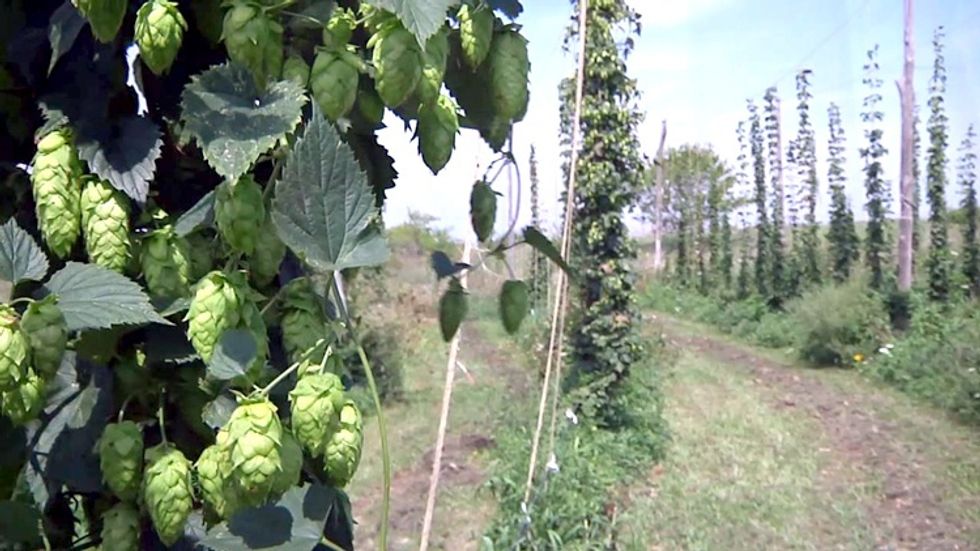 The concentration of hops production goes even further because within the state of Washington, the Yakima Valley is the primary hops-growing area.
The Yakima Valley lies in the rain shadow of the Cascade Mountains with an average annual rainfall of 7 to 10 inches. Its summers are hot and dry, making the region dependent on winter snowpack for its water supply. Hops production has flourished in Yakima Valley, in part, because of its favorable climate, but according to NOAA, the extreme heat the region experienced last year impacted yields.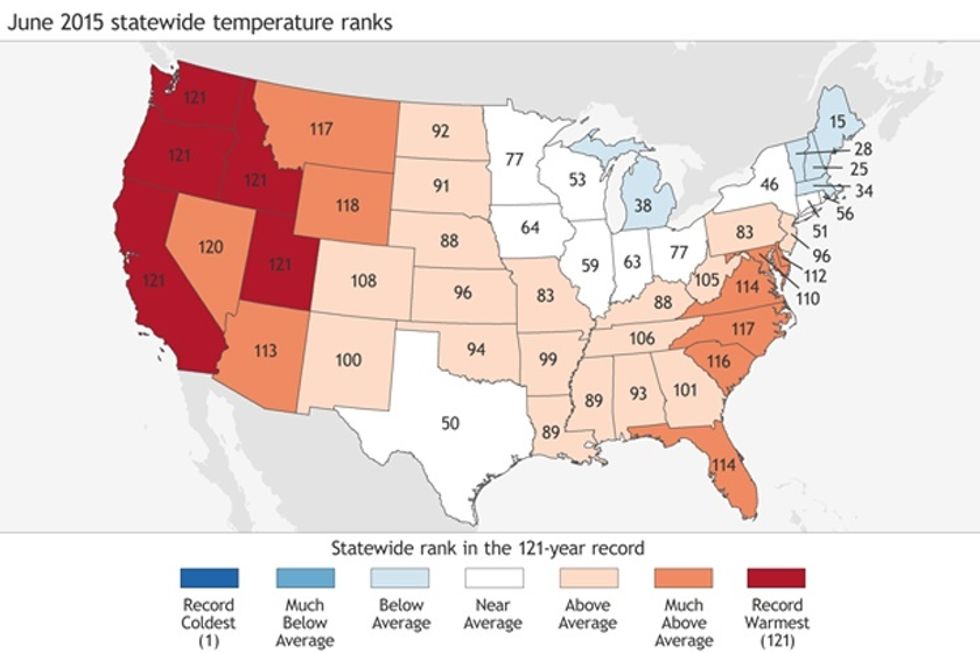 2015 shattered global temperature records, and Washington, in particular, experienced record hot and dry conditions. In May, Washington Gov. Jay Inslee declared a drought emergency after state officials recorded the lowest snowpack ever for the state. Washington also had a brutal wildfire season in 2015 with the massive Okanogan Complex surpassing last year's record-setting Carlton Complex to become the largest fire in the state's history.
The 2015 National Hop Report from the U.S. Department of Agriculture found that growers suffered crop loss in some varieties, such as Willamette and Centennial, which don't hold up well in extreme heat.
"Early season aroma varieties, particularly European noble types, were most impacted by the extreme heat during the latter half of June, as bloom was underway," Ann George, executive director of the Washington Hop Commission, told NOAA. Still, despite the record drought and heat, Washington produced a record number of hops—59.4 million pounds, according to NOAA.
But many worry how the industry will fare in the future. Most growers were able to adapt to last year's water shortages by relying more heavily on groundwater supplies and other sources, George said. So, Yakima Valley hops growers were able to "beat the 2015 summer heat," NOAA said, but they may not be as lucky in the future.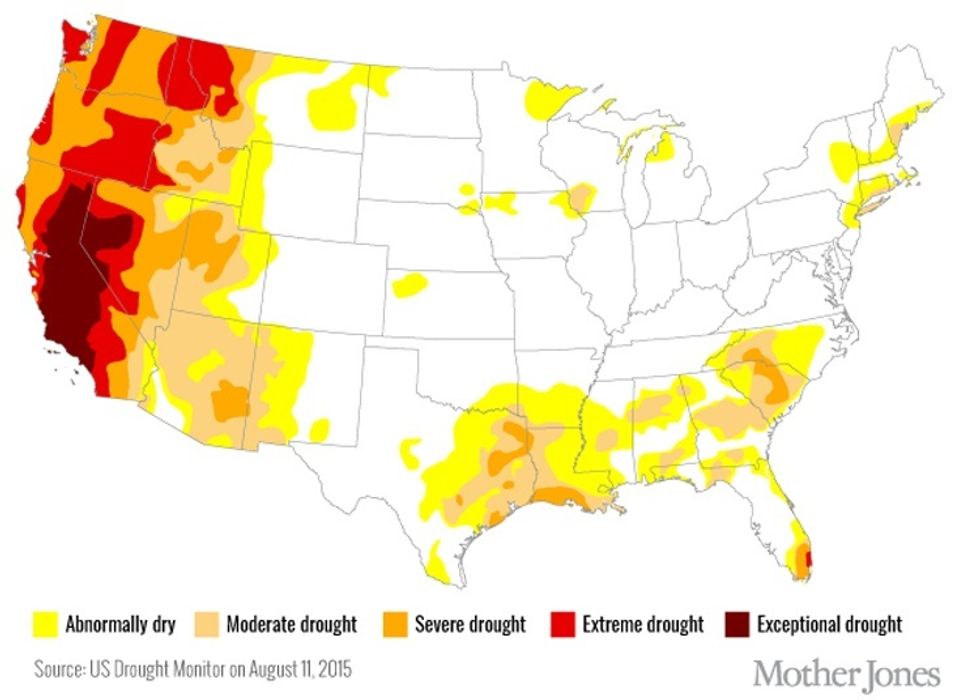 The hops industry is struggling to keep up with demand as it is (There were major shortages of popular hops varieties in 2008 and 2012). Now a warming climate is increasingly threatening supplies.
Climate models project last year's unusual warmth will be the "new normal" in the decades to come, Guillaume Mauger, a research scientist with the University of Washington's Climate Impacts Group, told NOAA. And while total precipitation isn't expected to change much, more and more winter precipitation will fall as rain rather than snow, decreasing snowpack and threatening the area's water supply.
Oregon and Idaho are in a similar situation. Both states experienced record low snowpack, drought conditions and extreme heat. And other hops-producing regions are taking a hit too. Germany, which produces more hops than anywhere in the world, saw a 26 percent decrease in hops production last year due to drought, according to NOAA. This undoubtedly has those in the industry worried because the U.S. and Germany each contribute about one-third of global hops production.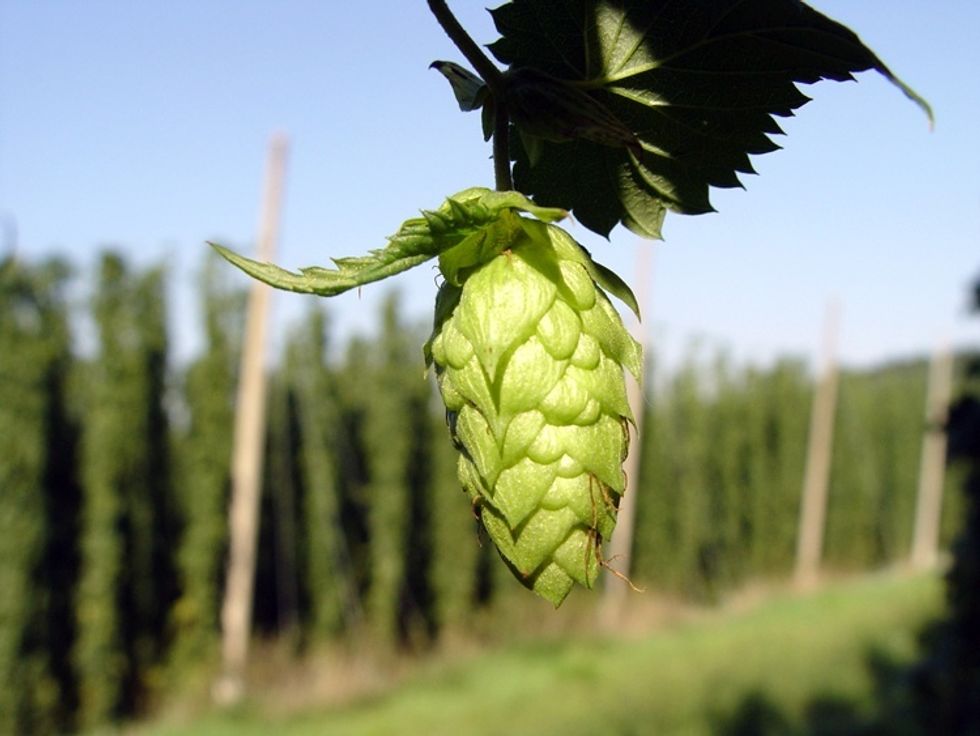 Water scarcity is also a significant problem for the beer industry as water makes up 90 to 95 percent of all beer—yes, even craft beer. California brewers told NPR that the state's drought has forced them to rely more and more on groundwater due to restricted river water supplies. And mineral-heavy groundwater supplies can produce unpleasant tastes in beers, the brewers lamented. One brewer described it as "like brewing with Alka-Seltzer."
It was already bad enough that climate change will diminish worldwide supplies of chocolate, wine and coffee. Now, beer too.
YOU MIGHT ALSO LIKE
This Solar Road Will Provide Power to 5 Million People
Dr. Mark Hyman: Why Vegetable Oils Should Not Be Part of Your Diet
11 Reasons Why You Should Eat More Bananas
Michael Moore: 10 Things They Won't Tell You About the Flint Water Tragedy, But I Will
EcoWatch Daily Newsletter
The CDC has emphasized that washing hands with soap and water is one of the most effective ways to prevent the spread of COVID-19. Guido Mieth / Moment / Getty Images
The Centers for Disease Control has emphasized that washing hands with soap and water is one of the most effective measures we can take in preventing the spread of COVID-19. However, millions of Americans in some of the most vulnerable communities face the prospect of having their water shut off during the lockdowns, according to The Guardian.
A California newt (Taricha torosa) from Napa County, California, USA. Connor Long /
CC BY-SA 3.0
Aerial photos of the Sierra Nevada — the long mountain range stretching down the spine of California — showed rust-colored swathes following the state's record-breaking five-year drought that ended in 2016. The 100 million dead trees were one of the most visible examples of the ecological toll the drought had wrought.
Now, a few years later, we're starting to learn about how smaller, less noticeable species were affected.
Disinfectants and cleaners claiming to sanitize against the novel coronavirus have started to flood the market.
Natthawat / Moment / Getty Images
Disinfectants and cleaners claiming to sanitize against the novel coronavirus have started to flood the market, raising concerns for the U.S. Environmental Protection Agency (EPA), which threatened legal recourse against retailers selling unregistered products, according to The New York Times.
A customer packs groceries in reusable bags at a NYC supermarket on March 1, 2020. Eduardo Munoz Alvarez/Getty Images
The global coronavirus pandemic has thrown our daily routine into disarray. Billions are housebound, social contact is off-limits and an invisible virus makes up look at the outside world with suspicion. No surprise, then, that sustainability and the climate movement aren't exactly a priority for many these days.
Ingredients are displayed for the Old School Pinto Beans from the Decolonize Your Diet cookbook by Luz Calvo and Catriona Rueda Esquibel. Melissa Renwick / Toronto Star via Getty Images
By Molly Matthews Multedo
Livestock farming contributes to global warming, so eating less meat can be better for the climate.