This website uses cookies to ensure you get the best experience while browsing it. By clicking 'Got It' you're accepting these terms.
Climate Change and Baseball
Jul. 20, 2015 02:01PM EST
Climate
Cory Novak is a spring 2015 graduate of the Ohio State University where he earned a Bachelor of Science degree in environmental policy with a focus in international issues and a minor in political science. He plans to continue his education in law school and work with issues related to sustainability and climate change.
There are two things that I can talk and/or argue about all day and night with passion and intrigue: climate change and baseball. Watching this years All-Star weekend, I was inspired to see the 18 and a half hour documentary Baseball by Ken Burns.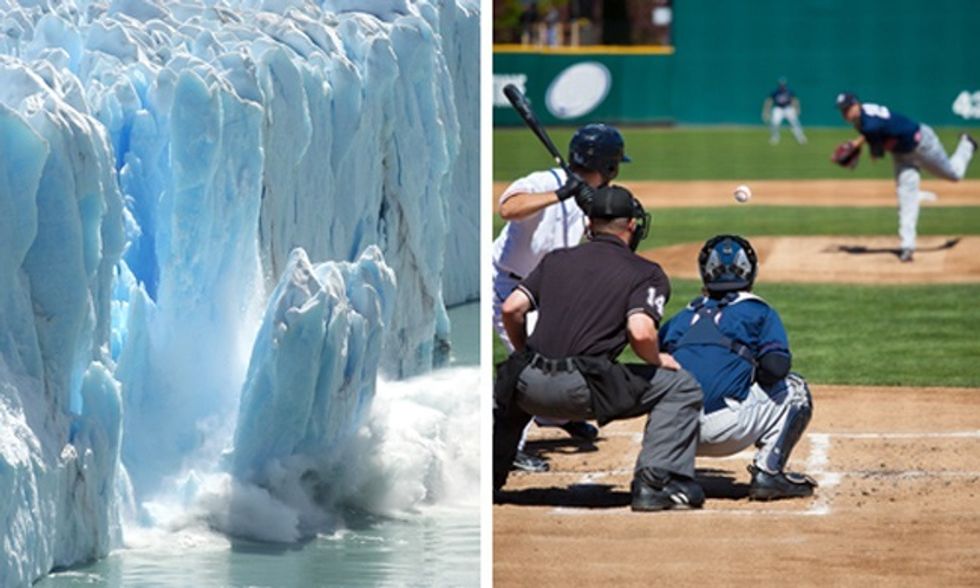 About 16 hours in during the last episode, I had a peculiar thought. The final segment of Baseball, The Tenth Inning, discusses a shameful yet exciting era in Major League Baseball that occurred from 1991-2003. These years are known as the "steroids era." During this time, players such as Mark Mcgwire and Jose Canseco, were using performance enhancing drugs (PEDs), most notably anabolic steroids, to get big and break records.
Now you might be asking yourself, what does baseball have to do with climate change? Well, aside from when summer games become to be too hot to play, the steroid era of Major League Baseball and climate change have significant symbolic similarities. It's also a great way to explain climate change to non-scientists who like baseball.
Climate change, like a season of baseball, is a marathon, not a sprint. Consider a particular game or series as the weather, the 162 game season as the climate and steroids as man-made greenhouse gases. When explaining climate change in terms of baseball it's important to first explain the most common misconception held by climate change deniers and the uninformed public: since we still have cold weather, the climate is not getting warmer.
The National Oceanic and Atmospheric Administration (NOAA) proved in its recent State of the Climate report that the misconception is completely untrue. The report shows how the first decade of this century was the hottest in recorded history. Just because you can go outside and make a snowball on a particular day, does not mean that the climate overall is not getting warmer.
Let's look at this in terms of Major League Baseball. In 2003, the Detroit Tigers went 43-119. If that season can be looked at as a season of 162 instances of weather, you would see 43 days of normal weather/winning games amid a warming climate/losing season. Some of those games might have been very close too, maybe one run/half a degree difference than usual, but the game still counts as a loss. A "fair weather" fan (pun intended) might not have been aware of how bad the season actually was.
The Tiger's 2003 season owns the worst record in the MLB this century and the most losses in American League history since its establishment in 1901. They may not have noticed the historically disastrous season, but I can guarantee they noticed in 2006 when the Tigers went to the World Series. Similar to how someone unconcerned with climate change might not be conscious of the warming climate on a day to day basis. Yet, they certainly noted that attention grabbing World Series extreme weather, such as Superstorm Sandy, whose intensity has been attributed to climate change.
Next, steroids and greenhouse gases. Both of these substances intensify an already naturally occurring process. A professional baseball player is most likely an inherently gifted athlete with big muscles, sharp focus and great reflexes. These attributes are already there and steroids and performance enhancing drugs help to pile on the mass of muscle and hone already refined skills. As a player gets bigger and faster, he hits more home runs.
Equivalent to an athlete that already posses the strength and skill to slug home runs before enhancing his performance through drugs, the atmosphere naturally contains greenhouse gases such as carbon dioxide, methane and nitrous oxide. These gases allow heat from the sun to reach the Earth's surface. These same gases then trap the heat in the Earth's atmosphere as it's reflected out by the Earth's surface. This process is what is creating and accelerating climate change.
As industrialization and the burning of fossil fuels continues to intensify, humans are increasing the concentrations of these natural gases in our atmosphere, as well as adding some unnatural and equally as harmful gases such as hydrofluorocarbon. The greenhouse gases that humans are adding to the atmosphere are the steroids of climate change. Like a baseball player on PEDs hits longer and more home runs each season, we can expect to see higher temperatures and extreme weather occurring more frequently as we continue to pump these steroid gases into the atmosphere.
This leads to the question that if steroids are now illegal in baseball, where they only affect the user and those users generate massive profits for the MLB, why do world leaders continue to allow greenhouse gases to be produced at alarming levels that harm the entire planet?
YOU MIGHT ALSO LIKE
Urban Farming Hits Major League Baseball Stadiums
7 Climate Records Broken in 2014 Indicates Earth Is 'Gravely Ill'
EcoWatch Daily Newsletter
Heavy industry on the lower Mississippi helps to create dead zones.
AJ Wallace on Unsplash.
Cutting out coal-burning and other sources of nitrogen oxides (NOx) from heavy industry, electricity production and traffic will reduce the size of the world's dead zones along coasts where all fish life is vanishing because of a lack of oxygen.
Despite the ongoing coronavirus pandemic, which has restricted the ability to gather in peaceful assembly, a Canadian company has moved forward with construction of the controversial Keystone XL pipeline, according to the AP.
A gas flare from the Shell Chemical LP petroleum refinery illuminates the sky on August 21, 2019 in Norco, Louisiana. Drew Angerer / Getty Images.
Methane levels in the atmosphere experienced a dramatic rise in 2019, preliminary data released Sunday shows.
A retired West Virginia miner suffering from black lung visits a doctor for tests. Andrew Lichtenstein / Corbis via Getty Images
In some states like West Virginia, coal mines have been classified as essential services and are staying open during the COVID-19 pandemic, even though the close quarters miners work in and the known risks to respiratory health put miners in harm's way during the spread of the coronavirus.
Solar panel installations and a wind turbine at the Phu Lac wind farm in southern Vietnam's Binh Thuan province on April 23, 2019. MANAN VATSYAYANA / AFP via Getty Images