China's Biggest 74 Cities All Dirtier Than L.A.
Sep. 11, 2014 02:44PM EST
Climate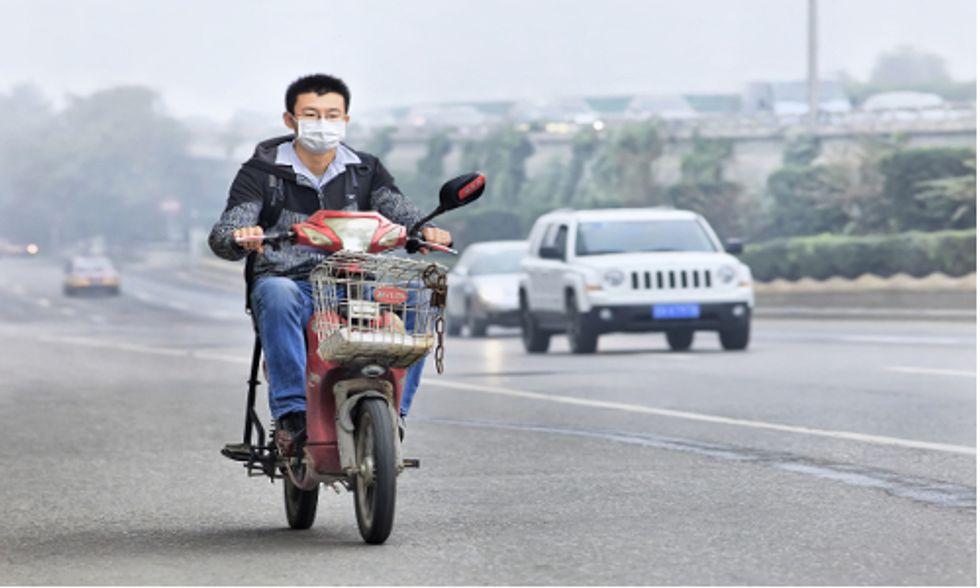 Los Angeles has always been held up as the U.S.'s most polluted city. But, the Los Angeles Times reports, all of China's largest cities make L.A.'s air look crystalline.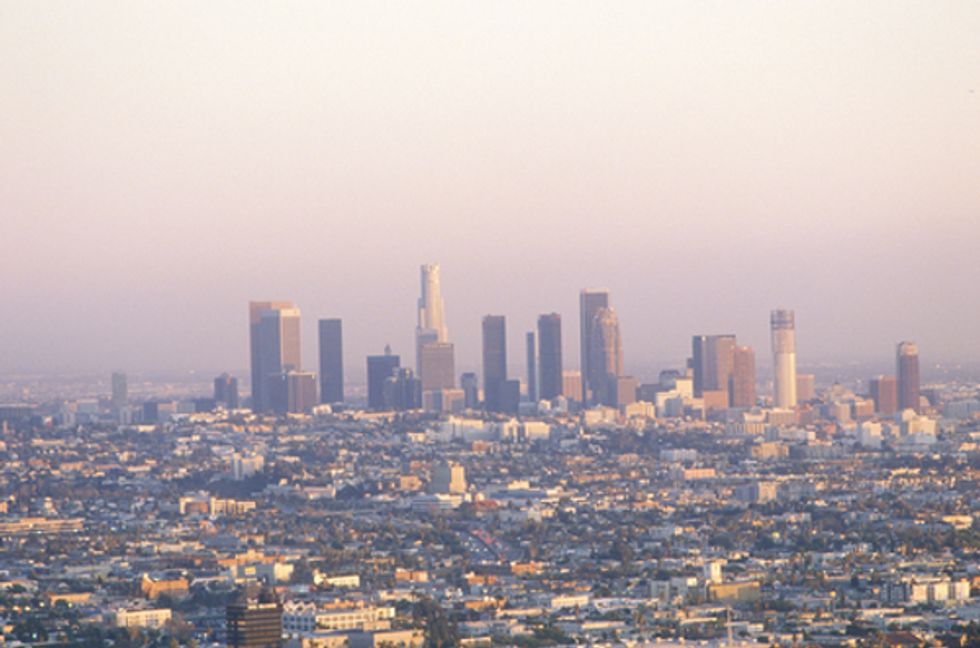 Photo credit: Shutterstock
Los Angeles became famous for its ozone pollution, and it is still the most ozone-polluted city in the country, says the 2014 State of the Air report published by the American Lung Association. It ranks fourth in the even more dangerous particle pollution, which comes from sources like exhaust smoke and coal, and has serious negative effects on the cardio-vascular system.
With an average particulate reading of 12 considered "good," the average Los Angeles reading last year was 18. But China's cleanest city, Haikou, had an average annual reading of 26. Beijing's was 90. The L.A. Times cited a tracking of China's 74 largest metropolitan areas by the Chinese Ministry of Environmental Protection for the figures.
"From February 2009 to December 2013, Beijing's worst one-day average reading was 569 on Jan. 12, 2013; L.A.'s was 79 on Dec. 9, 2012," reported the L.A. Times. "In the same period, Beijing had 48 days with an average daily reading in excess of 300, considered by both China and the U.S. to be 'hazardous'."
Of course, with tougher environmental standards, L.A.'s air now is cleaner than it was decades ago. And since particulate matters wasn't being measured back then, it's hard to say if L.A. back then was more polluted than major Chinese cities now. But experts cited by the L.A. Times didn't think so.
"Comparing California 30 years ago to China today is apples and oranges," Eugene Leong, an air pollution expert who teaches at Peking University, told the paper. "How bad was PM2.5 in California in the '60s, '70s and '80s? We don't know. … Was it as bad as what China is experiencing now? My educated guess is probably not as bad."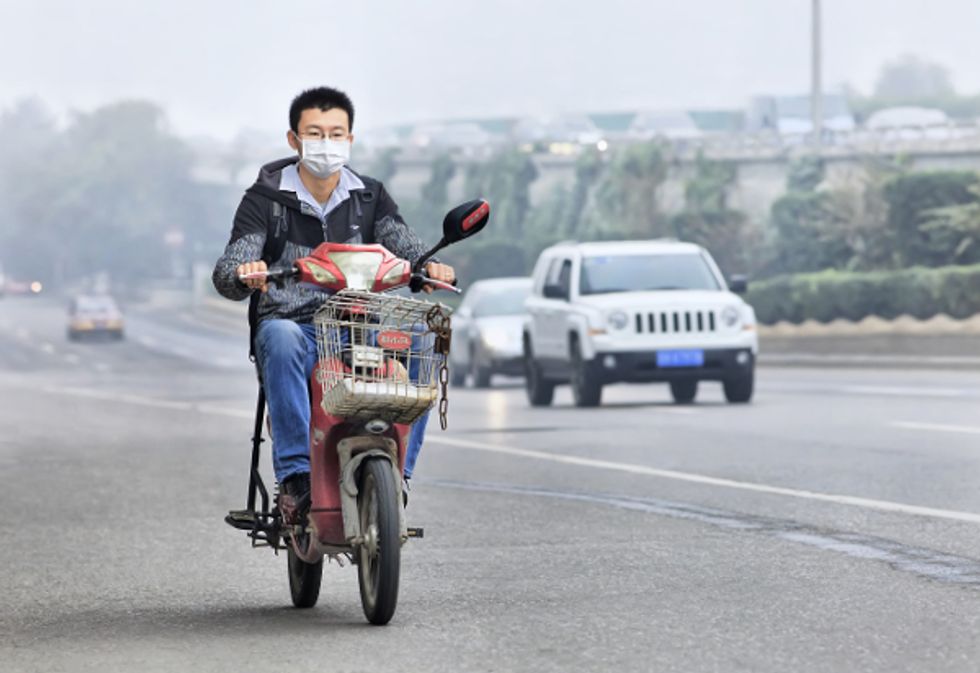 Photo credit: Shutterstock
If you'd like to follow how polluted the air is in a Chinese city right now, you can do so on this real-time map. It tracks pollution in cities around the world, assigning each a total air pollution score which can be further broken down by types of pollution. It rates L.A.'s current pollution as a "moderate" 78, with Beijing rated "unhealthy" at 187. At the time we accessed the map, two Chinese cities were rated "hazardous" with readings over 500. Shanghai, however, measured only 42, or "good." The Yosemite Visitor Center in Mariposa, California, had the highest pollution rating in the U.S. at 177.
YOU MIGHT ALSO LIKE
China's 'War on Pollution' Helps Kick Coal Habit
China Has 8 Million Acres of Land Too Polluted to Grow Food
A recent study focused on regions in Ethiopia, Africa's largest coffee-producing nation. Edwin Remsberg / Getty Images
Climate change could make it harder to find a good cup of coffee, new research finds. A changing climate might shrink suitable areas for specialty coffee production without adaptation, making coffee taste blander and impacting the livelihoods of small farms in the Global South.
EcoWatch Daily Newsletter
In "Weather," Jenny Offill tells the story of a librarian named Lizzie who prepares for a climate apocalypse. Andrew Merry / Getty Images
By Suzanne Cords
One day Lizzie, the first-person narrator of the novel, receives an old book as a gift, with a dedication wishing the reader to be among the survivors. Like the preppers who build bunkers and stockpile supplies in remote areas to be ready for the end of the world, Lizzie is convinced that the end of the world is definitely near in times of a threatening climate disaster.
Lizzie, who lives in New York with her husband and son, is a university campus librarian. She worries about almost everything: her brother, an ex-junkie, or her dental insurance and the future in the face of the apocalypse. She is obsessed with reading reference books and articles about climate change.
She also devours words of wisdom, including about Buddhist spirituality: "A visitor once asked the old monks on Mount Athos what they did all day, and was told: We have died and we are in love with everything." But nothing can lift her spirits.
'Lizzie Is Just Like Us'
Lizzie observes rich New Yorkers plan their move to regions that are less threatened by climate change, something she simply cannot afford. Sometimes she watches disaster movies, which lead her to worry even more.
Above all, she is a gifted observer of her fellow human beings. "Young person worry: What if nothing I do matters? Old person worry: What if everything I do, does?"
Lizzie, the U.S. author told DW, is a bit like the rest of us — well aware of the climate crisis, but because she cares and worries about so many other things, that awareness falls by the wayside. That's how she felt herself, Jenny Offill said, but the more she looked into the issue, the more she saw a need for action on her part, too.

"I also was trying to see if there was a way to make it funny, because, you know, so much of the world of prepping and imagining disaster is actually sort of strangely funny."
The novel was shortlisted for the 2020 UK's Women's Prize for Fiction and has now been released in German translation.
Climate Activist With a Vision
But then, there is also this serious, scientifically based concern about what climate change means. In the past, says Offill, artists were the ones who would predict disasters; today it's the experts, as well as the students she teaches. In the end, their fears and their justified anger motivated her to take a closer look at the issue. Today, she is a climate activist herself, and is involved in initiatives along with many other artists.
Lizzie, the heroine of Weather, hasn't gotten that far. But she voices her fears, and that's a start. "Of course, the world continues to end," says Sylvia, a mentor of Lizzie's, at one point — and commences to water her garden. There is hope after all.
Reposted with permission from Deutsche Welle.
A Shell oil drilling rig off the coast of Alaska in the Chukchi Sea on May 21, 2015. Orjan F. Ellingvag / Corbis via Getty Images
By Jake Johnson
A federal appeals court on Tuesday dealt the final blow to former President Donald Trump's attempt to open nearly 130 million acres of territory in the Arctic and Atlantic Oceans to oil and gas drilling.
Electric vehicles are the cars of the future. sl-f / Getty Images
By 2035, every new car and truck sold in the U.S. could be an EV, a new report says.
Accelerations in technology and especially battery affordability, paired with new policy, mean the dramatic transition would save American drivers $2.7 trillion by 2050, an average savings of $1,000 per household per year.
The ramp up in EV production would also create 2 million new jobs by 2035. Battery prices have fallen 74% since 2014, and their unexpectedly rapid fall is a key driver of the cost savings.
EVs are far simpler mechanically, and more efficient, than internal combustion engine (ICE) vehicles, which translates to reduced climate pollution and lower costs for consumers.
Strengthened vehicle efficiency standards and investment in fast charging infrastructure are needed to accelerate the transition, which would prevent 150,000 premature deaths and save $1.3 trillion in health environmental costs by 2050.
For a deeper dive:

The Guardian, Fast Company, E&E, Morning Consult, Canary Media

For more climate change and clean energy news, you can follow Climate Nexus on Twitter and Facebook, sign up for daily Hot News, and visit their news site, Nexus Media News.
The Gowanus Canal in Brooklyn, New York, a polluted nearly 2 mile-long waterway that is an EPA Superfund site. Jonathan Macagba / Moment / Getty Images
Thousands of Superfund sites exist around the U.S., with toxic substances left open, mismanaged and dumped. Despite the high levels of toxicity at these sites, nearly 21 million people live within a mile of one of them, according to the U.S. Environmental Protection Agency (EPA).