This website uses cookies to ensure you get the best experience while browsing it. By clicking 'Got It' you're accepting these terms.
California's Historic Drought Threatens the Future of Orca Whales
Apr. 03, 2015 10:51AM EST
Climate
Orca whales—those beautiful, charismatic megafauna—are being invoked by California environmentalists to draw attention to those who often do not get mentioned in the battle over the state's water resources. The decades' old battle, which has intensified dramatically with the exceptional drought, pits Southern California against Northern California and water-starved cities against Central Valley farmers. But all the other non-human species of California—which has the highest species diversity and highest rate of endemic species (ones only found in a certain geographical area) of any U.S. state—need water too.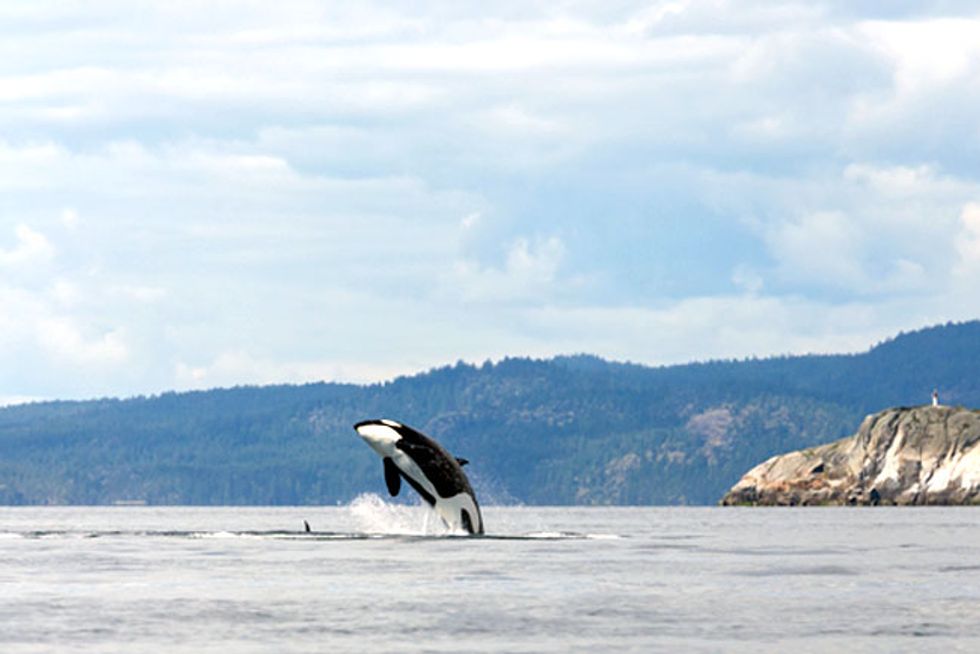 Photo credit: Shutterstock
Conservationists are using the decline in the Southern Resident Orca population as "a powerful symbol of how California's water usage can have an impact far beyond our faucets and farms," says KCET reporter Conor Knighton. In a segment Wednesday, Knighton examined why the Southern Resident Orcas, which can be found mostly from Puget Sound down to the San Francisco and Monterrey bays, are the only orcas that are designated as endangered.
And the reason why they are endangered highlights the interconnectedness of our ecosystems. Rep. Devin Nunes (R-CA) calls the delta smelt, "a stupid little fish," but the two-inch-long fish plays a vital role in its ecosystem. The delta smelt along with the Chinook salmon make up a main part of the orca whale's diet. And both of these fish, and thus the Southern Resident Orcas, may soon be extinct due to California's historic drought and the state's water management policies. "The saying is 'no fish, no blackfish.' If they don't have a good food supply, the future isn't there," Alisa Schulman-Janiger, of the California Killer Whale Project, tells Knighton.
"Years of drought and diversion have changed the ecologic makeup of the San Francisco Bay Delta," where Southern California gets one-third of its water from, says Knighton. Salmon depend on enough water in the Bay Delta to keep their population healthy, but with the extreme drought, much of that water is being diverted to cities and farms.
Environmental regulations have been put in place to protect these fish species, but some claim that the laws are too costly and ineffective. And Rep. Nunes is unsurprisingly not a fan of saving some "stupid little fish."
Watch the segment here:
YOU MIGHT ALSO LIKE
32 Endangered Animals Face Off in March Sadness Bracket
Drought-Stricken California Exempts Big Oil and Big Ag from Mandatory Restrictions
California's Dire Drought Leads to Record Low Snowpack Levels at 6%, Triggers Mandatory Conservation Measures
EcoWatch Daily Newsletter
Doctors report that only 1 in 4 children are getting the recommended 60 minutes of physical activity per day. Ronnie Kaufman / DigitalVision / Getty Images
By Dan Gray
Pediatricians are being urged to start writing "exercise prescriptions" for the children they see in their office.
A First Nations protester walks in front of a train blockade in Tyendinaga, near Belleville, Ontario, Canada on Feb. 21, 2020. LARS HAGBERG / AFP via Getty Images
An indigenous rail blockade that snarled train travel in Canada for more than two weeks came to an end Monday when police moved in to clear protesters acting in solidarity with another indigenous community in British Columbia (B.C.), which is fighting to keep a natural gas pipeline off its land.
A rainbow snake, a rare reptile spotted in a Florida county for the first time in more than 50 years, seen here on July 5, 2013.
Kevin Enge / FWC Fish and Wildlife Research Institute / Flickr
A Florida hiker recently stumbled across a slithering surprise — a rare snake that hadn't been spotted in the area for more than 50 years.
We need our government to do everything it can to stop PFAS contamination and exposure from wreaking havoc in communities across the country. LuAnn Hun /
Unsplash
By Genna Reed
The EPA announced last week that it is issuing a preliminary regulatory determination for public comment to set an enforceable drinking water standard to two of the most common and well-studied PFAS, PFOA and PFOS.
This decision is based on three criteria:
PFOA and PFOS have an adverse effect on public health
PFOA and PFOS occur in drinking water often enough and at levels of public health concern;
regulation of PFOA and PFOS is a meaningful opportunity for reducing the health risk to those served by public water systems.
Charging EVs in Stockholm: But where does a dead battery go? Ranjithsiji / Wikimedia Commons
By Kieran Cooke
Driving an electric-powered vehicle (EV) rather than one reliant on fossil fuels is a key way to tackle climate change and improve air quality — but it does leave the old batteries behind as a nasty residue.