California Governor Is Big on Talk, Weak on Climate Action
Jul. 08, 2014 01:13PM EST
Climate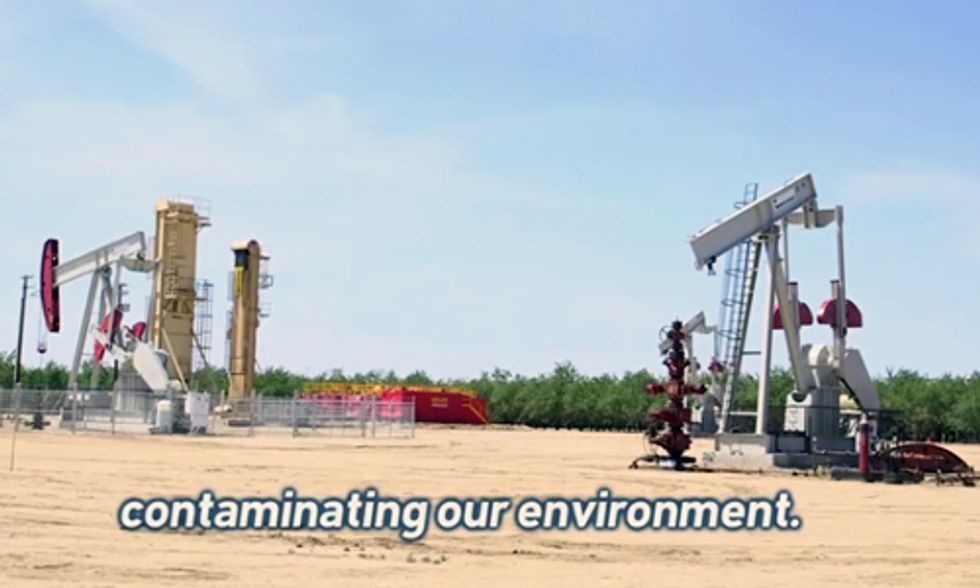 When it comes to fighting pollution, global warming and our climate crisis, California Gov. Jerry Brown is big on talk and weak on action. Gov. Brown frequently warns us that climate change is a major threat we must solve, citing the ongoing drought and recent fires as indicators of global warming's threat to our economy and standard of living. Yet when it comes to governance and real action the Governor is letting the oil and gas industry expand fracking and refineries that pollute our climate with more emissions of carbon dioxide and methane, worsening global warming and our climate crisis.
Support for Fracking in the Face of Environmental Risks
When asked about the contradiction between his rhetoric and support for fracking, the Governor has made inaccurate statements and blamed Californians for his lack of action. First, Gov. Brown continues to make the erroneous argument that because Californians drive cars, it is necessary to frack California. In reality, California has long imported and will continue to import most of the oil it uses, a trend confirmed by the Energy Information Administration's (EIA) reduced estimate of recoverable oil in California. The EIA, which once projected that more than 15 billion barrels of oil reside in California's Monterey Shale formation, has reduced its estimate to just 600 million barrels—a 96 percent reduction.
The Governor is wrong again when he implies fracking in California will decrease or offset oil imports into California. Despite California using less oil, imports are now increasing into the Golden State via rail and ship, threatening to cause major accidents in transit. California's 17 refineries, mostly located in the Bay Area and Los Angeles, are processing and exporting more refined oil overseas to China and other markets. To meet the foreign demand refineries are looking to expand their operations to process the growing influx of oil from North Dakota and Canada to then be sold overseas.
Permitting Refinery Expansions and Weakening Cap and Trade
Refinery expansion is strongly opposed by community and environmental organizations, yet Gov. Brown is allowing Chevron to expand its enormous Richmond refinery and increase its pollution. A recent lawsuit by Communities for a Better Environment challenging Chevron's expansion cites increased pollution emissions as undermining California's goal of reducing greenhouse gas emissions. Yet the Brown administration, consistent with its "cap and trade" program that allows big polluters to continue polluting in exchange for a small fee, is content to let Chevron pay to increase its pollution and worsen our climate.
Governor Brown is also permitting a refinery expansion in Bakersfield, which already suffers from some of the worst air quality in the nation. To put the icing on the cake, the Brown administration recently weakened its already weak cap-and-trade program to allow petroleum refiners to receive 100 percent of their emissions allowances for free until 2017—meaning for the next three years Chevron and others may not pay a dime for their refinery pollution.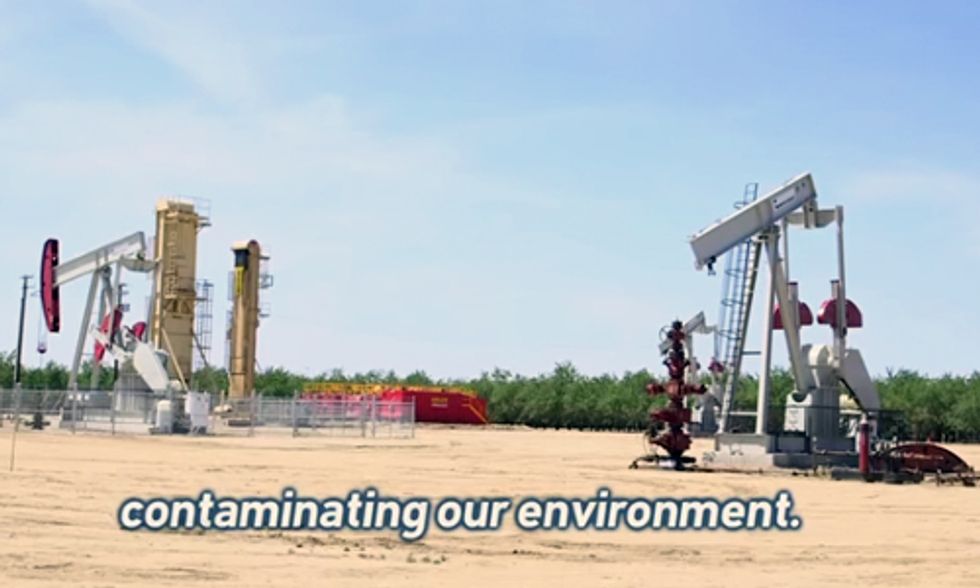 California's pollution from carbon emissions has been getting worse, reflected in the California 2012 greenhouse gas inventory released in May by the California Air Resources Board. The total inventory climbed from 2011, which means California went backwards towards reaching its goal of 1990 levels of emissions by 2020. While total California oil and gas production slightly declined in 2012 from 2011 levels, this inventory shows a 4 percent increase in the amount of greenhouse gas pollution released by this sector. Since the Brown administration has yet to determine the true carbon intensity of oil and gas development, this increase is likely underestimated and will rise again for 2013.
Pollution Reduction Targets Slipping Away
Gov. Brown's support for fracking and refinery expansion is worsening California's pollution problems and undermining our state's ability to meet its pollution reduction targets by 2020. While polls continue to show that a majority of Californians oppose fracking outright and nearly 70 percent support an immediate moratorium, the Governor has sided with the oil companies to let them keep fracking under the false pretense of strong regulations, which do nothing to make the practice safer or prevent pollution.
California needs real leadership in the effort to transition from dirty oil to clean energy. If the Governor is sincere about fighting the climate crisis, he can prove it by stopping the fracking and opposing refinery expansion. So far Gov. Brown has talked some talk, not walked the walk, and is making our pollution problems worse.
EcoWatch Daily Newsletter
Related Articles from EcoWatch
Recent Stories from EcoWatch