This website uses cookies to ensure you get the best experience while browsing it. By clicking 'Got It' you're accepting these terms.
Black Carbon Larger Cause of Climate Change Than Previously Assessed
Jan. 16, 2013 09:58AM EST
Climate
By Ellen Baum

Thirteen years after Jim Hansen described the significant role of black carbon for climate stabilization,1 in a comprehensive assessment of black carbon and climate released on Jan. 15, a team of 31 worldwide experts have confirmed the importance to combating global warming by reducing black carbon from targeted pollution sources.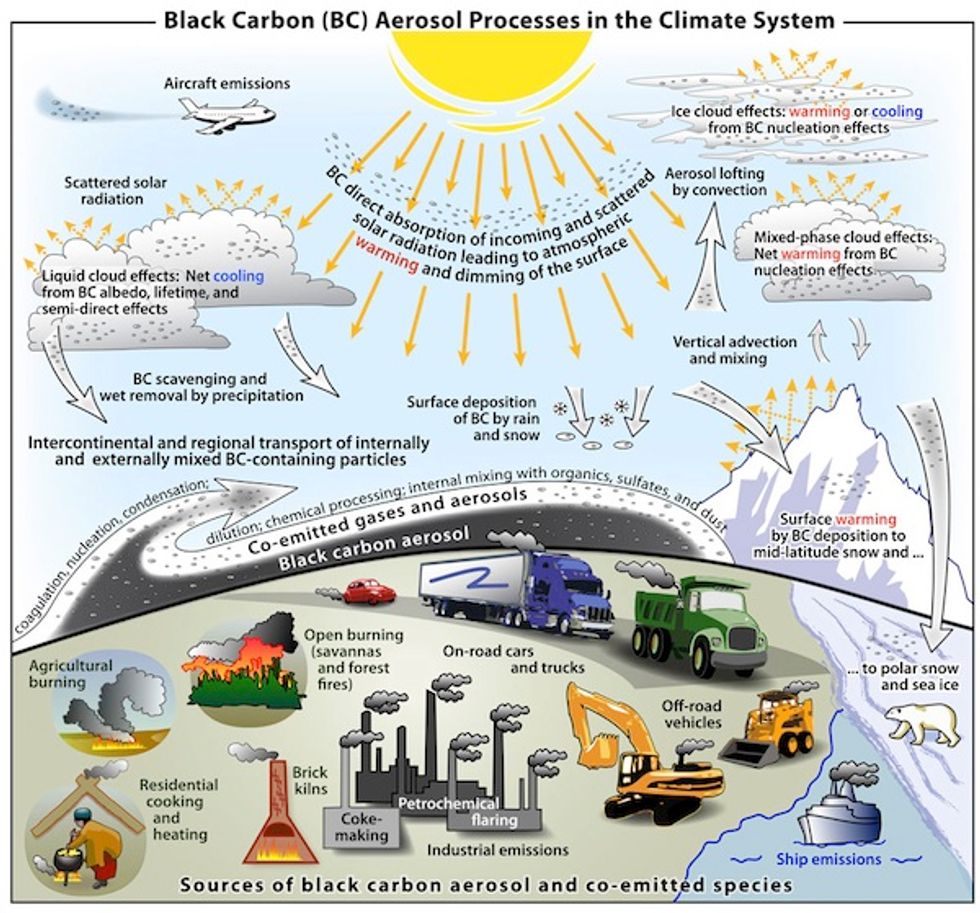 Schematic overview of the primary black carbon emission sources and the processes that control the distribution of black carbon in the atmosphere and determine its role in the climate system [Bond et al., 2013].
The authors of the study, Bounding the role of black carbon in the climate system: A scientific assessment, have developed a best estimate of black carbon's direct influence on atmospheric warming that is almost two times higher than most previous work, including the estimates in the last Intergovernmental Panel on Climate Change (IPCC)—from 0.34 W/m2 (0.27°C) to +0.71 W/m2 (0.57 °C)2.
The Clean Air Task Force (CATF) welcomes this paper, which was four years in the making and adds more certainty to a number of questions about the effectiveness of controlling black carbon as a climate mitigation strategy. A particular thorny issue—the effects of black carbon on clouds—remains complicated, but the study concluded that black carbon is not having a strong cooling influence on clouds, which strengthens the case for mitigation efforts. When all effects of black carbon are included i.e., the effects on snow and clouds, the best estimate of the climate forcing impact of black carbon is stronger than previous estimates—at a total forcing: 1.1 W/m2 (0.88 °C) or two-thirds of the warming to date from CO2.
The assessment also confirms that black carbon causes significantly higher warming over the Arctic from a combination of the warming effect on the atmosphere and the additional effect of black carbon darkening snow and accelerating the melting of Arctic snow and ice.
Although the study bolsters the case that black carbon is a powerful global warming agent, it also corroborates previous analyses that mitigation actions must be carefully targeted to certain pollution sources for maximum effectiveness. Black carbon is emitted by the incomplete combustion of fuel and emitted with a mixture of gases and aerosols that both warm and cool over the short and long term.
Reductions will be most climate beneficial depending on that mix of emissions composition other aerosols such as organic carbon and gases, including sulfur dioxide, oxides of nitrogen and carbon dioxide as well as location of the source of pollution. The study looks closely at the best-known sources of black carbon and their total impacts to the climate and identifies diesel engines, brick kilns and residential cook stoves as the most promising sources for mitigation.
CATF has been working to navigate a defensible scientific and action roadmap to first understand and then win reductions from black carbon-rich sources. Guided by the previous work of the study's authors, CATF has worked for nearly a decade to advocate for effective policies to reduce black carbon emissions including:
Coordinating the U.S. diesel campaign to win retrofits of existing, dirty diesel engines with emissions controls that can reduce black carbon emissions by more than 90 percent, arguing for the climate benefits that could come with retrofitted engines.
Working in the Arctic to reduce sources of black carbon from flaring from oil and gas operations and agricultural fires.
Advocating for controls on ships traveling in and near Arctic waters through actions at the International Maritime Organization.
Supporting research to measure black carbon in Arctic and seasonal snow packs
Funding the only measurements of black carbon from traditional and modern brick kilns and collaborating on brick modernization activities in India and through the Climate and Clean Air Coalition in other regions and countries.
Based on the new evidence in today's study, there are a number of actions to push for to quickly reduce black carbon. The U.S. should demonstrate leadership on black carbon by advancing policies that reduce emissions from the large fleet of older diesel vehicles in the U.S. and from natural gas systems. Measures include:
Fully funding the Diesel Emission Reduction Act (DERA) to support diesel vehicle and equipment retrofits that achieve vital black carbon reductions.
Reducing the excise tax on new diesel engines to accelerate fleet turnover.
Regulations to reduce emissions from flaring associated with the oil and gas industry.
The U.S. should also call for:
Faster adoption of tighter diesel vehicle emission standards internationally, which will promote the global deployment of advanced U.S. diesel engine technologies.
Faster global deployment of flaring technologies for natural gas systems to achieve complete combustion of flared gas.
Greater public-private partnerships and multinational collaboration (e.g. the State Department's Climate and Clean Air Coalition or the Arctic Council).
Adoption of controls for shipping in and near Arctic waters through the International Maritime Organization.
International opportunities include:
In 2011 the Arctic Council called upon nations to reduce black carbon emissions from in and near Arctic sources3; now Arctic nations should take active steps to adopt those actions.
There are transitional and transformative opportunities for brick modernization for the 1.5 trillion bricks produced worldwide each year, affording cost-effective opportunities for countries and industries to upgrade. More than 80 percent of brick operations are in Asia.
The best news is that all of these are targeted sources in the Bounding paper. Further, the paper gives us—and others—the confidence to keep our shoulder at the wheel, knowing that we are making even greater inroads with this work than we thought when we were inspired to get started.
Visit EcoWatch's ENERGY page for more related news on this topic.
——–
Click here to tell Congress to Expedite Renewable Energy.

--------
1 Hansen, J.E. et. al. Global warming in the twenty-first century: An alternative scenario, PNAS, August 29, 2000 97 (18) 9875–9880
2 The conversion of radiative forcing to temperature depends on climate sensitivity. Here we assume 1 W/m2=0.8°C
3 ,Technical report of the Arctic Council Task Force on Short-Lived Climate Forcers, May 11, 2011
http://www.arctic-council.org/index.php/en/environment-a-climate/climate-change/172-slcf
EcoWatch Daily Newsletter
The largest wetland in Africa is in the South Sudan. George Steinmetz / Corbis Documentary / Getty Images Plus
Methane emissions are a far more powerful greenhouse gas than carbon dioxide – about 28 times more powerful. And they have been rising steadily since 2007. Now, a new study has pinpointed the African tropics as a hot spot responsible for one-third of the global methane surge, as Newsweek reported.
The Rybnik Power Station in Rybnik, Poland on Sept. 20, 2018. Poland gets 80% of its power from coal.
Hans Permana / Flickr
After marathon talks in Brussels, the leaders of European Union member states – bar Poland – agreed early Friday to commit to going carbon neutral by 2050.
Thousands of "penis fish" like these pictured above washed up on a California beach. Ryan Bodenstein / Flickr /
CC BY 2.0
A photographer came across a strange sight when he walked along a Northern California beach last week: thousands of sausage-shaped, 10-inch worms stretching for miles down the beach.
Permanent hair dyes and chemical hair straighteners could be increasing women's risk of breast cancer. kali9 / E+ / Getty Images
Permanent hair dyes and chemical hair straighteners could be increasing women's risk of breast cancer, according to a new study by the National Institutes of Health.
Britain's Prime Minister Boris Johnson (C) walks with Oliver Harmar (R), Yorkshire area director of the Environment Agency as he visits Stainforth near Doncaster, northern England, on Nov. 13, 2019, following flooding caused by days of heavy rain. DANNY LAWSON / POOL/AFP via Getty Images
The Conservative Party emerged victorious in Thursday's UK elections with a majority of 78 seats in the House of Commons, its largest majority since 1987, as BBC News reported.