Biotech Giant Found Guilty of Pesticide Contamination
May. 26, 2015 03:57PM EST
Food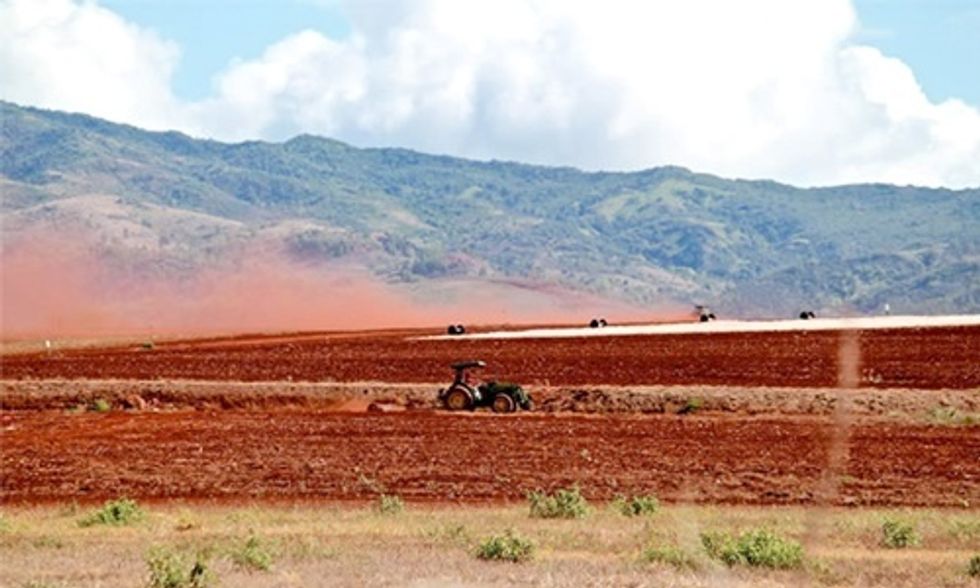 Chalk up another win for the little guy. A handful of residents of Kauai's Waimea community prevailed in court over biotech giant DuPont-Pioneer earlier this month. Citing extensive, harmful dust generated by DuPont's seed operations, a jury awarded 15 residents $500,000 in damages.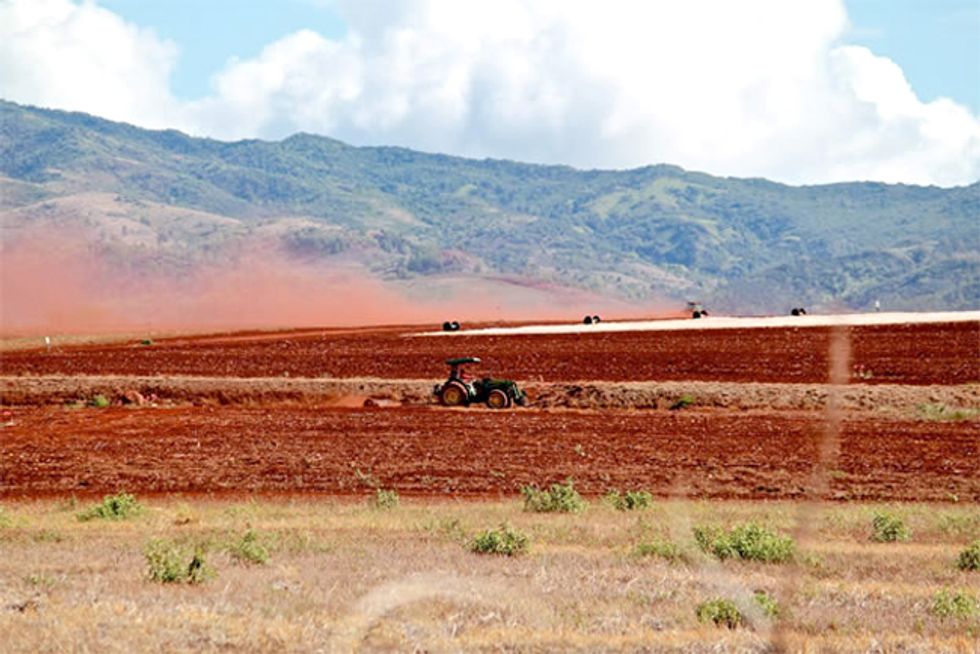 This is just the latest in an impressive string of victories against pesticide and genetically engineered (GE) seed corporations in Kauai, the global epicenter for GE seed testing.
Why the lawsuit? Picture red (pesticide-contaminated) dust blanketing your house and yard, regularly blowing over from neighboring fields, leaving you unable to open your windows or leave your home. That's what residents of this lower-income community of color have faced for years, and that's what ended up spurring litigation.
While the judge directed attorneys to focus only on impacts to physical property, it's hard to ignore the health effects of pesticides drifting through the air or contained in dust blanketing homes. According to court documents, the pesticides sprayed by DuPont in Kauai have been linked to cancer, reproductive toxicity, birth defects, disruption of the endocrine, immune and nervous systems, liver damage and more.
Lawyers for the case note that several dozen more Waimea residents may yet come forward to seek awards.
Global profits, local harms
The GE seeds grown in Hawai'i are part of a larger, global story. Corporations based around the globe test and grow GE seeds on the islands before shipping them to places like Iowa to sell to U.S. farmers and across the globe.
DuPont-Pioneer is exposing residents in Waimea to six to eight times the number of  pesticides used on the mainland and in some cases pesticides are applied 15 times more frequently over the course of the year. The company grows GE seeds year round in Hawai'i, and intensively spray pesticides on these test crops.
Residents on the other side of town are bordered by Syngenta's operations, including schoolchildren attending Waimea Canyon Middle School. Teachers there have raised concerns about pesticide exposure for years, petitioning federal environmental officials and citing the regular use of brain-harming pesticides.
To address these concerns, residents of Kaua'i helped pass a law in late 2013 to restrict the use of hazardous pesticides near vulnerable communities, and create comprehensive disclosure of pesticide use. The affected multi-national corporations—BASF, Dow, DuPont-Pioneer and Syngenta—promptly sued the County of Kaua'i.
Demanding respect from Syngenta
Earlier this month, a handful of community leaders boarded a plane to Switzerland to share their concerns directly with Syngenta shareholders at their annual meeting. As county councilman Gary Hooser later recounted:
My message was clear and unambiguous. I asked them to withdraw from their lawsuit against the County of Kaua'i, to honor and follow our laws, and to give our community the same respect and protections afforded to the people in their home country of Switzerland.
Needless to say, the Kaua'i delegation wasn't welcomed with open arms by the CEO or company security, but Hooser was able to share a few words directly with shareholders on the big screen and the small delegation connected with allies in the global movement to advance protections from the use of harmful pesticides.
DuPont, Syngenta and the rest of the Big Six (Monsanto, Dow, BASF and Bayer) may have underestimated the power of the Kauaian people, be they neighbors, teachers or elected officials. The corporate giants have awoken the residents, not the other way around.
YOU MIGHT ALSO LIKE
If GMOs Are Safe, Why Not Label Them? (64 Other Countries Do)
Chipotle Under Attack for Going GMO Free
Victory for Groups Fighting Proposed Tar Sands Facility as Full Environmental Review Now Required
A recent study focused on regions in Ethiopia, Africa's largest coffee-producing nation. Edwin Remsberg / Getty Images
Climate change could make it harder to find a good cup of coffee, new research finds. A changing climate might shrink suitable areas for specialty coffee production without adaptation, making coffee taste blander and impacting the livelihoods of small farms in the Global South.
EcoWatch Daily Newsletter
In "Weather," Jenny Offill tells the story of a librarian named Lizzie who prepares for a climate apocalypse. Andrew Merry / Getty Images
By Suzanne Cords
One day Lizzie, the first-person narrator of the novel, receives an old book as a gift, with a dedication wishing the reader to be among the survivors. Like the preppers who build bunkers and stockpile supplies in remote areas to be ready for the end of the world, Lizzie is convinced that the end of the world is definitely near in times of a threatening climate disaster.
Lizzie, who lives in New York with her husband and son, is a university campus librarian. She worries about almost everything: her brother, an ex-junkie, or her dental insurance and the future in the face of the apocalypse. She is obsessed with reading reference books and articles about climate change.
She also devours words of wisdom, including about Buddhist spirituality: "A visitor once asked the old monks on Mount Athos what they did all day, and was told: We have died and we are in love with everything." But nothing can lift her spirits.
'Lizzie Is Just Like Us'
Lizzie observes rich New Yorkers plan their move to regions that are less threatened by climate change, something she simply cannot afford. Sometimes she watches disaster movies, which lead her to worry even more.
Above all, she is a gifted observer of her fellow human beings. "Young person worry: What if nothing I do matters? Old person worry: What if everything I do, does?"
Lizzie, the U.S. author told DW, is a bit like the rest of us — well aware of the climate crisis, but because she cares and worries about so many other things, that awareness falls by the wayside. That's how she felt herself, Jenny Offill said, but the more she looked into the issue, the more she saw a need for action on her part, too.

"I also was trying to see if there was a way to make it funny, because, you know, so much of the world of prepping and imagining disaster is actually sort of strangely funny."
The novel was shortlisted for the 2020 UK's Women's Prize for Fiction and has now been released in German translation.
Climate Activist With a Vision
But then, there is also this serious, scientifically based concern about what climate change means. In the past, says Offill, artists were the ones who would predict disasters; today it's the experts, as well as the students she teaches. In the end, their fears and their justified anger motivated her to take a closer look at the issue. Today, she is a climate activist herself, and is involved in initiatives along with many other artists.
Lizzie, the heroine of Weather, hasn't gotten that far. But she voices her fears, and that's a start. "Of course, the world continues to end," says Sylvia, a mentor of Lizzie's, at one point — and commences to water her garden. There is hope after all.
Reposted with permission from Deutsche Welle.
A Shell oil drilling rig off the coast of Alaska in the Chukchi Sea on May 21, 2015. Orjan F. Ellingvag / Corbis via Getty Images
By Jake Johnson
A federal appeals court on Tuesday dealt the final blow to former President Donald Trump's attempt to open nearly 130 million acres of territory in the Arctic and Atlantic Oceans to oil and gas drilling.
Electric vehicles are the cars of the future. sl-f / Getty Images
By 2035, every new car and truck sold in the U.S. could be an EV, a new report says.
Accelerations in technology and especially battery affordability, paired with new policy, mean the dramatic transition would save American drivers $2.7 trillion by 2050, an average savings of $1,000 per household per year.
The ramp up in EV production would also create 2 million new jobs by 2035. Battery prices have fallen 74% since 2014, and their unexpectedly rapid fall is a key driver of the cost savings.
EVs are far simpler mechanically, and more efficient, than internal combustion engine (ICE) vehicles, which translates to reduced climate pollution and lower costs for consumers.
Strengthened vehicle efficiency standards and investment in fast charging infrastructure are needed to accelerate the transition, which would prevent 150,000 premature deaths and save $1.3 trillion in health environmental costs by 2050.
For a deeper dive:

The Guardian, Fast Company, E&E, Morning Consult, Canary Media

For more climate change and clean energy news, you can follow Climate Nexus on Twitter and Facebook, sign up for daily Hot News, and visit their news site, Nexus Media News.
The Gowanus Canal in Brooklyn, New York, a polluted nearly 2 mile-long waterway that is an EPA Superfund site. Jonathan Macagba / Moment / Getty Images
Thousands of Superfund sites exist around the U.S., with toxic substances left open, mismanaged and dumped. Despite the high levels of toxicity at these sites, nearly 21 million people live within a mile of one of them, according to the U.S. Environmental Protection Agency (EPA).