This website uses cookies to ensure you get the best experience while browsing it. By clicking 'Got It' you're accepting these terms.
Biotech Giant Found Guilty of Pesticide Contamination
May. 26, 2015 02:57PM EST
Food
Chalk up another win for the little guy. A handful of residents of Kauai's Waimea community prevailed in court over biotech giant DuPont-Pioneer earlier this month. Citing extensive, harmful dust generated by DuPont's seed operations, a jury awarded 15 residents $500,000 in damages.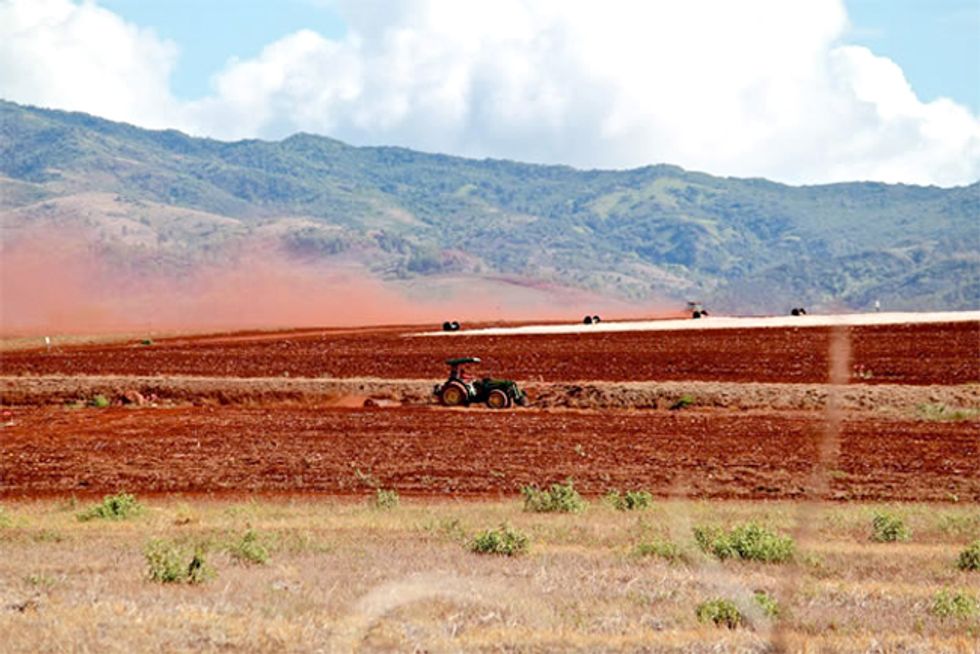 This is just the latest in an impressive string of victories against pesticide and genetically engineered (GE) seed corporations in Kauai, the global epicenter for GE seed testing.
Why the lawsuit? Picture red (pesticide-contaminated) dust blanketing your house and yard, regularly blowing over from neighboring fields, leaving you unable to open your windows or leave your home. That's what residents of this lower-income community of color have faced for years, and that's what ended up spurring litigation.
While the judge directed attorneys to focus only on impacts to physical property, it's hard to ignore the health effects of pesticides drifting through the air or contained in dust blanketing homes. According to court documents, the pesticides sprayed by DuPont in Kauai have been linked to cancer, reproductive toxicity, birth defects, disruption of the endocrine, immune and nervous systems, liver damage and more.
Lawyers for the case note that several dozen more Waimea residents may yet come forward to seek awards.
Global profits, local harms
The GE seeds grown in Hawai'i are part of a larger, global story. Corporations based around the globe test and grow GE seeds on the islands before shipping them to places like Iowa to sell to U.S. farmers and across the globe.
DuPont-Pioneer is exposing residents in Waimea to six to eight times the number of  pesticides used on the mainland and in some cases pesticides are applied 15 times more frequently over the course of the year. The company grows GE seeds year round in Hawai'i, and intensively spray pesticides on these test crops.
Residents on the other side of town are bordered by Syngenta's operations, including schoolchildren attending Waimea Canyon Middle School. Teachers there have raised concerns about pesticide exposure for years, petitioning federal environmental officials and citing the regular use of brain-harming pesticides.
To address these concerns, residents of Kaua'i helped pass a law in late 2013 to restrict the use of hazardous pesticides near vulnerable communities, and create comprehensive disclosure of pesticide use. The affected multi-national corporations—BASF, Dow, DuPont-Pioneer and Syngenta—promptly sued the County of Kaua'i.
Demanding respect from Syngenta
Earlier this month, a handful of community leaders boarded a plane to Switzerland to share their concerns directly with Syngenta shareholders at their annual meeting. As county councilman Gary Hooser later recounted:
My message was clear and unambiguous. I asked them to withdraw from their lawsuit against the County of Kaua'i, to honor and follow our laws, and to give our community the same respect and protections afforded to the people in their home country of Switzerland.
Needless to say, the Kaua'i delegation wasn't welcomed with open arms by the CEO or company security, but Hooser was able to share a few words directly with shareholders on the big screen and the small delegation connected with allies in the global movement to advance protections from the use of harmful pesticides.
DuPont, Syngenta and the rest of the Big Six (Monsanto, Dow, BASF and Bayer) may have underestimated the power of the Kauaian people, be they neighbors, teachers or elected officials. The corporate giants have awoken the residents, not the other way around.
YOU MIGHT ALSO LIKE
If GMOs Are Safe, Why Not Label Them? (64 Other Countries Do)
Chipotle Under Attack for Going GMO Free
Victory for Groups Fighting Proposed Tar Sands Facility as Full Environmental Review Now Required
EcoWatch Daily Newsletter
A new report spotlights a U.N. estimate that at least 275 million people rely on healthy coral reefs. A sea turtle near the Heron Island in the Great Barrier Reef is seen above. THE OCEAN AGENCY / XL CATLIN SEAVIEW SURVEY
In a new report about how the world's coral reefs face "the combined threats of climate change, pollution, and overfishing" — endangering the future of marine biodiversity — a London-based nonprofit calls for greater global efforts to end the climate crisis and ensure the survival of these vital underwater ecosystems.
Half of the extracted resources used were sand, clay, gravel and cement, seen above, for building, along with the other minerals that produce fertilizer. Cavan Images / Cavan / Getty Images
The world is using up more and more resources and global recycling is falling. That's the grim takeaway from a new report by the Circle Economy think tank, which found that the world used up more than 110 billion tons, or 100.6 billion metric tons, of natural resources, as Agence France-Presse (AFP) reported.
By Gero Rueter
Heating with coal, oil and natural gas accounts for around a quarter of global greenhouse gas emissions. But that's something we can change, says Wolfgang Feist, founder of the Passive House Institute in the western German city of Darmstadt.

By George Citroner
Recent research finds that official government figures may be underestimating drug deaths by half.
Researchers estimate that 142,000 people died due to drug use in 2016.
Drug use decreases life expectancy after age 15 by 1.4 years for men and by just under 1 year for women, on average.
Government records may be severely underreporting how many Americans die from drug use, according to a new study by researchers from the University of Pennsylvania and Georgetown University.
Water coolers in front of shut-off water fountains at Center School in Stow, MA on Sept. 4, 2019 after elevated levels of PFAS were found in the water. David L. Ryan / The Boston Globe via Getty Images
In a new nationwide assessment of drinking water systems, the Environmental Working Group found that toxic fluorinated chemicals known as PFAS are far more prevalent than previously thought.