Bill Nye: Paris Terrorist Attacks Linked to Climate Change
Dec. 03, 2015 11:14AM EST
Climate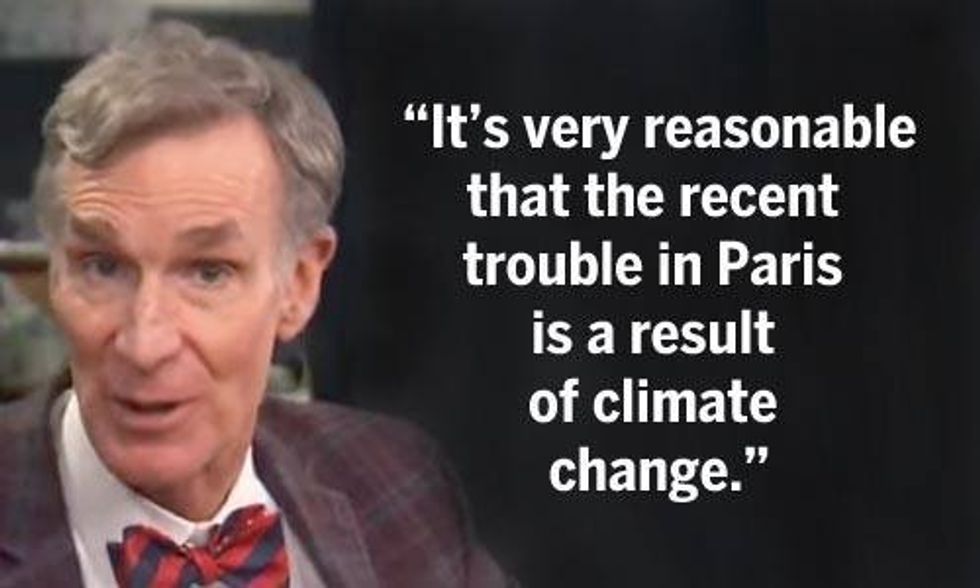 "It's very reasonable" to link climate change to the recent Nov. 13 terrorist attacks in Paris, Bill Nye told HuffPost Live. He credited Syria's drought for fueling the conflict and increasing Islamic State recruits.
"It's very reasonable that the recent trouble in Paris is a result of climate change," said Nye, who published Unstoppable, his new book on climate change, last month. "There is a water shortage in Syria, this is fact based—small and medium farmers have abandoned their farms because there's not enough water, not enough rainfall. And especially the young people who have not grown up there, have not had their whole lives invested in living off the land, the young people have gone to the big cities looking for work."
"There's not enough work for everybody, so the disaffected youths, as we say—the young people who don't believe in the system, believe the system has failed, don't believe in the economy—are more easily engaged and more easily recruited by terrorist organizations, and then they end up part way around the world in Paris shooting people," Nye said.
"You can make a very reasonable argument that climate change is not that indirectly related to terrorism. It's related to terrorism," said Nye. "So this is just the start of things. The more we let this go on, the more trouble there's going to be. You can say, 'We'll stamp out the terrorists,' but everybody's leaving their farms because of water shortages, that's a little, bigger problem."
Nye made the remarks on Monday—the same day that President Obama said the COP21 Paris climate talks were an "act of defiance" against terrorists. Nye's argument is backed up by research. Earlier this year, researchers said "an extreme drought in Syria between 2006 and 2009 was most likely due to climate change, and that the drought was a factor in the violent uprising that began there in 2011."
The Science Guy is not the only one speaking up about the issue. Prince Charles said in an interview just before the attacks that climate change is a root cause of the Syrian war. Bernie Sanders similarly linked climate change and the growth of terrorism at the Democratic debate, just a day after the Paris attacks. And despite being mocked by conservative media and Democratic operatives alike, Sanders held fast to his assertion that climate change is the greatest threat to national security and is "directly related to the growth of terrorism." Sanders noted that this belief is in fact shared by both the CIA and the U.S. Defense Department, which has consistently called climate change a "threat multiplier."
YOU MIGHT ALSO LIKE
Bernie Sanders: GOP Candidates Care More About Koch Money Than 'Preserving the Planet for Our Children'
"Ridiculously, Earth-Shatteringly Stupid": Daily Show Slams GOP Climate-Denying Gang
Prince Harry's Moving Photos From Africa Trip Show Brutal Reality of Poaching
EcoWatch Daily Newsletter