Bill Nye Defends Climate Beliefs, Faces Bullying Claims on CNN
May. 08, 2014 08:59AM EST
Climate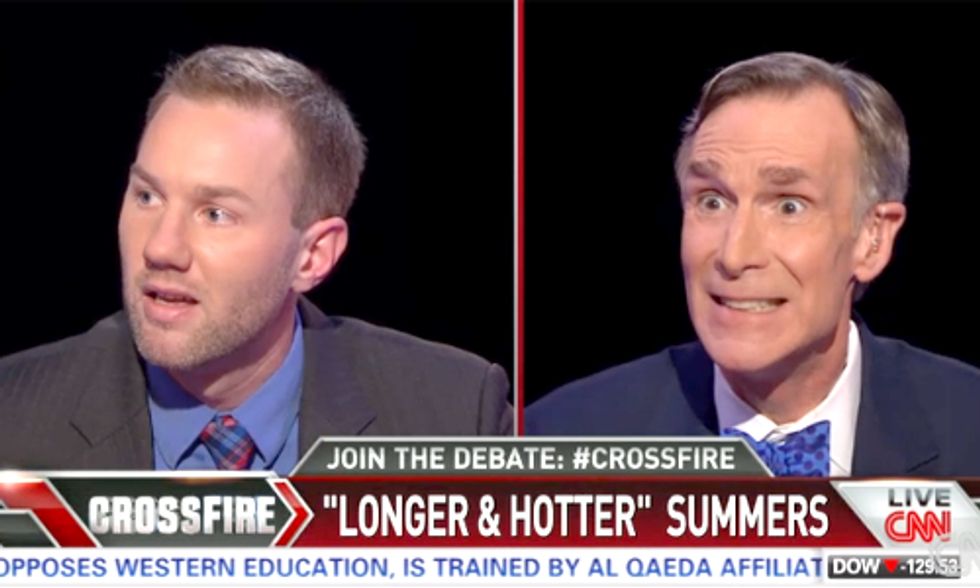 Does believing in climate change and taking it seriously make one a bully?
Aside from proving the facts through examples of droughts, rising waters and impacted crops, that's a question Bill Nye, "The Science Guy," had to ponder as part of a brief discussion this week on CNN's "Crossfire" with social justice and environmental activist Van Jones and conservative commentators S.E. Cupp and Nick Loris.
Loris felt the need to began his statement by saying he was not a denier or a skeptic, which Cupp believes indicates just how on edge some people have become in this debate. They must have fallen victim to intimidation, she says.
"The scare tactics have not worked—don't you need public consensus to move the needle on this," Cupp asked after displaying March data showing that just 36 percent of the public believes that global warming poses a serious threat to their way of life.
With a couple bewildred glares, table poundings and utterance of the phrase, "hurricane-schmurricane,'" Nye may not have defended himself against the bullying critique too well. Still, he makes his point more than effectively, even if the passive denial of climate change aggravated him a bit. 
——–
YOU ALSO MIGHT LIKE
Watch Bill Nye the Science Guy Debate Congresswoman Who Claims Climate Change is 'Unproven'
White House's Alarming Climate Change Study Calls For 'Urgent Action'
Bill Nye 'The Science Guy' and Michael Mann Explain The Difference Between Climate and Weather on MSNBC
——–
EcoWatch Daily Newsletter