This website uses cookies to ensure you get the best experience while browsing it. By clicking 'Got It' you're accepting these terms.


The best of EcoWatch, right in your inbox. Sign up for our email newsletter!
Bill McKibben: Picturing the End of Fossil Fuels
Aug. 24, 2015 07:06AM EST
Climate

When they say a picture is worth a thousand words, writers rebel (or they write 1,500 words). I mean, pictures are great, but they can't get across complicated concepts. Except when they can.
Which would be the summer of 2015, on two separate occasions. Early in the summer, on the West Coast of the U.S., "kayaktivists" in Seattle Harbor surrounded Shell Oil's giant Polar Pioneer drilling rig, trying to keep it from getting out of the harbor. They didn't succeed in that, of course—the Coast Guard cleared them out of the way—but they did succeed in reminding everyone of the scale of the destruction Shell has planned. The sight of those small, many kayaks against that one brute drilling platform brought home the existential nature of the struggle: it's all of us, the little guys, against the immense, concentrated wealth and power of the biggest companies on Earth.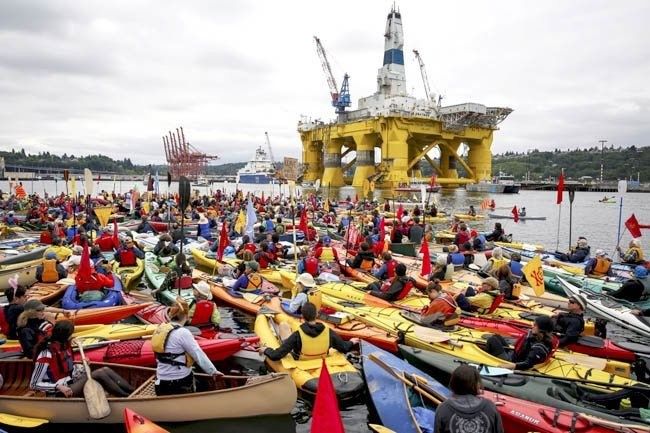 Activists who oppose Royal Dutch Shell's plans to drill for oil in the Arctic Ocean prepare their kayaks for the "Paddle in Seattle" protest on Saturday, May 16, 2015, in Seattle. The protesters gathered at a West Seattle park and then joined hundreds of others in Elliott Bay, next to the Port of Seattle Terminal 5, where Shell's Polar Pioneer drilling rig is docked. Photo credit: Daniella Beccaria / seattlepi.com via AP
And then again earlier this month in Germany, at the amazing #EndeGelande protests, when more than a thousand activists managed to elude authorities and congregate inside Europe's largest coal mine, in front of what are the world's single largest terrestrial machines. (One, the Bagger 288 is so big it even has its own song). They sat there for most of the day, and the great machines could do no work—and that means, since they move 240,000 tons of coal a day, that a lot of coal was not mined.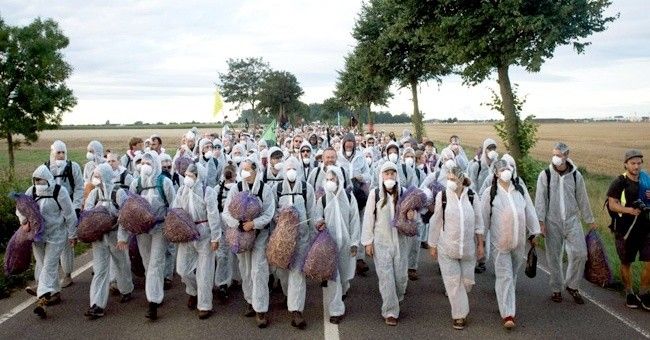 But activists can't stay there forever, and in the end it's the picture that will do the company and the German government more damage. The Star Wars-like image of people standing in front of the Jurassic digger makes the same point of inhuman, absurd scale.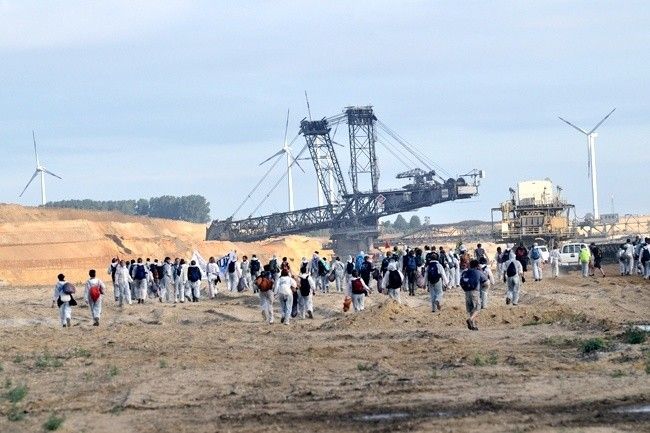 Pictures don't always turn the future, of course. The German images reminded me of the most famous picture of the Tiananmen saga ...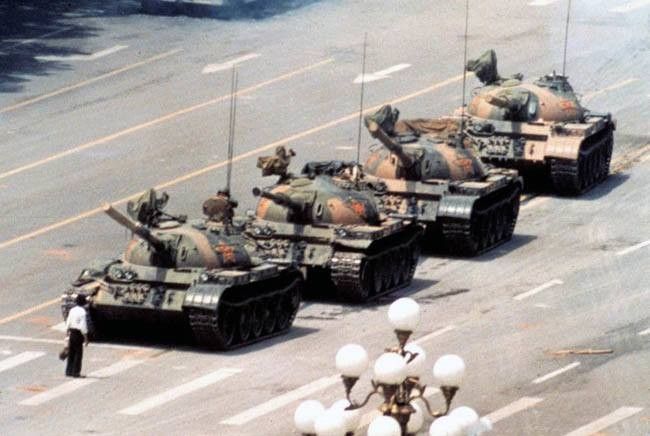 ... but sadly, the forces behind those tanks are still in control. His courage faced them down for a moment, but their implacable might won the day.
In the energy world, though, I'm willing to bet that these images are poison to the fossil fuel industry. It's not just because of their sheer inhuman oversized ugliness, but because they manage to look somehow so antique. Or rather, so modern in a postmodern world. We're moving quickly to a planet where the small and distributed makes more sense than the centralized and gigantic—that's why you're likely getting your news from the net, not a TV channel. Even without understanding the science of climate change—the horror that the carbon from that digger and that drill rig is driving—you have a visceral sense that they're in the wrong moment, the wrong mood.
The fight against Arctic oil and German coal will be long and hard. But we already know, once we've won, what the pictures in the textbooks will be.
YOU MIGHT ALSO LIKE
The World's Oceans Are in Peril
NOAA: July Was Hottest Month Ever Worldwide
We Have Already Consumed a Year's Supply of the Planet's Resources in Less Than 8 Months
EcoWatch Daily Newsletter
Climate change activists gather in front of the stage at the Extinction Rebellion group's environmental protest camp at Marble Arch in London on April 22, on the eighth day of the group's protest calling for political change to combat climate change. TOLGA AKMEN / AFP / Getty Images
Pexels
By Alina Petre, MS, RD (CA)
Veganism refers to a way of living that attempts to minimize animal exploitation and cruelty. For this reason, vegans aim to exclude all foods containing meat, poultry, fish, eggs, dairy and honey from their diet (1).
American farmers use chlorpyrifos, a pesticide tied to brain and nervous system issues, on crops such as apples, broccoli, corn and strawberries. Stephanie Chapman / Flickr / CC BY 2.0
By Jessica Corbett
In a ruling welcomed by public health advocates, a federal court on Friday ordered the Trump administration to stop stalling a potential ban on a pesticide linked to brain damage in children, giving regulators until mid-July to make a final decision.
fstop123 / iStock / Getty Images Plus
At EcoWatch, our team knows that changing personal habits and taking actions that contribute to a better planet is an ongoing journey. Earth Day, happening on April 22, is a great reminder for all of us to learn more about the environmental costs of our behaviors like food waste or fast fashion.
To offer readers some inspiration this Earth Day, our team rounded up their top picks for films to watch. So, sit back and take in one of these documentary films this Earth Day. Maybe it will spark a small change you can make in your own life.
NASA
By Shuchi Talati
Solar geoengineering describes a set of approaches that would reflect sunlight to cool the planet. The most prevalent of these approaches entails mimicking volcanic eruptions by releasing aerosols (tiny particles) into the upper atmosphere to reduce global temperatures — a method that comes with immense uncertainty and risk. We don't yet know how it will affect regional weather patterns, and in turn its geopolitical consequences. One way we can attempt to understand potential outcomes is through models.
Maria Gunnoe Flight, courtesy of southwings.org
By Julia Conley
Green groups on Saturday celebrated the latest federal ruling aimed at preventing President Donald Trump from rolling back environmental regulations that were put in place by his predecessor.
NASA scientists flew over the Kuskokwim river in southwest Alaska in 2017 to investigate how water levels in the Arctic landscape change as permafrost thaws. Peter Griffith, NASA
Youtube screenshot
A woman has been caught on camera dumping a bag of puppies near a dumpster in Coachella, California, CNN reported Sunday.