This website uses cookies to ensure you get the best experience while browsing it. By clicking 'Got It' you're accepting these terms.


The best of EcoWatch, right in your inbox. Sign up for our email newsletter!
Bill McKibben: IPCC Report Says Climate Change Is 'Severe, Widespread and Irreversible'
Nov. 02, 2014 01:40PM EST
Climate

At this point, the scientists who run the Intergovernmental Panel on Climate Change (IPCC) must feel like it's time to trade their satellites, their carefully calibrated thermometers and spectrometers, their finely tuned computer models—all of them for a thesaurus. Surely, somewhere, there must be words that will prompt the world's leaders to act.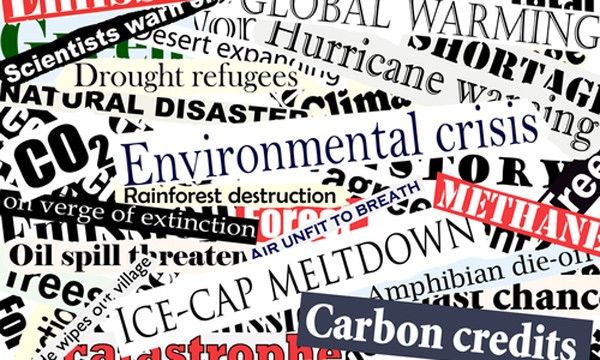 Photo credit: Shutterstock
This week, with the release of their new synthesis report, they are trying the words "severe, widespread and irreversible" to describe the effects of climate change—which for scientists, conservative by nature, falls just short of announcing that climate change will produce a zombie apocalypse plus random beheadings plus Ebola. It's hard to imagine how they will up the language in time for the next big global confab in Paris.
But even with all that, this new document—actually a synthesis of three big working group reports released over the last year—almost certainly underestimates the actual severity of the situation. As the Washington Post pointed out this week, past reports have always tried to err on the side of understatement; it's a particular problem with sea level rise, since the current IPCC document does not even include the finding in May that the great Antarctic ice sheets have begun to melt. (The studies were published after the IPCC's cutoff date).
But when you get right down to it, who cares? The scientists have done their job; no sentient person, including Republican Senate candidates, can any longer believe in their heart of hearts that there's not a problem here. The scientific method has triumphed: over a quarter of a century, researchers have reached astonishing consensus on a basic problem in chemistry and physics.
And the engineers have done just as well. The price of a solar panel has dropped by more than 90 percent over the last 25 years, and continues to plummet. In the few places they have actually been deployed at scale, the results are astonishing: there were days this summer when Germany generated 75 percent of its power from the wind and the sun.
That, of course, is not because Germany is so richly endowed with sunlight (it's a rare person who books a North Sea beach holiday). It's because the Germans have produced a remarkable quantity of political will, and put it to good use.
As opposed to the rest of the world, where the fossil fuel industry has produced an enormous amount of fear in the political class, and kept things from changing. Their vast piles of money have so far weighed more in the political balance than the vast piles of data accumulated by the scientists. In fact, the IPCC can calculate the size of the gap with great exactness. To get on the right track, they estimate, the world would have to cut fossil fuel investments annually between now and 2029, and use the money instead to push the pace of renewables.
That is a hard task, but not an impossible one. Indeed, the people's movement symbolized by September's mammoth climate march in New York, has begun to make an impact in dollars and cents. A new report this week shows that by delaying the Keystone pipeline in North America protesters have prevented at least $17bn (£10.6bn) in new investments in the tar sands of Canada—investments that would have produced carbon equivalent to 735 coal-fired power plants. That's pretty good work.
Our political leaders could do much more, of course. If they put a serious price on carbon, we would move quickly out of the fossil fuel age and into the renewable future. But that won't happen until we break the power of the fossil fuel industry. That's why it's very good news that divestment campaigners have been winning victories on one continent after another, as universities from Stanford to Sydney to Glasgow start selling their fossil fuel stocks in protest—hey, even the Rockefeller Brothers fund, heir to the greatest oil fortune ever, have joined in the fight.
Breaking the power of the fossil fuel industry won't be easy, especially since it has to happen fast. It has to happen, in fact, before the carbon we've unleashed into the atmosphere breaks the planet. I'm not certain we'll win this fight—but, thanks to the IPCC, no one will ever be able to say they weren't warned.
Reposted from the Guardian.
YOU MIGHT ALSO LIKE
IPCC Report: Fossil Fuels Should Be 'Phased Out by 2100′
Watch Bill Nye Shred Climate Denying Congresswoman
MUST-SEE: Stephen Colbert and Neil Young Sing 'Who's Gonna Stand Up?'
EcoWatch Daily Newsletter
Climate change activists gather in front of the stage at the Extinction Rebellion group's environmental protest camp at Marble Arch in London on April 22, on the eighth day of the group's protest calling for political change to combat climate change. TOLGA AKMEN / AFP / Getty Images
Pexels
By Alina Petre, MS, RD (CA)
Veganism refers to a way of living that attempts to minimize animal exploitation and cruelty. For this reason, vegans aim to exclude all foods containing meat, poultry, fish, eggs, dairy and honey from their diet (1).
American farmers use chlorpyrifos, a pesticide tied to brain and nervous system issues, on crops such as apples, broccoli, corn and strawberries. Stephanie Chapman / Flickr / CC BY 2.0
By Jessica Corbett
In a ruling welcomed by public health advocates, a federal court on Friday ordered the Trump administration to stop stalling a potential ban on a pesticide linked to brain damage in children, giving regulators until mid-July to make a final decision.
fstop123 / iStock / Getty Images Plus
At EcoWatch, our team knows that changing personal habits and taking actions that contribute to a better planet is an ongoing journey. Earth Day, happening on April 22, is a great reminder for all of us to learn more about the environmental costs of our behaviors like food waste or fast fashion.
To offer readers some inspiration this Earth Day, our team rounded up their top picks for films to watch. So, sit back and take in one of these documentary films this Earth Day. Maybe it will spark a small change you can make in your own life.
NASA
By Shuchi Talati
Solar geoengineering describes a set of approaches that would reflect sunlight to cool the planet. The most prevalent of these approaches entails mimicking volcanic eruptions by releasing aerosols (tiny particles) into the upper atmosphere to reduce global temperatures — a method that comes with immense uncertainty and risk. We don't yet know how it will affect regional weather patterns, and in turn its geopolitical consequences. One way we can attempt to understand potential outcomes is through models.
Maria Gunnoe Flight, courtesy of southwings.org
By Julia Conley
Green groups on Saturday celebrated the latest federal ruling aimed at preventing President Donald Trump from rolling back environmental regulations that were put in place by his predecessor.
NASA scientists flew over the Kuskokwim river in southwest Alaska in 2017 to investigate how water levels in the Arctic landscape change as permafrost thaws. Peter Griffith, NASA
Youtube screenshot
A woman has been caught on camera dumping a bag of puppies near a dumpster in Coachella, California, CNN reported Sunday.