This website uses cookies to ensure you get the best experience while browsing it. By clicking 'Got It' you're accepting these terms.
Bill McKibben Arrested + 56 Others in Ongoing Campaign Against Proposed Gas Storage at Seneca Lake
Mar. 07, 2016 10:26AM EST
Energy
The fight over the fate of the Finger Lakes received national attention today when best-selling author, environmentalist and founder of 350.org, Bill McKibben, joined the opposition. McKibben, 55, was arrested this morning with 56 area residents as part of an ongoing civil disobedience campaign against proposed gas storage in Seneca Lake's abandoned salt caverns.
---
This is a developing story, but at this time all arrestees have been released except for McKibben who is still in custody at the Schuyler County sheriff's department.
Organized by the direct action group, We Are Seneca Lake, the protesters formed a human blockade on the driveway of the gas storage and transportation company, Crestwood Midstream. During the blockade, which began shortly after sunrise, the protesters blocked all traffic entering and leaving the facility.
In a public statement to fellow blockaders, McKibben thanked We Are Seneca Lake for serving as a "curtain raiser" for the larger global movement to break free from fossil fuels that is now unfolding in frontline communities all over the planet.
"Today and every day there are places like this where people are standing up … This place is so important because it's one of the places where people are understanding that it's not just carbon dioxide we are fighting, it's also methane, that there are two greenhouse gases and they are both spurring this incredible heating that we are seeing," McKibben said. "… If we can hold off the fossil fuel industry for just a few more years, this stuff will never be built again."
Also arrested today were several prominent local residents. Among them were the Rev. Felicity Wright, pastor of Elmira's famed Park Church, and Phil Davis, 63, co-owner and operator of Damiani Wine Cellars on the east shore of Seneca Lake and a seventh-generation resident of Schuyler County.
Ranging in age from 30 to 76, today's protesters represented at least 19 different New York counties.
At 6:45 a.m., the group unfurled banners that read, "Methane is Madness. Break Free from Fossil Fuels" and "We Are Seneca Lake. Can You Hear Us Now?"
The group was charged with disorderly conducted and arrested shortly before 8 a.m. by Schuyler County deputies, Watkins Glen police and New York State troopers, and transported to the Schuyler County Sheriff's department.
The total number of arrests in the 17-month-old civil disobedience campaign has now surpassed 500.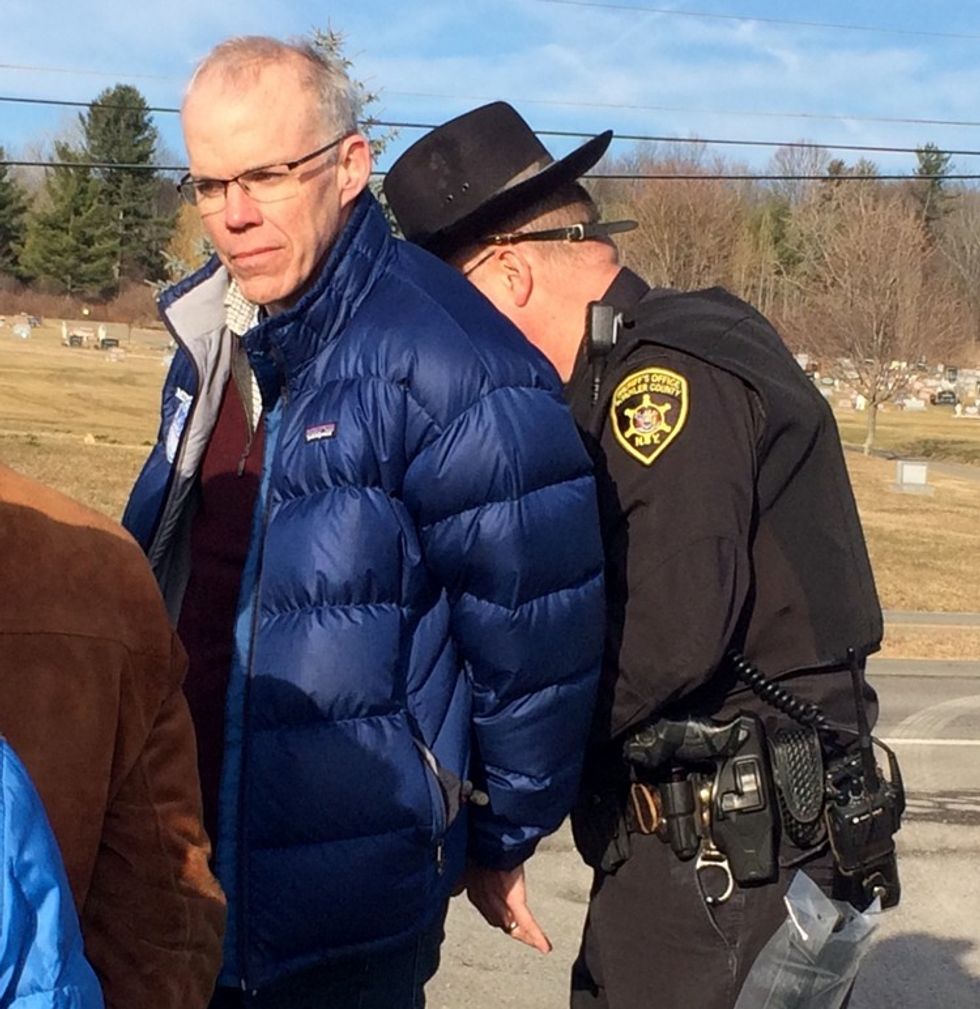 "Climate change is not only an economic and ecological crisis. It is also, for many of us, a moral and spiritual crisis," Rev. Wright said during the blockade. "Pope Francis understood this well when, in his recent encyclical on the climate crisis, he asks, 'What kind of world do we want to leave … for those come after us?' And the answer must be: a world that supports creation, and a world that allows us to be divine agents for what is holy, good, and true."
Crestwood's methane gas storage expansion project was approved by the Federal Energy Regulatory Commission in October 2014 in the face of broad public opposition and unresolved questions about geological instabilities, fault lines, and possible salinization of Seneca Lake, which serves as a source of drinking water for 100,000 people.
Crestwood also seeks to store two other products of fracking in Seneca Lake salt caverns—propane and butane (so-called Liquefied Petroleum Gases, LPG)—for which it is awaiting a decision by Gov. Cuomo's Department of Environmental Conservation.
"I will stand once again in resistance to this imposition of corporate will upon our people and our land and water," Davis said this morning. "There is an attitude of arrogance and dismissiveness in the Crestwood communiqués—regarding environmental concerns, community safety concerns, area business concerns—that I find so offensive that I can't stand by without joining to further the outcry of opposition. My family has been a part of this community for seven generations. I'm here today to lend my back and all my resolve to this fight."
EcoWatch Daily Newsletter
A new study shows that half of all Arctic warming and corresponding sea-loss during the late 20th century was caused by ozone-depleting substances. Here, icebergs discharged from Greenland's Jakobshavn Glacier. Kevin Krajick / Earth Institute /
EurekAlert!
The world awakened to the hole in the ozone layer in 1985, which scientists attributed it to ozone depleting substances. Two years later, in Montreal, the world agreed to ban the halogen compounds causing the massive hole over Antarctica. Research now shows that those chemicals didn't just cut a hole in the ozone layer, they also warmed up the Arctic.
Diane Wilson holds up a bag full of nurdles she collected from one of Formosa's outfall areas on Jan. 15. Julie Dermansky / DeSmogBlog
On the afternoon of Jan. 15, activist Diane Wilson kicked off a San Antonio Estuary Waterkeeper meeting on the side of the road across from a Formosa plastics manufacturing plant in Point Comfort, Texas.
After Wilson and the waterkeeper successfully sued Formosa in 2017, the company agreed to no longer release even one of the tiny plastic pellets known as nurdles into the region's waterways. The group of volunteers had assembled that day to check whether the plant was still discharging these raw materials of plastics manufacturing.
Malaysian Environment Minister Yeo Bee Yin (front 2nd L) and officials inspect a container containing plastic waste shipment on Jan. 20, 2020 before sending back to the countries of origin. AFP via Getty Images
The Southeast Asian country Malaysia has sent 150 shipping containers packed with plastic waste back to 13 wealthy countries, putting the world on notice that it will not be the world's garbage dump, as CNN reported. The countries receiving their trash back include the United States, the United Kingdom, France and Canada.
Trump leaves after delivering a speech at the Congress Centre during the World Economic Forum annual meeting in Davos on Jan. 21, 2020. JIM WATSON / AFP via Getty Images