Bernie Sanders Refuses to Back Down on Climate-Terrorism Connection
Nov. 17, 2015 10:02AM EST
Popular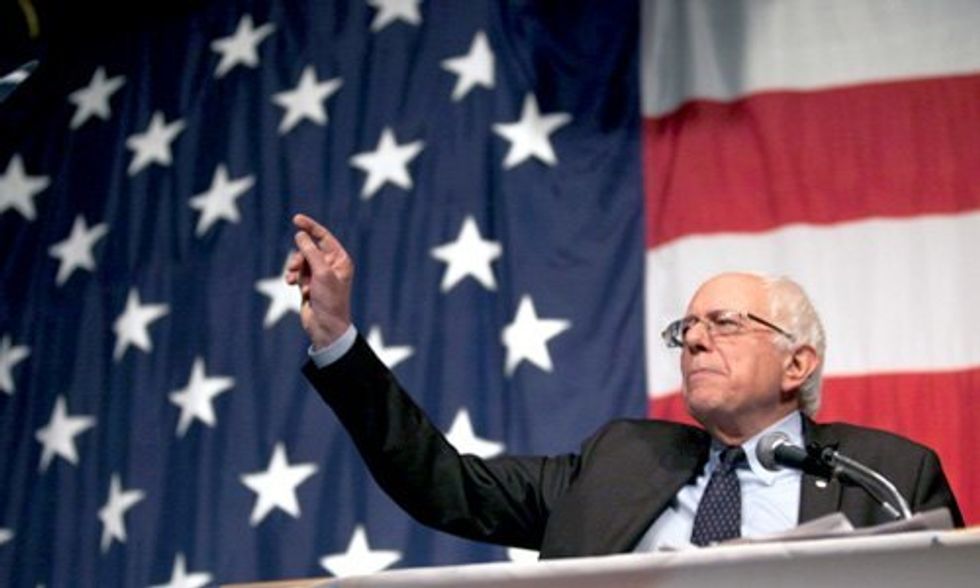 Despite being mocked by conservative media and Democratic operatives alike, Bernie Sanders is holding fast on his assertion that climate change is the greatest threat to national security and is "directly related to the growth of terrorism."
When asked during Saturday's debate if, in the wake of the Paris attacks, he still believed that "the global crisis of climate change" is our biggest threat, the Senator from Vermont responded: "Absolutely."
During an appearance on CBS' Face the Nation on Sunday, Sanders elaborated further.
"If we are going to see an increase in drought, in flood, and extreme weather disturbances as a result of climate change, what that means is that people all over the world are going to be fighting over limited natural resources," he said. "If there is not enough water, if there is not enough land to grow your crops, then you're going to see migrations of people fighting over land that will sustain them. And that will lead to international conflict."
In Syria, for example, Sanders said that drought has driven people to migrate into cities. "When people migrate into cities and they don't have jobs, there's going to be a lot more instability, a lot more unemployment, and people will be subject to the types of propaganda that al Qaeda and ISIS are using right now," he said.
Sanders noted that this belief, which he originally stated during the first Democratic debate, is in fact shared by both the CIA and the U.S. Defense Department.
Writing for Slate, meteorologist Eric Holthaus said Sanders' response was not only "gutsy" but "also correct."
Holthaus continued:
Even though the wounds in Paris are still very fresh after Friday's attacks, Sanders appropriately used this moment to highlight the current and future global tragedies that unmitigated climate change will surely cause. A landmark study earlier this year provided convincing evidence that a multiyear drought linked to global warming helped spark the catastrophic Syrian war, which helped give rise to ISIS. The Pentagon has consistently called climate change a "threat multiplier."
While some analysts have tried to characterize  Sanders' argument as an "oversimplification" of the issue, academics and security experts have been documenting this phenomenon for years.
Christian Parenti, who authored the book Tropic of Chaos: Climate Change and the New Geography of Violence, on Monday warned: "The growing crisis of war and state breakdown in the Middle East is partially driven by climate change. We have to deal with climate change—that is, drastically reduce greenhouse gas emissions—or face escalating chaos."
As western nations on Sunday launched a swift and ill-advised military response to last week's terrorist attacks in Paris, Sanders' climate focus stood in stark contrast.
"If we do not get our act together and listen to what the scientists say," he warned Saturday, "you're going to see countries all over the world ... struggling with limited amounts of water, limited amount of land to grow their crops ... You're going to see all sorts of international conflict."
YOU MIGHT ALSO LIKE
10 Photos Show the Reality of a Warming Planet
13-Year-Old Sues North Carolina, Asks Judge to Force State to Take Action on Climate Change
Why Fossil Fuel Stocks Are Doomed
EcoWatch Daily Newsletter