Ben Carson Says He Doesn't Believe in Climate Change or Evolution
Oct. 02, 2015 10:53AM EST
Climate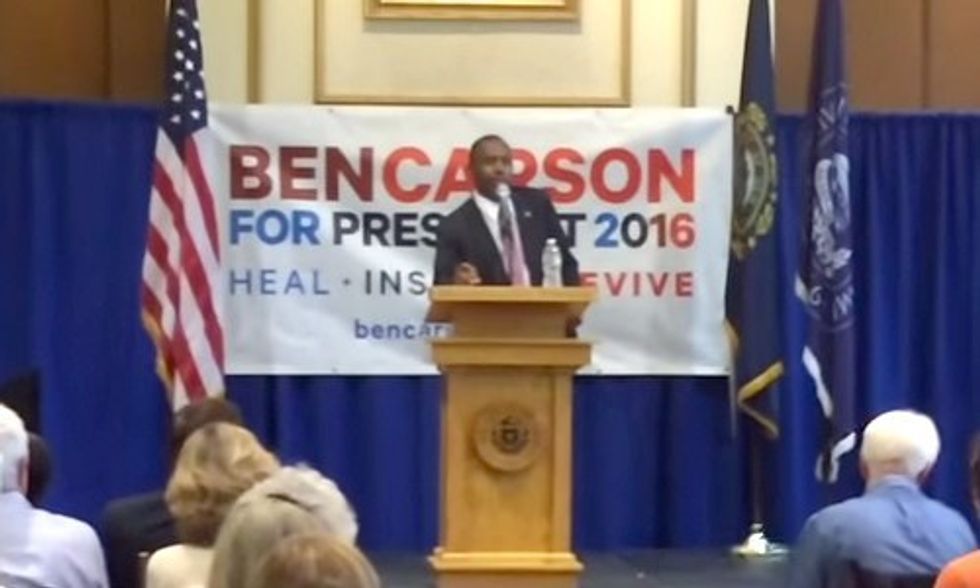 If it weren't such an incredibly pressing issue, it would be comical how Republican presidential candidates have responded to the simple question "Do you believe in climate change?"
Ben Carson's Follies: 7 of the Most Stupefying Statements by the GOP's Favorite Neurosurgeon http://t.co/QR1f4RnunS http://t.co/Pn8gHD0MBX

— AlterNet (@AlterNet)1443536979.0
At a campaign event on Wednesday at the University of New Hampshire, Ben Carson was asked: "You don't believe in evolution or climate change, I believe. And I was just wondering, do you seriously not believe that climate change is happening?"
In responding to the question, Carson gives the tired conservative trope "the climate is always changing" before digressing into how he doesn't have "enough faith" to believe in the Big Bang Theory and eventually musing "gravity, where did it come from?"
Carson, a retired neurosurgeon, has been repeatedly ridiculed for his comments on climate change, not to mention his comments on sexuality and other issues.
Rebecca Leber at New Republic sums it up well:
For a neurosurgeon, Carson has some profoundly unscientific views on politically charged topics. He frames science as no more than a religious system he has the freedom to reject. "I just don't have that much faith," he said. "But they are welcome to believe whatever they want to believe. I'm welcome to believe what I want to believe." Using this logic, no subject is safe from his scrutiny: Climate science, evolution, even gravity.
According to a USA TODAY/Suffolk University Poll from Sept. 30, Carson is tied for second place with Carly Fiorina, who are both trailing behind Donald Trump. All three of the top GOP presidential candidates have no political experience and all three reject climate science.
Watch Carson's response here:
YOU MIGHT ALSO LIKE
Al Gore Blasts GOP Climate Deniers, Thom Hartmann Says Throw Them in Jail
How to Finance the Global Transition from Fossil Fuels to Renewable Energy
Iceland: World's Largest Clean Energy Producer Per Capita
Yeb Saño Embarks on 930-Mile Walk From Rome to Paris Demanding World Leaders Take Climate Action
EcoWatch Daily Newsletter