Bats Dying in Unprecedented Numbers
Bats get a bad rap on Halloween with their image synonymous with blood-sucking vampires; however, the real scary thing about bats is that they are disappearing due to a myriad of threats, including pesticides, habitat destruction and the horrible white-nose syndrome (WNS)—a disease caused by the fungus Pseudogymnoascus (Geomyces) destructans.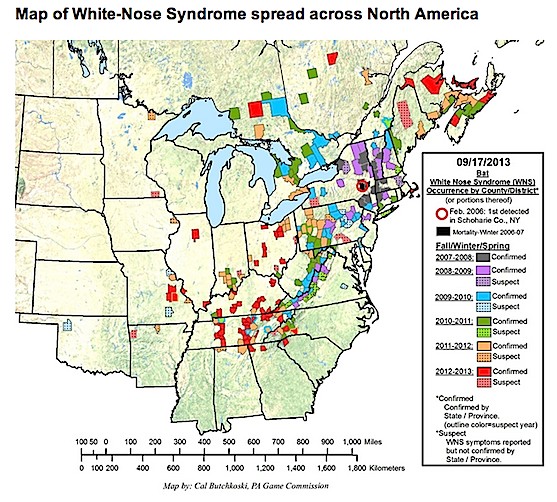 Researchers are reporting an even bleaker picture, finding very little evidence of what might stop the disease from spreading further and persisting indefinitely in bat caves. The new study, from researchers at the Illinois Natural History Survey at the University of Illinois, found that the fungus can make a meal out of just about any carbon source likely to be found in caves, said graduate student Daniel Raudabaugh, who led the research under the direction of survey mycologist Andrew Miller, Ph.D. The study, "Nutritional Capability of and Substrate Suitability for Pseudogymnoascus destructans, the Causal Agent of Bat White-Nose Syndrome" is published in PLOS One.
"It can basically live on any complex carbon source, which encompasses insects, undigested insect parts in guano, wood, dead fungi and cave fish," Raudabaugh said. "We looked at all the different nitrogen sources and found that basically it can grow on all of them. It can grow over a very wide range of pH; it doesn't have trouble in any pH unless it's extremely acidic."
In 2006, around the same time that honey bees started disappearing from their hives, a hibernating bat in a New York cave was discovered with a strange white fungus growing on its muzzle and wings. Since that first detection, WNS has spread across the U.S. Like colony collapse disorder in honeybees, the direct cause of WNS is poorly understood. There has not been much research on role of pesticides in WNS, however there has been much research linking pesticides to immunosuppression in bats, which may make them more susceptible to WNS. An extensive article by William Quarles, Ph.D., was published this summer by The IPM Practitioner, which lays out much of the research that has been done on bats, pesticides and white nose syndrome.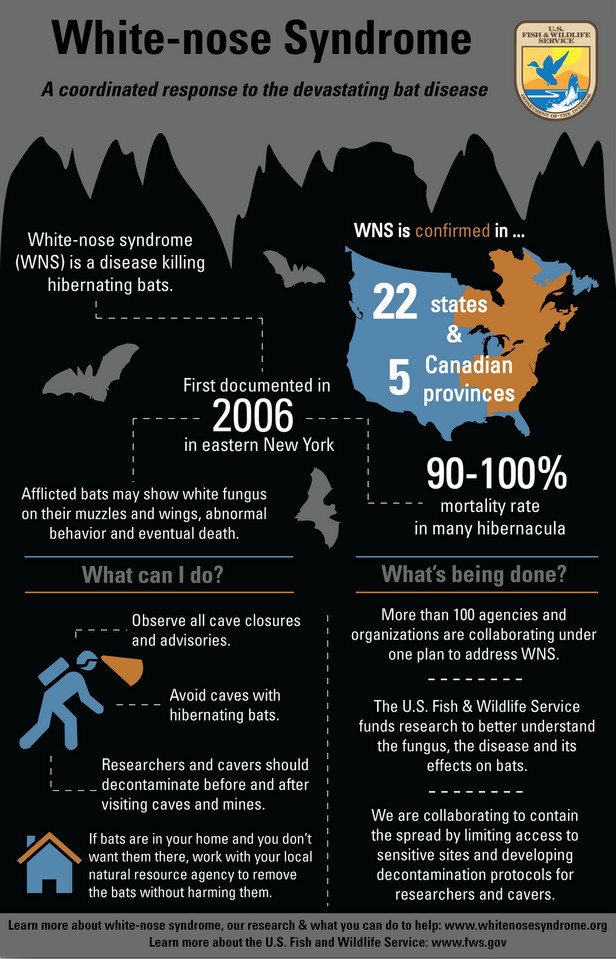 Another study, "Bats at risk? Bat activity and insecticide residue analysis of food items in an apple orchard," published in Environmental Toxicology and Chemistry, shows that bats, due to their long life span and tendency to only have one offspring at a time, are particularly sensitive to reproductive effects from pesticides. The study details the health effects of bats foraging on insects in an apple orchard after it was sprayed with the insecticides fenoxycarb and chlorpyrifos. Researchers conclude that bats should be given greater consideration in risk-assessments for pesticide products. Not only can bats be exposed through their diet, but they can also encounter pesticides through drift and inhalation, as farmers often spray their fields at night to avoid harming honey bees.
Bats are a crucial indicator species, interacting with many elements of the ecosystem. They are one of the only nocturnal pollinators and the only nocturnal insect predator in the U.S., playing a key role both for plants and for farmers. Organic farmers in particular, are reliant on bat pollinators as a pest management tool: one brown bat can kill between 3,000 and 7,000 insects per night. A study published in 2011 in the journal Science estimated that bats provide $3.7 billion to $53 billion per year worth of pest control services to agricultural operations, and that number does not include pollination services.
According to the U.S. Fish and Wildlife Service, P. destructans has killed more than 5.5 million bats in the U.S. and Canada. The fungus thrives at low temperatures, and spreads to bats whose body temperature drops below 20 degrees Celsius (68 degrees Fahrenheit) when they are hibernating in infected caves. Previous research has shown that the fungus persists in caves even after the bats are gone.
"…(We) found that P. destructans can live perfectly happily off the remains of most organisms that co-inhabit the caves with the bats," Dr. Miller said. "This means that whether the bats are there or not, it's going to be in the caves for a very long time."
Beyond Pesticides called on Congress back in 2011 to stop the spread of WNS, which has killed more than 5.7 to 6.7 million bats in North America. Bats with WNS exhibit uncharacteristic behavior during cold winter months, including flying outside in the day and clustering near the entrances of hibernacula. Bats have been found sick and dying in unprecedented numbers in and around caves and mines. In some caves 90 to 100 percent of hibernating bats succumb to the virus.
Visit EcoWatch's BIODIVERSITY page for more related news on this topic.
———

Disturbing footage of a snake in Goa, India vomiting an empty soft drink bottle highlights the world's mounting plastic pollution crisis.
Keep reading...
Show less
By Melissa Hellmann
When her eldest son was in elementary school in the Oakland Unified School District, Ruth Woodruff became alarmed by the meals he was being served at school. A lot of it was frozen, processed foods, packed with preservatives. At home, she was feeding her children locally sourced, organic foods.
Keep reading...
Show less
May. 28, 2017 01:33PM EST
Laurie Woolever
By James O'Hare
There are 20 million people in the world facing famine in South Sudan, Somalia, Nigeria and Yemen. In developed nations, too, people go hungry. Venezuela, for instance, is enduring food insecurity on a national level as a result of economic crisis and political corruption. In the U.S., the land of supposed excess, 12.7 percent of households were food insecure in 2015, meaning they didn't know where their next meal would come from.
Keep reading...
Show less
May. 28, 2017 01:22PM EST
Melwater, Greenland ice sheet. Diane Tuft
Artists are taking the climate crisis into frame and the results are emotional, beautiful and stirring.
So you've seen the best climate change cartoons and shared them with your friends. You've showed your family the infographics on climate change and health, infographics on how the grid works and infographics about clean, renewable energy. You've even forwarded these official National Oceanic and Atmospheric Administration graphs that explain the 10 clear indicators of climate change to your colleagues at the office.
Keep reading...
Show less
May. 27, 2017 01:11PM EST
As the Trump administration moves full speed ahead on boosting the oil and fossil fuel industry, opposition to increased pipeline construction is cropping up in different communities around the country.
Keep reading...
Show less
May. 27, 2017 01:02PM EST
Minke whale stranding near Havergate Island in Suffolk. MCGA.
By Simon Evans
Last Saturday, two dead whales washed up on the coast of Suffolk, in eastern England, and a third was spotted floating at sea.
What happened next illustrates how news can spread and evolve into misinformation, when reported by journalists rushing to publish before confirming basic facts or sourcing their own quotes.
Keep reading...
Show less
May. 27, 2017 01:22PM EST
By Monica Amarelo and Paul Pestano
Sun safety is a crucial part of any outdoor activity for kids, and sunscreen can help protect children's skin from harmful ultraviolet rays. Kids often get sunburned when they're outside unprotected for longer than expected. Parents need to plan ahead and keep sun protection handy in their cars or bags.
Keep reading...
Show less
May. 27, 2017 01:02PM EST
By Joe McCarthy
A lot of people take part in community clean-up efforts—spending a Saturday morning picking up litter in a park, mowing an overgrown field or painting a fence.
Keep reading...
Show less