This website uses cookies to ensure you get the best experience while browsing it. By clicking 'Got It' you're accepting these terms.


The best of EcoWatch, right in your inbox. Sign up for our email newsletter!
Bats Dying in Unprecedented Numbers
Oct. 31, 2013 10:39AM EST
Bats get a bad rap on Halloween with their image synonymous with blood-sucking vampires; however, the real scary thing about bats is that they are disappearing due to a myriad of threats, including pesticides, habitat destruction and the horrible white-nose syndrome (WNS)—a disease caused by the fungus Pseudogymnoascus (Geomyces) destructans.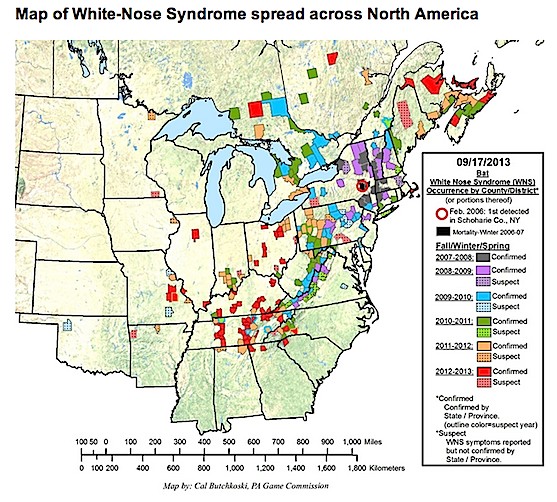 Researchers are reporting an even bleaker picture, finding very little evidence of what might stop the disease from spreading further and persisting indefinitely in bat caves. The new study, from researchers at the Illinois Natural History Survey at the University of Illinois, found that the fungus can make a meal out of just about any carbon source likely to be found in caves, said graduate student Daniel Raudabaugh, who led the research under the direction of survey mycologist Andrew Miller, Ph.D. The study, "Nutritional Capability of and Substrate Suitability for Pseudogymnoascus destructans, the Causal Agent of Bat White-Nose Syndrome" is published in PLOS One.
"It can basically live on any complex carbon source, which encompasses insects, undigested insect parts in guano, wood, dead fungi and cave fish," Raudabaugh said. "We looked at all the different nitrogen sources and found that basically it can grow on all of them. It can grow over a very wide range of pH; it doesn't have trouble in any pH unless it's extremely acidic."
In 2006, around the same time that honey bees started disappearing from their hives, a hibernating bat in a New York cave was discovered with a strange white fungus growing on its muzzle and wings. Since that first detection, WNS has spread across the U.S. Like colony collapse disorder in honeybees, the direct cause of WNS is poorly understood. There has not been much research on role of pesticides in WNS, however there has been much research linking pesticides to immunosuppression in bats, which may make them more susceptible to WNS. An extensive article by William Quarles, Ph.D., was published this summer by The IPM Practitioner, which lays out much of the research that has been done on bats, pesticides and white nose syndrome.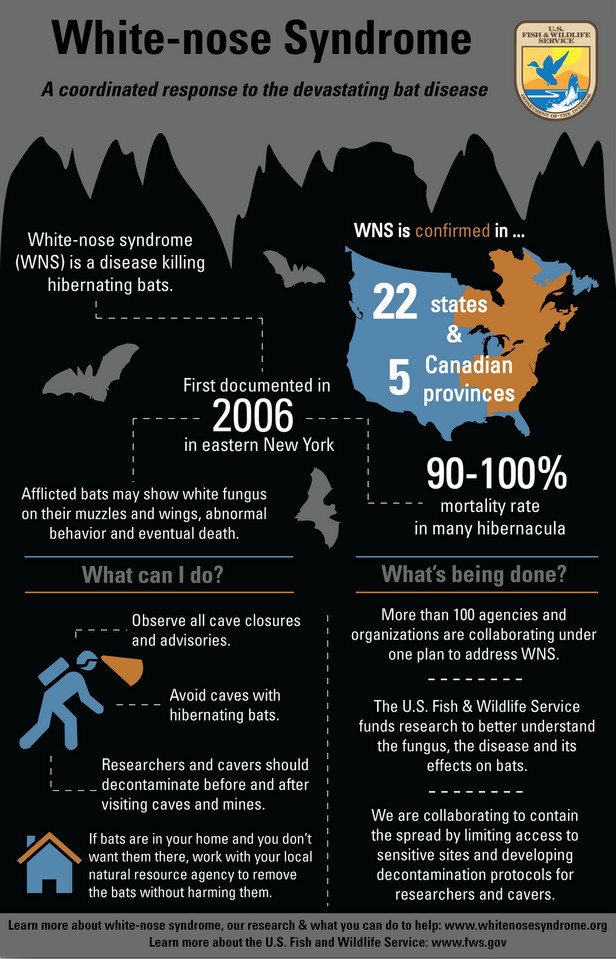 Another study, "Bats at risk? Bat activity and insecticide residue analysis of food items in an apple orchard," published in Environmental Toxicology and Chemistry, shows that bats, due to their long life span and tendency to only have one offspring at a time, are particularly sensitive to reproductive effects from pesticides. The study details the health effects of bats foraging on insects in an apple orchard after it was sprayed with the insecticides fenoxycarb and chlorpyrifos. Researchers conclude that bats should be given greater consideration in risk-assessments for pesticide products. Not only can bats be exposed through their diet, but they can also encounter pesticides through drift and inhalation, as farmers often spray their fields at night to avoid harming honey bees.
Bats are a crucial indicator species, interacting with many elements of the ecosystem. They are one of the only nocturnal pollinators and the only nocturnal insect predator in the U.S., playing a key role both for plants and for farmers. Organic farmers in particular, are reliant on bat pollinators as a pest management tool: one brown bat can kill between 3,000 and 7,000 insects per night. A study published in 2011 in the journal Science estimated that bats provide $3.7 billion to $53 billion per year worth of pest control services to agricultural operations, and that number does not include pollination services.
According to the U.S. Fish and Wildlife Service, P. destructans has killed more than 5.5 million bats in the U.S. and Canada. The fungus thrives at low temperatures, and spreads to bats whose body temperature drops below 20 degrees Celsius (68 degrees Fahrenheit) when they are hibernating in infected caves. Previous research has shown that the fungus persists in caves even after the bats are gone.
"…(We) found that P. destructans can live perfectly happily off the remains of most organisms that co-inhabit the caves with the bats," Dr. Miller said. "This means that whether the bats are there or not, it's going to be in the caves for a very long time."
Beyond Pesticides called on Congress back in 2011 to stop the spread of WNS, which has killed more than 5.7 to 6.7 million bats in North America. Bats with WNS exhibit uncharacteristic behavior during cold winter months, including flying outside in the day and clustering near the entrances of hibernacula. Bats have been found sick and dying in unprecedented numbers in and around caves and mines. In some caves 90 to 100 percent of hibernating bats succumb to the virus.
Visit EcoWatch's BIODIVERSITY page for more related news on this topic.
———

EcoWatch Daily Newsletter
Aerial view of the explosion site of a chemical factory on March 22 in Yancheng, Jiangsu Province of China. Caixin Media / VCG / Getty Images)
At least 47 people have died in an explosion at a plant in Yancheng, China Thursday run by a chemical company with a history of environmental violations, Sky News reported.
A fishmonger in Elmina, a fishing port in the Central Region of Ghana. Environmental Justice Foundation
By Daisy Brickhill
Each morning, men living in fishing communities along Ghana's coastline push off in search of the day's catch. But when the boats come back to shore, it's the women who take over.
Pexels
By Sam Nickerson
Links between excess sugar in your diet and disease have been well-documented, but new research by Harvard's School of Public Health might make you even more wary of that next soda: it could increase your risk of an early death.
The study, published this week in the American Heart Association's journal Circulation, found that drinking one or two sugar-sweetened beverages (SSBs) each day — like sodas or sports drinks — increases risk of an early death by 14 percent.
Tyson Foods is recalling approximately 69,093 pounds of frozen chicken strips because they may have been contaminated with pieces of metal, the U.S. Department of Agriculture (USDA) Food Safety and Inspection Service (FSIS) announced Thursday.
The affected products were fully-cooked "Buffalo Style" and "Crispy" chicken strips with a "use by" date of Nov. 30, 2019 and an establishment number of "P-7221" on the back of the package.
"FSIS is concerned that some product may be in consumers' freezers," the recall notice said. "Consumers who have purchased these products are urged not to consume them. These products should be thrown away or returned to the place of purchase."
Environmental exposure to pesticides, both before birth and during the first year of life, has been linked to an increased risk of developing autism spectrum disorder, according to the largest epidemiological study to date on the connection.
The study, published Wednesday in BMJ, found that pregnant women who lived within 2,000 meters (approximately 1.2 miles) of a highly-sprayed agricultural area in California had children who were 10 to 16 percent more likely to develop autism and 30 percent more likely to develop severe autism that impacted their intellectual ability. If the children were exposed to pesticides during their first year of life, the risk they would develop autism went up to 50 percent.
The ExxonMobil Torrance Refinery in Torrance, California.
waltarrrr / Flickr
ExxonMobil could be the second company after Monsanto to lose lobbying access to members of European Parliament after it failed to turn up to a hearing Thursday into whether or not the oil giant knowingly spread false information about climate change.
The call to ban the company was submitted by Green Member of European Parliament (MEP) Molly Scott Cato and should be decided in a vote in late April, The Guardian reported.
Bernie Sanders holds his first presidential campaign rally at Brooklyn College on March 02 in Brooklyn, New York. Kena Betancur / VIEWpress / Corbis. Getty Images
Bernie Sanders has become the first contender in the crowded 2020 Democratic presidential primary field to pledge to offset all of the greenhouse gas emissions released by campaign travel, The Huffington Post reported Thursday.