At the Deserts Edge
Sep. 17, 2014 04:19PM EST
Climate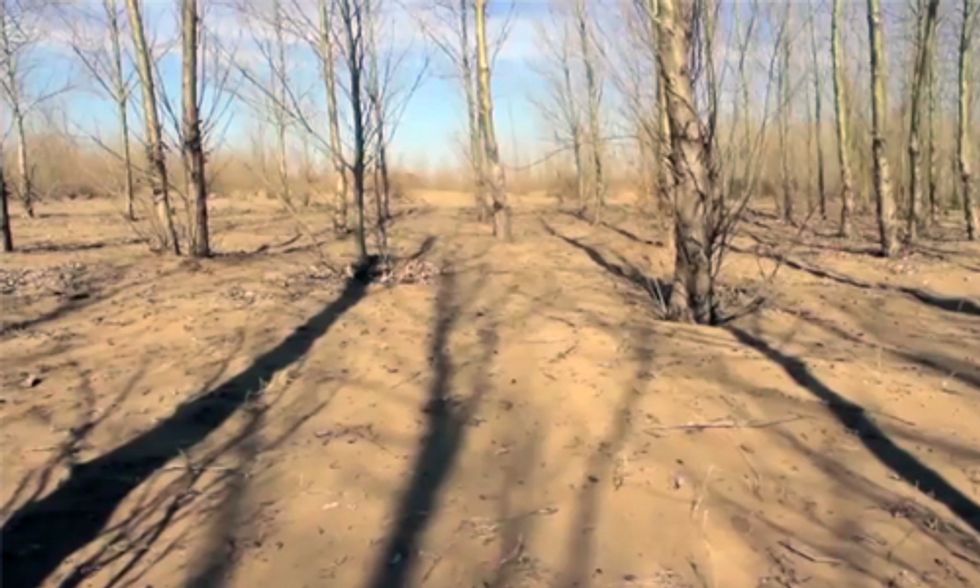 Expanding deserts are taking a heavy toll on the lives and livelihoods of many in the world's most populous nation, China. In Kulun Qi, a dry area in northeastern Inner Mongolia, attempts have been made to stop, and maybe even reverse, the danger. At the Desert's Edge, by filmmaker Kit Gillet and part of the Action4Climate video competition, documents the trials and tentative successes of a collaborative effort between locals, governmental initiatives and NGOs fighting to combat China's growing deserts by planting a vast barrier of a million trees.
"The international community must find ways to secure the long-term resilience not only for ecosystems, but also for people and for the poor who are the most affected by desertification," said Mahmoud Mohieldin, Corporate Secretary and the President's Special Envoy for the MDGs, in his opening remarks.
"To address the unique issues faced by the most vulnerable, we must invest in applicable solutions that are transformative, and can be scaled up."
The 2014 World Day to Combat Desertification global observance event took place June 17 at World Bank headquarters in Washington, DC. It focused on the theme of ecosystem-based adaptation, with a rallying call "Land Belongs to the Future—Let's Climate Proof It."
Approximately 400 representatives from government, intergovernmental and civil society organizations registered for the event. The United Nations Convention to Combat Desertification organized the event, which was hosted by the World Bank in partnership with the Global Environment Facility, TerrAfrica and Connect4Climate.
The Action4Climate video competition received more than 230 entries from 70 countries from students inspired to share their climate change stories. To watch other Action4Climate videos, click here.
YOU MIGHT ALSO LIKE
The World, 'It Turned Out Right'
'Vanishing World' Explores the Realities of Climate Refugees
The Impacts of Sea Level Rise on Indigenous Communities in Panama
EcoWatch Daily Newsletter