Arnold Schwarzenegger Doesn't 'Give a ****' Whether You Agree With Him on Climate Change
Dec. 08, 2015 11:50AM EST
Climate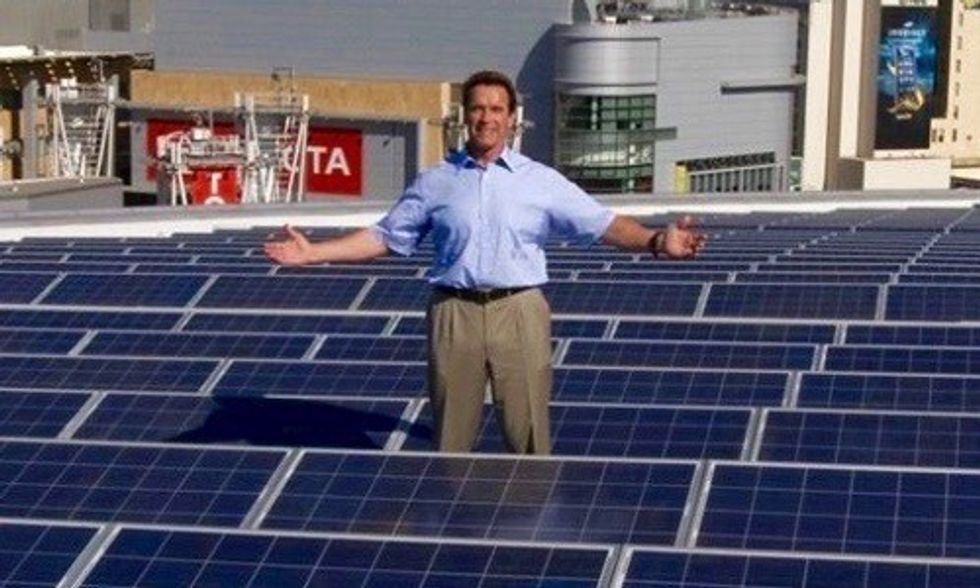 Arnold Schwarzenegger—who is making the rounds at the COP21 talks in Paris—wrote an epic Facebook post yesterday about the threat of climate change and doesn't "give a damn" whether you agree with him or not.
It was fantastic to address #COP21 with my friend, @BMRupprechter. Teaming up for a clean energy future. https://t.co/CgixGsEQNi

— Arnold (@Arnold)1449490441.0
"To use one of the four-letter words all of you commenters love, I don't give a damn if you believe in climate change," the international superstar wrote.
He added, "I couldn't care less if you're concerned about temperatures rising or melting glaciers. It doesn't matter to me which of us is right about the science."
To date, the post has been "Liked" by nearly 82,000 Facebook users (including a thumbs-up from none other than Facebook head and fellow renewable energy advocate Mark Zuckerberg) and shared nearly 50,000 times on the social networking platform.
In his essay, the former Republican California governor makes it clear on why he wants to see an end to fossil fuels:
First—do you believe it is acceptable that 7 million people die every year from pollution? That's more than murders, suicides, and car accidents—combined.
Every day, 19,000 people die from pollution from fossil fuels. Do you accept those deaths? Do you accept that children all over the world have to grow up breathing with inhalers?
Now, my second question: do you believe coal and oil will be the fuels of the future?
Besides the fact that fossil fuels destroy our lungs, everyone agrees that eventually they will run out. What's your plan then?
Schwarzenegger also urged for a clean energy future, comparing the fossil fuel industry to a dying business.
"I don't want to be like the last horse and buggy salesman who was holding out as cars took over the roads," he wrote. "I don't want to be the last investor in Blockbuster as Netflix emerged. That's exactly what is going to happen to fossil fuels."
You can read the entire post here.
I don't give a **** if we agree about climate change. Read this: https://t.co/flhj0gk5IR

— Arnold (@Arnold)1449501625.0
The Terminator actor has long used his muscle to take action on the climate front. While he was in office, Schwarzenegger signed the nation's first cap on greenhouse gas emissions in 2006, saying the effort kicks off "a bold new era of environmental protection."
His work has helped put the state on track to reduce emissions to 1990 levels by 2020, a goal set under Schwarzenegger. The former "Governator" also continues to use his clout to speak out on California's devastating drought.
Schwarzenegger is currently in Paris with his successor, Democrat Gov. Jerry Brown. In the video below, the two sit with The Los Angeles Times and said those who think climate change efforts are bad for the economy should look to the efforts made by the Golden State.
Also at the climate conference, Schwarzenegger told The Guardian he wants an immediate solution to the emerging crisis of a warming planet.
"It drives me crazy when people talk about 30 years from now, rising sea levels and so on," he said. "What about right now? Thousands of people are dying from pollution. People are living with cancer [because of air pollution]."
YOU MIGHT ALSO LIKE
Morocco and California Lead the Way in Replacing Fossil Fuels With Renewable Energy
Cher: Spending One Day in Beijing is Now the Equivalent of Smoking 40 Cigarettes
Morgan Freeman Narrates 'A Love Letter from #EarthToParis'
Bernie Sanders Unveils 'People Before Polluters' Climate Plan
EcoWatch Daily Newsletter