This website uses cookies to ensure you get the best experience while browsing it. By clicking 'Got It' you're accepting these terms.
Are You Flushing Your Baby Wipes Down the Toilet? Here's Why You Shouldn't
Mar. 17, 2015 12:04PM EST
Sanitary wipes are causing a crisis in sewer processing plants in New York City and urban areas across the country, according to reports from the New York Times, Washington Post and Bloomberg News.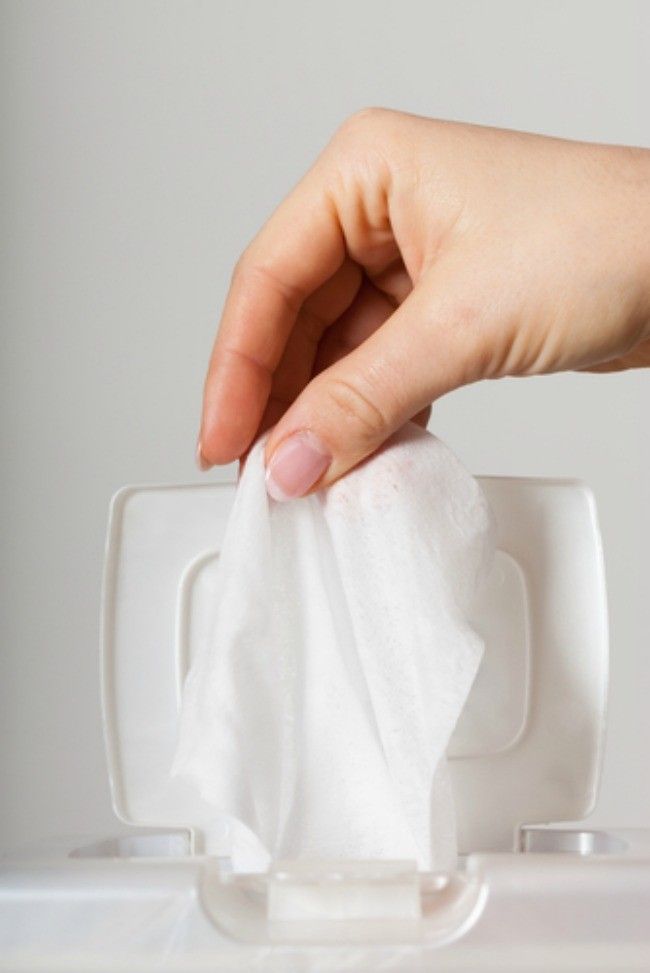 Photo credit: Shutterstock
The wipes, which consumers—especially parents of babies and young children—have been using in increasing numbers in recent years are being flushed down toilets, clogging the sewer system and causing millions of dollars in equipment damage. Reports of damage have been found in some of the most populated areas of the U.S., including New York City, Washington DC, Orange County, California and the San Francisco Bay Area.
City officials are now being forced to use additional grinding machinery to dispose of the waste, and come up with costly measures to change residents' perceptions about how to dispose of sanitary wipes.
In New York City, a bill supported by Mayor Bill de Blasio was introduced in February to stop wipe companies from advertising their products as flushable. The city's environmental staff has also begun a public awareness campaign to inform residents that they should be throwing wipes in the trash.
"A growing number of adults think that if it's good for baby, it's good for them," Vincent Sapienza, deputy commissioner of the city Department of Environmental Protection told Bloomberg News. "Many brands may say they're flushable, but they wind up in our sewer plants fully intact."
"The average consumer believes if a product clears their toilet bowl, it's flushable," Jamie Rosenberg, a Chicago-based household and personal-care analyst for Mintel, told Bloomberg News. "People in their homes have no idea what's going on downstream."
Research suggests that wipes have grown in popularity among adults as well—one report cited in the Bloomberg News article suggests that from 2008 to 2013, sales of the moist flushable wipes had grown 23 percent to $367 million.
Clearer rules about which household products are "flushable" may get federal oversight—according to the Washington Post, officials of the wastewater industry and wipe manufacturers say the Federal Trade Commission recently asked for information as part of an investigation into the "flushable" label.
YOU MAY ALSO LIKE
Watch Bill Gates Drink Water From Human Waste
New Guide to Flame Retardants in Baby Products
EcoWatch Daily Newsletter
Large food companies are following in the footsteps of fast-food restaurants such as Burger King and KFC by offering meat alternatives. Getty Images
By Elizabeth Pratt
Hormel, Kellogg's, and Kroger are among the large companies now planning to offer "fake meat" products at grocery stores.
Experts say the trend toward plant-based meats coincides with consumers' desires to eat less meat.
However, experts urge consumers to closely check package labels as a product isn't necessarily healthy just because it's described as plant-based.
In grocery stores and fast-food outlets around the U.S., a revolution is taking place.
Colombia rainforest. Marcel Oosterwijk / CC BY-SA 2.0
Many of us think of the Amazon as an untouched wilderness, but people have been thriving in these diverse environments for millennia. Due to this long history, the knowledge that Indigenous and forest communities pass between generations about plants, animals and forest ecology is incredibly rich and detailed and easily dwarfs that of any expert.
picture-alliance / Newscom / R. Ben Ari
By Wesley Rahn
Plastic byproducts were found in 97 percent of blood and urine samples from 2,500 children tested between 2014 and 2017, according to a study by the German Environment Ministry and the Robert Koch Institute.

Pexels
Medically reviewed by Daniel Bubnis, MS, NASM-CPT, NASE Level II-CSS
Hot yoga has become a popular exercise in recent years. It offers many of the same benefits as traditional yoga, such as stress reduction, improved strength, and flexibility.
Lara Hata / iStock / Getty Images
By SaVanna Shoemaker, MS, RDN, LD
Rice is a staple in many people's diets. It's filling, inexpensive, and a great mild-tasting addition to flavorful dishes.
An image of the trans-alaskan oil pipeline that carries oil from the northern part of Alaska all the way to valdez. This shot is right near the arctic national wildlife refuge. kyletperry / iStock / Getty Images Plus
The Trump administration has initialized the final steps to open up nearly 1.6 million acres of the protected Alaskan National Wildlife Refuge to allow oil and gas drilling.