Arctic Sea Ice Levels Hit Record Low After Unusually Warm January
Feb. 08, 2016 10:47AM EST
Climate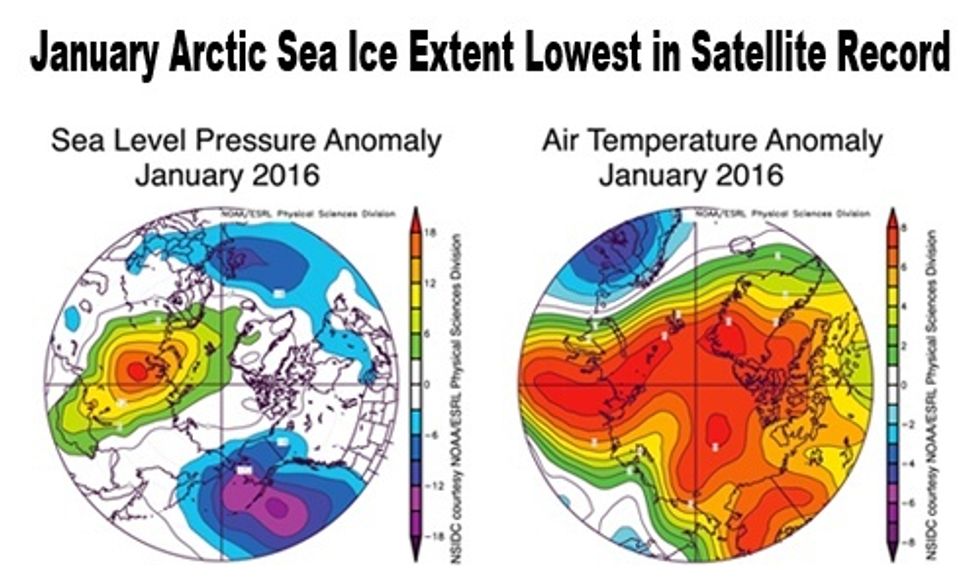 By National Snow and Ice Data Center
January Arctic sea ice extent was the lowest in the satellite record, attended by unusually high air temperatures over the Arctic Ocean and a strong negative phase of the Arctic Oscillation (AO) for the first three weeks of the month. Meanwhile in the Antarctic, this year's extent was lower than average for January, in contrast to the record high extents in January 2015.
Arctic sea ice extent during January averaged 13.53 million square kilometers (5.2 million square miles), which is 1.04 million square kilometers (402,000 square miles) below the 1981 to 2010 average. This was the lowest January extent in the satellite record, 90,000 square kilometers (35,000 square miles) below the previous record January low that occurred in 2011. This was largely driven by unusually low ice coverage in the Barents Sea, Kara Sea and the East Greenland Sea on the Atlantic side, and below average conditions in the Bering Sea and Sea of Okhotsk. Ice conditions were near average in Baffin Bay, the Labrador Sea and Hudson Bay. There was also less ice than usual in the Gulf of St. Lawrence, an important habitat for harp seals.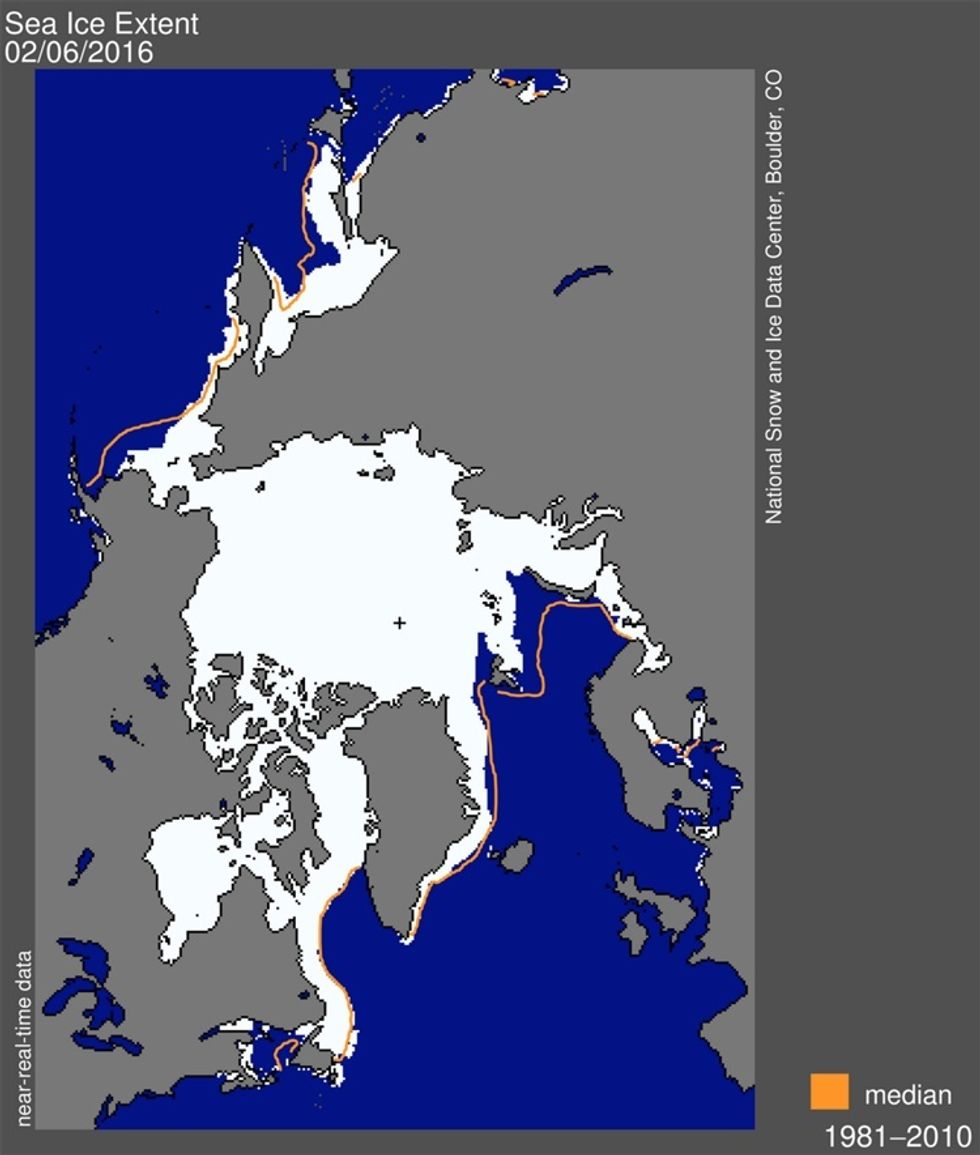 January 2016 was a remarkably warm month. Air temperatures at the 925 hPa level were more than 6 degrees Celsius (13 degrees Fahrenheit) above average across most of the Arctic Ocean. These unusually high air temperatures are likely related to the behavior of the AO. While the AO was in a positive phase for most of the autumn and early winter, it turned strongly negative beginning in January. By mid-January, the index reached nearly -5 sigma or five standard deviations below average. The AO then shifted back to positive during the last week of January. (See the graph at the NOAA Climate Prediction website.)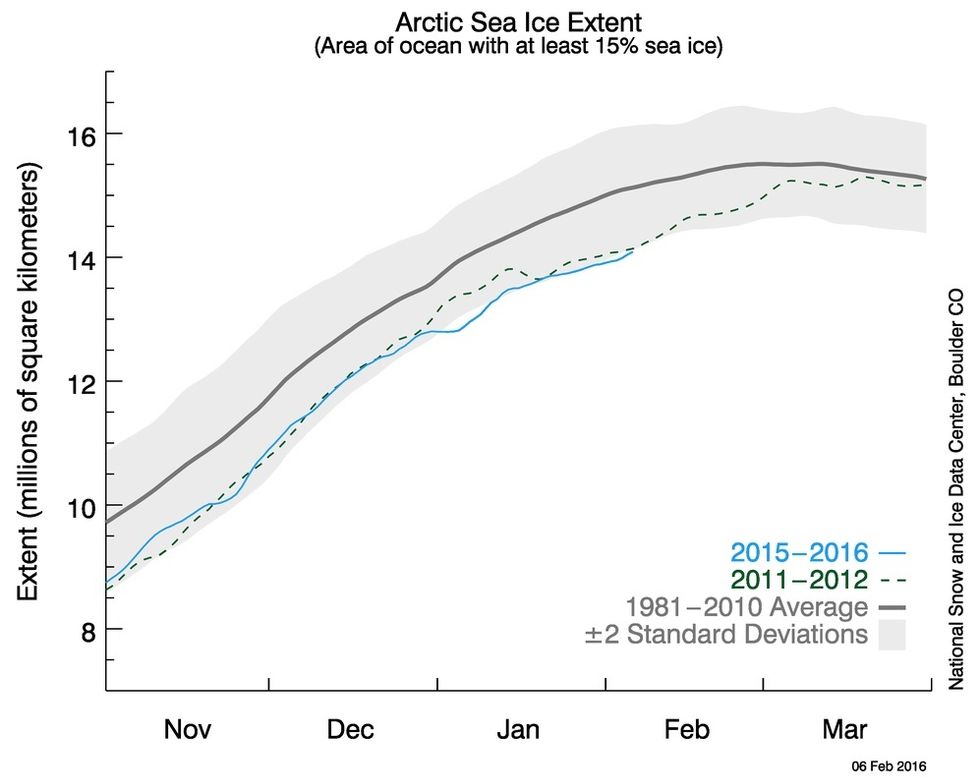 The sea level pressure pattern during January, which featured higher than average pressure over northern central Siberia into the Barents and Kara sea regions, and lower than average pressure in the northern North Pacific and northern North Atlantic regions, is fairly typical of the negative phase of the AO. Much of the focus by climate scientists this winter has been on the strong El Niño. However, in the Arctic, the AO is a bigger player and its influence often spills out into the mid-latitudes during winter by allowing cold air outbreaks. How the AO and El Niño may be linked remains an active area of research.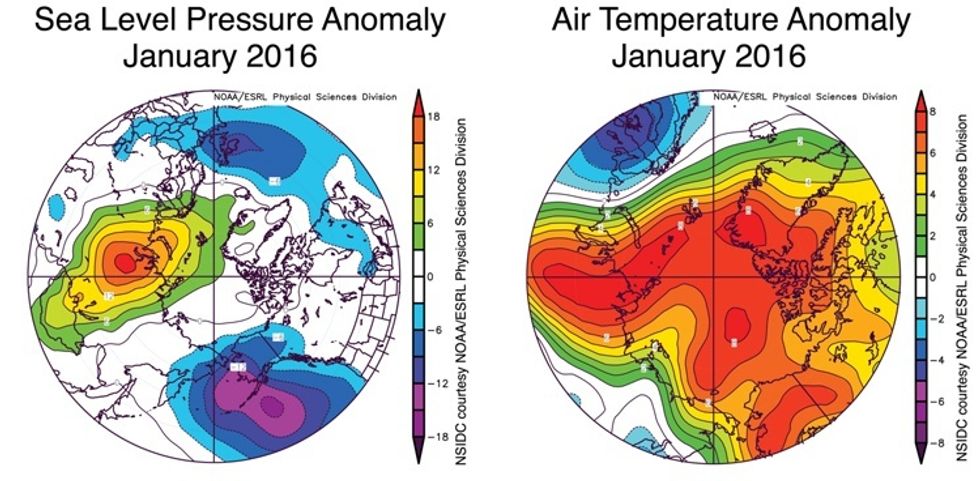 The monthly average January 2016 sea ice extent was the lowest in the satellite record, 110,000 square kilometers (42,500 square miles) less than the previous record low in 2011. The next lowest extent was in 2006. Interestingly, while 2006 and 2011 did not reach record summer lows, they both preceded years that did, though this may well be simply coincidence.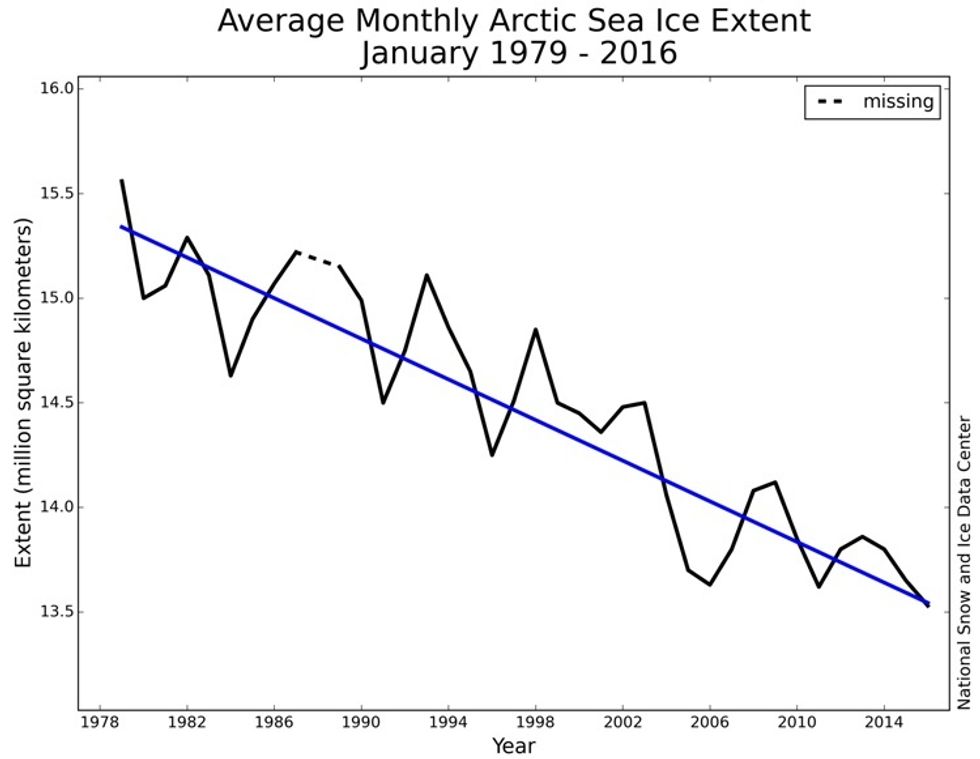 The trend for January is now -3.2% per decade. January 2016 continues a streak that began in 2005 where every January monthly extent has been less than 14.25 million square kilometers (5.50 million square miles). In contrast, before 2005 (1979 through 2004), every January extent was above 14.25 million square kilometers.
Observations show an increase in the rate of winter sea ice loss in the North Atlantic sector of the Arctic up until the late 1990s followed by a slowdown in more recent years. The observed trend over the period 2005 to 2015 is actually positive (a tendency for more ice). In a paper recently published in Geophysical Research Letters, scientists at the National Center for Atmospheric Research (NCAR) show that the Community Earth System Model (CESM) was able to predict this period of winter ice growth in the North Atlantic. The study further suggests that in the near future, sea ice extent in this part of the Arctic is likely to remain steady or even increase (Figure 4).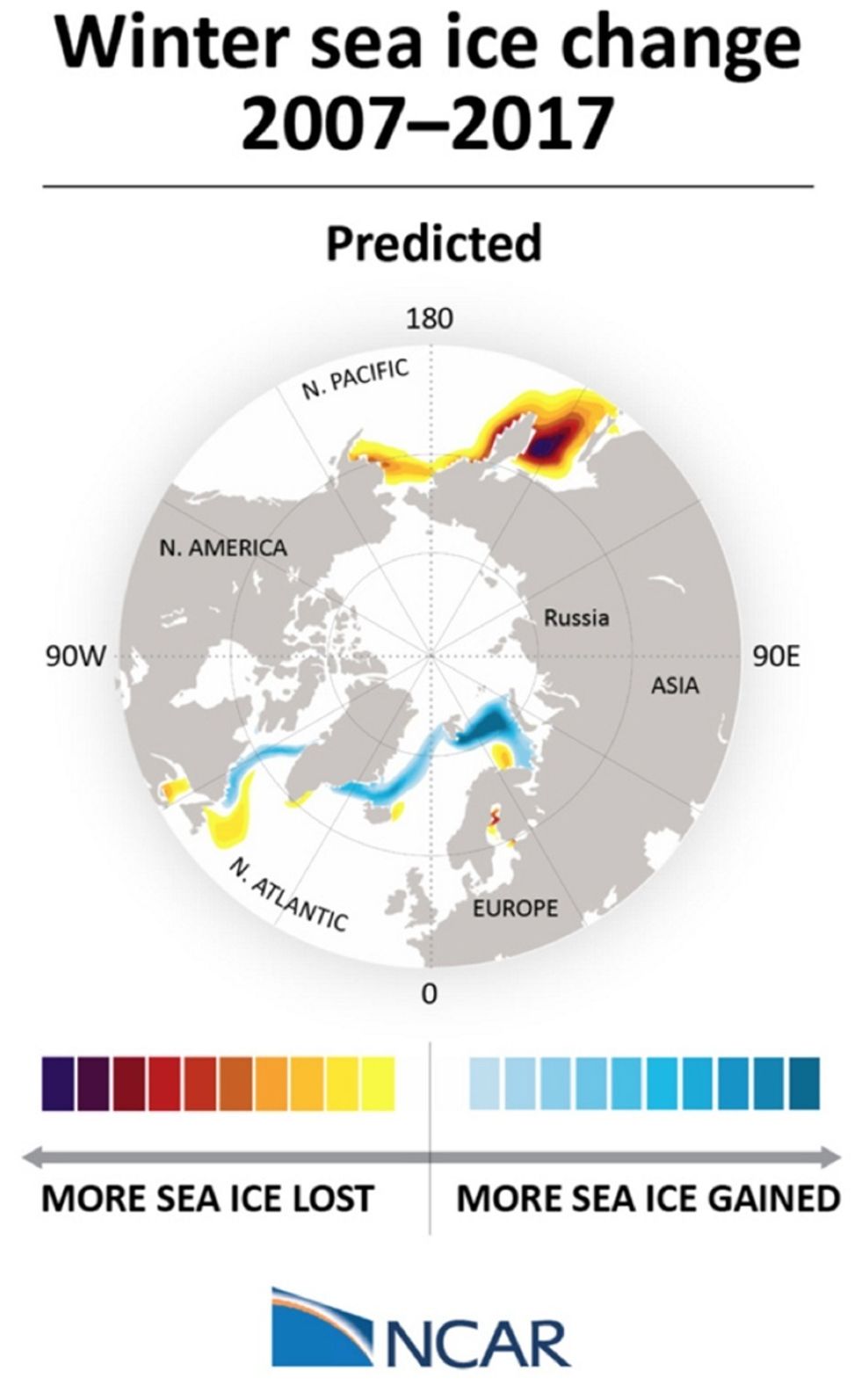 The ability to predict the winter sea ice extent in this region is related to the ability of the model to capture the observed variability in the Atlantic Meridional Overturning Circulation (MOC), an ocean circulation pattern that brings warm surface waters from the tropics towards the Arctic. When the MOC is strong, more warm water is brought towards the North Atlantic sector of the Arctic, helping to reduce the winter ice cover. When it is weak, less warm water enters the region and the ice extends further south. However, while there is an indication that the MOC may be weakening, this winter so far has seen considerably less ice than average in the North Atlantic sector.
YOU MIGHT ALSO LIKE
Scientists Explore Toxic Ice Caves to Learn About Potential Alien Life on Other Planets
Climate Change Linked to Spread of Zika Virus
3 Things You Should Know About the Hottest Year Ever Recorded
These 13 People Could Become 'Britain's First Ever Climate Prisoners'
Air France airplanes parked at the Charles de Gaulle/Roissy airport on March 24, 2020. SAMSON / AFP via Getty Images
France moved one step closer this weekend to banning short-haul flights in an attempt to fight the climate crisis.
A bill prohibiting regional flights that could be replaced with an existing train journey of less than two and a half hours passed the country's National Assembly late on Saturday, as Reuters reported.
"We know that aviation is a contributor of carbon dioxide and that because of climate change we must reduce emissions," Industry Minister Agnes Pannier-Runacher told Europe 1 radio, according to Reuters.
The measure now has to pass the French Senate, then return to the lower house for a final vote. It would end regional flights between Paris's Orly airport and cities like Nantes and Bordeaux, The Guardian explained. It would not, however, impact connecting flights through Paris's Charles de Gaulle/Roissy airport.
The bill is part of a legislative package which aims to reduce France's emissions by 40 percent of 1990 levels by 2030, Reuters reported. It is a watered-down version of a proposal suggested by France's Citizens' Convention on Climate, BBC News explained. This group, which was formed by President Emmanuel Macron in 2019 and included 150 ordinary citizens, had put forward a ban on flights that could be replaced with an existing train journey of under four hours.
However, the journey length was lowered after protests from KLM-Air France, which had suffered heavy losses due to the coronavirus pandemic, and regions who were concerned about being left out of national transit networks, as The Guardian explained.
"We have chosen two and a half hours because four hours risks isolating landlocked territories including the greater Massif Central, which would be iniquitous," transport minister Jean-Baptiste Djebbari said, as The Guardian reported.
However, some environmental and consumer groups objected to the changes. The organization UFC-Que Choisir compared plane routes with equivalent train journeys of under four hours and found that the plane trips emitted an average of 77 times more carbon dioxide per passenger than the train journeys. At the same time, the train alternatives were cheaper and only as much as 40 minutes longer.
"[T]he government's choice actually aims to empty the measure of its substance," the group said, according to The Guardian.
The new measure also opens the French government to charges of hypocrisy. It bailed out Air France-KLM to the tune of a seven-billion euro loan last year, though it did require the airline to drop some domestic routes as a condition. Then, days before the measure passed, it more than doubled its stake in the airline, BBC News reported. However, Pannier-Runacher insisted to Europe 1 radio that it was possible to balance fighting climate change and supporting struggling businesses.
"Equally, we must support our companies and not let them fall by the wayside," she said, as Reuters reported.
This is not the first time that climate measures and aviation bailouts have coincided in the wake of the coronavirus pandemic. Austrian Airlines replaced its Vienna-Salzburg flight with additional train service after it received government money dependent on cutting greenhouse gas emissions, BBC News reported.
The number of flights worldwide declined almost 42 percent in 2020 when compared with 2019. It is expected that global aviation may not fully recover until 2024, according to Reuters.
EcoWatch Daily Newsletter
A woman looks at a dead gray whale on the beach in the SF Bay area on May 23, 2019; a new spate of gray whales have been turning up dead near San Francisco. Justin Sullivan / Getty Images
Four gray whales have washed up dead near San Francisco within nine days, and at least one cause of death has been attributed to a ship strike.
A small tourist town has borne the brunt of a cyclone which swept across the West Australian coast.
ABC News (Australia) / YouTube
A general view shows the remains of a dam along a river in Tapovan, India, on February 10, 2021, following a flash flood caused by a glacier break on February 7. Sajjad Hussain / AFP / Getty Images
By Rishika Pardikar
Search operations are still underway to find those declared missing following the Uttarakhand disaster on 7 February 2021.
This story originally appeared in Eos and is republished here as part of Covering Climate Now, a global journalism collaboration strengthening coverage of the climate story.
Indigenous youth, organizers with the Dakota Access and Line 3 pipeline fights and climate activists march to the White House to protest against pipeline projects on April 1, 2021. Bill Clark / CQ-Roll Call, Inc via Getty Images
By Jessica Corbett
Indigenous leaders and climate campaigners on Friday blasted President Joe Biden's refusal to shut down the Dakota Access Pipeline during a court-ordered environmental review, which critics framed as a betrayal of his campaign promises to improve tribal relations and transition the country to clean energy.